When Debra Haberstroh's oxygen level dipped to 85 percent over the 2023 New Year's holiday, her daughter insisted on taking her to the Emergency Room at Martin North Hospital in Stuart, Florida. It turned out to be a very wise decision.
Debra, who has asthma and was familiar with lung issues, was feeling poorly. When the Emergency Room physician ordered a routine CT scan to check for pneumonia, a tumor was discovered on Debra's right lung.
Debra immediately started to learn everything she could about lung cancer. She leaned on her pulmonologist, Rose Paccione, MD, as she was introduced to the Cleveland Clinic Martin Health specialists who would comprise her care team.
"My medical team was supportive and kept me grounded," she said. "I was very fortunate they found the tumor when they did."
Debra Haberstroh works in her garden after her tumor resection.
Debra's care team worked collaboratively, sharing knowledge and expertise to provide her with the best outcome. Dr. Paccione brought in her colleague, Michael Marsh, MD, also a pulmonologist, to discuss the benefits of robotic-assisted bronchoscopy with Debra.
"The lesion was in a very difficult location to reach by traditional means of biopsy," Dr. Marsh said. "Using robotic-assisted bronchoscopy would allow us to easily reach the location, obtain biopsies and also perform another procedure for staging purposes to make sure Debra would be a good candidate for tumor resection. It would also limit complications, reduce the time needed to make a diagnosis and how much anesthesia is necessary."
Once Dr. Marsh had performed the robotic-assisted bronchoscopy, Debra's team presented her case to North Hospital's multidisciplinary Tumor Board, made up of expert surgeons, oncologists, pulmonologists, radiologists and pathologists, to discuss the best course of treatment.
"Upon reviewing imaging and clinical information, we put together a solid plan for Debra so there was no disruption in her care," said Houssein Abdul Sater, MD, medical oncologist and hematologist.
The Tumor Board determined that a tumor resection offered the very best option for Debra; the surgery took place in May 2023.
Five months following her tumor resection surgery, Debra has learned to be patient. She did not require chemotherapy, but as her care team predicted, recovery has been slow but steady.
She holds on to the words of Dr. Sater who told her, "You are technically cured. Go live your life and be happy."
"Now that Debra's malignancy has been removed, she will continue to follow up with her health care providers and undergo surveillance imaging for a few years to make sure no other lesions come back," Dr. Marsh said. "Like so many of our patients, Debra now has a second lease on life. That is very rewarding to see."
Related Institutes: Cleveland Clinic Cancer Center, Respiratory Institute, Digestive Disease & Surgery Institute , Imaging Institute
Patient Stories
Patient Stories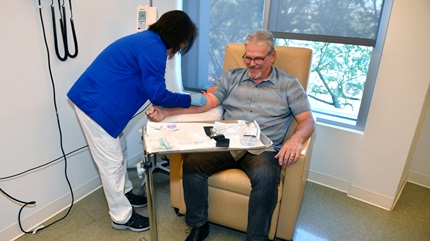 Dec 7, 2023
"The most frustrating thing in the world is not being able to remember something when it was just told to me two minutes ago. Now, with this drug, there's a chance I won't get worse for a while."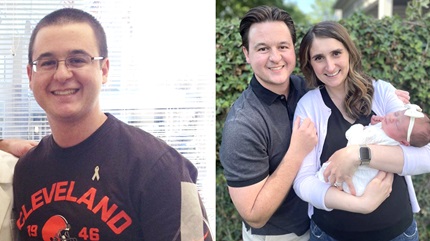 Nov 30, 2023
"At the time of my diagnosis, I was thinking, 'I'm 24. I'm a lifelong nonsmoker. I'm not supposed to get cancer.'"