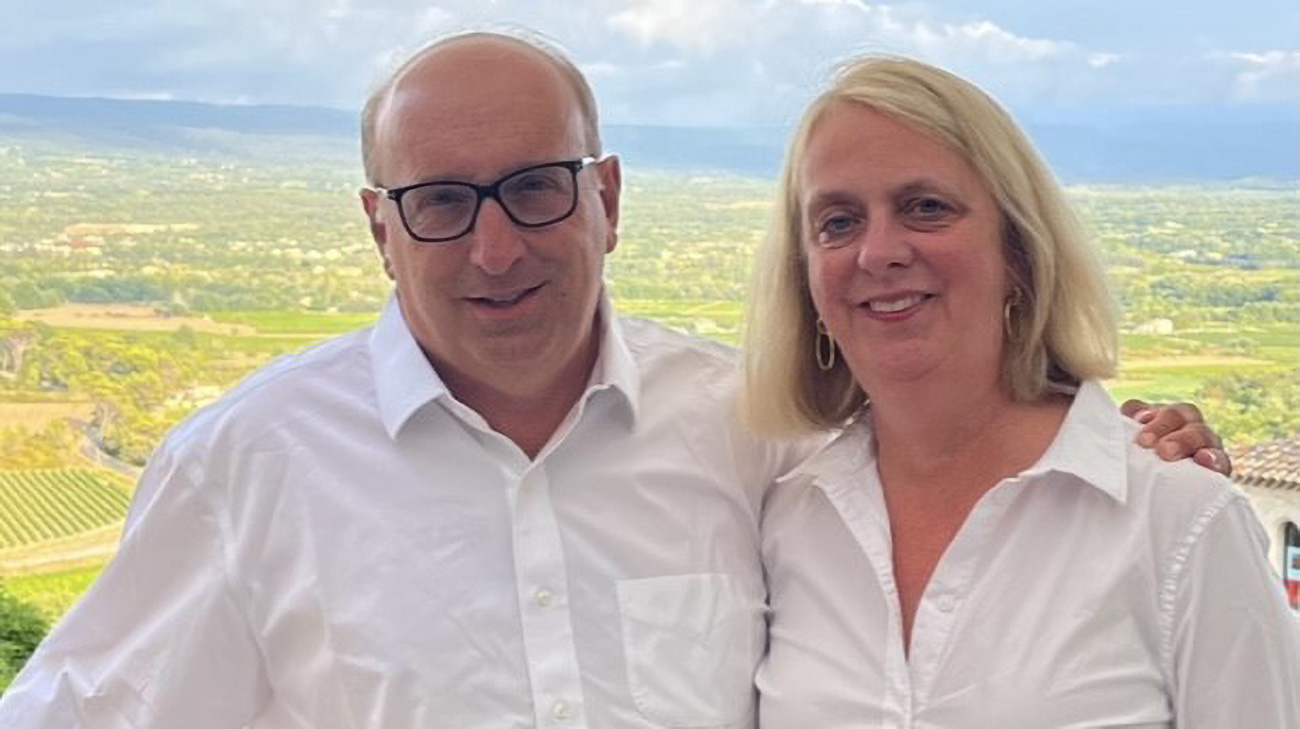 Just before lunchtime on Aug. 31, 2022, Cleveland Clinic ophthalmologist Scott Lane, MD, his wife, Agnes, and their 24-year-old son, Graham, were enjoying a scenic bike ride along a rural road in the south of France as part of an organized tour.
"There were switchbacks to go up and down hills," he says. "My wife and son were with me, but not proximal to me."
Scott doesn't remember what happened next, but Agnes does.
"We had stopped after climbing a long hill, and I thought it was a perfect opportunity to take a few pictures of Scott," she says. "Typically, he is the one behind the camera capturing our adventures. At the top of the hill, we met up with our son. We then all went down the hill at our own pace."
As she descended, she was surprised to see someone lying in the middle of the road. "As I got closer, the reality that it was Scott was overwhelmingly apparent," she says.
Waking up and reaching out
Awakening at a local hospital, Scott learned that brain and full-body imaging showed multiple fractures of his seventh cervical and fifth thoracic vertebrae.
"Remarkably, I maintained full motor and sensory capability," Scott says. "But the nature of the injury was deemed critical, and a transfer for neurosurgical care about two hours' drive away was recommended." Over the next four days at the hospital, "we felt increasingly isolated, vulnerable, exhausted and raw. I was challenged on many levels, with excruciating spasms of pain, dizziness, mental fog and emotional lability from fear, sleep deprivation and immersion in a language I minimally understood. Also, I had lots of self-doubt – will I live through this? Will I be paralyzed? How will I ever get home? Will I get the surgery I need? How will life be afterward?"
It was recommended to move from the local French hospital to Cleveland Clinic London. Jonathan Schaffer, MD, Global MedAssist Program Director, arranged for Dr. Lane to be medevac transferred.
A quick response from Cleveland Clinic and VIGILINT's Global MedAssist Program (GMAP)
"The goal was to have the patient transported to Cleveland Clinic London," Dr. Schaffer says. "The Global MedAssist Program team, including the VIGILINT Medical Operations Center and emergency medicine physician, assessed his medical condition, the transport options on the ground and in the air. They connected the care teams on both ends for medical review and maintained transfer coordination for the eventual transport. The VIGILINT emergency medicine physician happened to be a former active-duty Air Force Special Ops flight surgeon who was quite familiar with the clinical issues that were involved."
Within 72 hours, everything was coordinated, and Scott was transported to Cleveland Clinic London, where he had emergency surgery to address his cervical spine fractures. "Cleveland Clinic, through its programs and physicians, can provide care anywhere, anytime," Dr. Schaffer says. "The Global MedAssist Program is a 24-7 health security program that brings together two of the most specialized healthcare groups to provide unprecedented resources to every traveler."
The highly coordinated arrangements included ground transport from the French hospital to the local airport, the air ambulance flight from Marseille to London with Scott and Agnes on board, and then the ground transport from the London airport to Cleveland Clinic London, where they were met on arrival by a team of Cleveland Clinic neurosurgeons.
Emergency surgery at Cleveland Clinic London
Scott says. "I am forever indebted to Cleveland Clinic London neurosurgeon Mr. Vittorio Russo who, despite my stout, short neck, worked to repair my fractured C-7 vertebrae.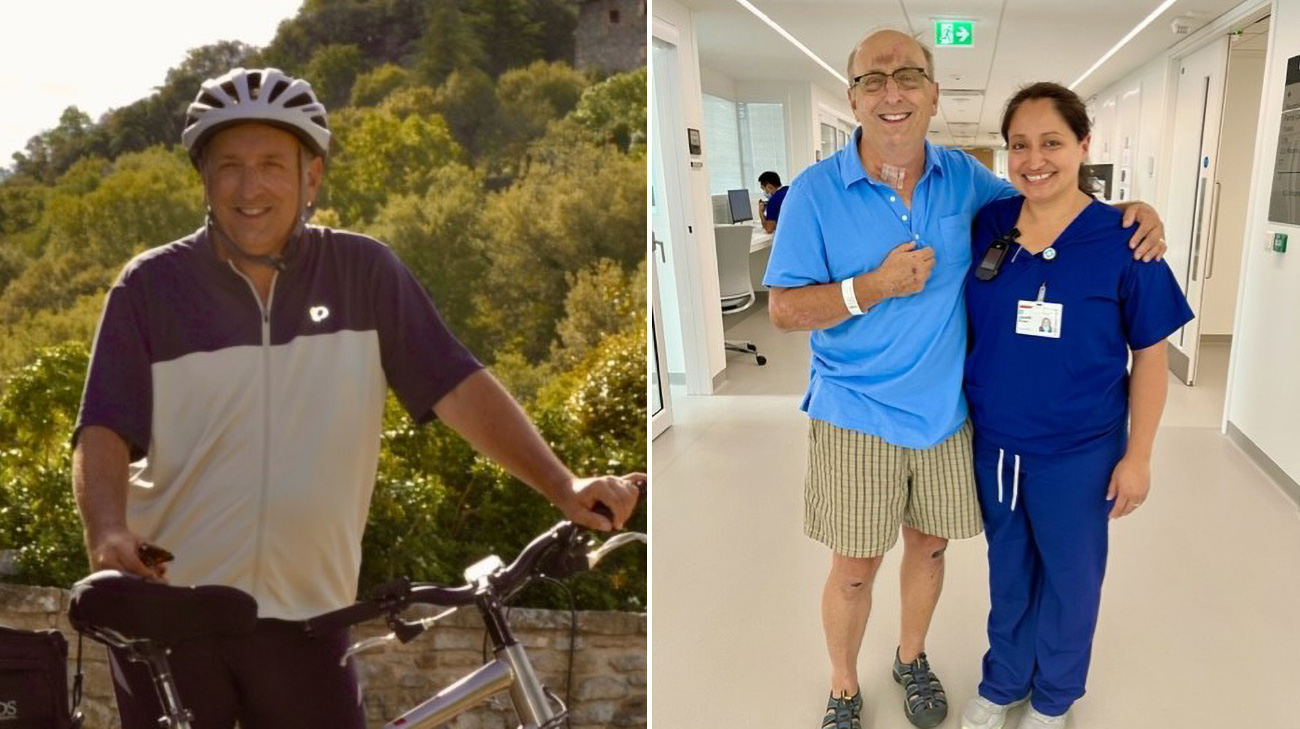 Left: Dr. Lane with his bike, prior to the accident. Right: Dr. Lane with Janeth Perez, ICU nurse at Cleveland Clinic London. Janet was his main caretaker in the days prior to surgery. "She was my "tiger mom" protecting me, moving/turning me, and performing tons of hands-on nursing care while I was essentially incapacitated. She was special! I will never forget her!" Photos courtesy of Dr. Lane.
Caring for both patients and families
Not only did Cleveland Clinic London take good care of Scott, but also of Agnes, she says.
"Cleveland Clinic London is a spectacular hospital on every level," she says. "The employees were absolutely beautiful in the manner they communicated and cared for us. Scott was admitted to an ICU and cared for by highly skilled nurses and doctors, who assessed him and developed a plan. Mr. Russo was present at his bedside well into the evening hours to assess his health needs, order diagnostic tests and develop a surgical plan. I was overwhelmed and touched by how they carried out the mission of Cleveland Clinic. They also recognized that I was exhausted and were attentive to my needs, as well. It was late at night and they understood it would be difficult for me to find a hotel, so they allowed me to stay in a room and rest until morning. I will never forget the tea and ginger cookies and all the nourishing food prepared for patients and families."
She says this was the first time she felt she could leave her husband's side and get some rest. "He was calmer, and I was comfortable leaving him because he was in good hands."
Getting better, going home
Scott's surgery was successful, and he could leave the hospital within 10 days of his surgery. "His excellent outcome is the result not only of a good and timely operation, but also of great teamwork," Mr. Russo says. "He received excellent care on the ward by a superb staff including specialized nurses and physiotherapists."
On returning to Cleveland, Scott says, he spent a month receiving physical therapy and healing. "Gradually, I got better and came back to work, first, for one day a week, then for two or three, and now, not quite a year later, I am back to working full time again."
To this day, Scott is unsure of what led to his accident, but he is sure of his gratitude for the excellent care he received from his Cleveland Clinic family at home and abroad. "I only have an occasional twinge of neck pain," he says. "I feel really blessed."
Agnes agrees, expressing gratitude for how the global resources of Cleveland Clinic were brought together to help Scott at a critical time of need. "The expertise of the team at Cleveland Clinic London made it possible for Scott to have a remarkable recovery," she says. "It was a blessing to have Cleveland Clinic care when we were not home in Cleveland."
Patient Stories
Patient Stories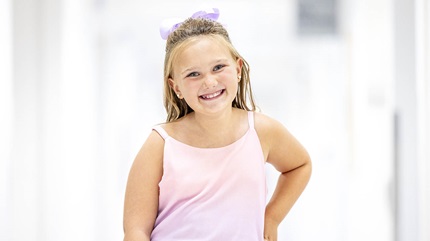 Sep 22, 2023
"This wraps up a chapter in her life we hope we never have to reopen. Audrey handled everything like a champ, and we are so grateful and proud."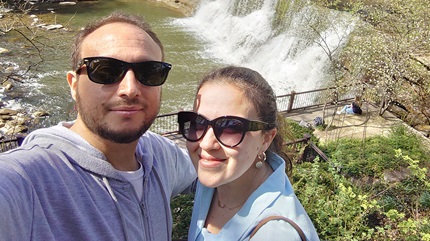 Sep 18, 2023
"Besides my first transplant, I've had other noninvasive surgical procedures, and I needed pain medication for all of them but not this time."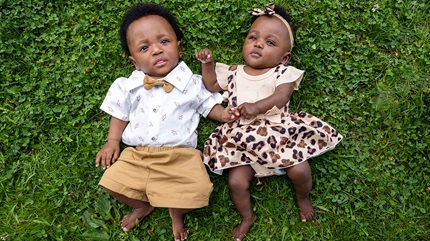 Sep 15, 2023
"Thinking about everything Kimyah and DJ have been through, it was hard to imagine us ever getting to this point. It was unclear if they would be able to do anything by themselves. Now, they're trying to do everything by themselves."