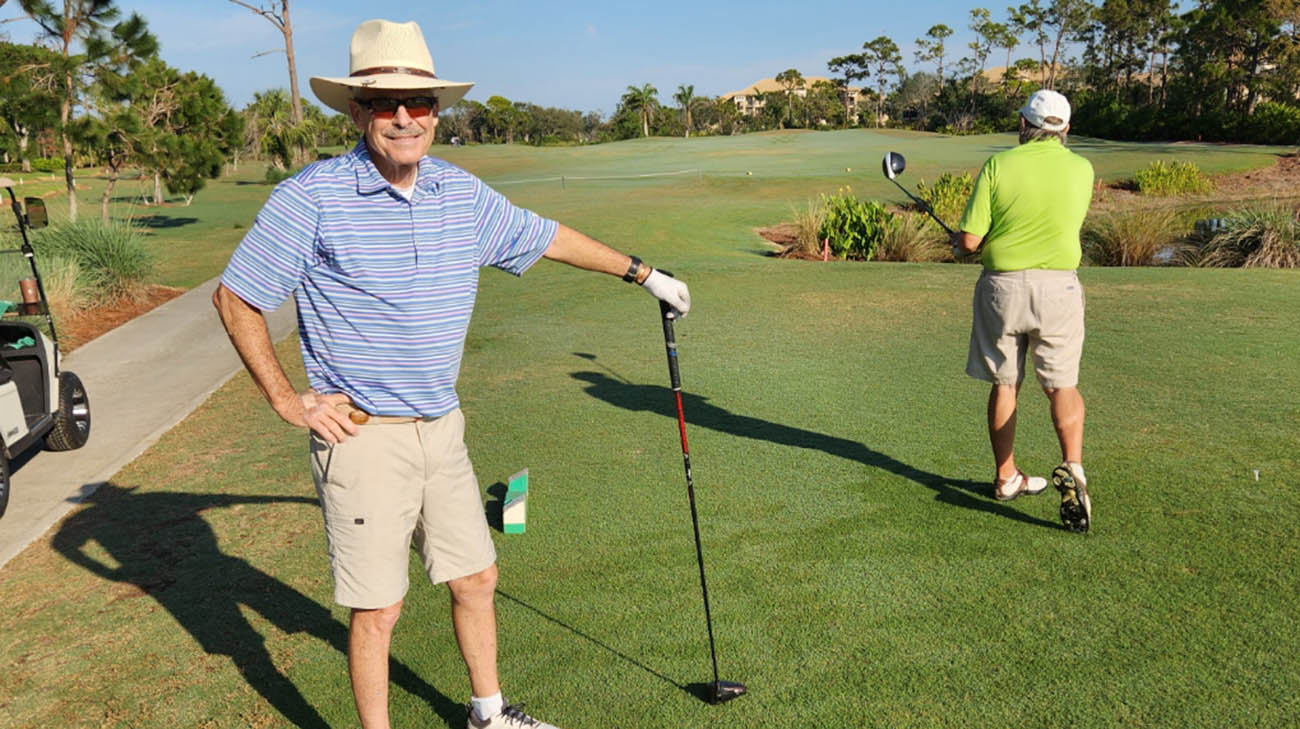 Mike Dugan lived a pretty robust life, despite being afflicted with cardiomyopathy, a progressive heart disease that has taken the lives of several family members, including his brother's.
Mike strived to do anything under his control that would stave off the effects of the disease, which impacts the ability of the heart muscle to pump blood effectively to the rest of the body. He exercised regularly, ate healthy foods, got adequate sleep each night and diligently took medications prescribed to help manage the condition.
"I was in pretty good shape," says Mike, now age 75, and a resident of Bonita Springs, Florida. "Basically, l lived a perfectly normal existence. I played golf, went to the gym and would do a lot of jogging, until it got too hard on my hips and back."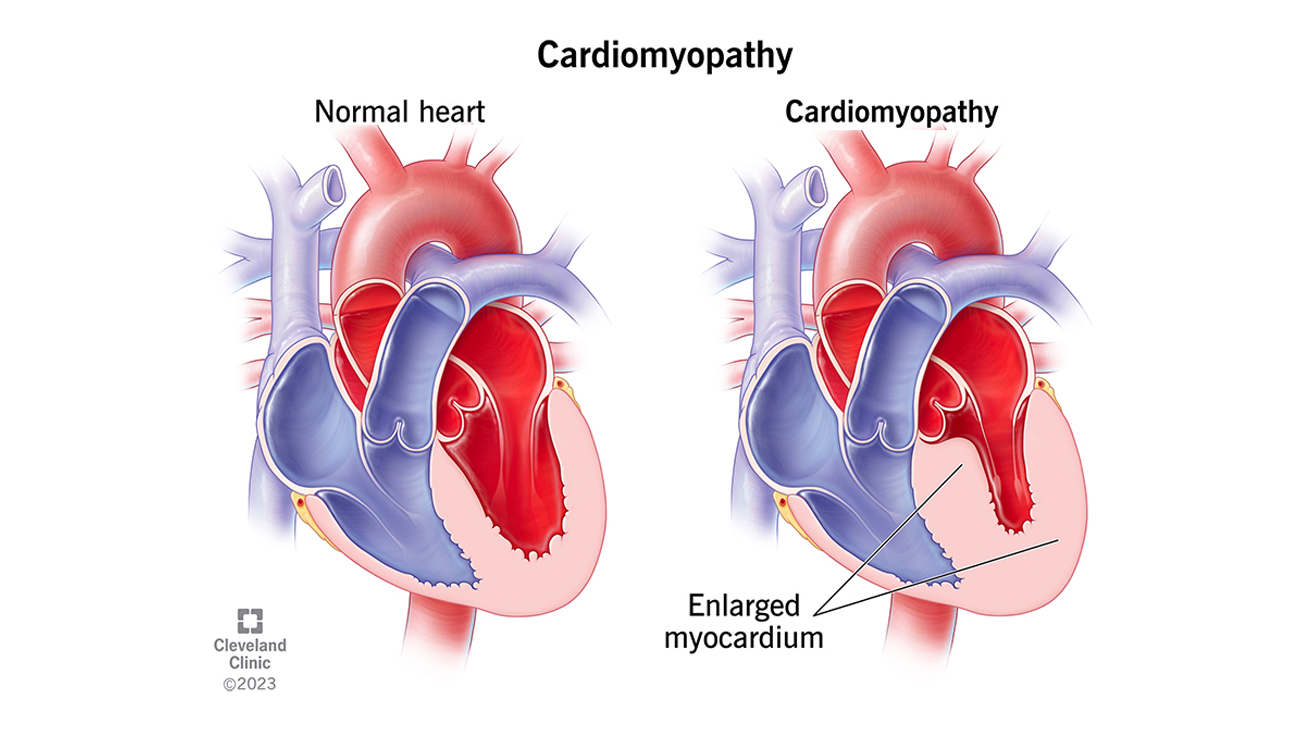 A heart with cardiomyopathy gets larger and weaker and can end up in heart failure. (Courtesy: Cleveland Clinic)
Nevertheless, as the effects of cardiomyopathy gradually worsened, Mike would occasionally experience bouts of atrial fibrillation, which twice required him to visit the emergency department to have his irregular heartbeat shocked back into rhythm.
"Overall, I was still doing pretty well, but it became apparent that my condition was slowly getting worse," recalls Mike, who regularly would conduct online research to seek information on new medications or procedures.
In 2018, that journey led him to Cleveland Clinic's main campus, where he met with cardiologist and interim section head of the Kaufman Center for Heart Failure Treatment and Recovery, Randall C. Starling, MD, and underwent a number of tests to identify whether he'd be a candidate for a clinical trial. Mike didn't qualify for the study, but Dr. Starling and team feared his condition would worsen.
In 2022, soon after Mike contracted COVID-19 for the second time, his health quickly deteriorated. "I was weak and for the first time in my life, I experienced shortness of breath," says Mike. "Suddenly, it was a struggle just to breathe."
As he recalls, "I just collapsed." Quickly, Mike's kidneys and other organs began shutting down, and he was in dire need of advanced critical care.
Given his existing relationship with Dr. Starling and other cardiologists at Cleveland Clinic's main campus, Mike was flown by air ambulance to Cleveland, Ohio. As Dr. Starling recalls, after examining Mike upon his arrival, his condition was extremely serious.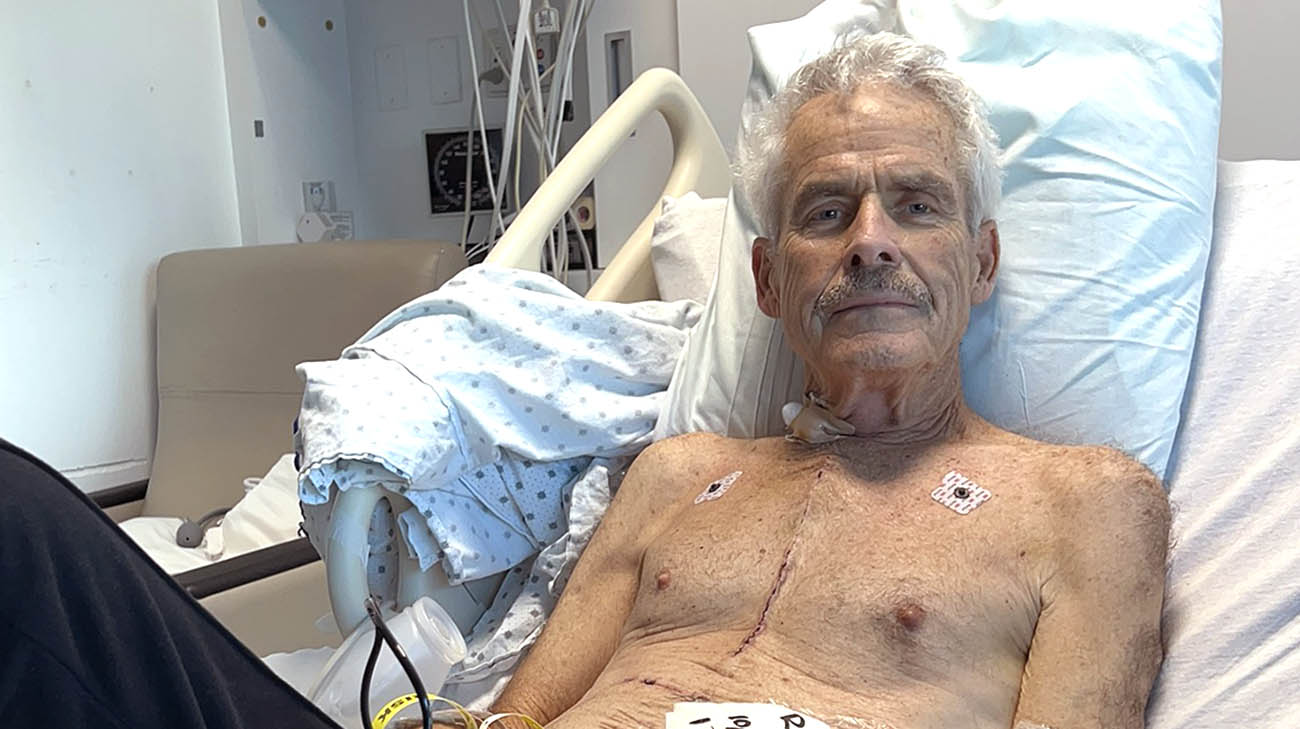 Mike's condition was extremely serious when he arrived at Cleveland Clinic. (Courtesy: Mike Dugan)
"When you have chronic heart failure, any infection such as pneumonia or COVID can tip a patient over the edge," Dr. Starling explains. "The critical nature of his condition was such that he could not possibly have been able to wait for a heart transplant."
Fortunately for Mike, the Cleveland Clinic team reviewing his case, which also included cardiac surgeon Aaron Weiss, MD, PhD, agreed for him to receive an FDA approved left ventricular assist device (LVAD) that clinical studies had revealed was highly effective in adults with end-stage heart failure. Indeed, the technology has shown survival rates equivalent to patients who have received a heart transplant.
"I'm a very fast-paced person," says Mike. "LVAD seemed like it was the best option, and I was ready for them to go ahead and do it. At that point, my heart was just getting weaker and weaker."
On September 27, 2022, a surgical team led by Dr. Weiss implanted the LVAD into Mike. While the operation itself was successful, Mike struggled for days and weeks afterwards. The severe nausea he experienced before the operation lingered.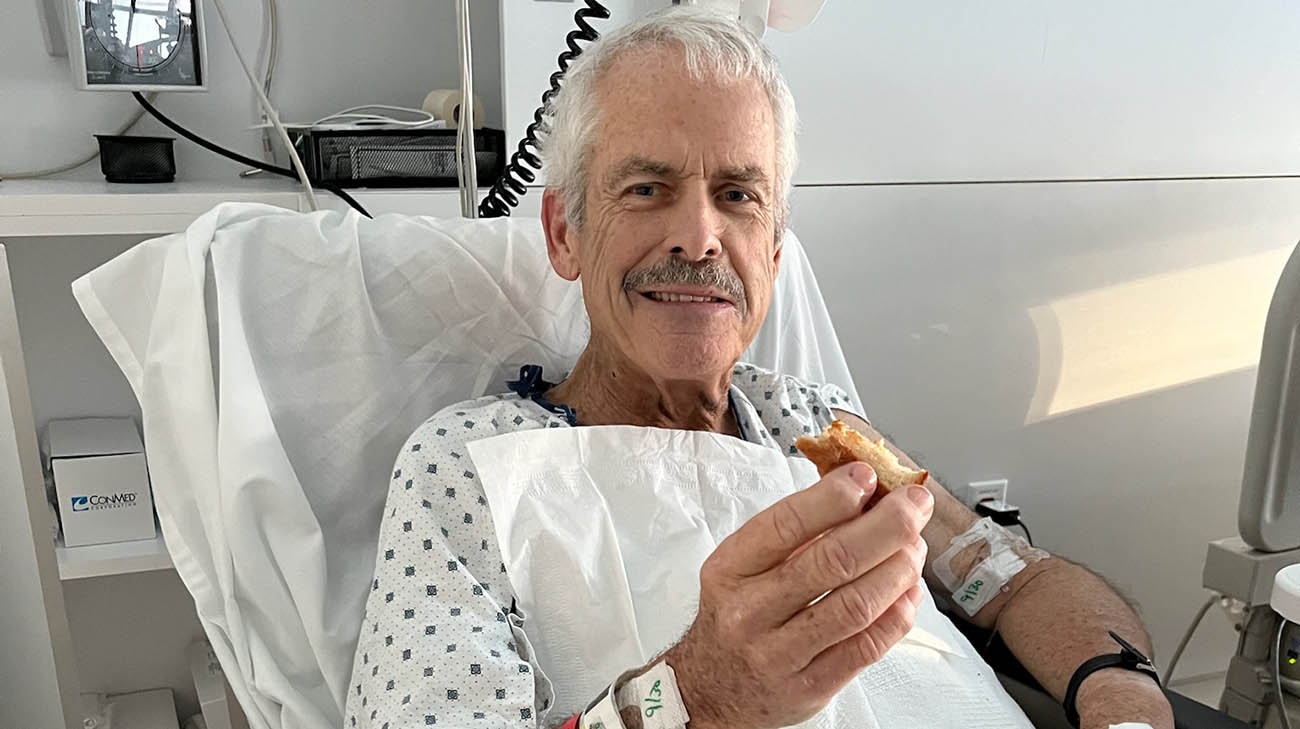 Mike at Cleveland Clinic, after undergoing a surgery where doctors implanted an LVAD. (Courtesy: Mike Dugan)
Not surprisingly, Mike fell into a deep depression. "I kind of collapsed, mentally. I wasn't sure this was the life I wanted, but my wife of 52 years Rona, wouldn't let me slip. She would encourage me every day saying we're going to get through this."
Another big support came from a then-stranger who Mike now calls his guardian angel. At the suggestion of his medical team, another patient at Cleveland Clinic who had been living with an LVAD for seven years, visited Mike.
"He kept saying I'm going to make it, and that golf and all the things I enjoyed in life would come back. And he was right," Mike says.
Adds Dr. Starling, "Many patients that have open heart surgery, to some degree, can have mental and emotional challenges, but having someone tell you they've made it through a similar journey – I believe that means more to a patient than anything any doctor or nurse could say."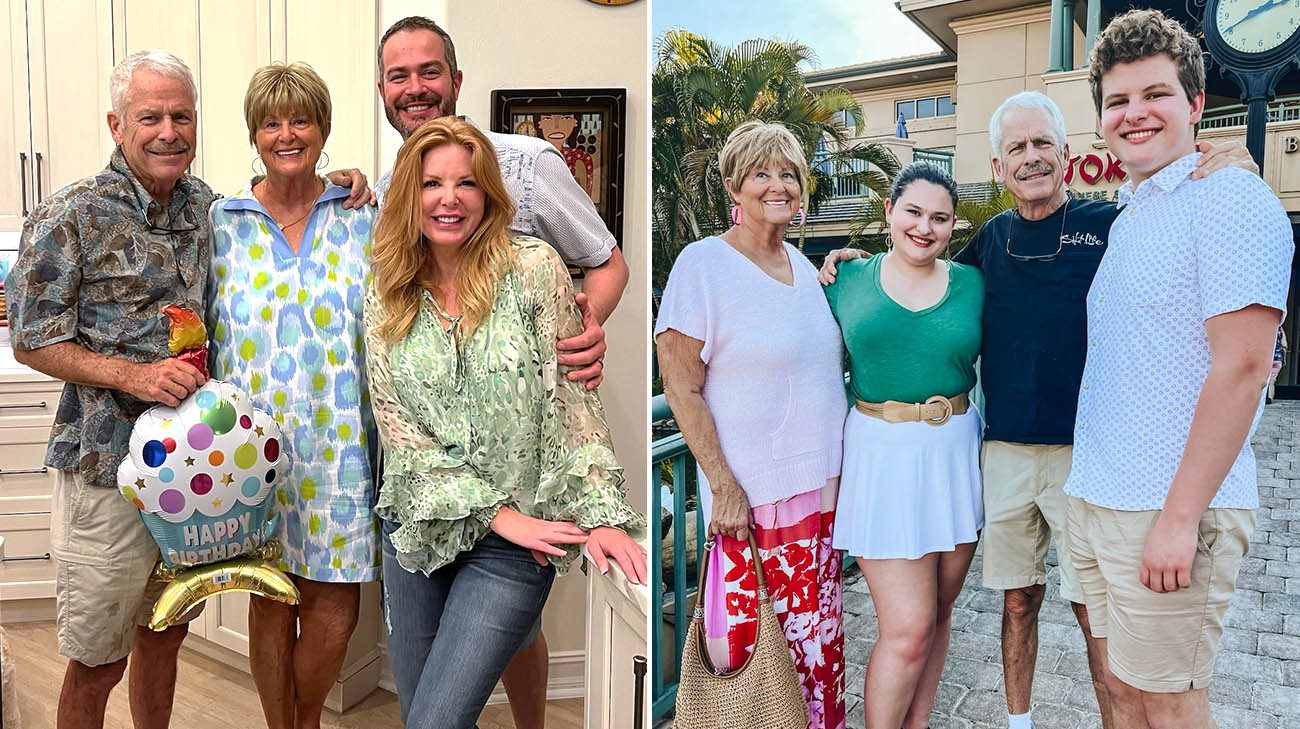 Mike is back to exercising and spending time with his family. Mike, Rona, their son, Ryan, and daughter-in-law, Piper.(left) Rona and Mike with their grandkids Lucy and Max.(right) (Courtesy: Mike Dugan)
Eventually, the nausea and depression lifted. Mike was able to go home, where he continued cardiac rehabilitation for a few months. About 10 months after the surgery, he felt terrific and shot a score of 78 on the golf course.
Mike continues to enjoy exercising. He and Rona spend as much time as they can with their two children and three grandchildren. He continues his care with follow-up examinations closer to home with Jerry Estep, MD.
Mike says he has a good life, and one he expects to continue for many years to come. "Recovery isn't always a straight line, but keep at it. You will make it."
Related Institutes: Heart, Vascular & Thoracic Institute (Miller Family)
Patient Stories
Patient Stories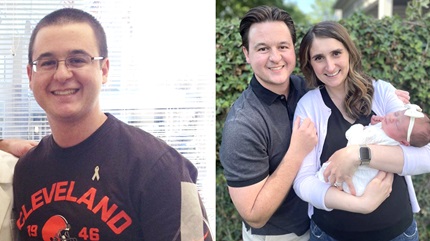 Nov 30, 2023
"At the time of my diagnosis, I was thinking, 'I'm 24. I'm a lifelong nonsmoker. I'm not supposed to get cancer.'"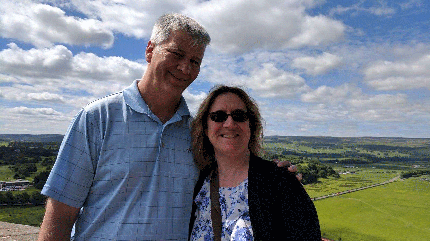 Nov 30, 2023
"I was under enormous stress and having difficulty sleeping, so I reached out to Dr. Saper to see if he had any suggestions as to how I could better cope."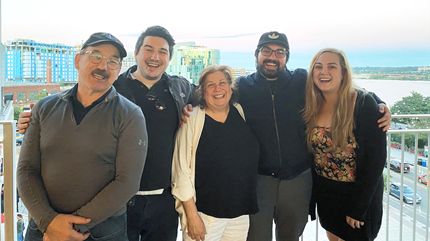 Nov 22, 2023
"I was truly blessed to be with the doctors and the entire cardiac surgery team. They saved my life."