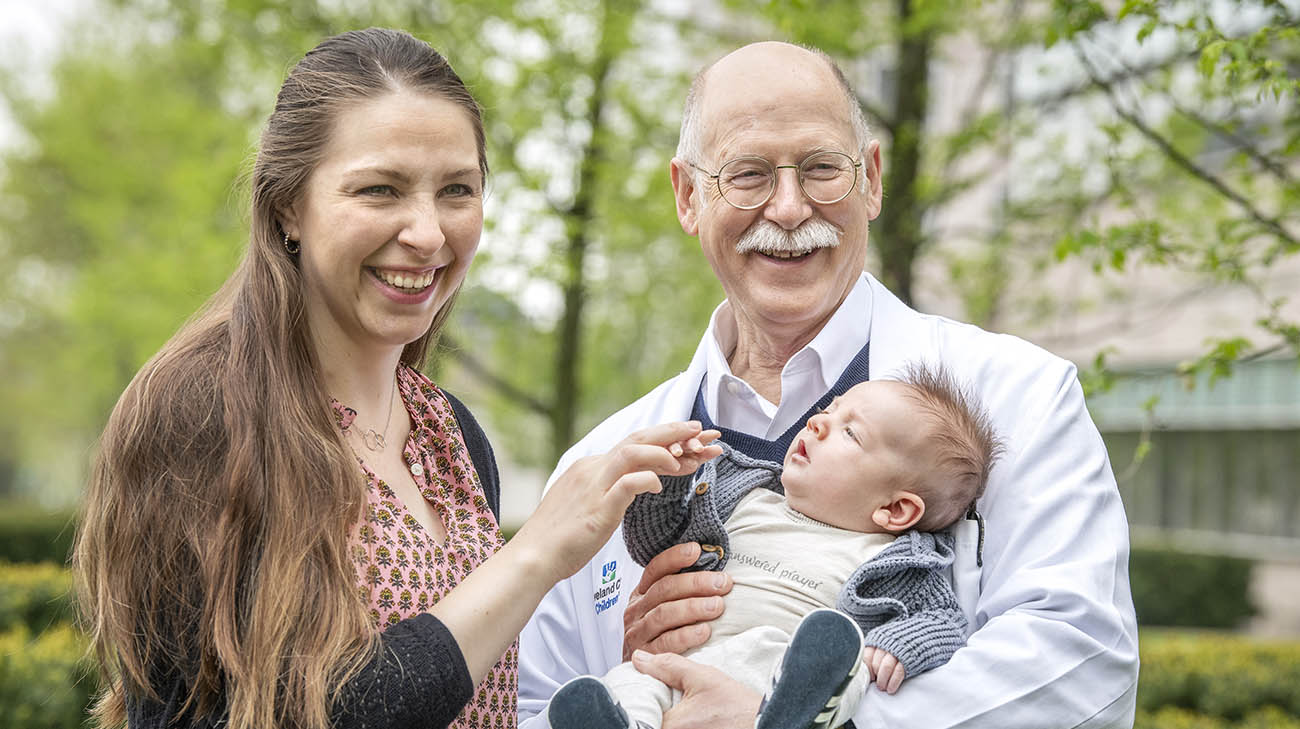 Peter Englert is just over 7 weeks old and will share the spotlight with his mom, Allie, on their first Mother's Day this year. It's a moment the 32-year-old nurse at Cleveland Clinic Cancer Center never thought she would have.
"He's a pretty chill baby," she says. "And I planned for a while for his name to be Peter. It's the name of the person most responsible for saving my life. And I like the fact Peter means 'rock.' Because Dr. Anderson was my rock for the last six years."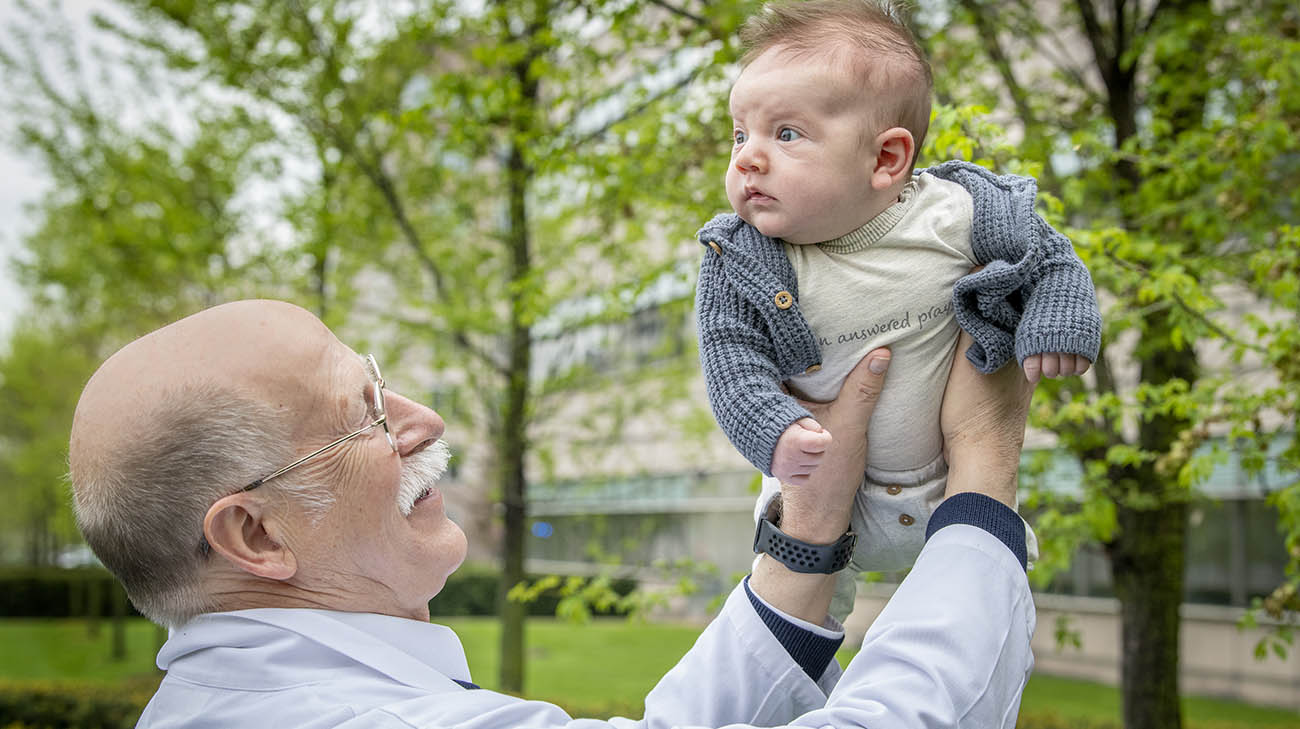 Dr. Anderson spending time with Peter outside Cleveland Clinic Children's. (Courtesy: Cleveland Clinic)
Allie is referring to one of her physicians, Peter Anderson, MD, a Cleveland Clinic Children's hematologist oncologist who treats pediatric and adult patients. She affirms without the patience, guidance and expertise of Dr. Anderson, she wouldn't have survived her cancer ordeal.
"Dr. Anderson has been a godsend. He's one of the top sarcoma specialists in the world and an amazing man," Allie adds. "It seemed fitting for my husband and I to name our son after him."
In February 2016, Allie – then working as a nurse at another local hospital – was diagnosed with desmoplastic small round cell tumor (DSRCT), a rare form of soft-tissue sarcoma. It was a lump about the size of half an avocado, located on her back, near her spine. The cancer had also spread to a spot in her lung. Her prognosis was grim given the five-year survival rate of DSRCT is very low.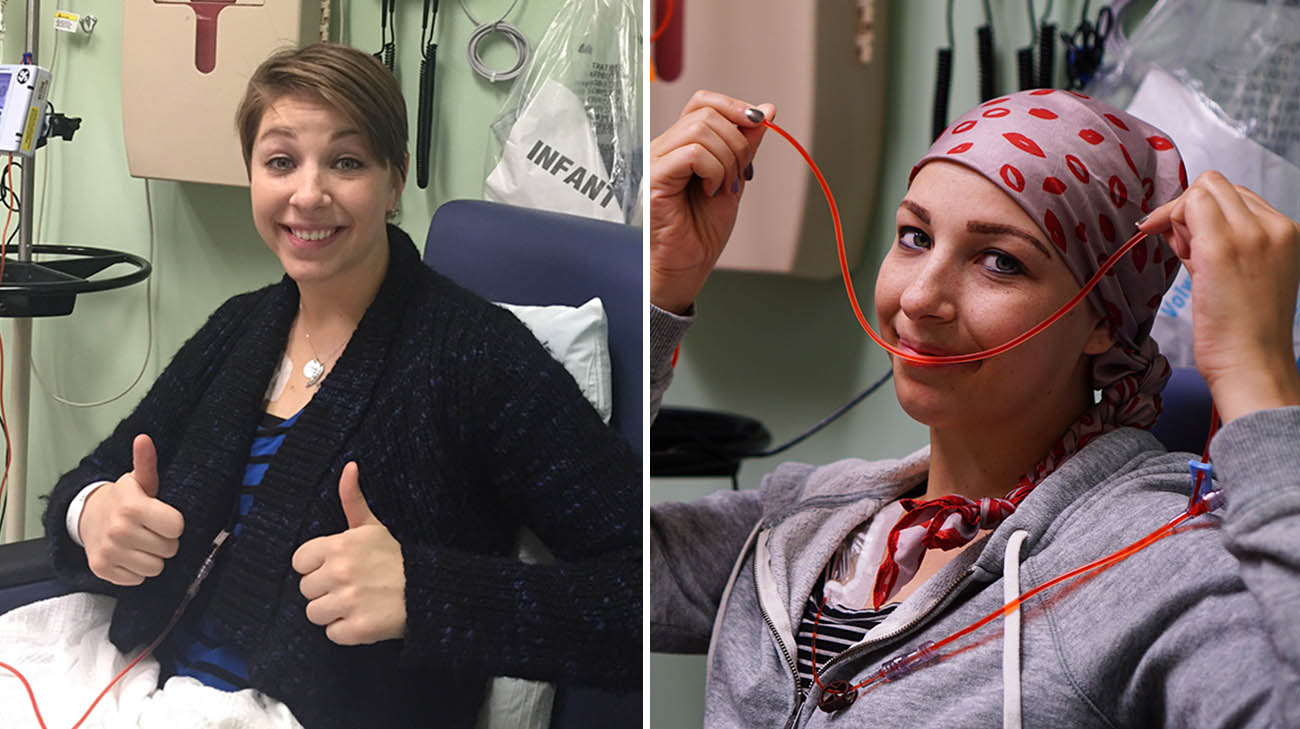 Doctors diagnosed Allie with a rare form of soft-tissue sarcoma. (Courtesy: Allie Englert)
At the advice of her aunt, a fellow nurse, Allie sought out the expertise of Dr. Anderson, and thus began an odyssey that involved: six months of chemotherapy, a month of radiation and surgery to remove the sarcoma from her back, performed by orthopaedic surgeon, Nathan Mesko, MD, in November 2016. That treatment plan proved successful in removing the cancer.
Soon after, in 2017, Allie married her longtime boyfriend, Tommy. One year later, inspired by and thankful for her treatment at Cleveland Clinic, she took a nursing position at Cleveland Clinic Cancer Center.
"For about two years, everything was clear," she notes. "I had (tests) every three months, but the spot in my lung eventually returned. At first I thought, this was the end and I was on the road to death. It was hard working with patients experiencing cancer and being a patient myself. But Dr. Anderson, of course, had a plan in place for me."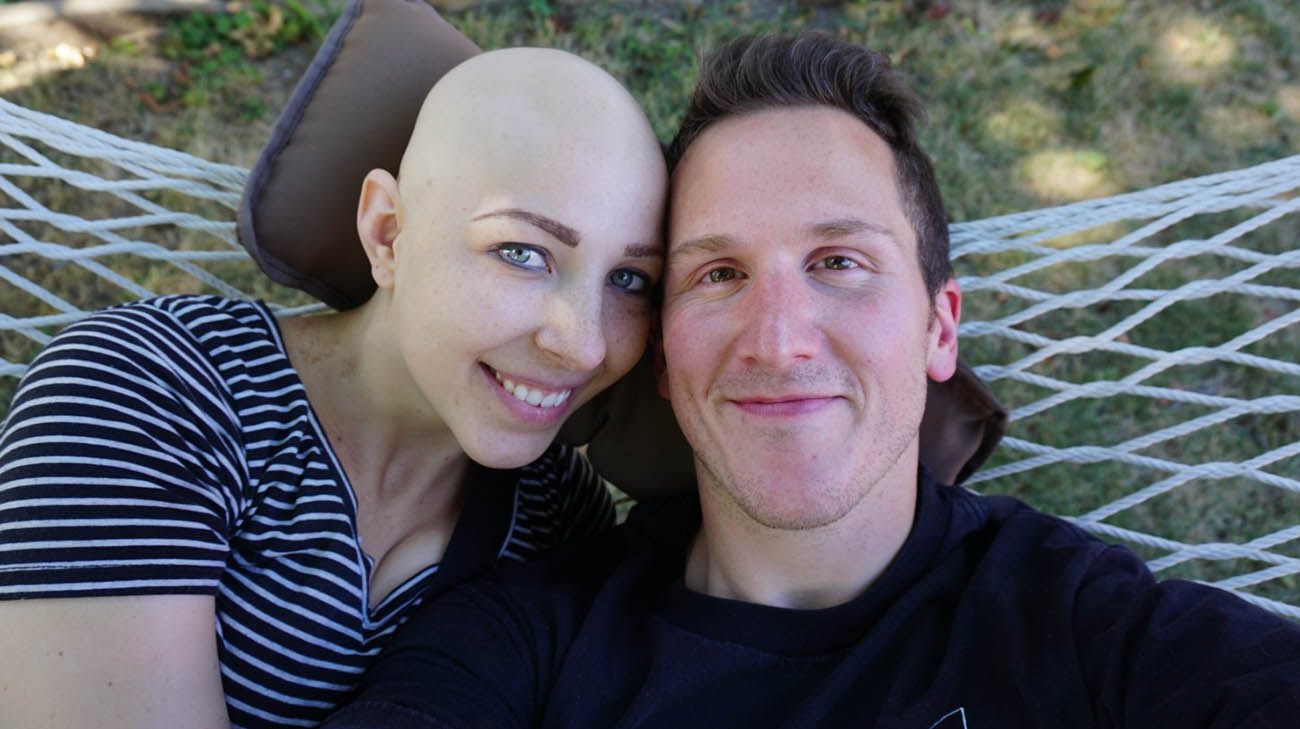 Allie and Tommy while Allie was undergoing cancer treatment. (Courtesy: Allie Englert)
Dr. Anderson considers himself to be something of an "orchestra conductor," overseeing an integrated, multidisciplinary team of physician assistants, surgeons, infusion nurses, radiologists, oncology pharmacists and other specialists who have joined forces to give Allie the best treatment and hope for survival.
"It's a very rare tumor," he explains. "It often metastasizes from the get-go, and that makes your heart sink as an oncologist. It's very difficult to cure and Allie's was tough, because the tumor was in three spots. While she responded well to therapy, it eventually came back as it often does."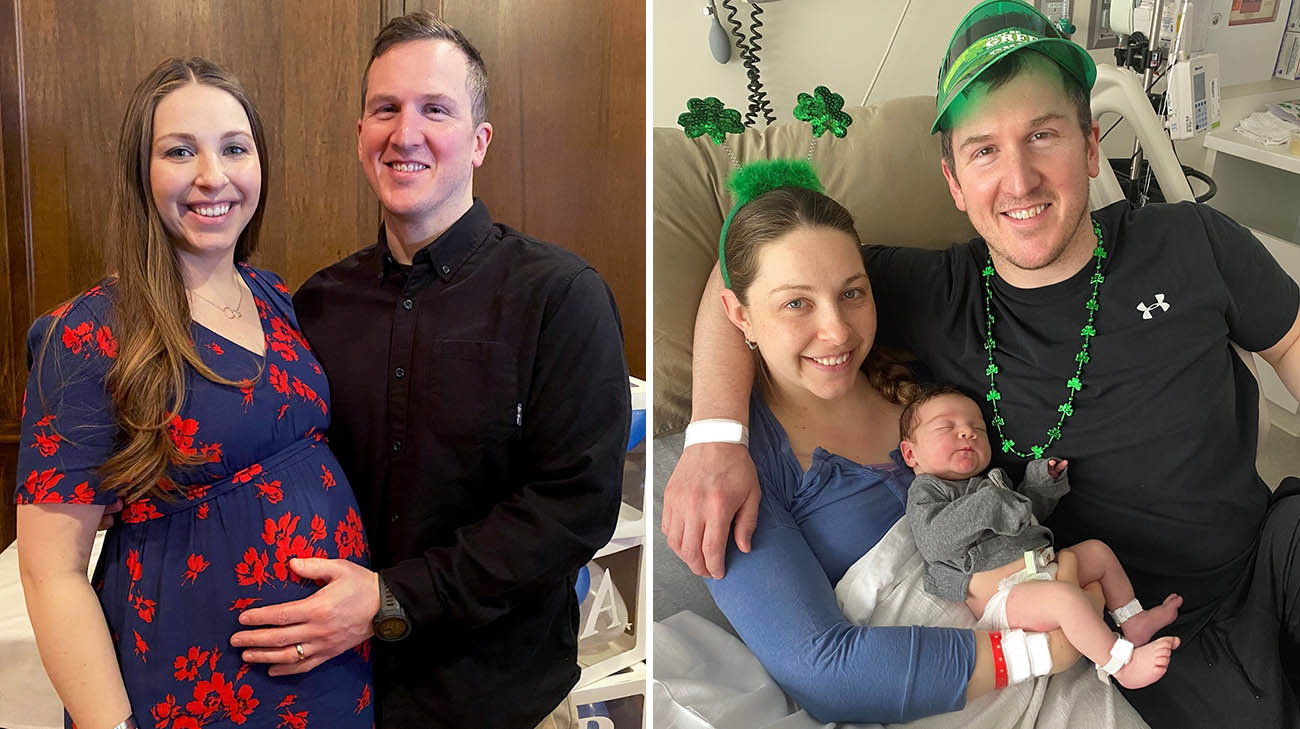 Allie got pregnant in 2021. Peter was born in March 2022. (Courtesy: Allie Englert)
After the cancer returned, Dr. Anderson implemented an updated treatment plan that included another six months of chemotherapy using a different cocktail of drugs and pinpointed radiation to treat the spot on her lung. By July 2019, testing revealed Allie showed no evidence of cancer, and it has not returned since.
She credits Dr. Anderson for gently, yet persistently, guiding her through the process, recommending and amending treatment protocols to address the changes in how the cancer kept evolving. He also gave her and Tommy the go-ahead to try and get pregnant or to seek infertility treatment, if necessary.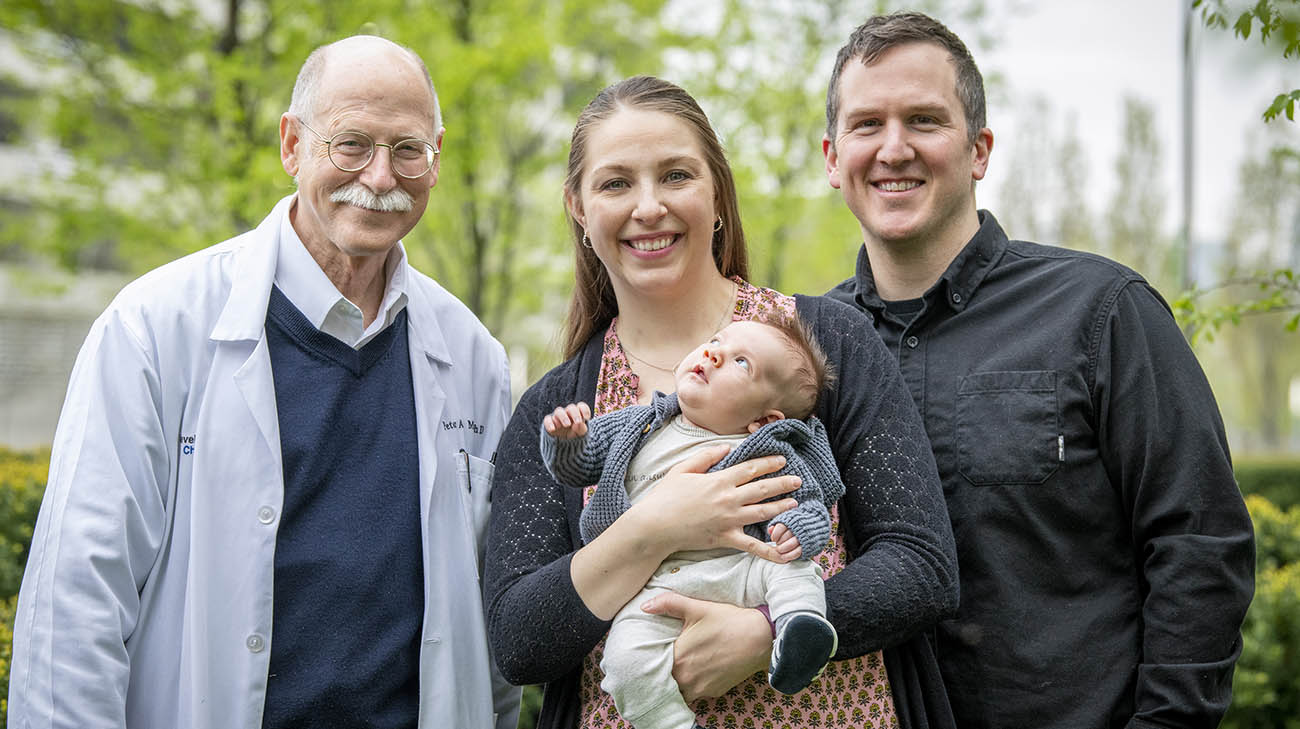 Allie and Tommy named their baby, Peter, after Dr. Peter Anderson -- the person Allie says is most responsible for saving her life. (Courtesy: Cleveland Clinic)
"When I was first diagnosed, I had to begin treatment immediately so I never had the chance to freeze my eggs," notes Allie. "I wasn't sure if my fertility was affected by the chemo and radiation."
Allie got pregnant in mid-2021. Her son, Peter, was born in March 2022. "He's such a sweet baby, and we couldn't be happier that we've been able to start our family."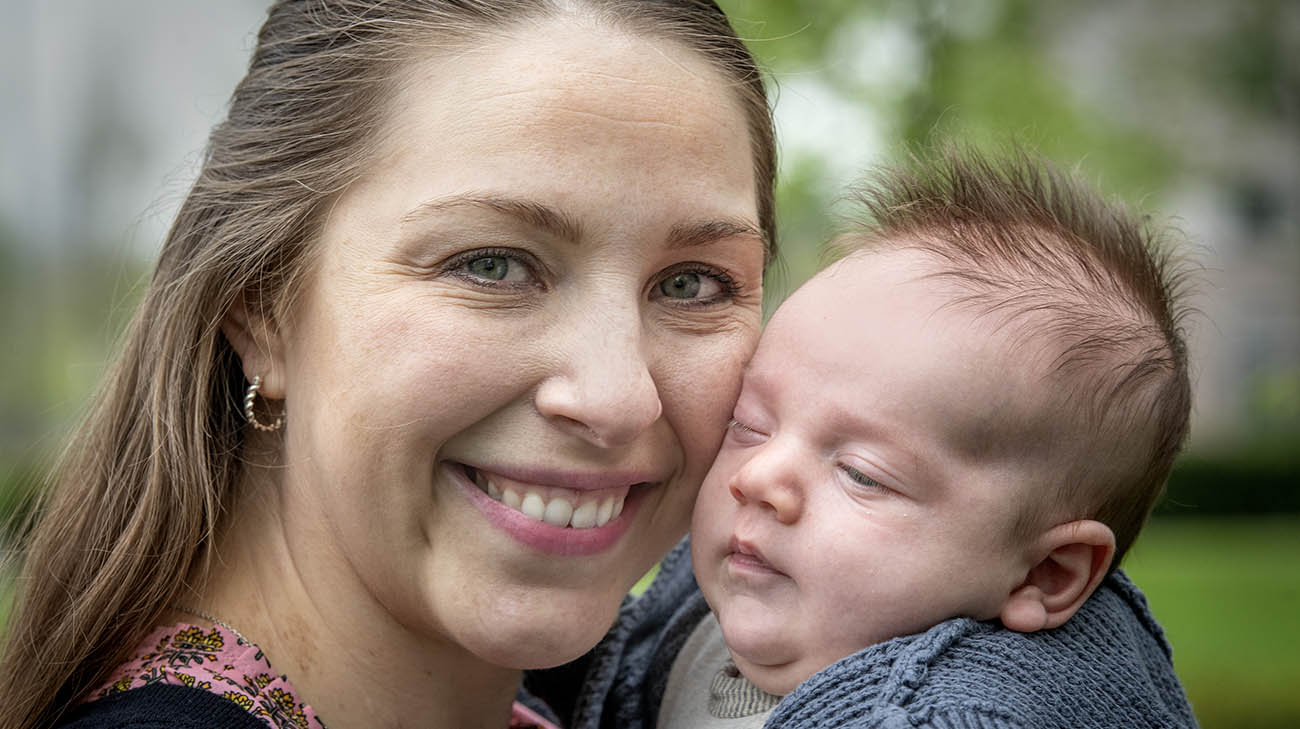 Allie is grateful she and Tommy have been able to grow their family by having sweet baby Peter. (Courtesy: Cleveland Clinic)
Dr. Anderson, too, is thrilled by his baby namesake. "Allie has been through a lot," he states. "It's been a delight to work with her. She's living life to the fullest."
"It's impossible to stay positive all the time. You're going to have some bad days," Allie says. "You just have to take it one day at a time and be patient and persistent. Dr. Anderson would say that all the time, and my husband and I remember that whenever we're going through difficult times."
Related Institutes: Cleveland Clinic Cancer Center, Orthopaedic & Rheumatologic Institute, Cleveland Clinic Children's
Patient Stories
Patient Stories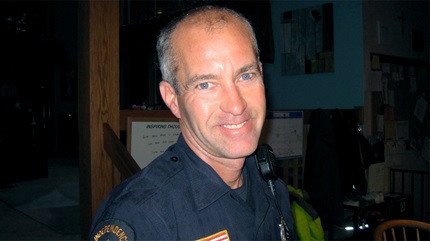 Feb 2, 2023
"I asked Dr. Gillinov if I could get back to where I was after my surgery, and he responded, 'You'll be better. You've been doing everything with a misfiring engine. We're going to fix the engine.'"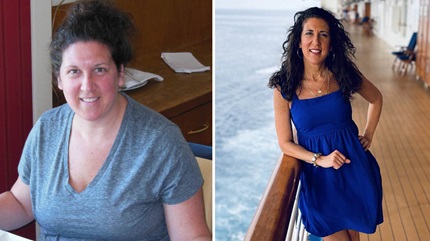 Jan 31, 2023
"You have the support of health experts and other people in the group. If I can do it, anyone can do it. It's something you can stick with and feel good about."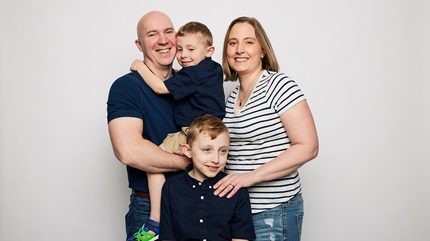 Jan 27, 2023
"We're thrilled that we've gotten 10 years and hope to get 10 more."