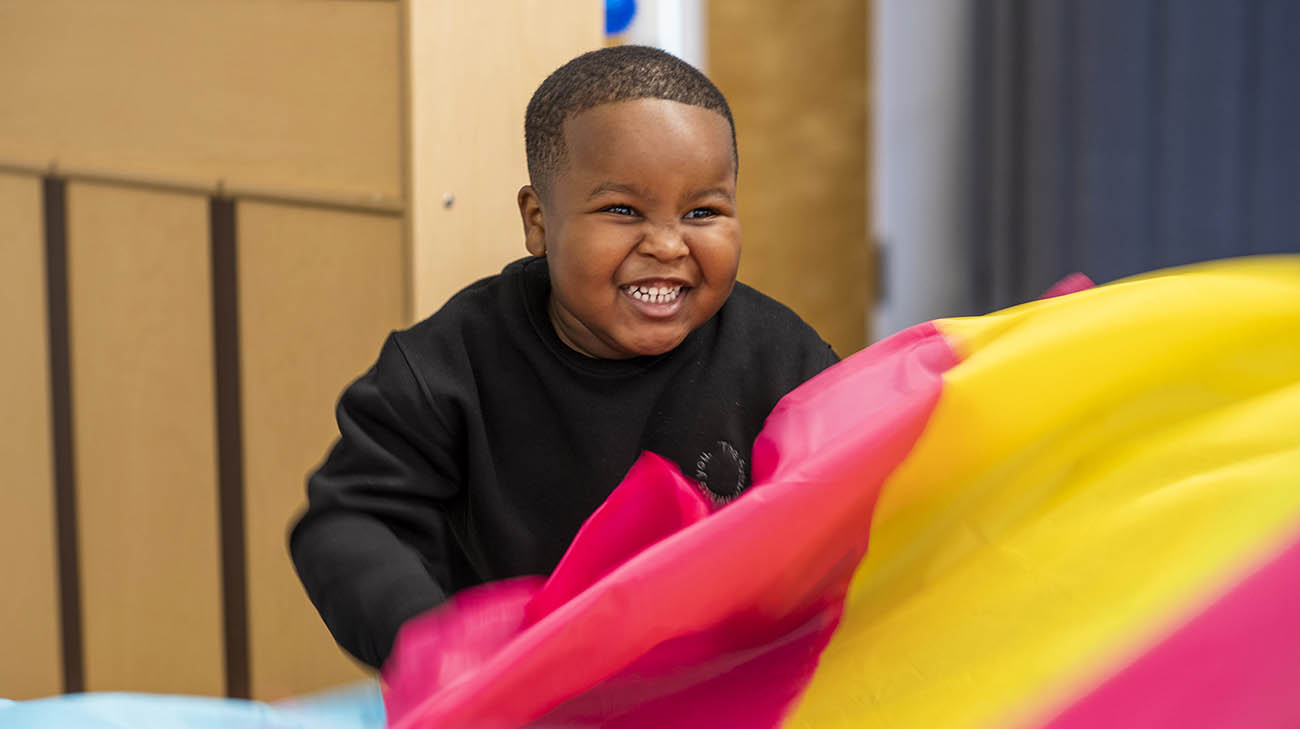 Smiling from ear to ear, 4-year-old Carter Smith loves making a grand entrance during his three time weekly visits to the Cleveland Clinic Children's Hospital for Rehabilitation. He calls caregivers in the facility's Center for Autism by name and greets them with a hug.
"Carter is so entertaining and has such a joyful spirit," says Maureen Intihar, Senior Behavior Analyst at the Center for Autism, who leads the team treating Carter. "He's such a happy little guy, and he loves to get people's attention. He'll make silly faces and want you to make the same face."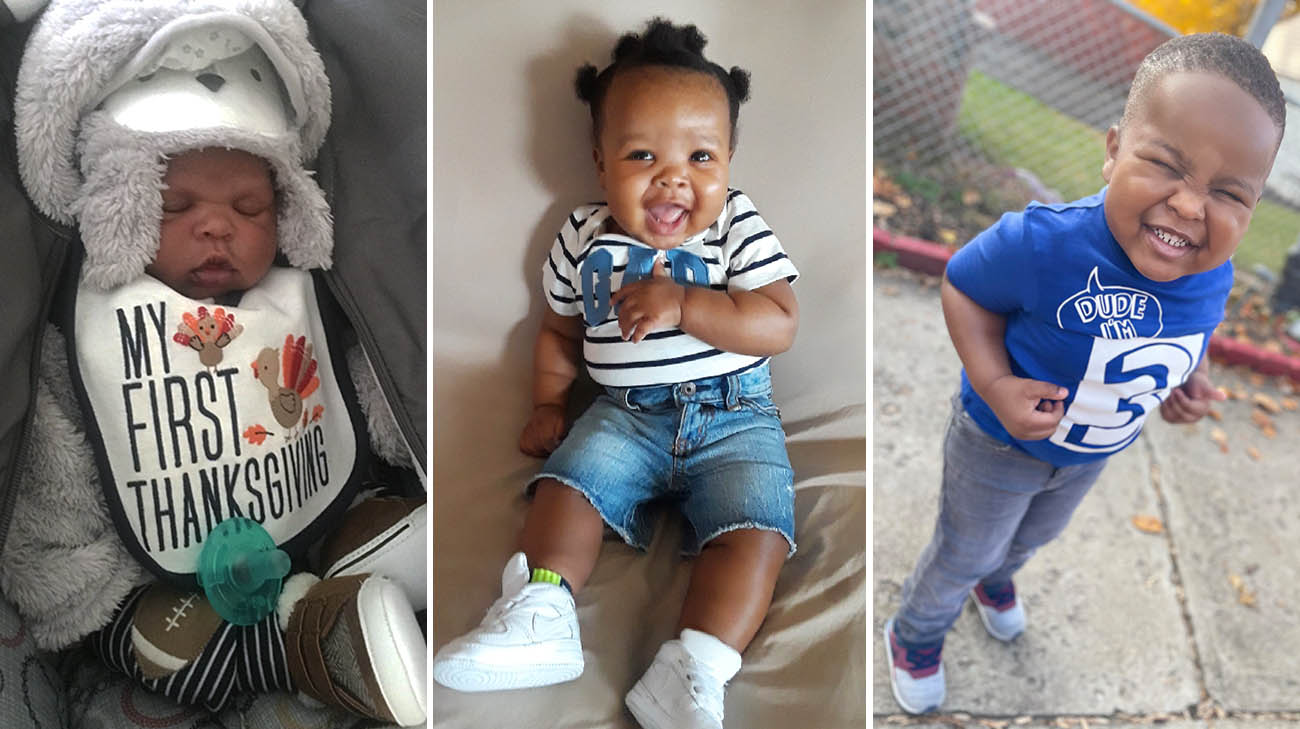 When Carter was a toddler, Cat noticed he would mostly keep to himself and rarely spoke. (Courtesy: Cat Smith)
However, it wasn't always that way for the East Cleveland, Ohio, preschooler. As a toddler, he would often keep to himself, rarely playing with others. Instead, he'd sit alone listening intently to music. He rarely spoke, which prompted his mother, Cat, to get Carter speech therapy services through HelpMe Grow, an organization that supports families of children with developmental delays.
"Every child is different, and I thought Carter was just developing and evolving in his own way," says Cat, who also has an older son, 10-year-old Octavious. "It took for me getting injured at work to notice there was more going on with him."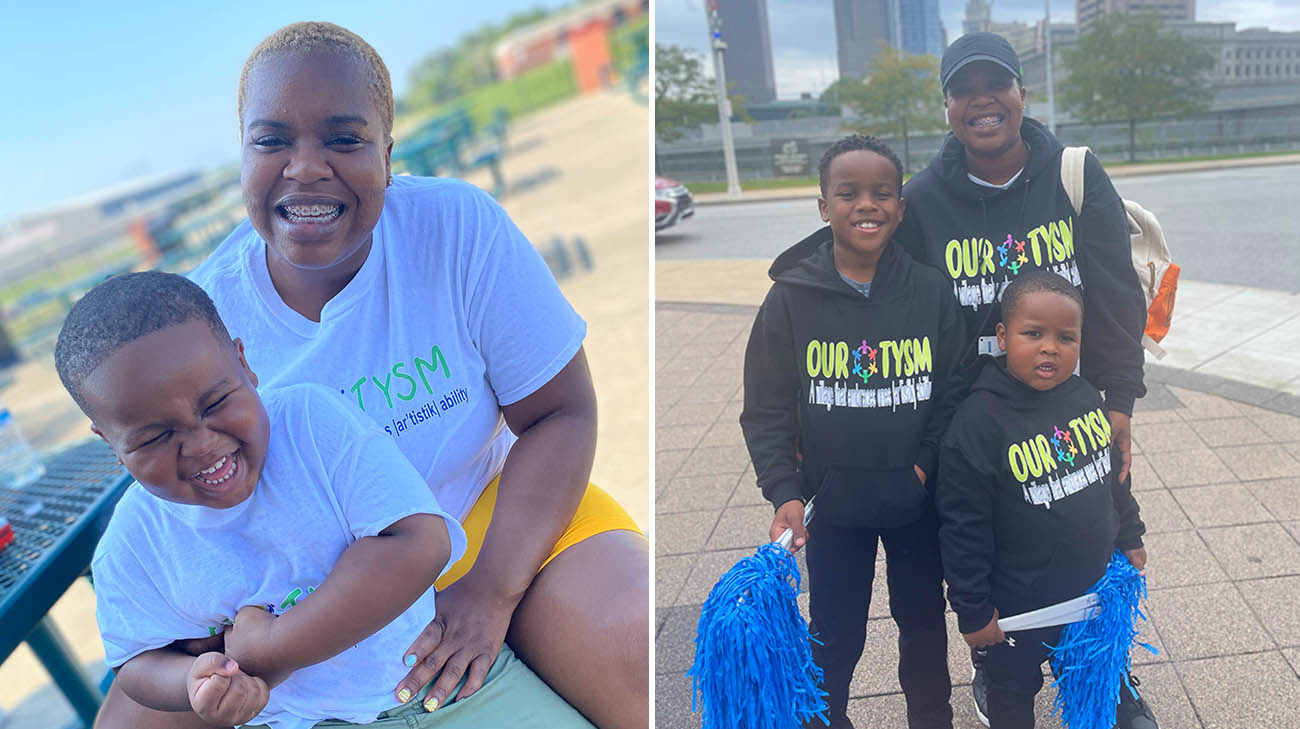 Carter's mom and brother, Octavious, have always supported Carter through their efforts in raising awareness and acceptance for individuals with autism. (Courtesy: Cat Smith)
A mail carrier who typically worked 8- to 10-hour shifts, six days a week, Cat would feed and get Carter dressed and ready for daycare, either with her mother or a niece. Her time with him in the evenings was shortened, too, given her work schedule.
Once she was home all day, recuperating from her injury, she realized Carter's developmental deficits were more serious than she thought. Cat saw Carter would obsessively open and shut doors, would walk on his toes, and go hours without uttering a sound. "He would stare off into space," she adds. "And his facial expression wouldn't change. The little things I was seeing were happening all day long."
After consulting with her pediatrician, Cat was referred to Cleveland Clinic Children's just as the COVID-19 pandemic hit in early 2020. Because in-person visits were soon cancelled for several months, Carter was one of the first children to get an autism assessment via remote video conferencing by Cynthia Johnson, PhD, director of the Center for Autism.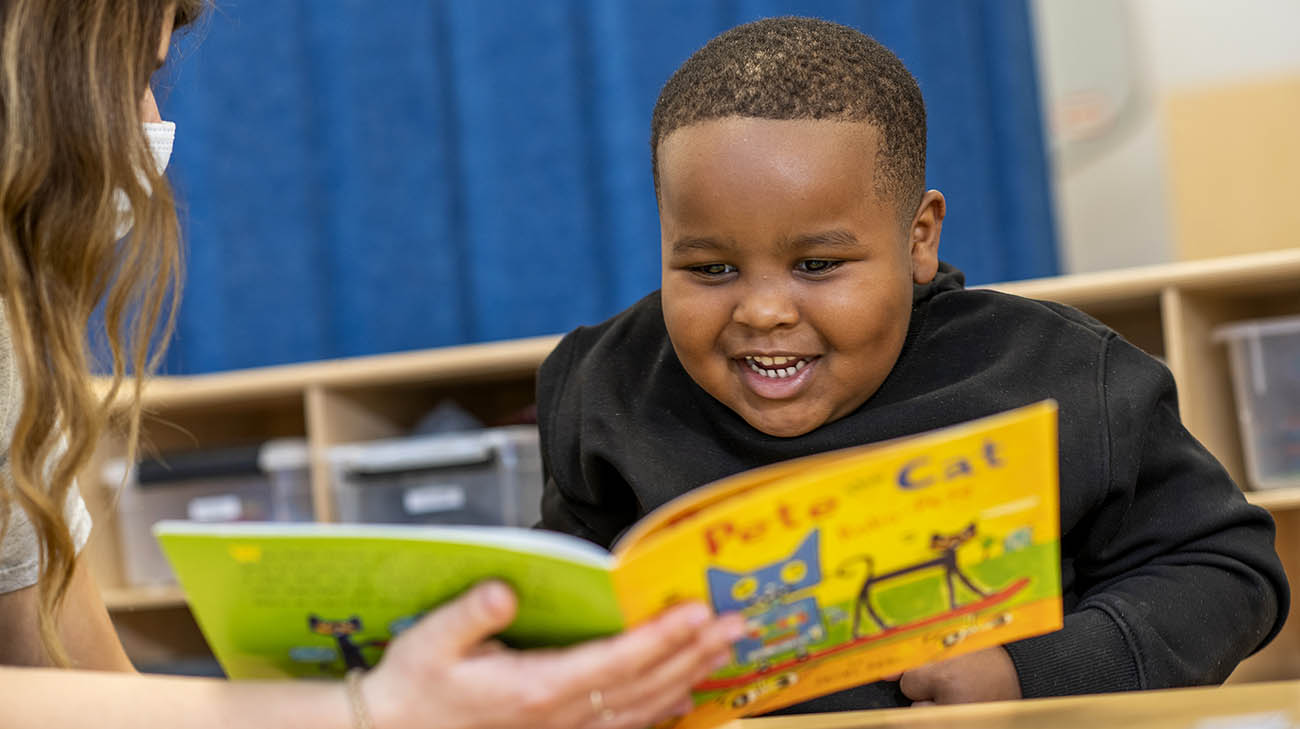 Carter enjoying reading time at the Center for Autism. (Courtesy: Cleveland Clinic)
"I saw Carter just as we were shutting down to make sure children (awaiting assessments) could at least start the process," explains Dr. Johnson, who did determine Carter was on the spectrum for autism , a neurodevelopmental disorder that impacts communication, socialization and behavior.
"His mother was very understanding of our limitations, and we had some funny moments of her trying to get him on video. He's a busy guy! But we were able to get him on our list for therapy, which began as soon as in-person restrictions were lifted."
Cat recalls feeling trepidation as she drove up to the entrance to the rehab hospital on Carter's first day. Her fears were relieved when Maureen and another caregiver came to the car, eagerly greeted Carter and ushered him inside. "I could tell there was a lot of love there," says Cat. "Carter took right to them."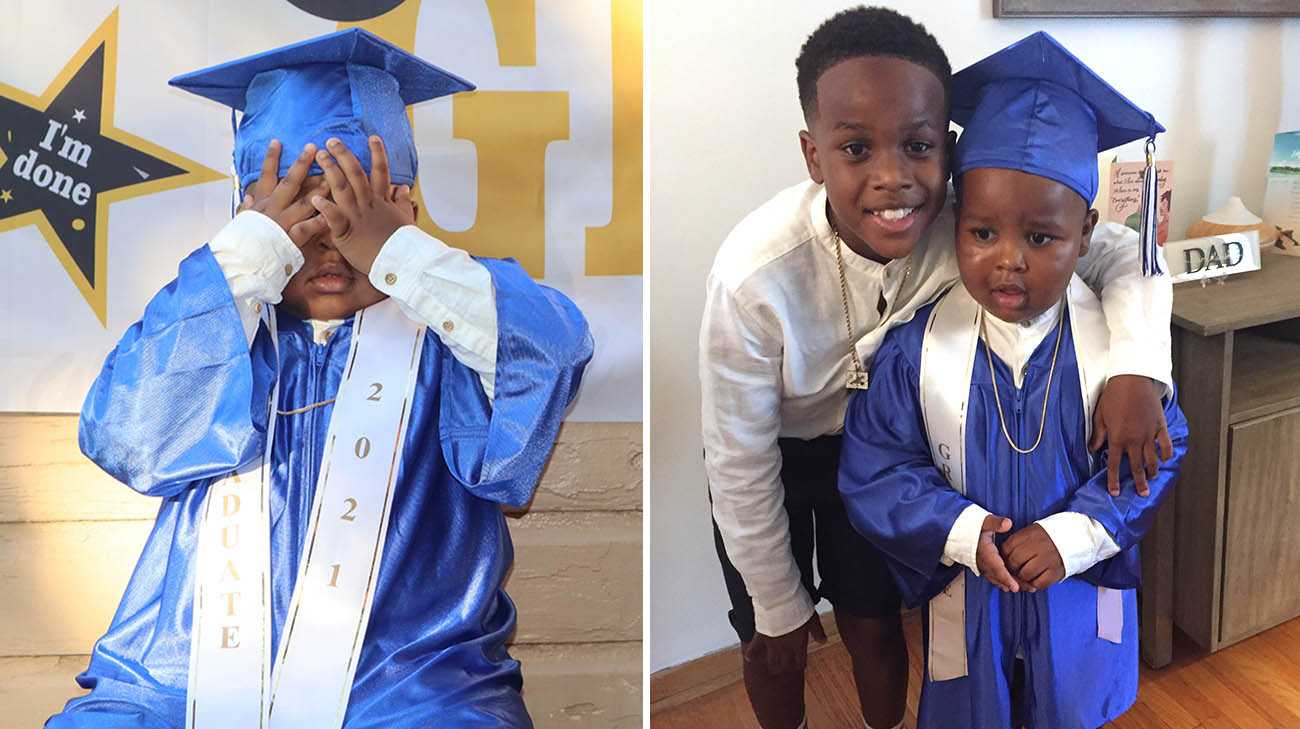 Carter graduated from home daycare with his brother and family by his side, helping him celebrate. (Courtesy: Cat Smith)
For Carter, the team took a multi-faceted approach to therapy that was centered on applied behavior analysis (ABA), which uses techniques to teach and reinforce appropriate behavior in children while decreasing or eliminating interfering behavior, like tantrums. ABA treatment was coupled with occupational and physical therapies. Cat noticed a difference in Carter almost immediately.
"Whereas he had been babbling before, he began saying words better. He even started saying 'Mommy' for the first time," Cat enthuses. "I was so excited when he started verbalizing with me, and he just loves going to the facility. He would start clapping when we drove up to the place."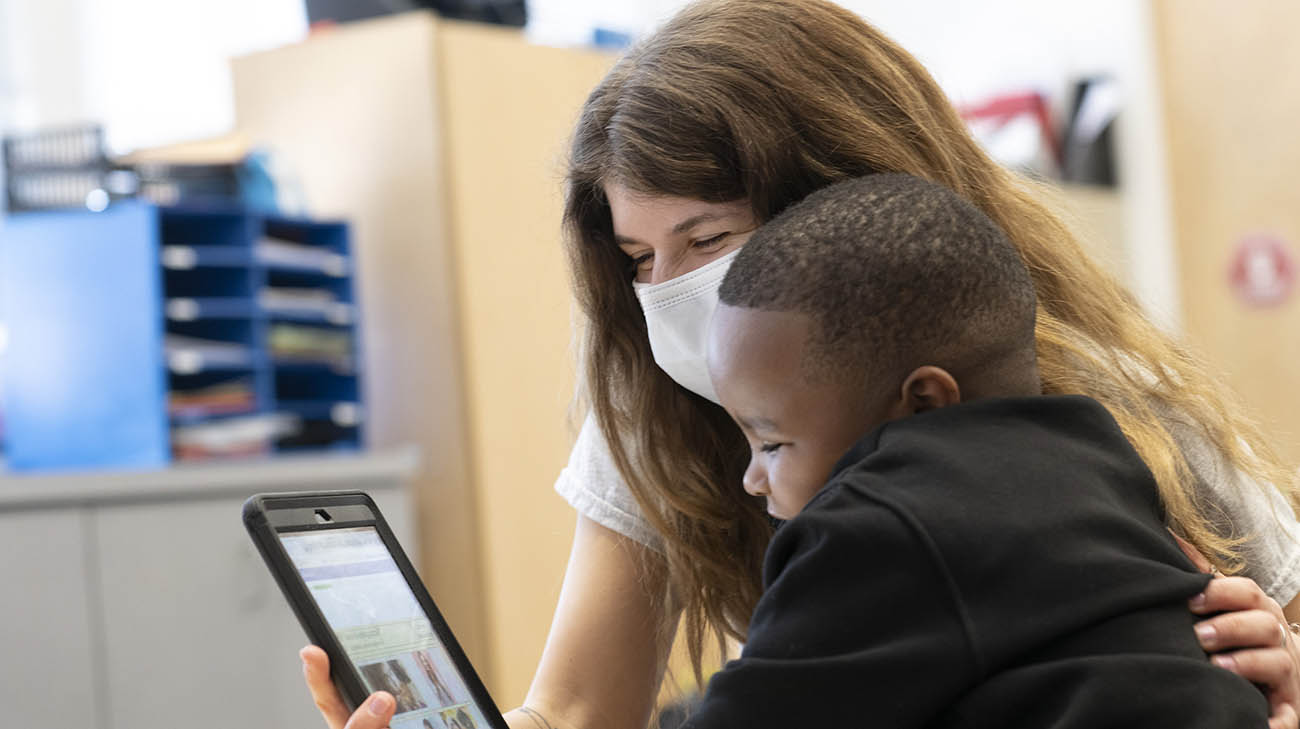 Carter learning with his teacher, Nicole Balsom. (Courtesy: Cleveland Clinic)
He improved further once diagnosed with sleep apnea and undergoing surgical procedures to remove his adenoids and tonsils. As Maureen recalls it, Carter suddenly showed even more advancement in his social and developmental skills.
"Our program specifically focuses on the core deficits of autism spectrum disorder, which are social communication, engagement and restrictive or repetitive behaviors," explains Maureen, who also holds sessions with Cat to reinforce what Carter is learning at the center. "We work on things like getting him to engage with us and other people, and on how to play in a more functional way. That has made him more likely to interact with others, especially in a school setting."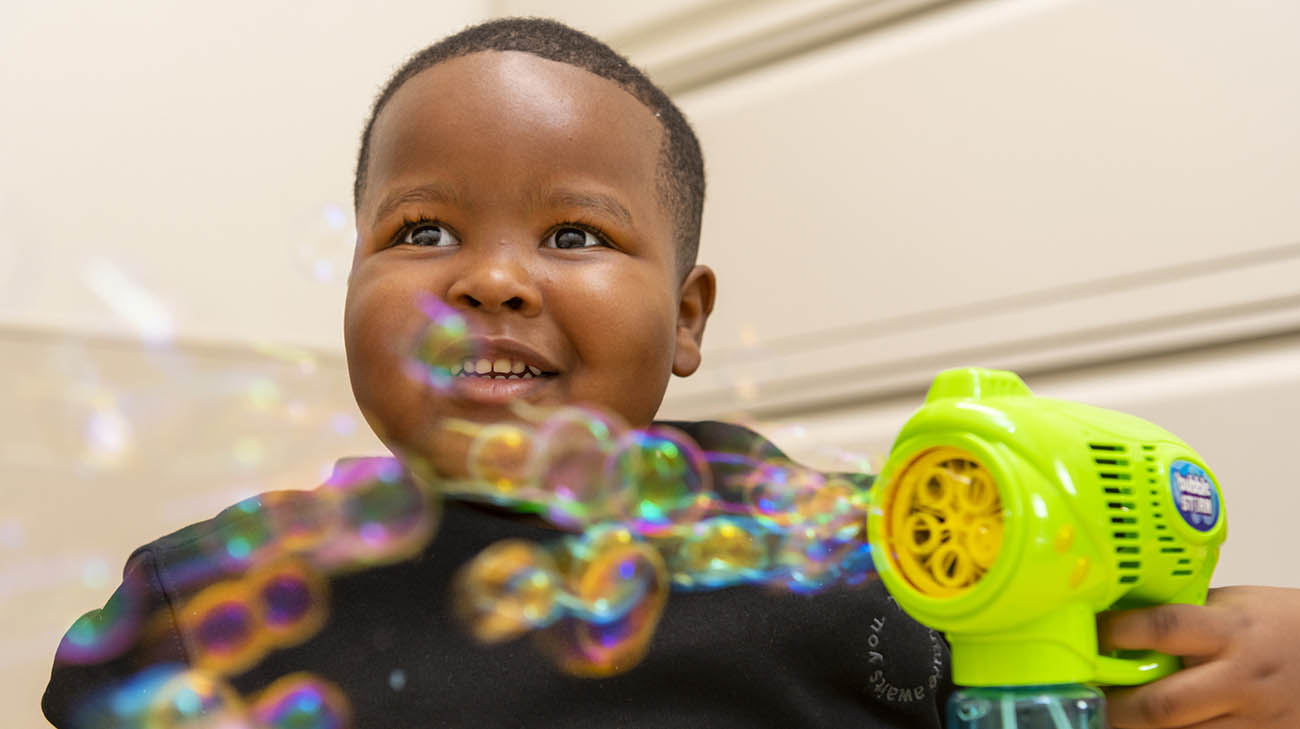 Carter has been making amazing progress at home and school. (Courtesy: Cleveland Clinic)
Carter has been attending a Montessori preschool a few days each week which has been a hands-on learning experience that has helped him develop social skills and encouraged his interactions with peers. Cat is in the process of enrolling him in a kindergarten program for the fall. She marvels at how far Carter has come. She advises other parents who suspect developmental delays in a child to take immediate action by contacting their pediatrician.
"Don't be ashamed to go and seek the information and resources you and your child need," Cat states. "And don't be in denial about your child. We all have differences we can overcome with the right help. Once you know the problem, it will make you stronger as a parent and more understanding."
Related Institutes: Cleveland Clinic Children's
Patient Stories
Patient Stories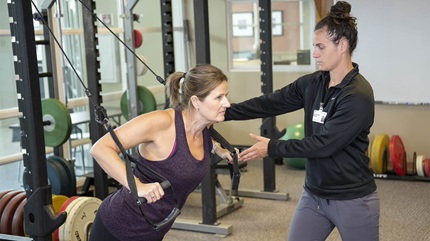 May 25, 2023
"Watching all the challenges my mom was facing made me rethink how important weight training is as we age."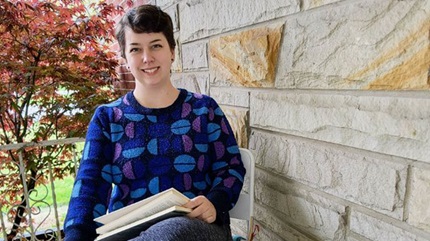 May 24, 2023
"If you feel something is wrong, call an ambulance. Don't wait it out to see if it passes. That's what saved me, by getting into surgery as fast as possible. Otherwise, I'd absolutely not be here."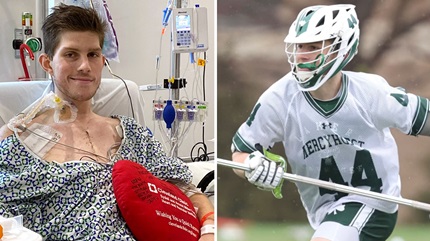 May 22, 2023
"Thanks to my donor I got a second chance at life. I never looked at this experience as something being taken away from me, I looked at is as getting a heart gave me the gift of life, something to propel me forward and make memories."