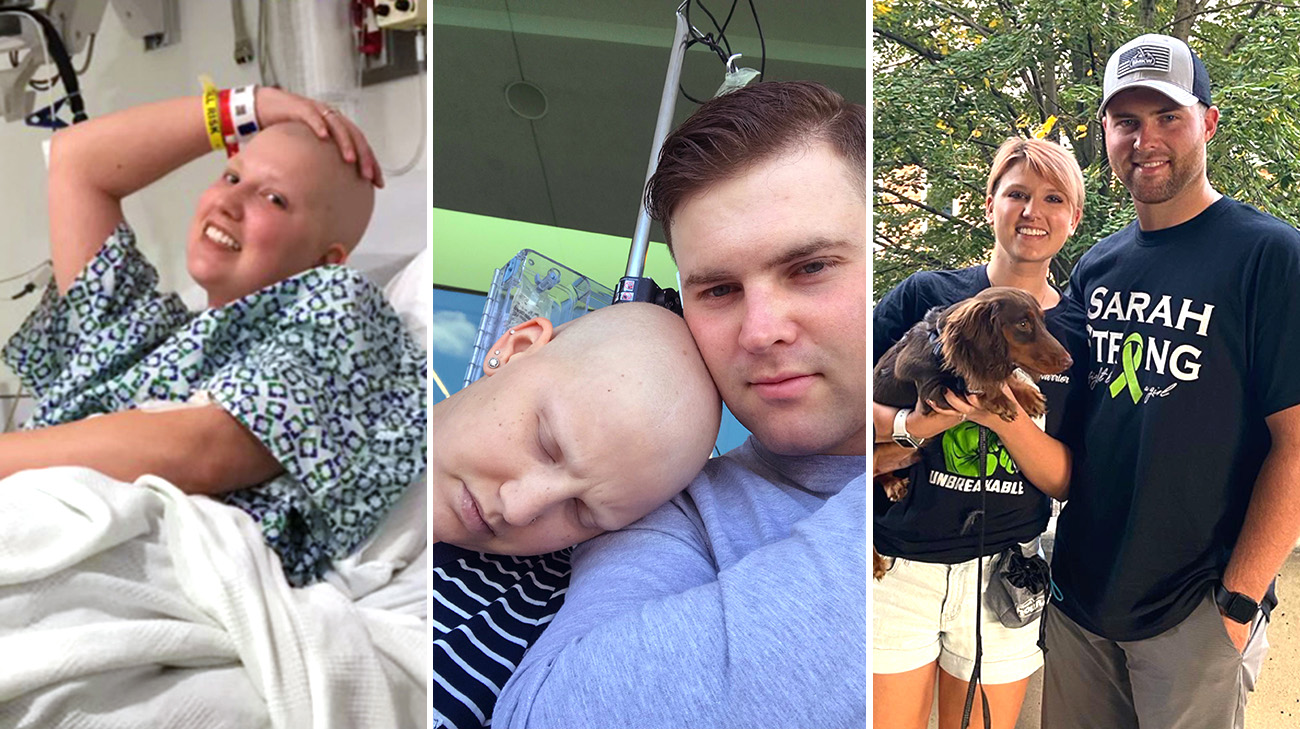 Battling a swollen lymph node under her chin, and generally not feeling well despite a round of steroid treatments, Sarah Malone was determined to figure out what was wrong. Doctors suspected mononucleosis, but that didn't feel right to her.
After doing her own research, Sarah recalls walking into the dental office where she works the next day, and asking her colleagues, "What if I had lymphoma?"
After nearly passing out a week later at work, the then recently married 27 year old, was taken to Cleveland Clinic Fairview Hospital and later transferred to main campus. Rounds of testing revealed what she had suspected. Doctors diagnosed Sarah with stage 4 anaplastic lymphoma kinase (ALK)-positive anaplastic large cell lymphoma (ALCL), which is a T-cell non-Hodgkin's lymphoma, an extremely rare form of lymphatic system cancer.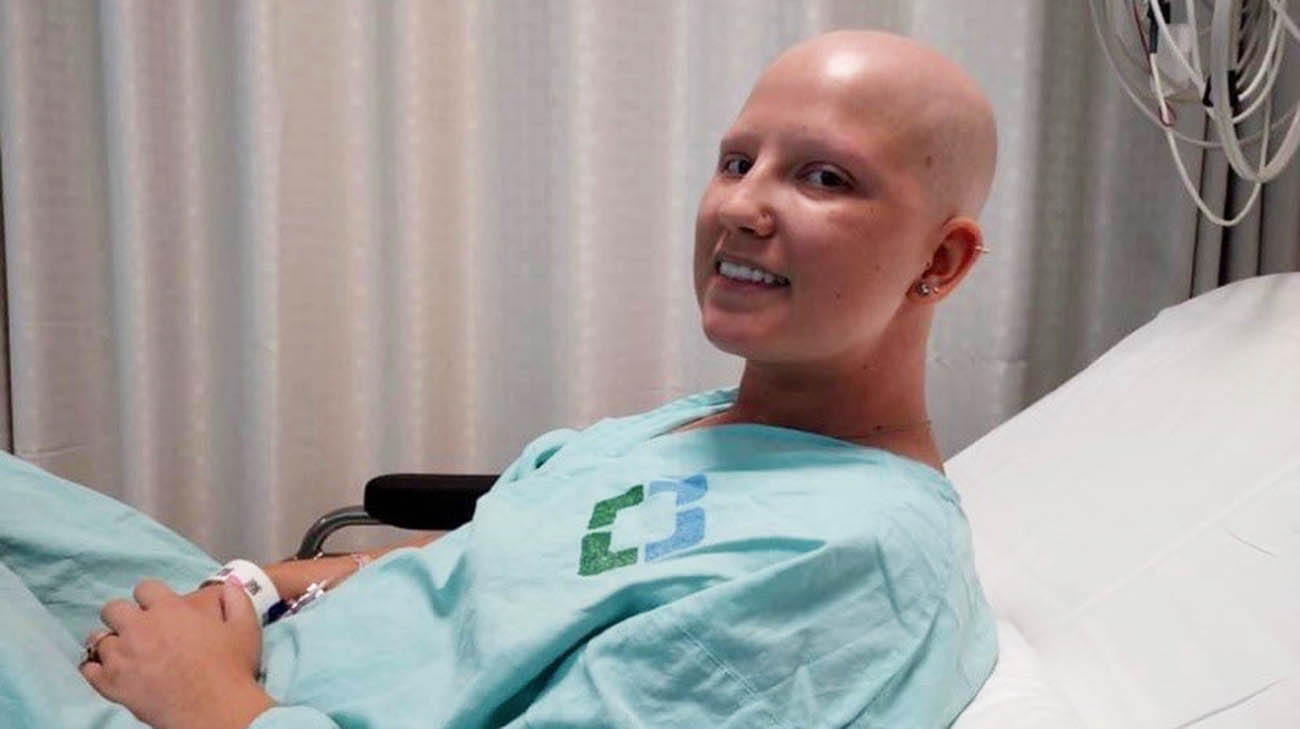 Doctors diagnosed Sarah with stage 4 ALK-positive anaplastic large cell lymphoma. (Courtesy: Sarah Malone)
The disease's complex name would serve as a metaphor for her 18-month medical journey, which involved: intense chemotherapy, a bone marrow transplant, several posttransplant complications, including bouts of pleurisy, pericarditis and kidney failure, all stemming from a debilitating case of graft versus host disease (GvHD) .
"Everything you can possibly think of happened to her," says Deepa Jagadeesh, MD, a hematologist oncologist at Cleveland Clinic Taussig Cancer Institute. "But she pulled through it like a trooper, like a fighter. Her story has been remarkable, from start to finish."
Sarah's stage 4 cancer grew rapidly. However, her form of ALK-positive lymphoma – which only occurs in about 1% of patients with lymphoma – is also one of the most treatable types of T-cell lymphoma. According to Dr. Jagadeesh, while adult patients with most systemic T-cell lymphoma have, on average, a 35% five-year survival rate, patients with ALK-positive ALCL have about a 75% five-year survival rate following treatment.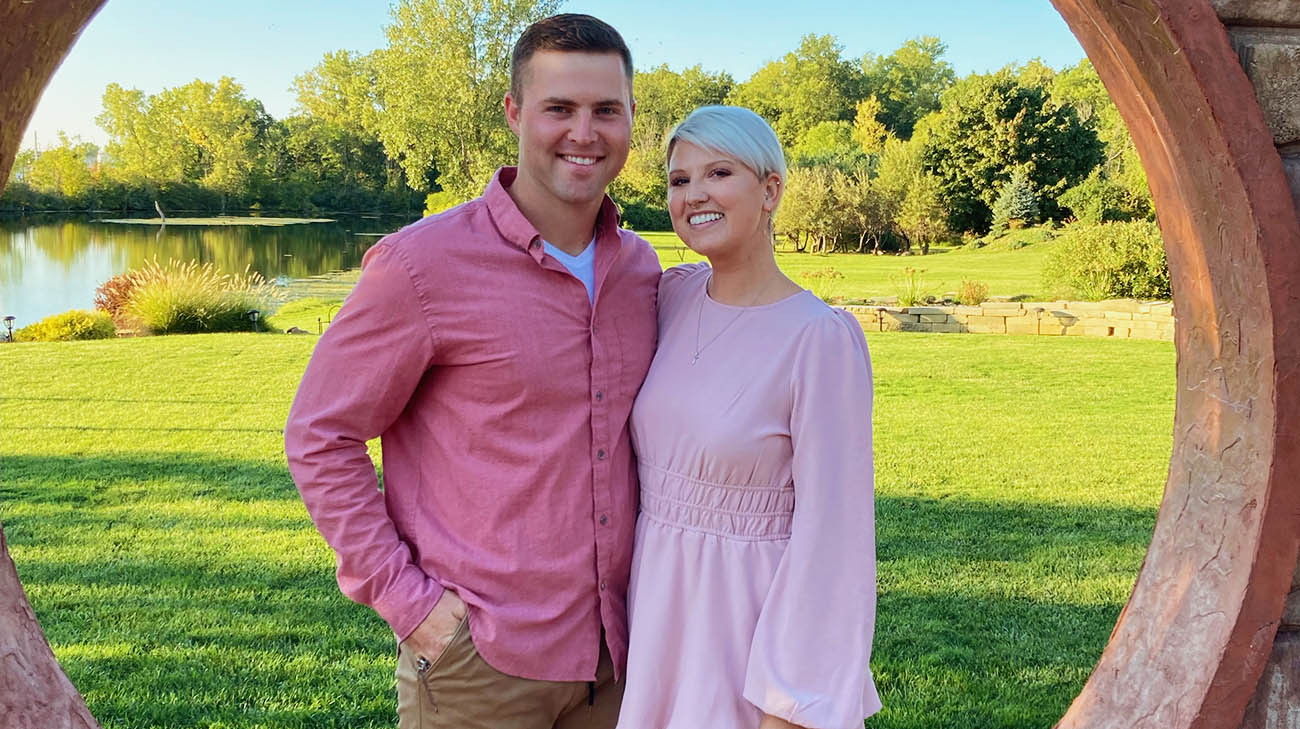 Sarah credits her husband, Mackenzie, family and friends, for helping her manage the challenges she's faced throughout her medical journey. (Courtesy: Sarah Malone)
"I was still in the fight or flight mode from the beginning," says Sarah, who thanks her husband, Mackenzie, and her family and friends for their unending support throughout her journey. "I believe the power of prayer truly helped me."
She has also felt blessed by the persistence and dedication of Dr. Jagadeesh, her primary care physician, John Jewell, MD, and a number of specialists and nurses across Cleveland Clinic who left no stone unturned in assessing, reassessing and treating her rapidly-moving disease and related medical conditions.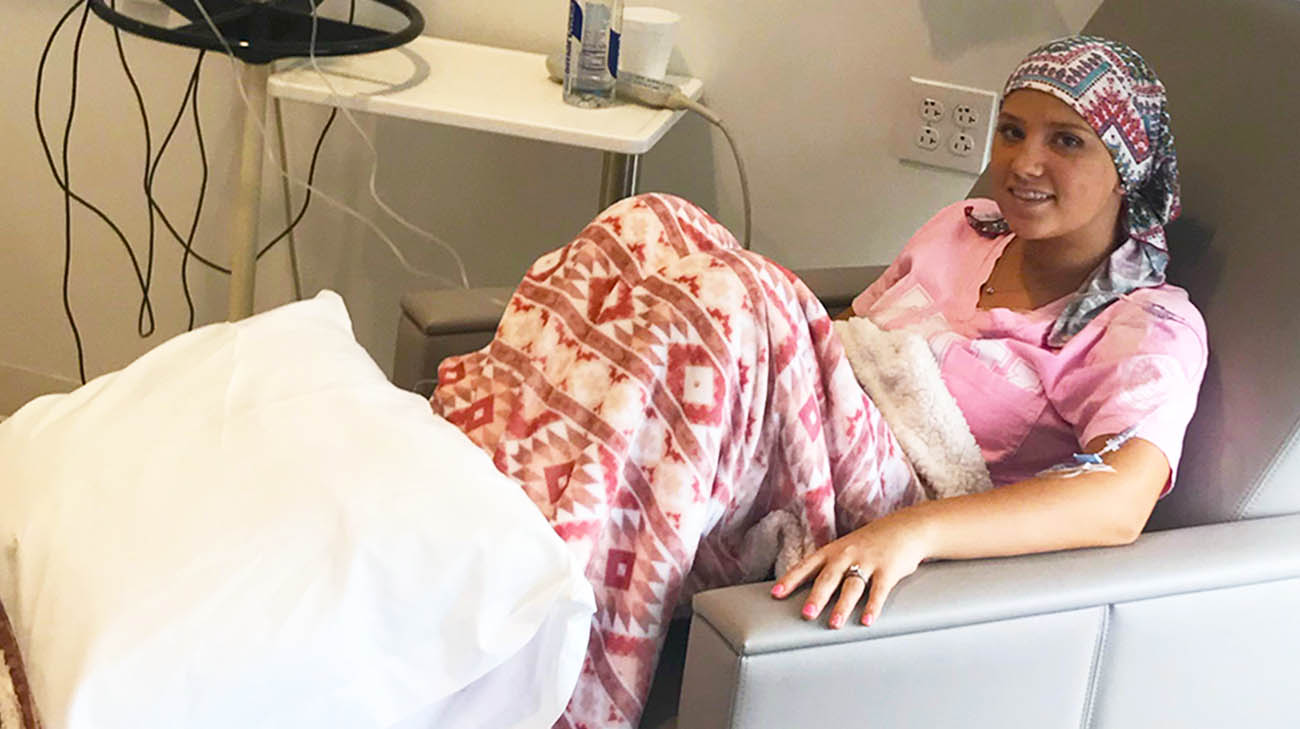 Sarah undergoing treatment at Cleveland Clinic Cancer Center. (Courtesy: Sarah Malone)
Dr. Jagadeesh in particular, along with nurse practitioner Chris Ferraro and nurse Jamie Stern, were always-available sources of information, comfort and encouragement for Sarah. Dr. Jagadeesh facilitated Sarah's interaction with fertility specialists. Before she began chemotherapy , she underwent an ovarian tissue freezing procedure, to try and preserve her ability to have a baby. However, upon the completion of her treatments, the ovary could not be reimplanted as it was found to contain cancerous cells.
Sarah went through six cycles of chemotherapy, once every three weeks, starting in March 2019. After her last treatment, she underwent apheresis where doctors collected her stem cells that were needed for a bone marrow transplant. On August 6, 2019, Sarah and Mackenzie's third wedding anniversary, she woke up feeling ill. Her scheduled bone marrow transplant had to be cancelled after pre-operative tests revealed the cancer had returned. And this time, the lymphoma had spread even farther within her body. Subsequently, an autologous stem cell transplant, in which her own cells are used, could not occur.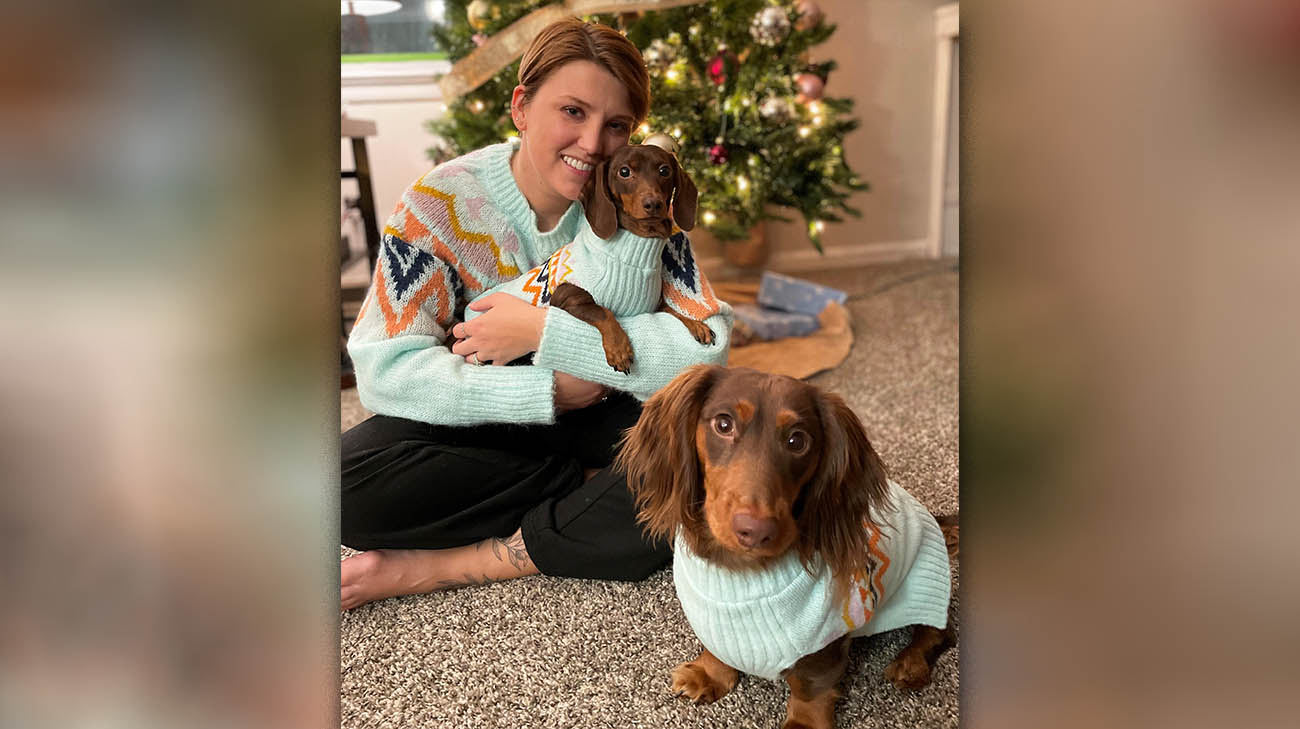 Sarah says her dogs Copper and Fievel have been a great source of comfort through all the ups and downs during cancer treatment. (Courtesy: Sarah Malone)
"I got scared," recalls Sarah. "The cancer came back so rapidly, and I was so sick, I couldn't qualify for a lot of (clinical drug) trials. What do we do?"
As Dr. Jagadeesh explains, "Transplant is the ultimate goal for patients with relapsed T-cell lymphoma, who are young and otherwise healthy. But to get to transplant, you have to get the disease under control first."
Sarah, her husband, Mackenzie, and their dog, Copper, during a walk for the Leukemia & Lymphoma Society. (Courtesy: Sarah Malone)
Seeing how quickly the cancer had spread, Dr. Jagadeesh ordered an even more intensive chemotherapy treatment. Sarah was admitted to the hospital to receive chemotherapy and began searching for a donor who could donate stem cells needed for an allogenic transplant.
Amazingly, despite the odds being 25% that one of her siblings would be a 100% match, her youngest sister, Ricki, was the perfect donor candidate. Sarah had a successful transplant. However, her road to recovery would be a challenging one.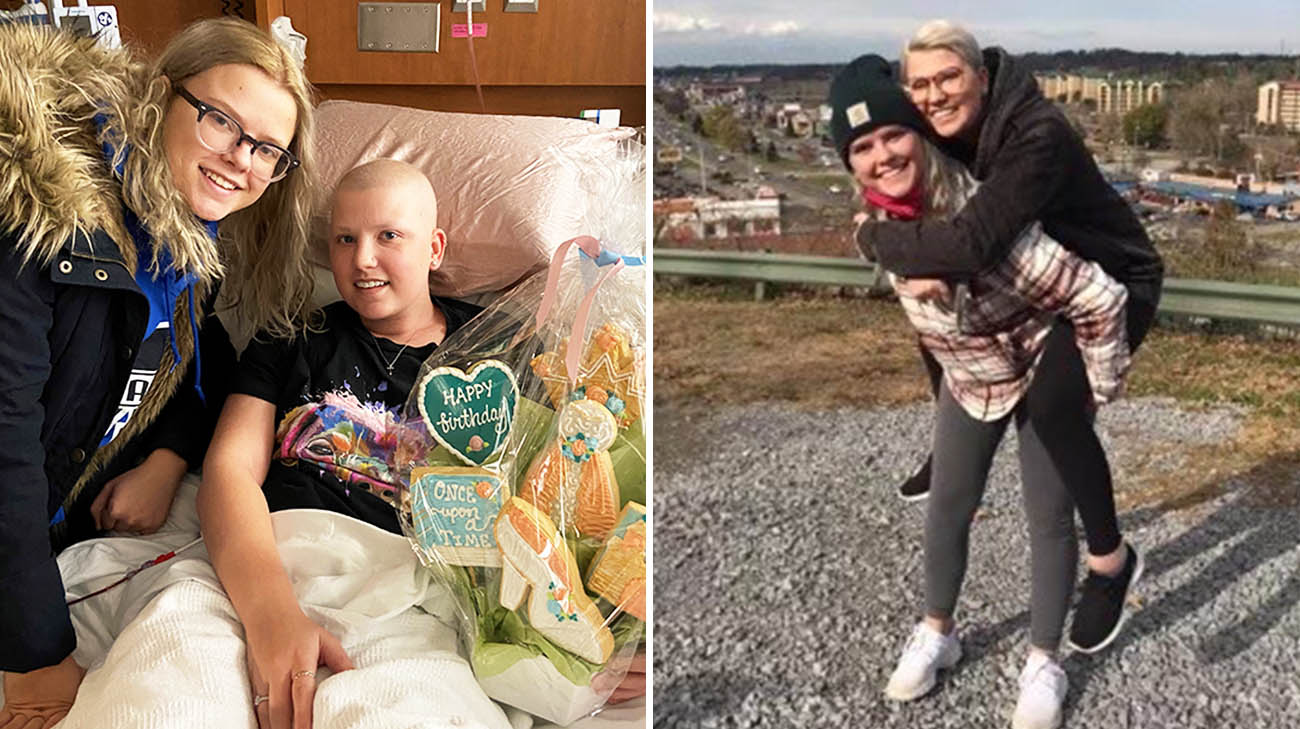 Sarah's youngest sister, Ricki, was a perfect donor candidate for Sarah. Sarah and Ricki celebrated one year posttransplant. (right) (Courtesy: Sarah Malone)
In June 2020, Sarah again felt ill and doctors discovered GvHD, which sometimes occurs in bone marrow recipients. It caused her heart to enlarge due to excessive amounts of surrounding fluid filling sacs. Doctors drained the fluid by making a small incision in her heart. However, the condition also caused Sarah's kidneys to fail and she began three months of dialysis.
Worried for a time she might require a kidney transplant, Sarah put her faith in God and Cleveland Clinic. "We were waiting to see if my kidneys would recover, and I suddenly had this overwhelming feeling of peace. I knew God's presence was there." The next day, at dialysis, caregivers told her she would no longer need the therapy.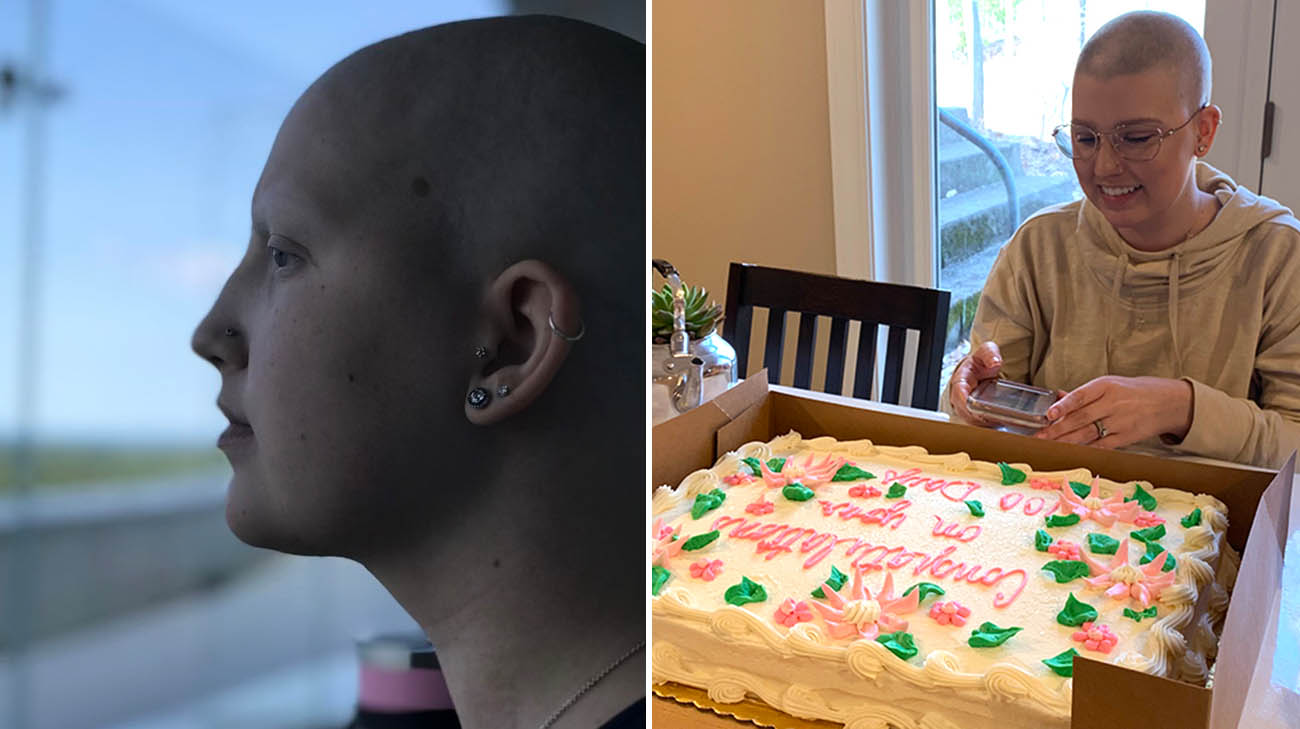 Sarah celebrated with family and friends 100 days posttransplant. (Courtesy: Sarah Malone)
Now, Sarah is working part-time, exercising regularly and considering other fertility options. She returns to Cleveland Clinic for regular check-ups and heaps high praise on her team of caregivers. "It's been three years now, and they are still like family to me."
Related Institutes: Cleveland Clinic Cancer Center
Patient Stories
Patient Stories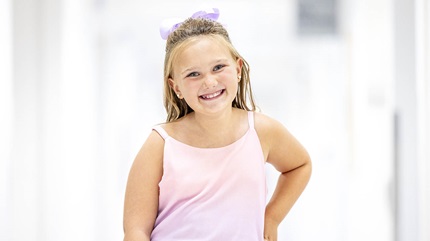 Sep 22, 2023
"This wraps up a chapter in her life we hope we never have to reopen. Audrey handled everything like a champ, and we are so grateful and proud."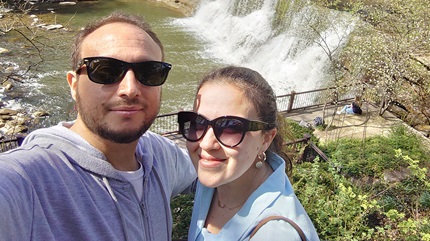 Sep 18, 2023
"Besides my first transplant, I've had other noninvasive surgical procedures, and I needed pain medication for all of them but not this time."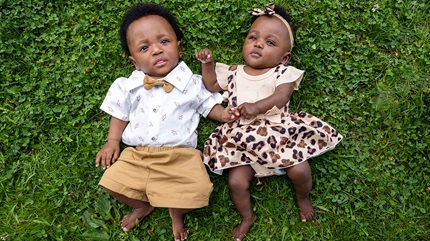 Sep 15, 2023
"Thinking about everything Kimyah and DJ have been through, it was hard to imagine us ever getting to this point. It was unclear if they would be able to do anything by themselves. Now, they're trying to do everything by themselves."