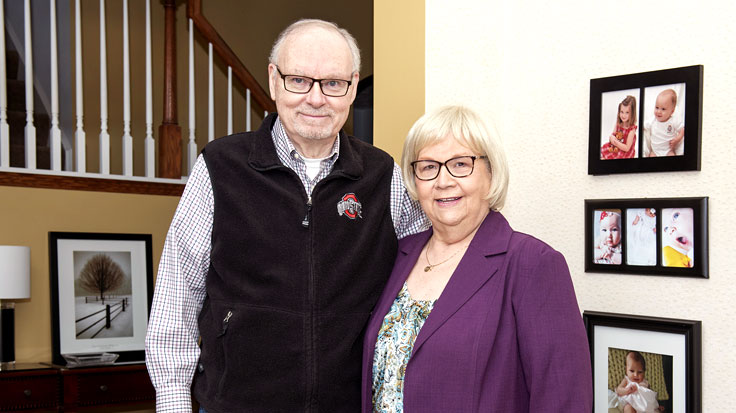 Strongsville resident Kathy Lazroff and her husband, Jim, have stitched together a close-knit family throughout their 40 years of marriage. Their blended family includes four sons and seven grandchildren. With Jim's retirement in 2015, 73-year-old Kathy looked forward to making more trips to Columbus and Chicago to babysit.
Their plans, however, veered slightly off course when Kathy noticed some vaginal spotting. She was a nurse for 40 years, and had worked for a gynecologist who warned that women over 70 should seek immediate medical attention if they have vaginal bleeding.
That's exactly what Kathy did. She made a next-day appointment with a certified nurse practitioner at Cleveland Clinic Strongsville Family Health and Surgery Center. Following an examination, the certified nurse practitioner ordered a blood test and booked an appointment for Kathy to have an endometrial biopsy at Cleveland Clinic Brunswick Family Health Center.
When both test results came back, they showed what Kathy had feared — she had uterine cancer. "When you get a cancer diagnosis, it's like the world drops," says Kathy.
Once she got her bearings and accepted her diagnosis, Kathy saw her internal medicine physician at Strongsville Family Health and Surgery Center, who referred her to Peter Rose, MD, Head of Gynecologic Oncology at Cleveland Clinic.
"I just love everyone at Fairview Hospital. Every single caregiver makes me feel like I'm the most important person in the world."
Dr. Rose told Kathy she'd have to undergo a hysterectomy with removal of the tubes and ovaries. "Kathy was found to have a high-grade cancer with metastasis and it was important to remove all of the tumor to obtain the best results," he explains.
Kathy underwent surgery with experts from Gynecologic Oncology and Urogynecology at Cleveland Clinic's main campus. After a short recovery time, the next step was additional therapy with sequential chemotherapy, radiation and chemotherapy at Cleveland Clinic Cancer Center at Fairview Hospital. "It was a little bit of a drive from our home in Strongsville, but, from the moment I arrived, everyone made me feel comfortable and at home," recalls Kathy.
The morning of her first chemotherapy treatment, Kathy met with oncology social worker Gwen Paull, LISW-S, OSW-C. "I was nervous and apprehensive, but Gwen gave me a nice surprise that made my uneasiness disappear," says Kathy.
Gwen gave Kathy a quilt made just for cancer patients, thanks to a quilting group from Faith Lutheran Church in Avon. "The quilts are such a special gift for patients undergoing chemo and radiation who spend many hours in treatment. They're surprised to get such a beautiful gift made with love," says Gwen.
The group makes the quilts for patients to use during treatments and take home when their care is complete. "Showing these patients that there are people who care about them, even though they don't know them personally, gives you a warm fuzzy feeling inside," says Shirley Dunham, the quilting group organizer.
Keeping warm with her quilt on her lap, Kathy began her first round of chemo. "She was prescribed three cycles of chemotherapy, three cycles of radiation and another three cycles of chemotherapy," explains Dr. Rose. "Kathy and I are a team — we're working together. With the care she's receiving at Fairview and her positive attitude, I think we have a good combination for positive results."
Once Kathy finishes her treatments, she'll continue to be in the care of Dr. Rose and the cancer team at Fairview. "I just love everyone at Fairview Hospital. Every single caregiver makes me feel like I'm the most important person in the world. "My cancer diagnosis is no longer something negative in my life. It showed me how many people truly care about me — my family, friends, caregivers and even strangers. My diagnosis has changed my life in a good way," says Kathy.
Related Institutes: Cleveland Clinic Cancer Center, Community Care, Ob/Gyn & Women's Health Institute
Patient Stories
Patient Stories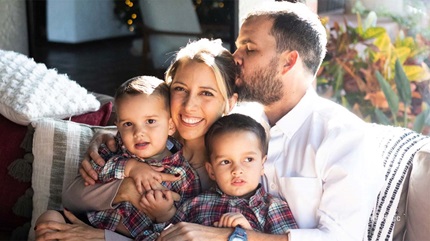 Mar 16, 2023
"Dr. Pieretti took the time to explain how the robotic surgery would work and how quick my recovery would be with this technology. That made me happy because I wanted to get back to my regular life fast."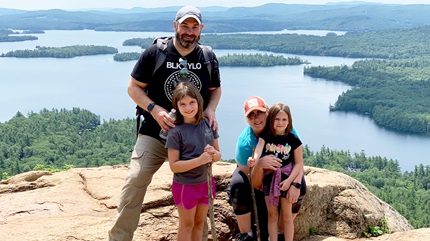 Mar 14, 2023
"If you notice any change with your body, get it checked out regardless of how insignificant you think it might be. If something hadn't made me go to a doctor, I might not be here today."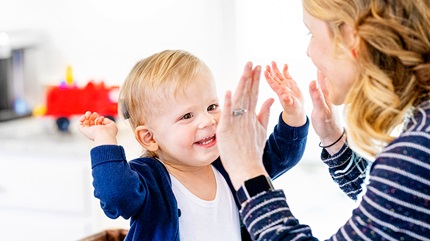 Mar 3, 2023
"From being born essentially deaf, to now singing lullabies. It blows my mind. Corbin is not just meeting developmental milestones, he's surpassing them."