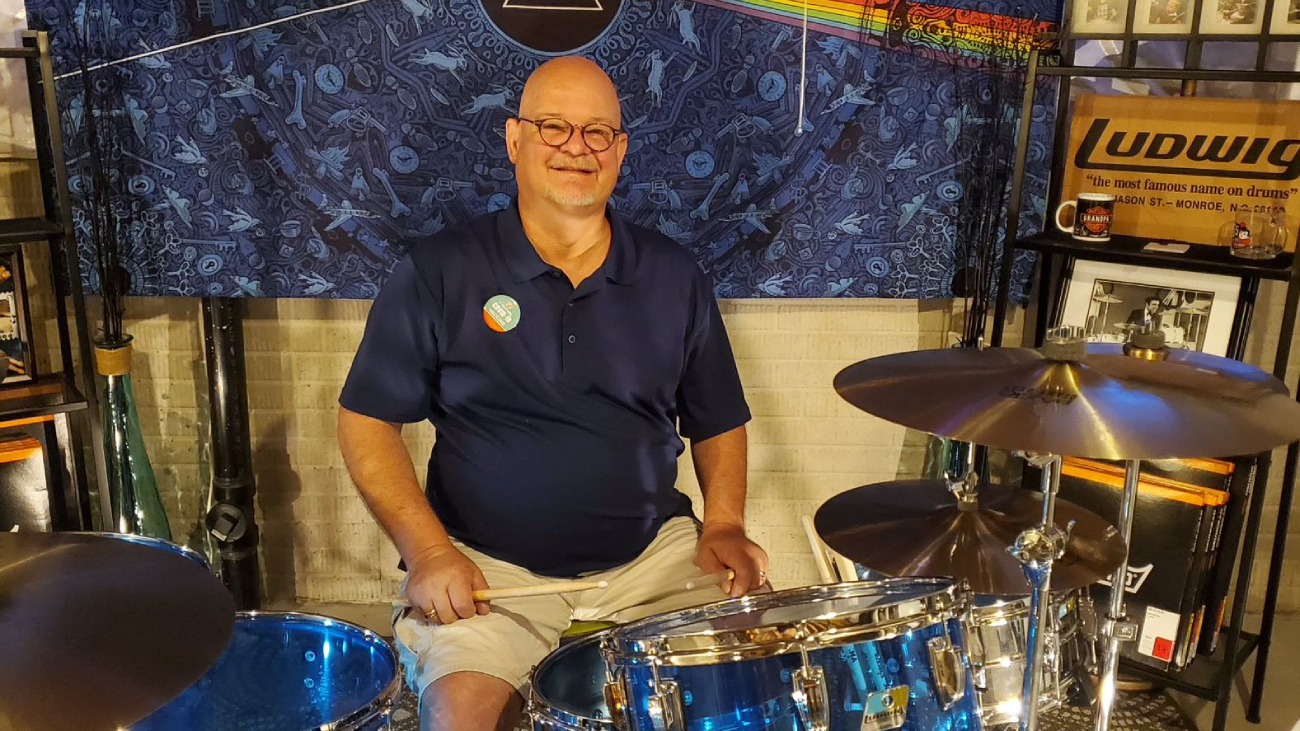 Jim Kuhel knew the pain he had been experiencing in his right hip wasn't normal. Working as a traveling nurse who is on his feet a lot, the 59-year-old began to notice a lingering pain that started subtly 5 years earlier and gradually got worse. An avid drum enthusiast who has four different drum kits set up in his basement, Jim's morning routine included spending a few hours playing before work — until he could no longer use his right leg to tap the drum pedal without pain.
"It was mid-2020 and we were in the middle of a global pandemic," said Jim. "I hadn't been in a rush to see a doctor, but when the pain got so bad that I couldn't sleep, I knew I had to do something."
After a first opinion yielded no help, Jim remembered a doctor who had cared for his daughter 15 years earlier after a horse-riding accident — Gregory Vrabec, MD, an orthopedic surgeon at Cleveland Clinic Akron General.
"I remember being extremely impressed by Dr. Vrabec," said Jim. "He had a great demeanor and was honest about which treatments would and wouldn't work, so I decided to seek him out."
At their first appointment in July 2020, Dr. Vrabec laid out Jim's options.
"Jim had a pre-existing bad knee and arthritis in his right hip," said Dr. Vrabec. "We knew a hip replacement was inevitable, but he wanted to lose weight and try some other less invasive options first."
While steroid injections, anti-inflammatories and pain medication helped for a while, things began to deteriorate rapidly.
"I kept getting worse," said Jim. "By December 2020 I couldn't walk without using a cane or crutches, and then it came to a point where I couldn't bear weight at all."
Surgery was originally scheduled for Jan. 2021, but a follow-up X-ray revealed Jim's hip had spontaneously fractured (called a stress fracture) and his pain was intolerable.
"I was scheduled to be in Canada over the holidays, but due to the pandemic I wasn't able to travel," said Dr. Vrabec. "The hospital was still closed to elective surgeries, but the fact that his hip had fractured made this an emergent situation so his hip replacement surgery was not classified as elective. Without the fracture he could have been a candidate for a same-day hip replacement, but the fracture made the surgery a bit more complex and put Jim at risk for problems like increased bleeding."
Jim was admitted on December 23 and had surgery the following day. He had hoped to go home that same day but was experiencing dizziness. He was eventually discharged on Christmas Day.
"I told Dr. Vrabec that my hip replacement was far and away the best Christmas gift I had ever received."
Jim was off work for 2 1/2 months as he worked with physical therapists to get moving again. He says his recovery was a walk in the park compared to the pain he was in pre-surgery. He can now enjoy playing his drums again, walking his dog, gardening and biking.
Jim's recovery is all the more impressive when you look at where he started.
"He put in the work to lose weight before surgery which has a profound effect on recovery," Dr. Vrabec said. "He was up and cruising around with his walker the day after surgery."
Dr. Vrabec says the technology used to make artificial joints has come a long way over the years.
"Back in the '90s we hoped to get 10 to 12 years out of a new joint," he said. "Now we are looking at them lasting 25 to 30 years or more."
Akron General recently added a robot to assist with knee replacements that Dr. Vrabec looks forward to using.
"About 95% of robotic surgeries are for knees," said Dr. Vrabec. "The technology is still in development for hip replacement, but it will come along."
The advantage of robot-assisted surgery is the precision and accuracy it offers when choosing the correct implant size and placement. It also reduces trauma to nearby tissue and bone, which results in less postoperative pain and quicker recovery.
Since joint replacements are usually elective surgeries, Dr. Vrabec works closely with his patients to decide when the time is right.
"It takes some planning ahead," he said. "Patients need to figure out when the best time is to be off work, when they can have a caregiver available to help, and if they need time to prepare their home to make it easier to safely maneuver around. With proper planning, many patients can go home the same day of surgery."
Jim is grateful to be back to living his life pain-free.
"I was so impressed with the Akron General team — from the people who answer the phones to the schedulers to the medical team," he said. "They were on top of everything and made the process very smooth so I could focus solely on getting better. I felt very safe because all staff and visitors were masked and practicing safety measures to help keep patients safe during COVID-19. As a nurse, this was very important to me."
For more information about hip and knee surgery, or to schedule an appointment with an Akron General orthopedic surgeon, call 330.344.2663.
Many insurance companies don't require a referral. Check with your insurance company to see if a referral is required.
Patient Stories
Patient Stories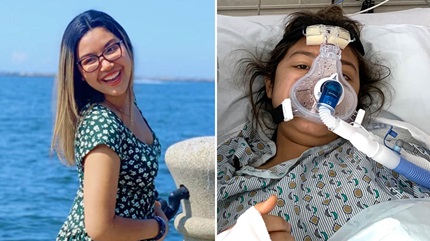 Oct 22, 2021
"I was so close to death. It made me realize that tomorrow is never promised."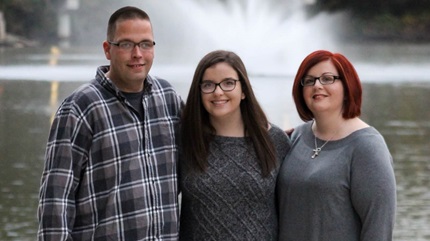 Oct 18, 2021
"I want people to know how important it is to get vaccinated. Protect yourself and protect others."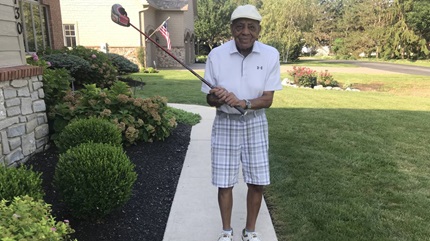 Oct 6, 2021
"To him, it was just a surgery. To me, it was much more. I'd be operating on a man who had overcome so much, including being shot down over Austria and captured. A true hero."