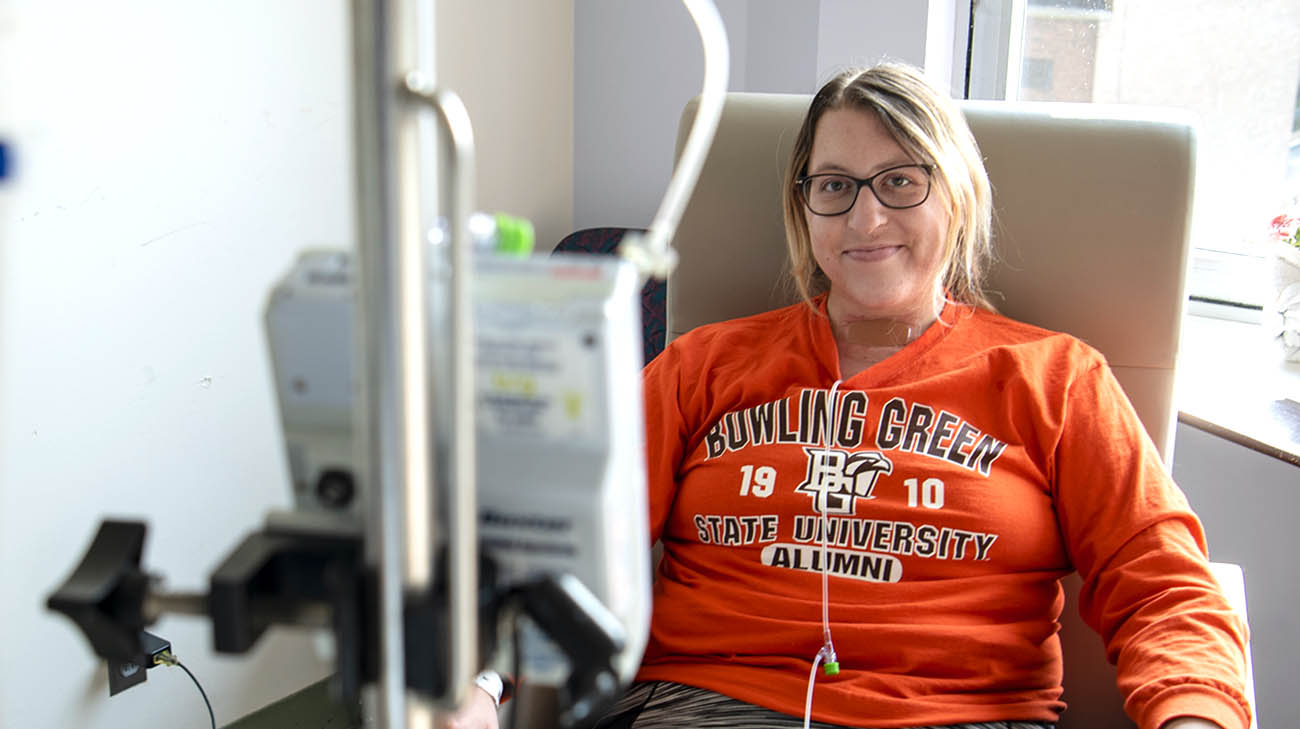 Seated in a conference room at the assisted living community she oversees, 25-year-old Lauren Wells should have been leading a morning meeting with several staff nurses.
Instead, she gazed blankly ahead, eyes unfocused. Outside, in the parking lot, her car remained running, with the driver's door swung open and her purse and work materials inside. The bizarre behavior followed several days during which Lauren continually heard music or seagulls squawking, and felt her skin was sticky. All scenarios turned out to be hallucinations.
"I couldn't really talk. I was just staring at everybody," recalls Lauren. "Luckily, I was in a room full of nurses so they all knew immediately something was wrong."
The issue would take several days to uncover. In the meantime, Lauren was admitted to the psychiatric ward of a local hospital. "Everyone thought I was having bad anxiety from my (new) job," says Lauren. "But that wasn't it. I was loving my job."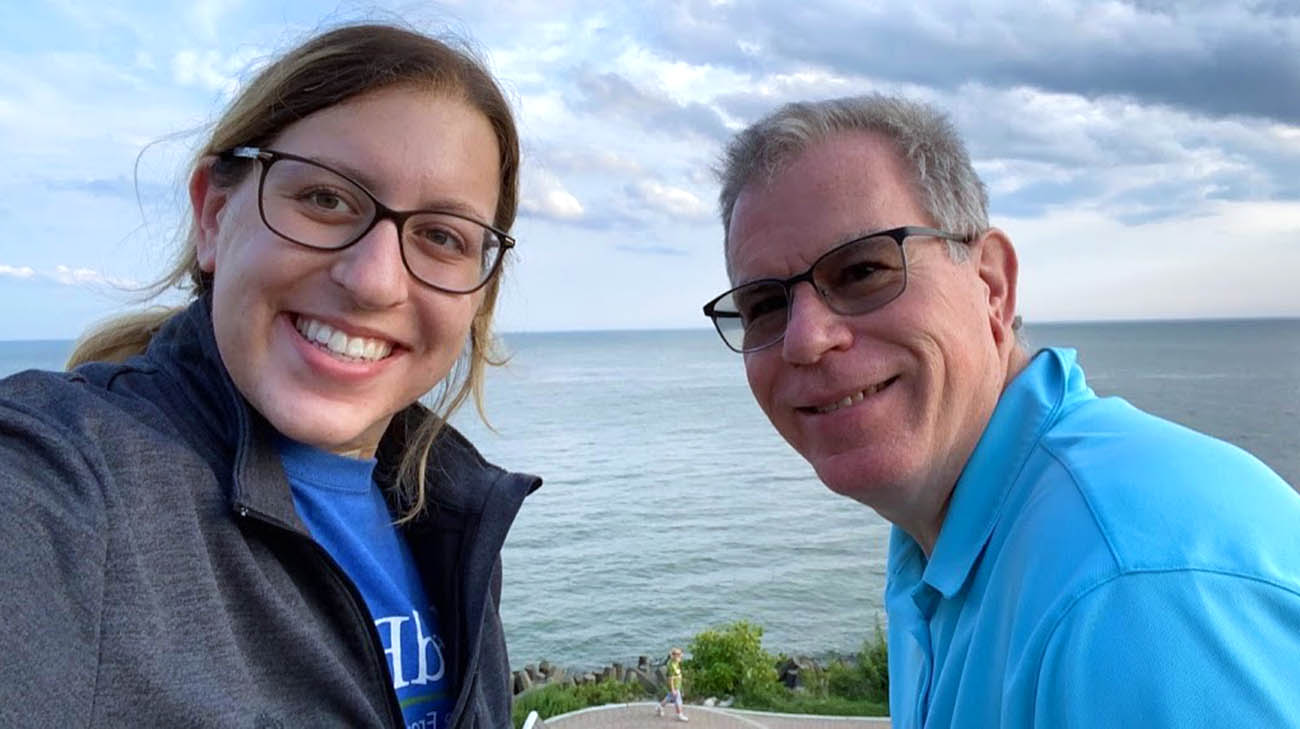 Lauren's dad, Brad, has been the biggest advocate for her throughout her medical journey. (Courtesy: Lauren Wells)
After she suffered the first of many seizures, doctors moved her into the intensive care unit (ICU). They realized her condition was not likely a mental illness but still needed to identify the problem.
Lauren's dad, Brad, who made the seven-hour journey from his home in Easton, Pennsylvania, to be by his daughter's side, insisted doctors look for other reasons that may have triggered the frightening episodes. After consulting with an acquaintance who is a neurologist, as well as Lauren's best friend's father, who is a psychiatrist, Brad had an inkling as to what his daughter was battling. He thought it was an extremely rare neurological disease called anti-N-methyl-D-aspartate receptor (NMDAR) encephalitis.
"Once (the psychiatrist) clued me in to what it could be, I went online. The first website had a two-page document listing symptoms, and Lauren literally had them all," Brad explains. "At that point, I didn't think I was guessing anymore. I knew I had to advocate for Lauren and get her to a hospital with the resources to deal with this."
They transferred Lauren to Cleveland Clinic where a team of physicians immediately began to work on her case. Neurologist and neurointensivist Pravin George, DO, who oversaw much of Lauren's treatment, explains anti-NMDAR encephalitis, and the many symptoms it typically unleashes, actually stems from an underlying disease. In Lauren's case the condition was ovarian teratoma, an unusual cyst that grows on the ovary. In men, anti-NMDAR encephalitis can be caused by testicular cancer (specifically teratomas and seminomas) or exposure to certain bacteria and viruses.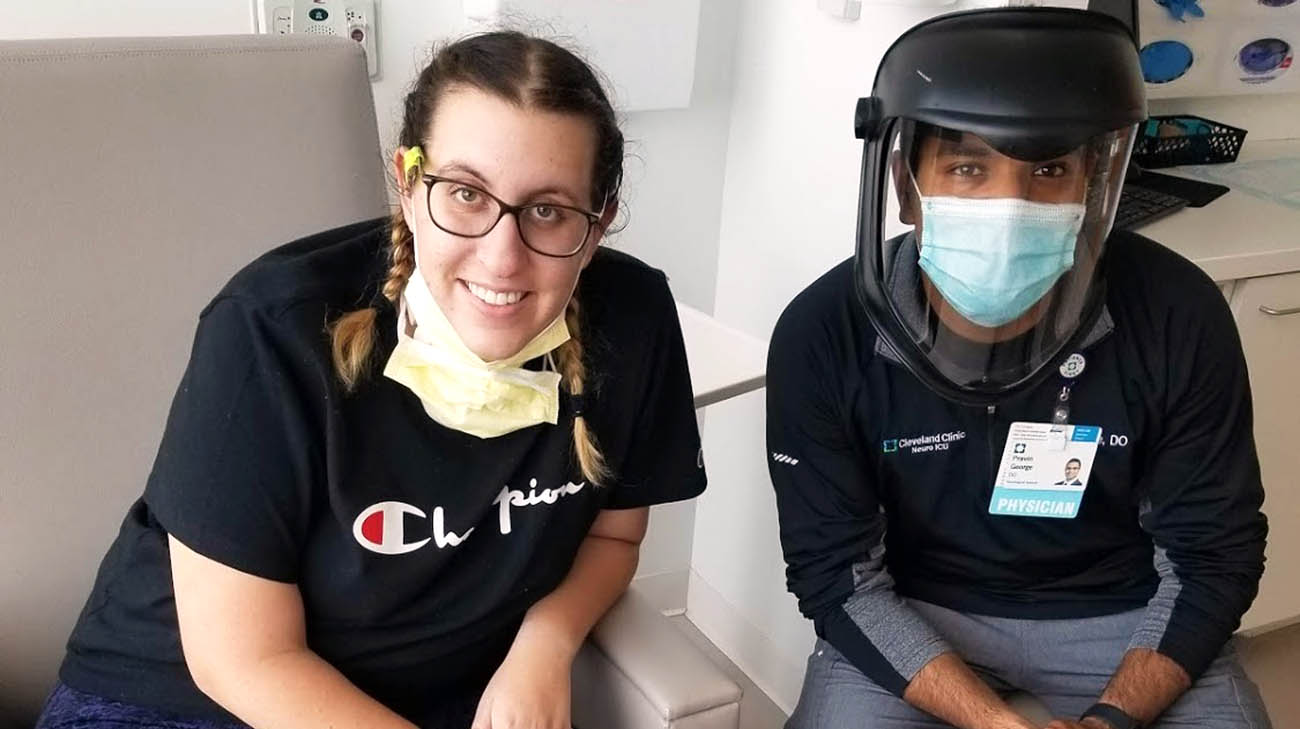 Dr. George visited Lauren during one of her chemotherapy infusions at Cleveland Clinic Cancer Center, after she was transferred out of the NICU. (Courtesy: Lauren Wells)
"The body creates antibodies to fight off these tumors and infections," Dr. George details. "But in rare cases, the antibodies have a worsening effect on the nervous system, as happened to Lauren."
Within 48 hours of Lauren's arrival at Cleveland Clinic, where she was admitted into the neurology ICU, gynecologist Lindsey Valentine, MD, removed the teratoma. While 70% are benign, Lauren's proved to be malignant, which further complicated her treatment. Lauren would also need several rounds of chemotherapy, overseen by gynecologic oncologist Stephanie Ricci, MD.
As Dr. Ricci recalls, "This is only the second or third case of this I've seen in my career."
With the source of the anti-NMDAR encephalitis removed, doctors moved quickly and aggressively to counteract the antibodies in her system. They continued the anti-seizure medication first given soon after she arrived, as continuous electroencephalographic (EEG) monitoring revealed Lauren was having numerous seizures.
Heavily sedated, and having difficulty breathing on her own, Lauren was intubated and placed on a ventilator for more than a week. She also required a temporary tracheostomy, a procedure in which an incision was made into her neck to facilitate breathing and medication delivery.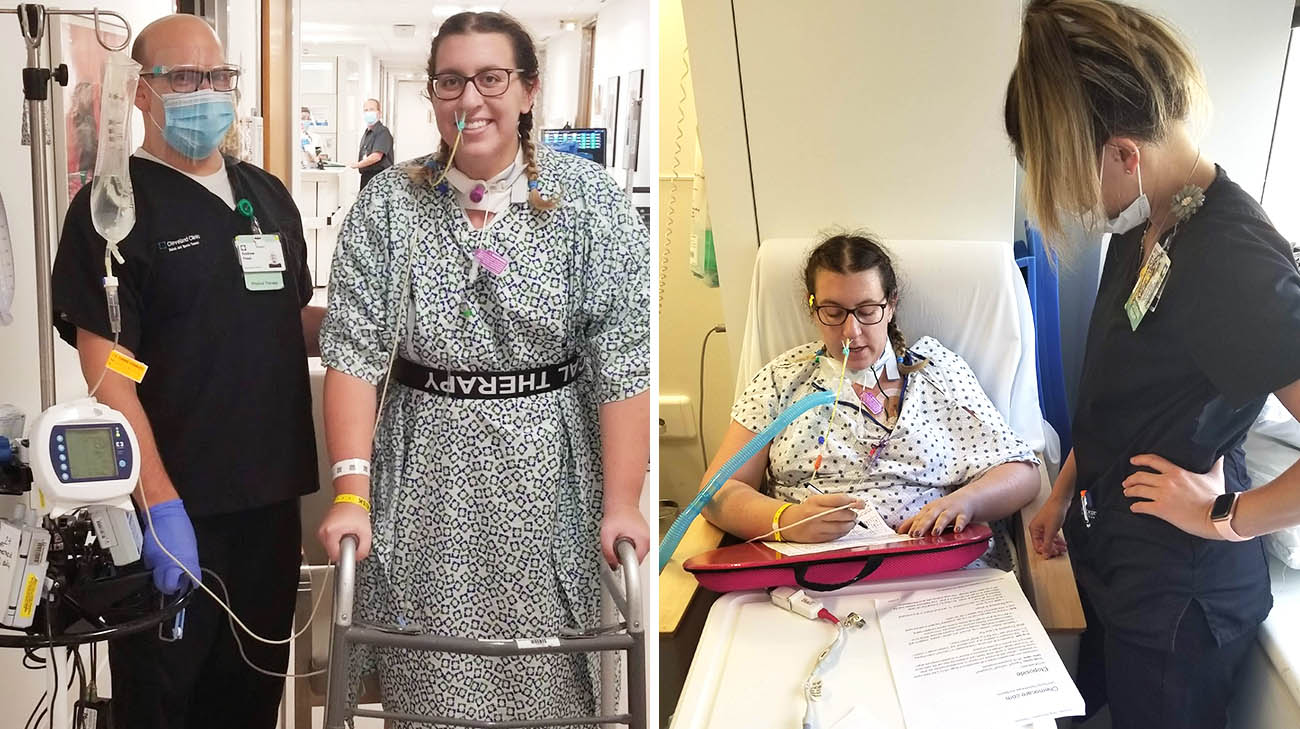 Lauren with her physical therapist (left), the first time she was able to walk post surgery. Her occupational therapist (right) has been a huge support for Lauren throughout her recovery. (Courtesy: Lauren Wells)
"Maybe I should have been, but at no point was I really in fear for her life," states Brad. "I feared for her condition, but I didn't fear she was going to die from this. I knew she was in the right place."
The team also administered plasmapheresis, in which Lauren's blood and plasma were separated in order to more easily remove the troubling antibodies. Other medications included steroids, intravenous immunoglobulin (IVIG) and an auto immune disease treating medication, all to further reduce her antibody production.
"If you go aggressive enough, and early enough, and try all the therapies from the get-go, you have a very good chance of full recovery," says Dr. George. "But if diagnosed too late, the patient can have more rapid and frequent seizures and could remain ventilated for a very long time."
Fortunately, Lauren's aggressive treatment had an immediate positive effect. Soon, the team would begin chemotherapy. According to Dr. Ricci, "Lauren currently is cancer-free. It's been an incredible journey for her and she's making an amazing recovery."
While Lauren has no memory of most of her nearly-month-long Cleveland Clinic stay, Brad was in the hospital every day. He was impressed by the collaborative approach taken by her medical team, and how willingly they included him in their conversations.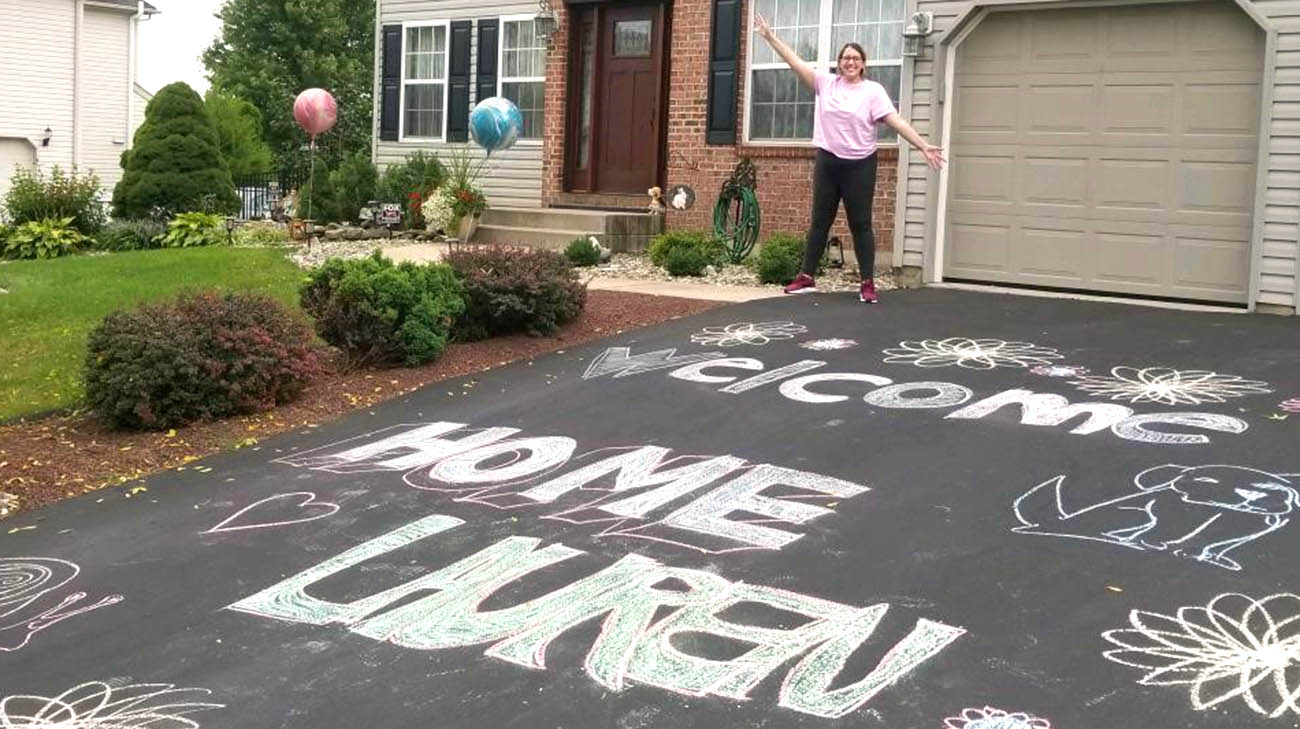 Lauren's family welcomed her home in September, 2020. It was the first time she had been back after being admitted to Cleveland Clinic in July. (Courtesy: Lauren Wells)
"The physicians said they appreciated me being her advocate," Brad says. "At no time did they take any offense or have any negative tones with my involvement. They welcomed it. Dr. George said they realize the family knows the patient best."
Following about a week of recovery at Cleveland Clinic Rehabilitation Hospital, Lauren moved from Sandusky, Ohio, back home to Easton with her parents. She continues to receiving physical, occupational and speech therapy (the latter because of being intubated and tracheostomized). Steadily improving, she is slowly regaining endurance and improving certain cognitive skills, such as word recognition. She hopes to return to her job in 2021.
"I'm so grateful I ended up at the Cleveland Clinic. No one wants to get sick or have this happen to them, but the staff was great," she states. As for her dad, she holds a special place in her heart for his proactivity in getting her the care she needed.
"I hear from everyone how great my dad was," Lauren adds. "He should be a professional patient advocate."
Related Institutes: Neurological Institute, Ob/Gyn & Women's Health Institute, Cleveland Clinic Cancer Center
Patient Stories
Patient Stories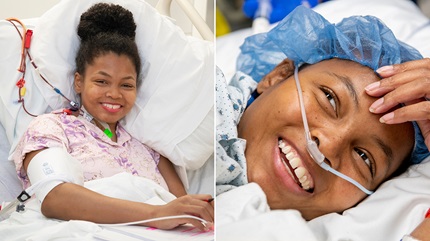 Jun 9, 2023
"The gene therapy will introduce healthy genes into the body with the goal of correcting genetic abnormalities of red blood cells. Our hope is to achieve a functional cure to help prevent any future damage caused by sickle cell disease."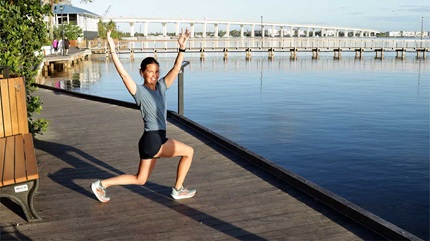 Jun 6, 2023
"Had I not listened to my body and took the time to get checked out, I might have gone another six months to a year as the tumor kept growing,"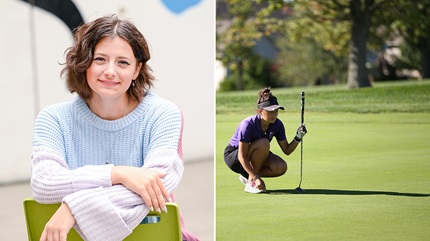 Jun 1, 2023
"I don't remember everything that happened before surgery, but right before fully going out, I remember things being very fun"