Every morning, as Steve Brandenburg woke up, he would try to conjure his brain to continue sleeping. For a few precious seconds, his right hand would remain still. However, the human brain doesn't stay silent for long.
As thoughts and images entered his mind, an uncontrollable twitching and movement would return. And thus, another day of dealing with the severe, non-stop tremor in his right hand would begin.
"I'd wake up and say to myself, 'Don't think of anything.' Because as soon as my mind is working, the tremor starts immediately," says Steve, a 69-year-old grandfather of two who owns and operates a video production company in Westerville, Ohio. "The muscles are twitching all day and flexing. My arm is exhausted by the time I get to bed."
Diagnosed in 2018 with a movement disorder called essential tremor and, later, with the neurological disorder Parkinson's disease, Steve initially noticed the tremor in his right hand while brushing his teeth. Over time it worsened, making it difficult for the right-hander to hold anything in his right hand or control a computer mouse when editing a video.
Steve is back to producing, shooting and editing video, tremor-free. (Courtesy: Steve Brandenburg)
"When the tremor started, it was very slight," Steve explains. "But by the time I was diagnosed with Parkinson's, it had become a real and constant nuisance. The tremors only stopped when I was asleep."
Today, however, Steve is living an almost tremor-free life. In December 2019, He underwent deep brain stimulation (DBS) at Cleveland Clinic. A four-hour surgical procedure, DBS involves implanting electrodes in the brain, which deliver electrical impulses that correct the abnormal brain cell activity that causes symptoms, such as Steve's right-hand tremor.
According to Benjamin Walter, MD, a neurologist at Cleveland Clinic's Center for Neurological Restoration, medications to help control essential tremor and Parkinson's disease work in about 50% of patients. For the remainder, surgical therapies such as DBS become attractive options.
"Patient goals are really important to us," explains Dr. Walter. "We focus on what they want and how their condition affects their ability to live a quality life. So, we always strive to make sure the therapies chosen align with their reasonable expectations."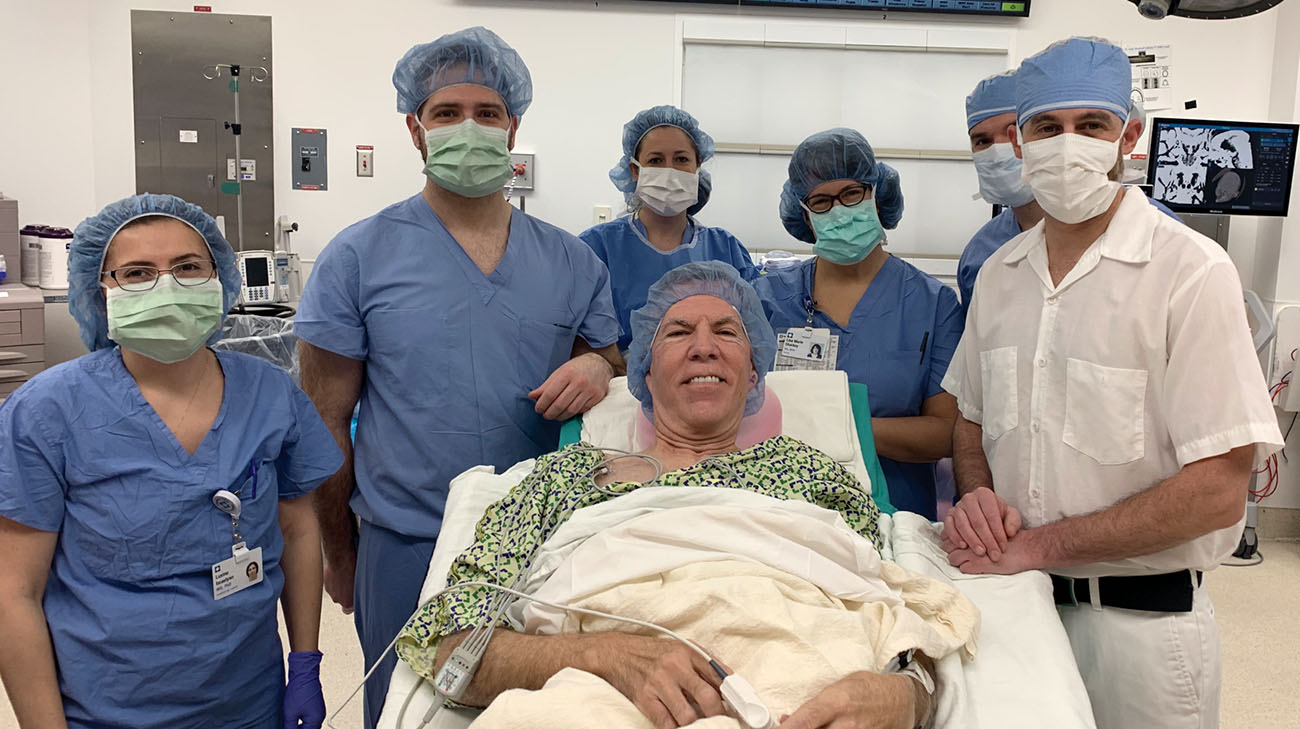 Steve with his medical team, before his deep brain stimulation surgery, in December 2019. (Courtesy: Steve Brandenburg)
Steve tried a number of medications to treat his disorder. However, their success was limited, and also caused some unpleasant side effects. When his hometown neurologist told him he could possibly be a candidate for DBS, he applied for consideration at two hospitals specializing in it, including Cleveland Clinic.
Sean Nagel, MD, the Cleveland Clinic neurosurgeon who performed Steve's procedure, explained a directional lead carrying the electrodes was inserted into the subthalamic nucleus, a section of the brain where all major movement symptoms of Parkinson's disease – including tremor – are located. The lead is connected to a small, battery-powered pacemaker, called an implantable pulse generator, under the skin in Steve's chest. It controls the electrical pulses that stimulate the affected area of the brain.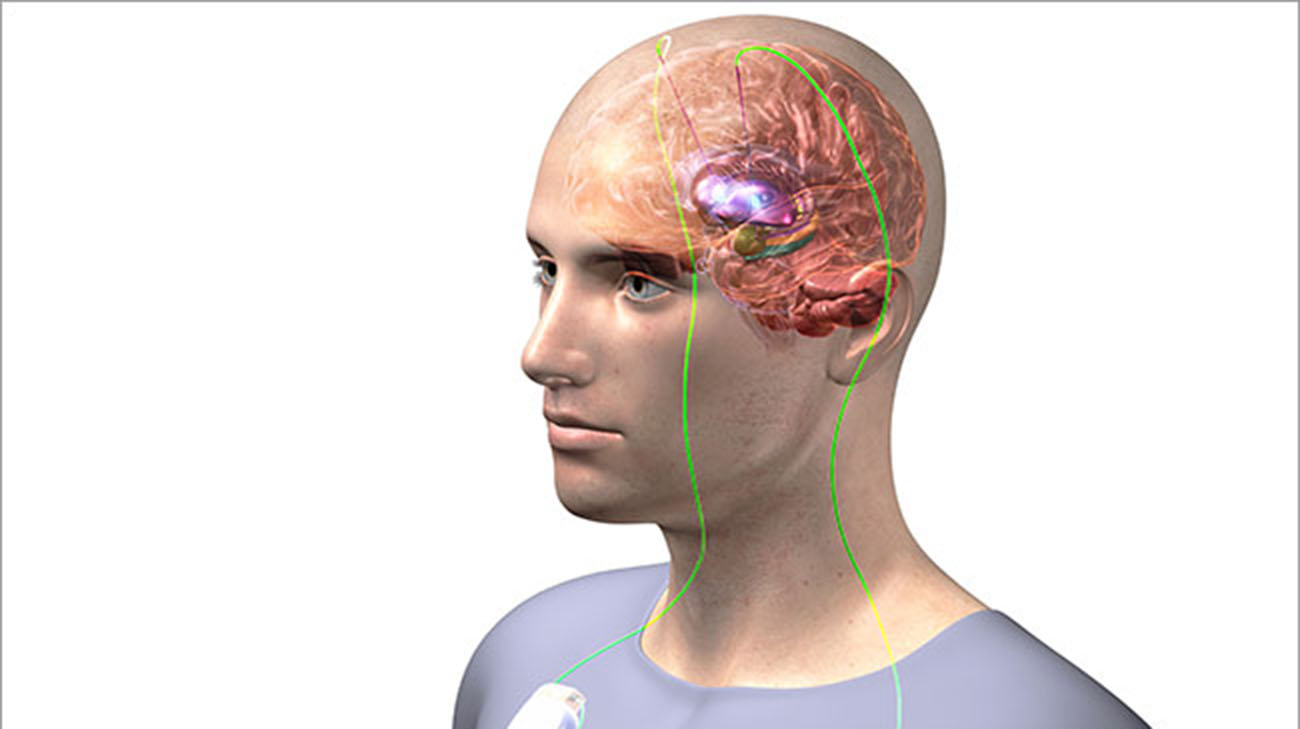 Deep brain stimulation involves implanting electrodes in the brain, which deliver electrical impulses to correct abnormal brain cell activity. (Courtesy: Cleveland Clinic)
"For most of our patients, including Steve, we awaken them for part of the surgery so we can evaluate the effectiveness," he adds. "That gives us superior outcomes and keeps our (surgical) revision rate very low."
Steve recalls that when he awoke, he immediately noticed his tremor had stopped. Dr. Walter asked Steve to perform various movements – such as tapping his fingers and sticking out his tongue -- and to speak certain phrases while he controlled the amount and direction of the electrical current to ensure it was pinpointed in the correct portion of the brain.
"At one point, Dr. Walter asked me to count the months of the years, backwards, starting with December," Steve recalls. "By the time I got to June, my jaw was locked and I couldn't speak. I heard someone say, 'I think we've found the upper limit.' And the next thing I remember, I woke up in post-op. I was home the next day."
Steve is back to being active with his granddaughters, without a tremor in his right hand. (Courtesy: Steve Brandenburg)
Since the surgery, Steve had made five follow-up visits with Dr. Walter and his staff, to further calibrate the placement and amount of the electrical current in his brain. For instance, Steve noticed while he could easily hold a water glass in his right hand and move it side to side, he couldn't do the same movement when holding a coffee mug without the tremor resuming.
Thus, he spent about 90 minutes in one of his follow-up sessions holding a coffee mug and moving it, while Dr. Walter found the right setting to stop the tremor. With that movement now under control, Steve rarely even thinks about Parkinson's disease because his one symptom – the right-hand tremor – is practically eliminated no matter where or how he moves his hand and arm.
Furthermore, he can use a remote control device to choose from among three settings as well as increase or decrease the amount of electrical current, depending on his situation or stress level. All he has to do is wirelessly recharge the battery in his implantable pulse generator every week or two, by wearing a charging collar draped around his neck.
Steve is now back to work, shooting and editing video productions, tremor-free. He even produced a short video thanking Drs. Nagel and Walter and the entire Cleveland Clinic team. "You gave my life back to me," Steve states in the video. "I'm forever grateful to you for what you have done. …I want to thank you from the bottom of my heart for making such a difference in my life."
Related Institutes: Neurological Institute
Patient Stories
Patient Stories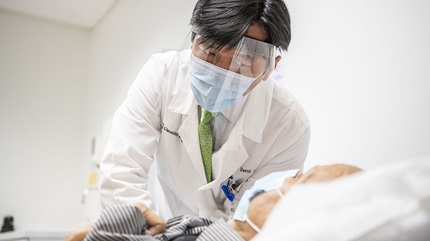 Jun 9, 2021
"I came across the globe for care at the best hospital in the world. I followed my life motto to never give up and so did Dr. Kwon."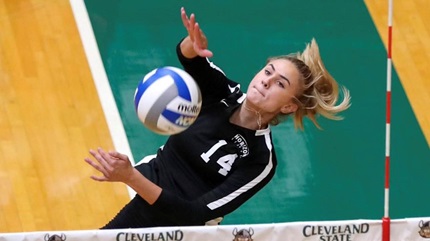 Jun 8, 2021
"I know some people worry about getting sick from the vaccine. But I would much rather be sick for a day or two than have COVID. It's been almost a year, and I still haven't returned to a normal life."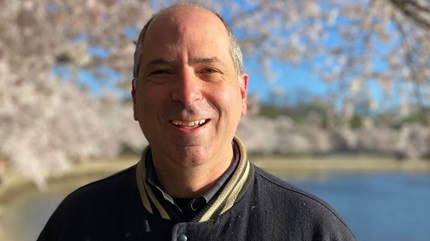 Jun 4, 2021
"I'm grateful to God for finding out I had cancer in time to be able to fight it."