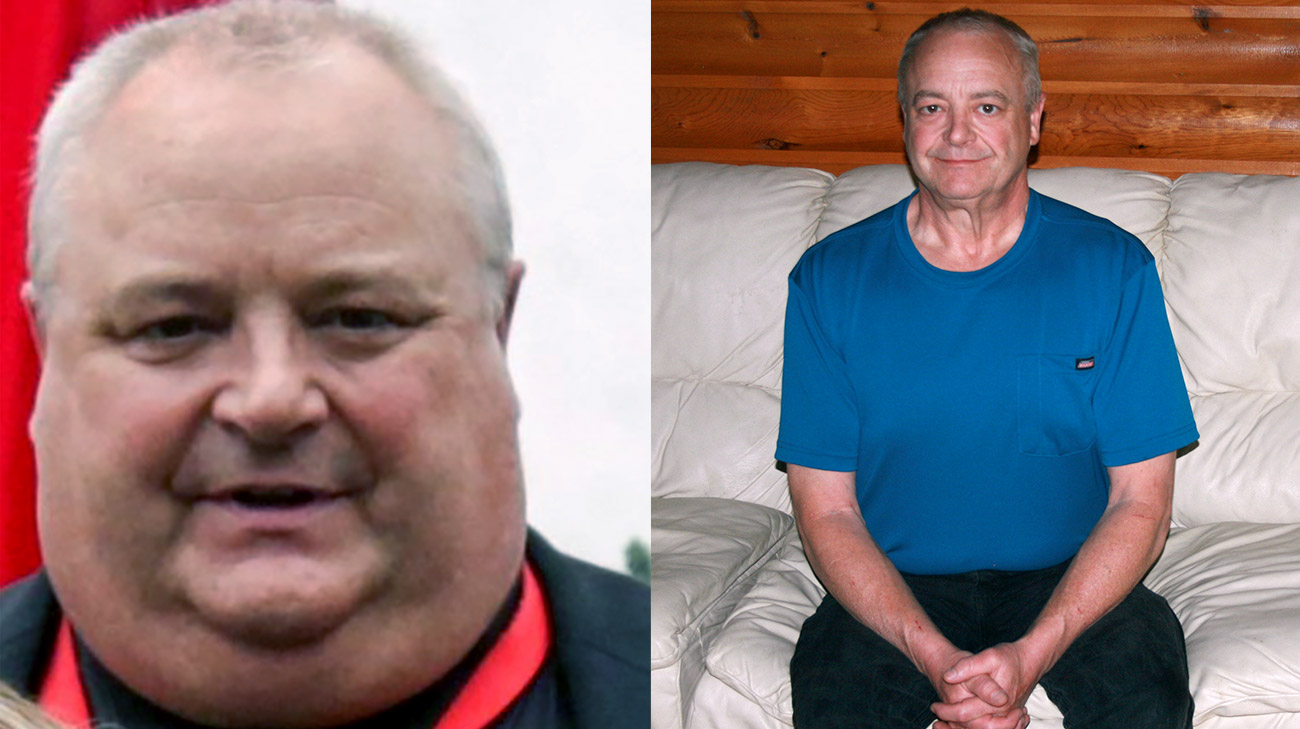 A group photo at his workplace in May 2018 shocked Kevin Sedlak into changing his life. "I was taking up too much of the picture," he says.
Soon afterward, the Ravenna, Ohio, resident, then 53, went for a consultation at Cleveland Clinic Akron General's Bariatric Center. It was the first step in a journey that ultimately led to his having Roux-en-Y gastric bypass on April 9, 2019.
Kevin says that he'd been heavy for 20 years. At his heaviest, he weighed 330 pounds and had a body mass index (BMI) of 46, he says. Healthy BMI for an adult is considered to be 18.5 to 24.9.
On the day of surgery, the 5-foot-11-inch man weighed 306 pounds. A year later, Kevin says that he had lost 123 pounds and regained his health and vitality.
"Physically, I couldn't do much and was out of breath all the time," he says. "I had severe sleep apnea, was prediabetic, and found it hard to tie my shoes or pick something up off the floor."
The weight had taken a toll on his joints, too. "I had both hips resurfaced at Cleveland Clinic, the left one in 2014 and the right in 2016. I had arthritis and couldn't move much because of the pain in my hips before that. I knew even then that I needed to lose weight."
"The surgery's not a magic bullet, but it gives you the tool in your toolbox. Once you lose the weight, it's a much better life."
A geologist who specializes in environmental cleanup, Kevin says that 80% of his work is done sitting at a desk. Now, however, his daily routine includes vigorous workouts and healthy foods in small portions. He no longer needs medication for medical conditions that disappeared after surgery, including hypertension and gout. Though his BMI, now 25, is considered healthy, he is working to lose a few more pounds.
"I'm only consuming about 1,000 calories a day, but I don't feel hungry," he says. "I eat more fruits and vegetables and have yogurt for breakfast. I don't each much bread, and when I do, it's organic. I eat a lot of salads for dinner with fat-free dressing. I've discovered all kinds of ketchups, dressings and sauces without sugar. I take a lot of vitamins, cook all my own meals, and haven't had fast food in a year. I can eat almost anything I want now. It's just that the amounts are less."
Before surgery, patients in the Bariatric Center program on average participate in a five-to six-month process, which can vary based on their health insurance requirements. The program includes counseling, education and patient group meetings.
"There's no question that this is a journey," says Kevin's bariatric surgeon, Christopher Daigle, MD. "There's a misconception that surgery is the easy way out, but our patients put in enormous effort to get to the promised land. The goal in what we do is certainly focused on weight loss, but the main goal is to achieve remission in, or improve, people's health problems."
Weight loss surgery profoundly affects patients, both physically and mentally, he says. "This is a life-changing process, but truly a very positive one."
Dr. Daigle explains that there are a lot of mental health issues associated with obesity, including depression, anxiety and bipolar disorder. "In the long term, the majority of people do much better after surgery, including having improved self-esteem." he adds. "In addition, we generally see very rapid improvement in our patients' physical health. Many leave the hospital already off of their diabetes or blood pressure medications."
Amy Laktash, NP, an advanced practice nurse, works closely with patients before and after surgery. "I'm one of the first people Kevin met and worked with," she says. "We collaborate with our colleagues in psychology and nutrition to help patients get to the best possible health and state of mind before surgery."
She adds that the program is accredited by the Metabolic and Bariatric Surgery Accreditation and Quality Improvement Program (MBSAQIP), "which means that we provide the highest level of care supported by the latest research."
To prepare for surgery, patients do a lot of research and attend group appointments, she says. "They need to understand that the surgery will drastically change every facet of their lifestyle. We work closely with a multidisciplinary team that includes registered dietitians who set standards for healthy eating. Most patients grasp that surgery is a tool, but they still must work very hard — this is not an easy way out. Success requires permanent lifestyle changes in nutrition and exercise, but the surgery makes these changes much easier."
Kevin's path to surgery was somewhat atypical, Dr. Daigle says. "Kevin had quite severe acid reflux and some changes to the esophagus that we thought could be precancerous," he says. "Further investigation showed that he has a condition called Barrett's esophagus, which could be accelerated if we went ahead with the sleeve gastrectomy (a laparoscopic procedure) as we initially considered. After extensive discussions, we decided that laparoscopic Roux-en-Y gastric bypass (RYGB) would be a safer option, given its anti-heartburn properties."
During the bypass surgery, first attempted in 2018, several masses were discovered in his small intestine — a condition that is "actually quite rare," Dr. Daigle says. After a biopsy determined the masses to be benign, and after an extensive discussion and consideration with Kevin, the Roux-en-Y gastric bypass (RYGB) was performed five months later.
"Roux-en-Y gastric bypass is the gold standard in bariatric surgery," Dr. Daigle says. "It is just as safe as gallbladder surgery, hysterectomy and joint replacement, and a wonderful treatment for acid reflux. This surgery makes the stomach considerably smaller – reducing it from the size of a football, when the stomach is full, to the size of an egg. We disconnect the small bowel and rearrange the intestines. This was a complex case, which we specialize in at Cleveland Clinic. Kevin has done wonderfully."
The Bariatric Center has developed an enhanced recovery program, which has reduced hospital stays from several days to one. The complexity of Kevin's case required that he be hospitalized for a few extra days "to be sure he was doing OK," Dr. Daigle notes.
Follow-up is extensive during the first year after bariatric surgery. "Most people take about two to four weeks off from work," Dr. Daigle says. "We see them at one week, six weeks, three months, six months, nine months, one year, and then annually thereafter."
For people trying to lose significant weight, he says, "only 5% can do that through lifestyle and diet change alone, and 95% can't. Obesity rates are skyrocketing. That's where we come in, to treat weight problems and help patients keep it off durably. We have about 85% to 90% long-term success."
Kevin says the surgery has transformed his life. "I feel fantastic! I'm more active, I don't get tired anymore, and my sleep apnea went away," he says. "It's been better for my joints. I can work in my yard, which is four acres."
Kevin also talks about buying a new wardrobe. "My neck size went from 22 to 15 and my waist from 48 to 34. I'm not dragging around all that weight, and I'm buying new clothes!" He used to wear size 3X shirts, and now he wears large.
"The surgery's not a magic bullet, but it gives you the tool in your toolbox," he says. "Once you lose the weight, it's a much better life."
Interested in bariatric surgery? Learn more about Akron General's Bariatric Surgery Center and weight loss surgery.
Patient Stories
Patient Stories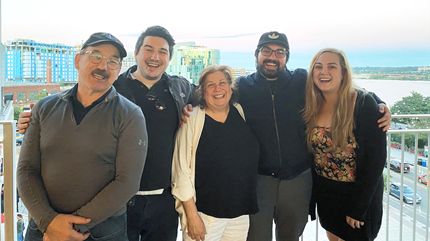 Nov 22, 2023
"I was truly blessed to be with the doctors and the entire cardiac surgery team. They saved my life."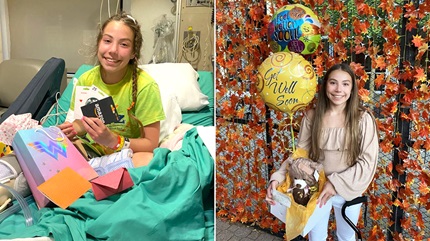 Nov 16, 2023
"I wanted the surgery because my seizures were becoming more and more frequent. I would wake up, have a seizure, and then continue to have them throughout the day. I just wanted the seizures to be gone."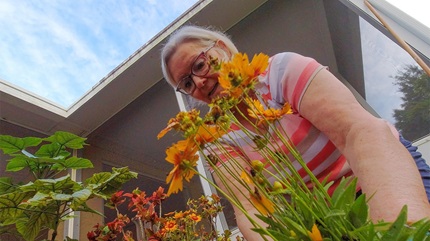 Nov 15, 2023
"I was very fortunate they found the tumor when they did."