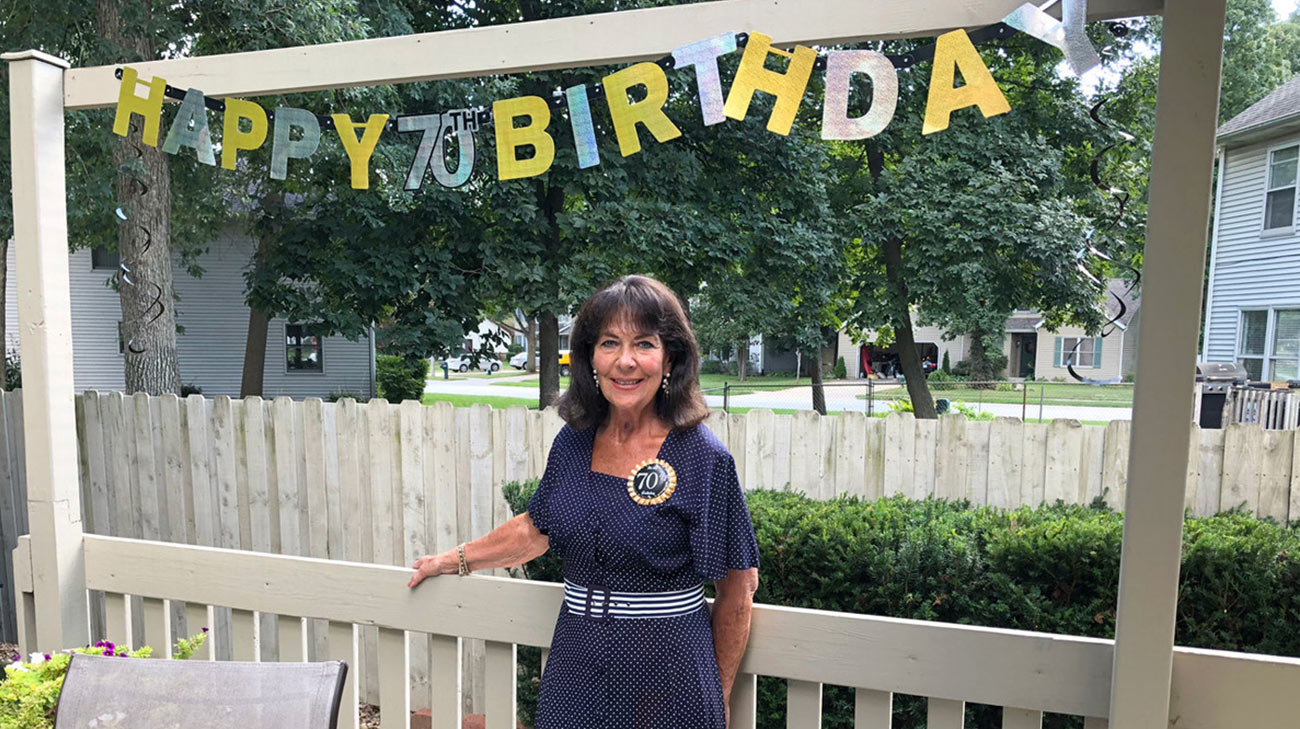 In April 2017, Charlotte Garrison of South Bend, Indiana, was life-flighted to Cleveland Clinic, where she had emergency tracheostomy surgery to help her breathe. For close to a year before that, the 68-year-old woman had struggled with a rare immune disorder that caused sores in her nose and mouth. Now, they were suffocating her.
Her symptoms, which also included extreme fatigue and bleeding gums, first appeared in the summer of 2016.
"I was very tired – the fatigue was horrible," Charlotte says. "I was a kindergarten teacher at a Catholic elementary school for 29 years. It was my life. But I couldn't do it anymore. I cut back to half days, and then I had to retire."
Although her doctors in Indiana diagnosed an immune system disorder, they could not identify the specific disease. "They didn't know how to handle it," she says. "They gave me all kinds of medications."
Eventually, she was referred to Anthony Fernandez, MD, PhD, Director of Medical and Inpatient Dermatology at Cleveland Clinic. Dr. Fernandez specializes in treating autoimmune and inflammatory diseases affecting the skin.
At her first appointment with Dr. Fernandez in January 2017, he diagnosed the illness as mucous membrane pemphigoid, or cicatricial pemphigoid.
"She has a relatively rare autoimmune blistering disease subtype," he says. The cause is unknown, he adds.
"At Cleveland Clinic, being a tertiary care medical center, we see this relatively often," Dr. Fernandez says. "In fact, when Charlotte first came to us, we knew immediately what she had and we were able to diagnose her quickly."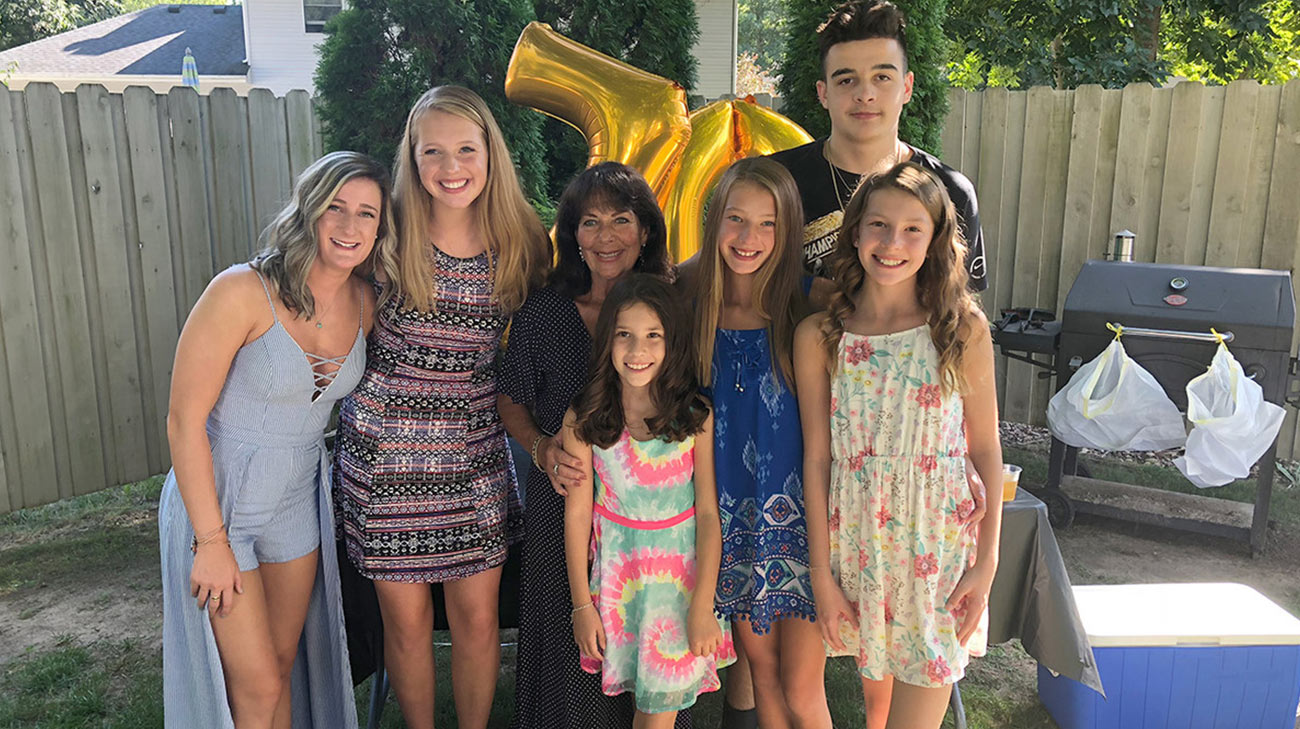 Charlotte Garrison's grandchildren were excited to celebrate her birthday — (left to right) Taylor Annis, Morgan Springer, Charlotte, Kennedy Banks, Olivia Springer, Riley Annis, Lillian Banks. (Courtesy: Charlotte Garrison)
He says the disease typically affects mucous membranes in various locations including the oral cavity, eyes, nasal passages, upper airway, esophagus and genitals.
"For Charlotte, the trachea and airway mucosa were affected, and it is known that severe involvement of the airway can end up being life-threatening. In addition, the skin can be affected, and she had that, as well."
"Without Dr. Bryson, I would not be here anymore," Charlotte says. "I will forever consider him part of my family."
This autoimmune disease causes scarring and permanent tissue damage, Dr. Fernandez says. "When the upper airway is involved, this scarring can prevent air from getting to the lungs. So we were very aggressive in starting medications for Charlotte on the day we met her in order to minimize scarring in her upper airway and prevent a life-threatening situation."
Dr. Fernandez and a medical resident on his team, Matt Vasievich, MD, PhD, identified a cancer drug called rituximab that could control Charlotte's symptoms, and Dr. Vasievich went to great lengths to obtain her insurance company's approval, Dr. Fernandez says. Although he succeeded, there wasn't enough time for the drug to take effect before Charlotte's condition suddenly deteriorated, leading to a lifesaving tracheostomy by Paul Bryson, MD, Section Head of Laryngology in Cleveland Clinic's Head & Neck Institute.
"Without Dr. Bryson, I would not be here anymore," Charlotte says. "I will forever consider him part of my family."
Dr. Bryson said he had seen the disorder Charlotte has before, "but it is rare. Her case was more severe and extensive than what we typically see. It involved more areas of her upper airway, with scarring of her nose and upper palate and the upper part of her voice box. She needed an emergency tracheostomy to protect her airway. Once that was done, we found a drug cocktail to calm the inflammation, and then she had a few more operations to release the scarring and treat the stenosis [narrowing] of the upper airway. It was three surgeries over a few months. Before that, she couldn't eat or breathe very well, and her symptoms were very painful."
Dr. Bryson and Dr. Fernandez concur that Cleveland Clinic, as an academic medical center and multidisciplinary group practice, has a distinct advantage in treating complex cases such as Charlotte's.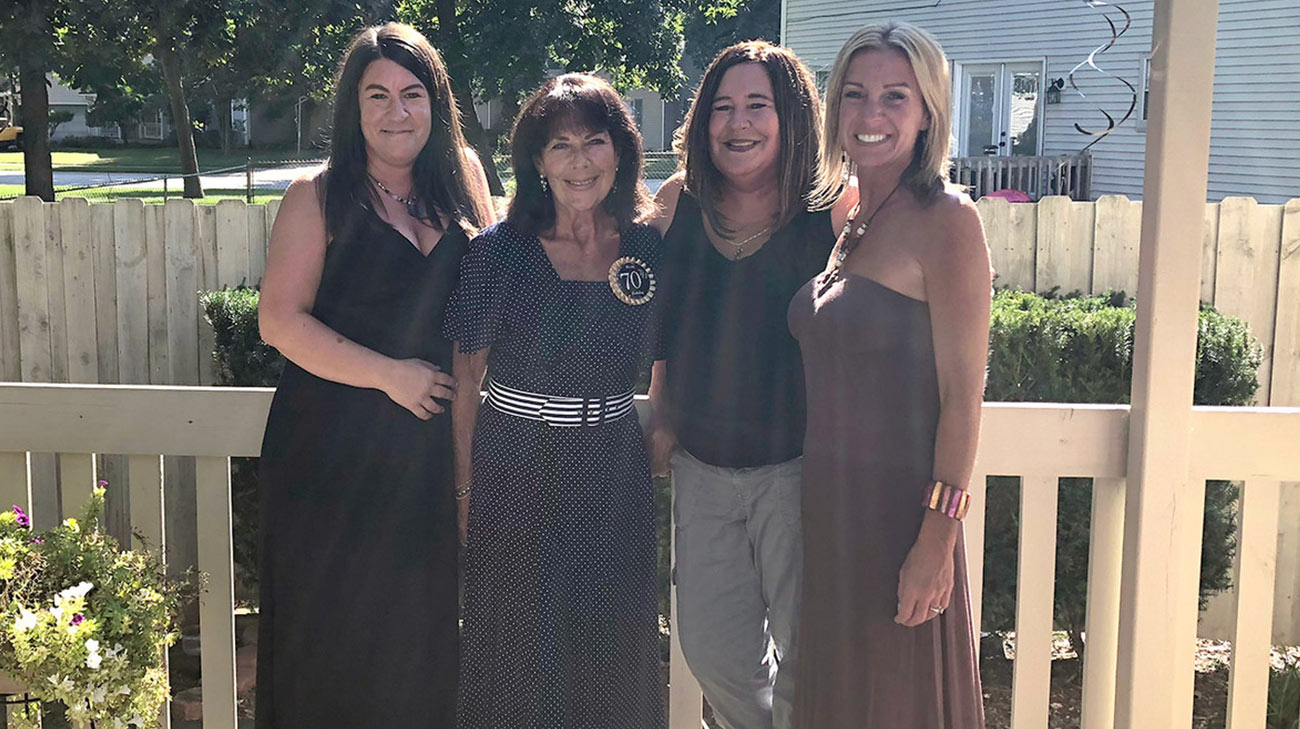 Charlotte Garrison with her three daughters — (left to right) Sarah Banks, Charlotte, Amy Garrison and Jennifer Springer. (Courtesy: Charlotte Garrison)
"We have subspecialists and ear, nose and throat services able to perform complex tracheostomies, and we have a lot of experience in treating inflamed upper airways," Dr. Bryson says. "If someone is having pain with swallowing or hoarseness, it's worth being evaluated by an otolaryngologist [ENT doctor], and a multidisciplinary team is needed because this disease absolutely involves immune suppression and requires medicines that work."
Dr. Fernandez agrees. "I think that our experience, collaboration and aggressiveness in treatment were critical to Charlotte's eventual recovery. She is doing fantastic and is showing no current signs of inflammation."
Charlotte, now 71, is feeling well and leading a normal life, she says. Although she still misses teaching, she enjoys visiting with her three grown daughters and six grandchildren, and playing with her dog. She travels to Cleveland every six months for follow-ups. "I look forward to my visits," she says.
Today, she is on a very low dose of only one drug, prednisone. "After the rituximab infusions and addition of cyclophosphamide, the scarring and bleeding stopped," she says.
Dr. Fernandez notes that this combination of drugs, providing a high level of immunosuppression, "is extremely aggressive, but I do believe this aggressiveness saved her life."
Charlotte says she is grateful.
"I can breathe now," she says. "I even cut my grass and vacuum. I'm as normal as I can be and so thankful to Cleveland Clinic. Everyone there is wonderful. I can't say enough about it. All those trips to Cleveland were worth every minute. Dr. Bryson, Dr. Fernandez and Dr. Vasievich, all of them worked together to save my life. I keep all three of them in my daily prayers."
Related Institutes: Head & Neck Institute, Dermatology & Plastic Surgery Institute
Patient Stories
Patient Stories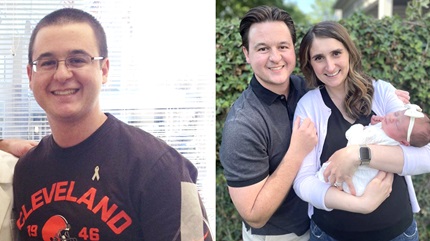 Nov 30, 2023
"At the time of my diagnosis, I was thinking, 'I'm 24. I'm a lifelong nonsmoker. I'm not supposed to get cancer.'"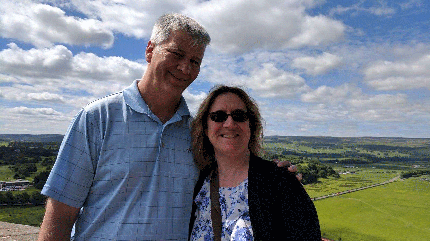 Nov 30, 2023
"I was under enormous stress and having difficulty sleeping, so I reached out to Dr. Saper to see if he had any suggestions as to how I could better cope."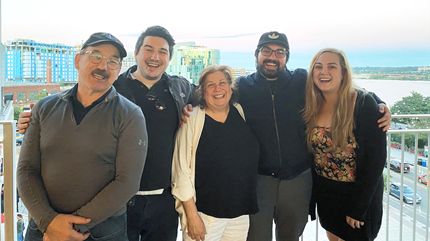 Nov 22, 2023
"I was truly blessed to be with the doctors and the entire cardiac surgery team. They saved my life."