"Felicia" has enhanced the life of 13-year-old Skylar Scarnecchia of Champion Township, Ohio. Late last year, Felicia may have also saved her life.
Felicia is the nickname Skylar gave her prosthetic right leg, which she has worn since her below-the-knee amputation in 2016, due to complications from a rare form of soft-tissue cancer -- synovial sarcoma -- in the bottom of her foot.
The prosthetic leg, along with a "running blade" prosthesis she uses for certain activities, has enabled the energetic middle schooler to compete in 400-meter races, long jump, basketball and volleyball. However, the device provided an unexpected benefit when an all-terrain vehicle skidded out of control in late 2019, turned over and trapped Skylar underneath.
"Sky was smart enough to pop her (prosthetic) leg off, leave it there and crawl out from under the vehicle," explains Tricia Scarnecchia, Skylar's mom. "The sheriff said if she wouldn't have had her prosthetic, it probably would have been a much different scenario. She would have lost her life or her leg."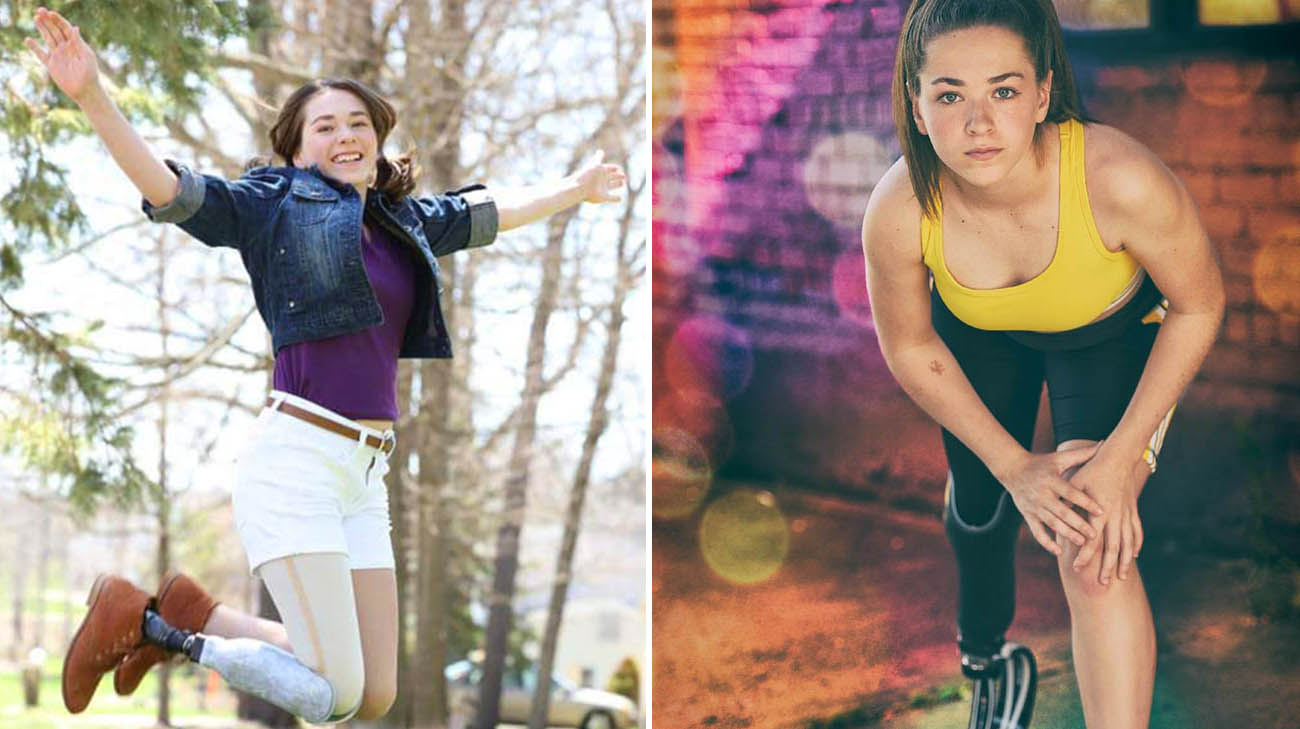 (far left) Skylar has maintained a positive attitude and adjusted amazingly well to wearing a prosthetic leg. (Courtesy: Chris Evan Photography); (far right) Skylar wearing her "running blade" prosthesis. (Courtesy: ClintonBPhotography)
"I guess I just wasn't meant to have a right leg," matter-of-factly states Skylar, who is also a budding fashion model and actress. "I'm happy I have a prosthetic leg. I wouldn't be getting the opportunities I have today without it."
For her bravery in overcoming cancer and amputation to return to playing competitive sports, Skylar was honored with the Cleveland Clinic Sports Medicine Courage Award during the 20th Greater Cleveland Sports Awards ceremony.
Skylar was nominated by her Cleveland Clinic orthopaedic surgeon, Nathan Mesko, MD. "She is smashing the stigma that surrounds amputees. Life is not over with an amputation. It is only just beginning," Dr. Mesko wrote in the Courage Award entry.
When Skylar, a lifelong athlete, began complaining of foot pain in 2015, her parents, Tricia and Jim, thought she may have suffered a minor foot injury or was experiencing complications from a broken heel suffered earlier. Skylar was examined by a podiatrist, and began treatment for plantar fasciitis, an inflammation of the tissues that connect the heel bone and toes.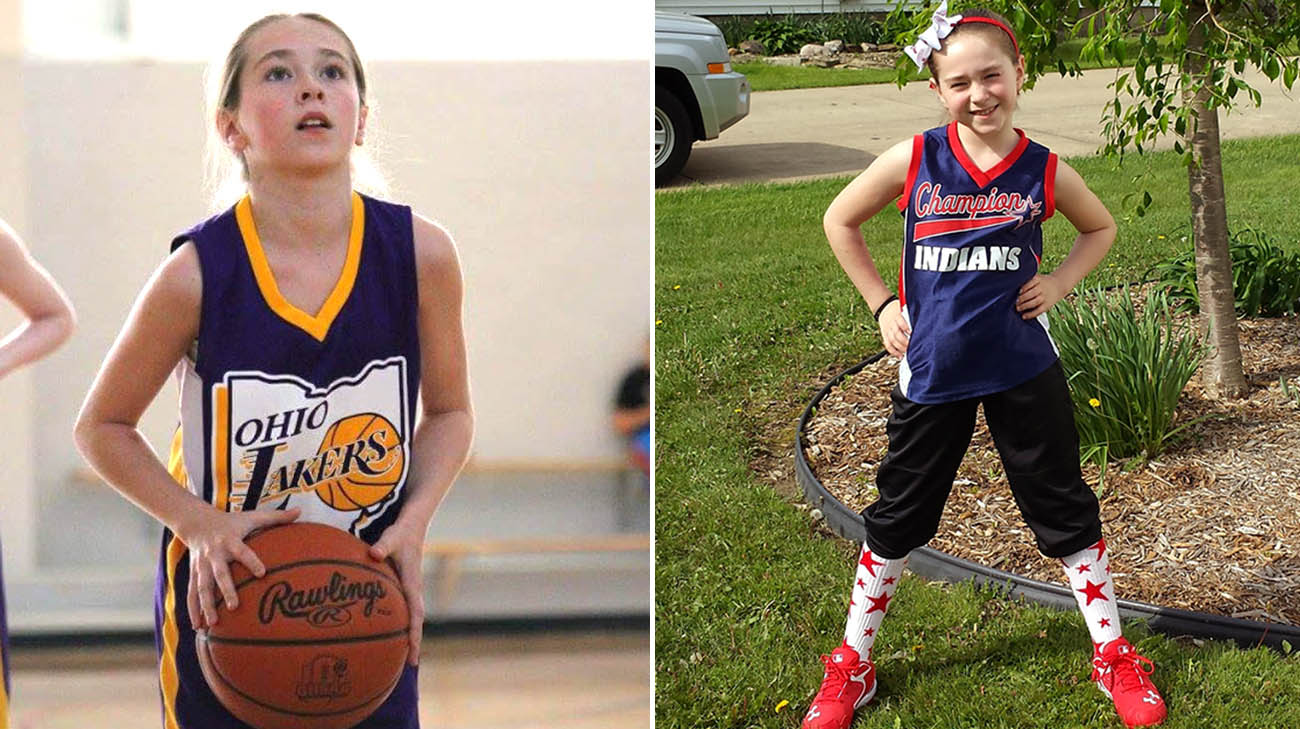 Growing up Skylar has always had a passion for playing sports. She's been involved with soccer, softball, basketball, volleyball and track. (Courtesy: Tricia Scarnecchia)
However, when her pain persisted, Tricia insisted doctors perform an MRI, which revealed the presence of cancer in the bottom of her foot, as well as in a few small spots on her lungs. Skylar, just 10 years old at the time, took the news in stride and underwent one full week of chemotherapy, every month, for three consecutive months.
While she experienced bouts of nausea, the most worrisome side effect of the treatment was temporarily losing her amber-colored hair. "I've always wanted to be a cosmetologist, and I love doing my hair," notes Skylar. "Honestly, losing it was probably one of the hardest things I went through. But I was pretty lucky because I didn't get many of the (other) side effects."
While chemotherapy virtually eliminated all of the cancer in her lungs, it failed to reduce the size of the tumor in her foot. According to Dr. Mesko, surgically removing the tumor, located deep within her foot where many nerves and the limb's blood supply are located, can actually leave the patient with less functionality than after an amputation.
"The foot can sometimes be very difficult to salvage (from cancer). Skylar's tumor was growing in a very small piece of real estate, in the arch," he explains. "In her case, it just so happens a below-knee amputation was a much more functional outcome than maiming the bottom of her foot."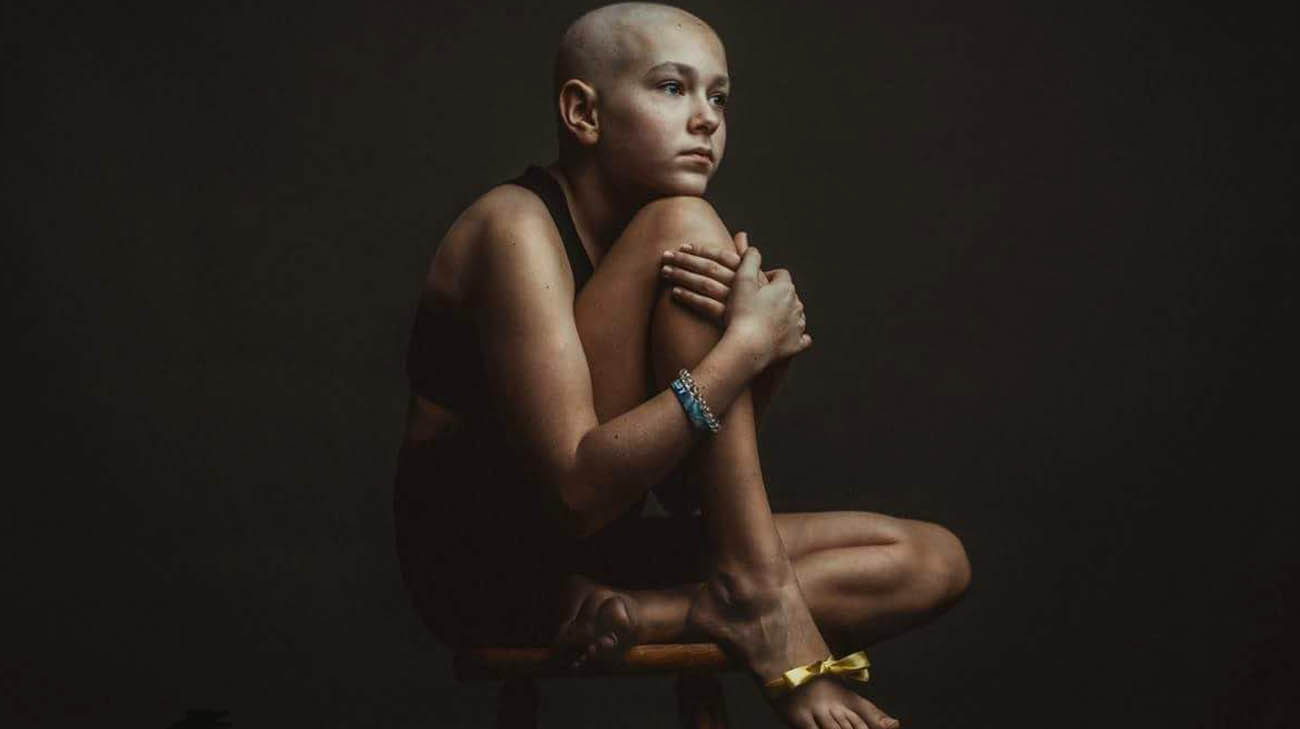 Chemotherapy failed to reduce the size of the tumor in Skylar's foot. Undergoing an amputation would provide her with the best quality of life. (Courtesy: Nicki Hufford Photography)
Skylar and family knew from the time of her diagnosis that amputation was a possibility, and she accepted the news with maturity – and humor – well beyond her years. Often, riding in the back seat of a car, she would prop her leg – with or without Felicia – out the window, waving it to passersby.
"When they told me, I thought, 'At least I don't have to worry about clipping toenails on that foot anymore'," she says with a laugh. "Seriously, the only thing that got to me was that I would never feel sand from the beach on that foot again. But I don't let things get me down. I knew I would be back on the basketball court."
Dr. Mesko formally met Felicia at one of Skylar's follow-up examinations following her amputation. When he removed a sock Skylar had placed over her knee, he was surprised to discover it had been decorated as a puppet with googly eyes, bright-red lips and hair from yarn – a revelation that showcased how well Skylar was adapting to her life-altering experience.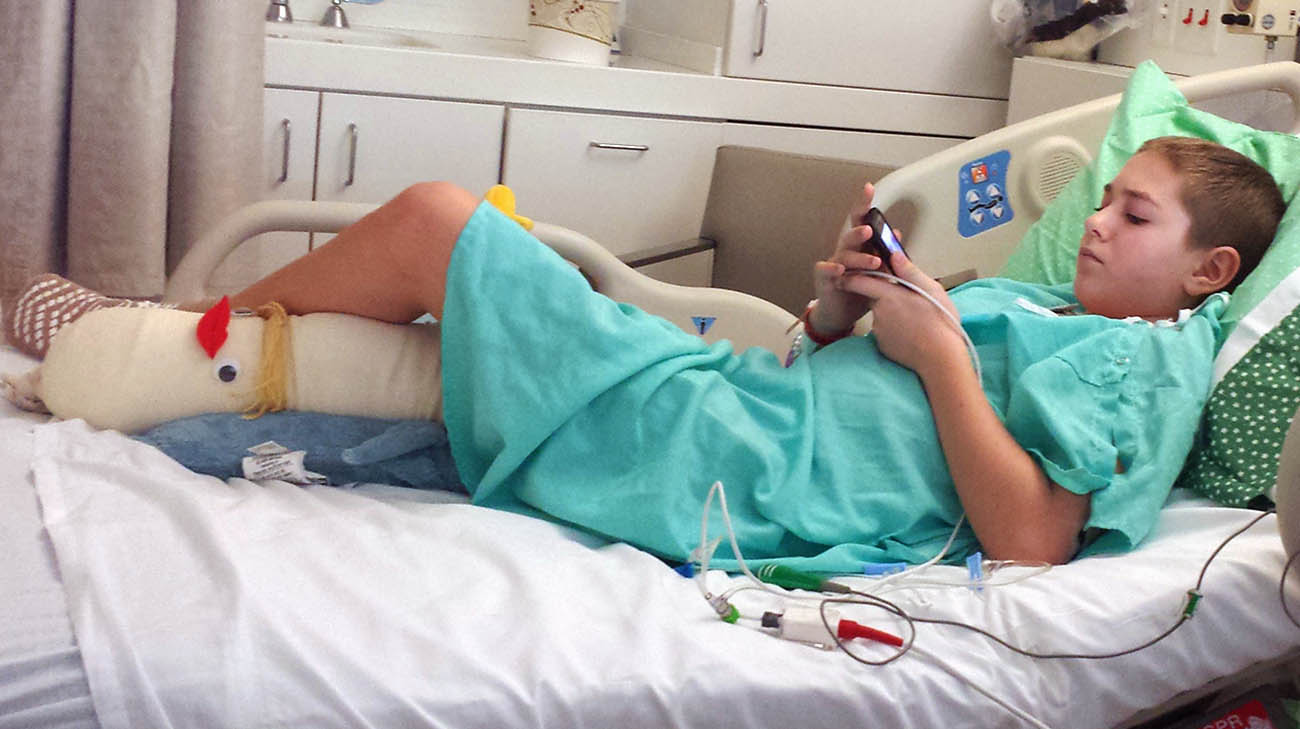 During one of Skylar's appointments, Dr. Mesko discovered Skylar decorated her prosthetic as a puppet. (Courtesy: Tricia Scarnecchia)
"Skylar's response has been incredible," comments Dr. Mesko. "Her ability to use humor and keep pictures of the (amputated) leg to get closure were quite impressive. These were healthy ways to cope with the grieving process."
Skylar underwent three months of intensive post surgery physical therapy after being fitted with her first prosthesis. There's been no stopping her ever since, especially on the basketball court. Felicia is pretty sturdy, so Skylar sometimes uses that to her advantage when guarding an opponent.
"If they run into Felicia, it hurts them more than it hurts me," she says. "I'm not as fast as the other girls, but I never have to worry about (spraining) my ankle!"
Initially, she balked at the prospect of wearing a running blade, but she tried one while attending a camp for children with limb loss. "Now, I love my blade," Skylar says of the futuristic device. "It's way lighter than the one I use for basketball, and it has more give so it's easier to run with."
As for the future, Skylar hopes to compete in the Paralympics one day. She wants to use modeling/acting, as well as her athletic endeavors, as a springboard to becoming a "spreacher," combining motivational speaking and preaching.
"I want to inspire others. You can overcome and do anything."
Related Institutes: Orthopaedic & Rheumatologic Institute, Cleveland Clinic Children's
Patient Stories
Patient Stories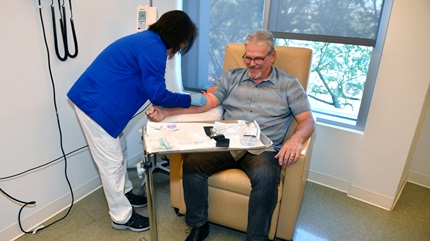 Dec 7, 2023
"The most frustrating thing in the world is not being able to remember something when it was just told to me two minutes ago. Now, with this drug, there's a chance I won't get worse for a while."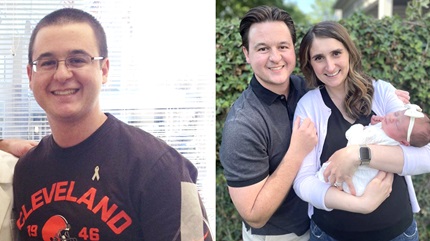 Nov 30, 2023
"At the time of my diagnosis, I was thinking, 'I'm 24. I'm a lifelong nonsmoker. I'm not supposed to get cancer.'"