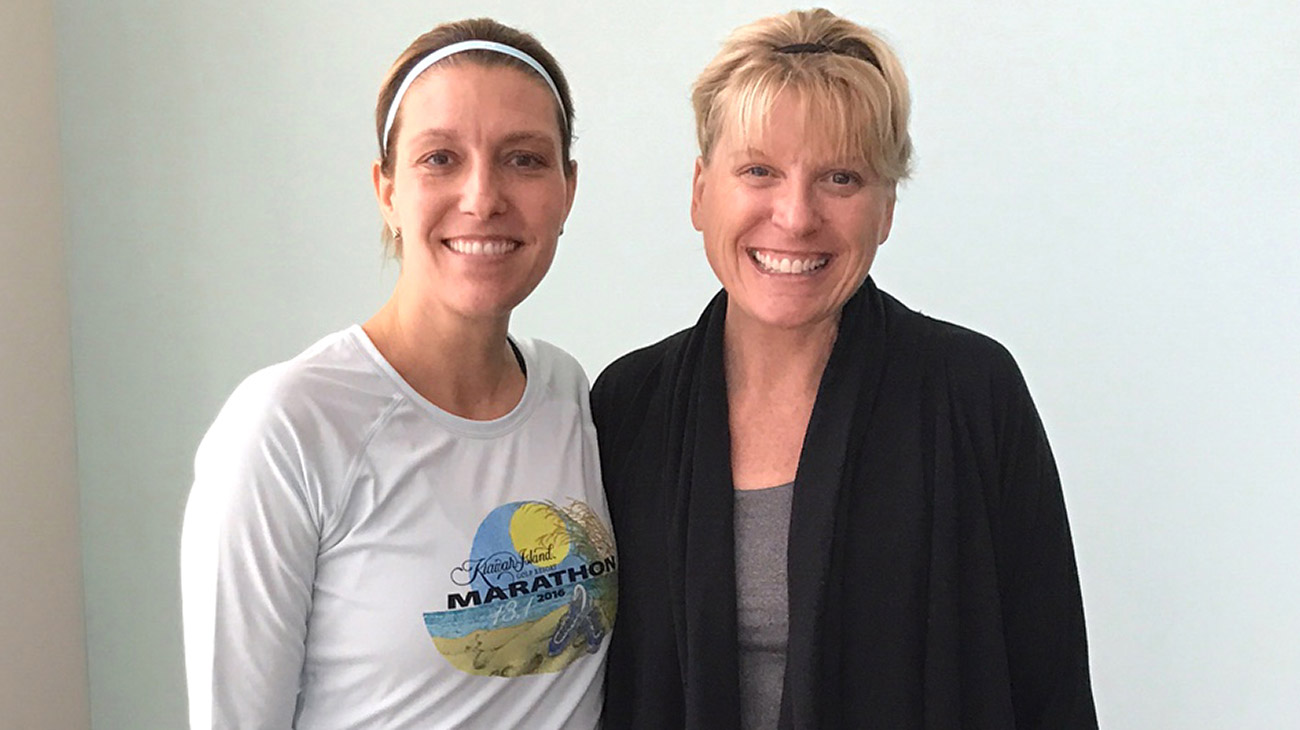 Mindy Craft learned quickly that Livvy was going to have good days and bad days. Bad days could mean not having the energy to leave her bed. They could also cause her to become confused, endure intense itching, and confront emergency trips to the hospital.
Livvy is the name Mindy gave her liver – the one she had before her successful liver transplant on February 1, 2016. Mindy named her liver to make it easier for loved ones to understand the ups and downs of her complicated disease. Accustomed to dealing with illness throughout her adult life, Mindy accepted Livvy's tribulations with grace and humor.
In 1998, at age 29, Mindy was diagnosed with Crohn's disease, an inflammatory bowel disease. Soon after, she was treated for ulcerative colitis, another inflammatory bowel disease, which can be debilitating and lead to life-threatening complications.
An endoscopic retrograde cholangiogram procedure (ERCP) in 2012 revealed that Mindy had primary sclerosing cholangitis, a rare disease of the bile ducts.
"In September 2015, Mindy was diagnosed with cholangiocarcinoma, which often is associated with primary sclerosing cholangitis, and can be fatal," says K.V. Narayanan Menon, MD, Medical Director of Liver Transplantation, Department of Gastroenterology, Hepatology & Nutrition at Cleveland Clinic.
"The severity of Mindy's disease required two forms of radiation and chemotherapy prior to liver transplantation," says Dr. Menon. In the absence of this protocol, which had just been approved by the United Network for Organ Sharing (UNOS) in 2010, it is unlikely Mindy would have survived five years. "Any other treatment would be considered palliative," says Dr. Menon.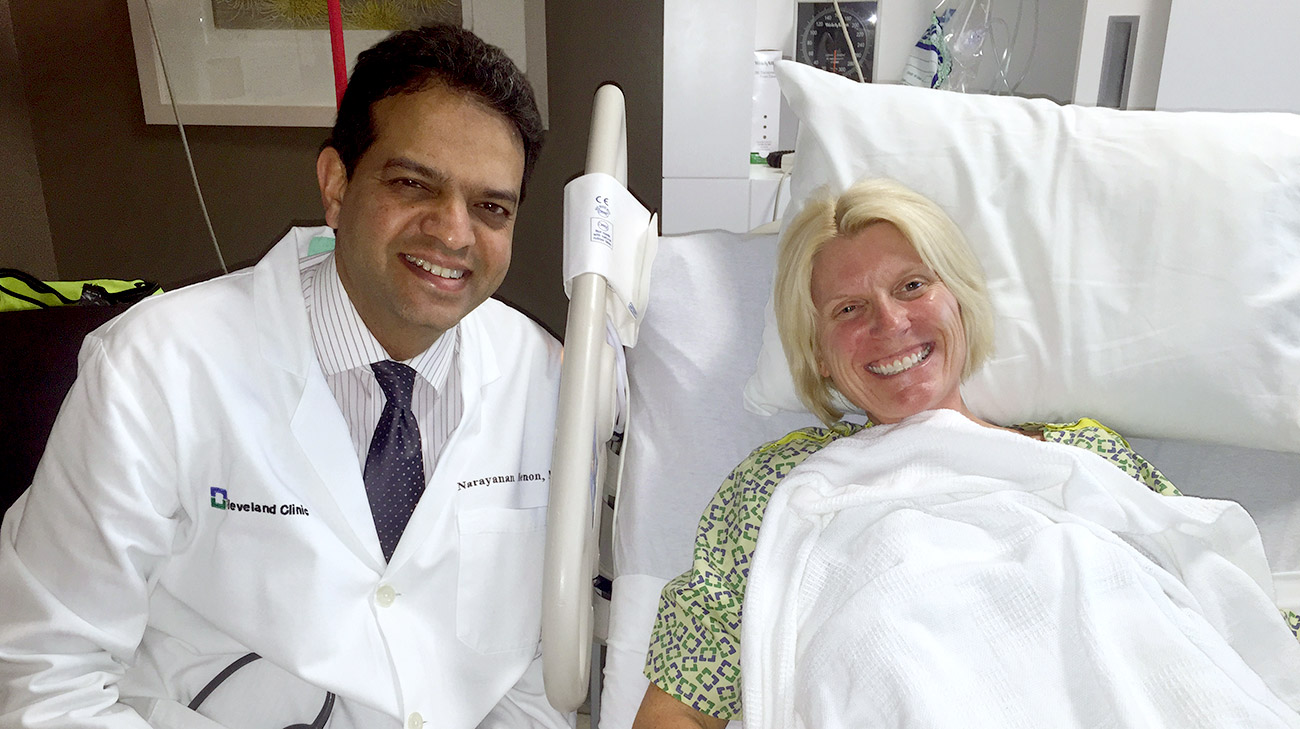 Mindy with Dr. Menon, Medical Director of Liver Transplantation, Cleveland Clinic. (Courtesy: Mindy Craft)
Mindy began chemotherapy treatments and radiation and had radiation seeds placed in her bile ducts. She then waited for her MELD (model for end-stage liver disease) score to reach 30 to be granted a liver from a deceased donor. But before this happened, Mindy's illness progressed to a point that Dr. Menon encouraged the family to actively pursue a live donor.
Mindy's husband, Scott, playfully – and hopefully – posted a "calling all livers" notice on Mindy's CaringBridge page and received an overwhelming response.
"We heard about a mystery donor going through the testing, but we didn't know anything else," Mindy says.
Finally, on January 24, 2016, they did. Mindy received a call from her good friend Karen Ciolek, who wanted to visit. Karen and Mindy had met through a preschool in Olmsted Falls, where Mindy was director and Karen a prospective parent. They became fast friends, often referring to themselves as the "Housewives of Olmsted Falls."
"Livvy is having a bad day," Mindy cautioned her friend, "so please walk right in."
When Karen arrived, she found Mindy in her bedroom with Scott and her two daughters, Chelsea and Mady. Karen couldn't wait to share the good news: "I walked right up to Mindy and whispered in her ear, 'I'm the mystery donor!'"
"I could see the relief on my kids' faces," recalls Mindy. "I wouldn't have survived if Karen wasn't a match. She saved my life."
Karen feels she is the fortunate one. "The opportunity to change someone's life for the better is the greatest gift … the best thing any of us can do."
Eight days after that bedroom visit, Mindy got her new liver.
"Her name is Annie (Karen's middle name)," says Mindy. "Annie has great days, every day."
Interested in becoming a living donor or learning more about the transplantation process at Cleveland Clinic?
Cleveland Clinic's Living Donor Liver Transplantation program is the only one in Ohio performing both adult and pediatric living-donor liver transplants.
Pictured Above: Karen Ciolek (left), who donated a portion of her healthy liver to help her friend, Mindy Craft (right). (Courtesy: Mindy Craft)
Patient Stories
Patient Stories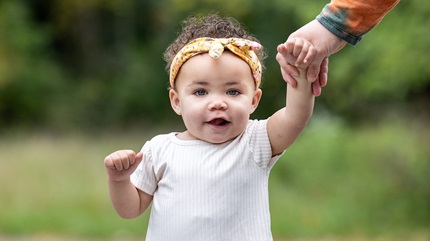 Sep 29, 2023
"Following her procedures, Adaya has defied the odds. She's hit all of her milestones so far. She's crawling and getting around wherever she wants to go."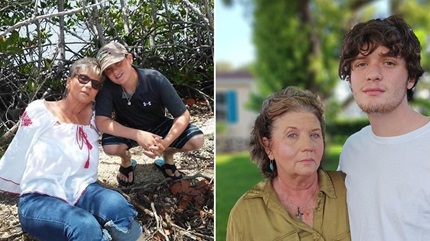 Sep 28, 2023
"It was worth every moment of it to know I was going to be there to see my son grow up."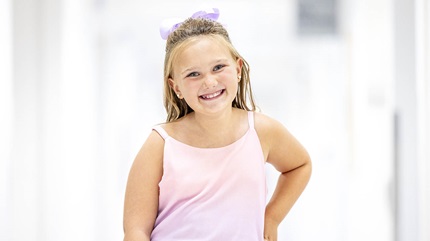 Sep 22, 2023
"This wraps up a chapter in her life we hope we never have to reopen. Audrey handled everything like a champ, and we are so grateful and proud."