Hazel, the youngest of Allie and Jon Sakai's three children, was hitting her developmental milestones as expected. In some cases, she was doing things sooner than her older brother and sister had — she was walking at ten months.
Until the day Allie noticed her staring at the pattern in their carpeting. "She couldn't look away. The first time she did it was for a short period, then she came out of it. But when she did it again, I noticed her eyes watering and could see her chest moving from her breathing," says Allie. "I wasn't worried initially because she was hitting all of her milestones, but someone mentioned it might be a seizure."
Hazel's one-year checkup was just two days away, and her pediatrician asked Allie to get video of the staring behavior. When she saw the video, Hazel's doctor immediately referred the Sakais to Elaine Wyllie, MD, a neurologist and epilepsy specialist at Cleveland Clinic.
"I will never forget the first time I met Hazel and her mother. Ms. Sakai brought me cell phone video of her beautiful ten-month-old daughter who'd been developing normally and seemed to be perfectly healthy until these spells began," says Dr. Wyllie. "I looked at the video and it was very clear they were epileptic seizures that appeared mild but could turn out to be serious."
Following an EEG test that confirmed they were epileptic events, Dr. Wyllie and the Sakais embarked on a journey that included trials of several medications and a very intricate ketogenic diet. Unfortunately, none of the medications worked and Hazel's seizures increased and became more serious over time. She was no longer progressing developmentally — instead of gaining new skills, she was actually losing previously gained skills.
"Hazel became more and more withdrawn, less interactive, and very unsteady. As things progressed, she was wearing a helmet due to her unsteady gait, and still sustaining physical injury," says Dr. Wyllie. "Things were not going well, and we were working very hard to understand options other than conventional medical therapies."
An MRI showed that one area of Hazel's brain might be causing the problem because it had not formed properly during brain development. Further testing defined the abnormality more clearly; there was a cortical malformation in her right temporal and occipital lobes.
Dr. Wyllie shared details about Hazel's health status at an epilepsy management conference attended by neurosurgeons, neurologists, nurses, social workers, neuroradiologists and other members of the Cleveland Clinic Epilepsy Center team.
"Hazel's situation was challenging in that the EEG, or brainwave tests, didn't point to her seizures starting in one specific area of her brain; the findings were more generalized. And as a surgeon, I'm looking for something that's more focal, that I can remove to stop the seizures," says William Bingaman, MD, a neurosurgeon and Vice-Chairman of the Neurologic Institute and Section of Epilepsy Surgery at Cleveland Clinic. "The generalized EEG meant that surgery would be fairly extensive, resulting in a larger type of brain resection that would lead to loss of peripheral vision."
"We knew Hazel was in the best hands with Dr. Wyllie and her team of caregivers at Cleveland Clinic."
The Sakais were faced with a very difficult decision. Surgery would involve removing a large portion of their now 22-month-old daughter's brain, and they knew that Hazel would have some deficits in peripheral vision on one side as a result. But the chance of her seizures stopping completely was 50 to 60 percent, much higher than with more trials of medication.
"We tried eight medications and the ketogenic diet, and there was still no control over Hazel's seizures. Her condition was worsening. So, after meeting Dr. Bingaman and asking him a thorough list of questions, we realized that we'd already tried everything else we could. We decided to go ahead with surgery," says Allie. "It was a really hard decision, but we knew that we had the full resources of the team at Cleveland Clinic at our fingertips. We knew Hazel was in the best hands with Dr. Wyllie and her team of caregivers at Cleveland Clinic."
The last seizure Hazel had was when her dad was holding her in his arms just prior to surgery.
"It was the final confirmation that this was the right thing to do. It felt like the end to this journey," says Jon. "They took her back to surgery and we just hoped and prayed."
According to Allie and Jon, prior to surgery, the surgical team put electrodes on Hazel to monitor seizure activity and provide a type of road map for the surgery. Once the surgery was complete, they put the electrodes on again, and there was no sign of abnormal activity. The Sakais started crying upon hearing this, because Hazel had not had a moment of peace in a whole year.
Hazel came out of surgery as strong physically as when she went in. Her motor skills were not impacted by the surgery. She lost vision on the left side of both eyes and her need for constant sensory input increased.
"Hazel has adjusted beautifully. While it's still hard to say she's seizure-free, we do say she's seizure-free right now," says Allie. "It's been a long road from her surgery in February 2014 to now, four years later. At this point, she's about at the level of a four-year-old in a six-year-old body. It feels like her personality has come back to what we started losing when she was 11 months old. She's a bright-eyed, totally engaged kid who we hope will continue to be healthy and happy, to learn and grow — just like we hope for our other children."
Related Institutes: Neurological Institute, Cleveland Clinic Children's
Patient Stories
Patient Stories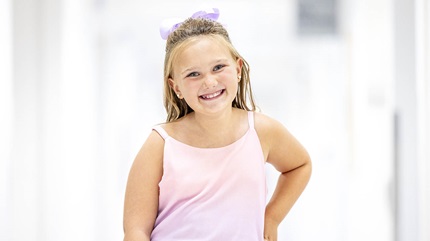 Sep 22, 2023
"This wraps up a chapter in her life we hope we never have to reopen. Audrey handled everything like a champ, and we are so grateful and proud."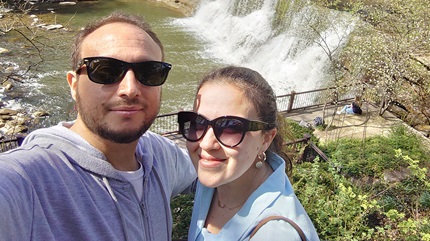 Sep 18, 2023
"Besides my first transplant, I've had other noninvasive surgical procedures, and I needed pain medication for all of them but not this time."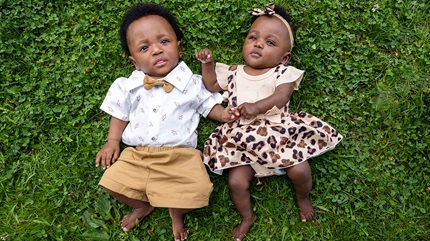 Sep 15, 2023
"Thinking about everything Kimyah and DJ have been through, it was hard to imagine us ever getting to this point. It was unclear if they would be able to do anything by themselves. Now, they're trying to do everything by themselves."