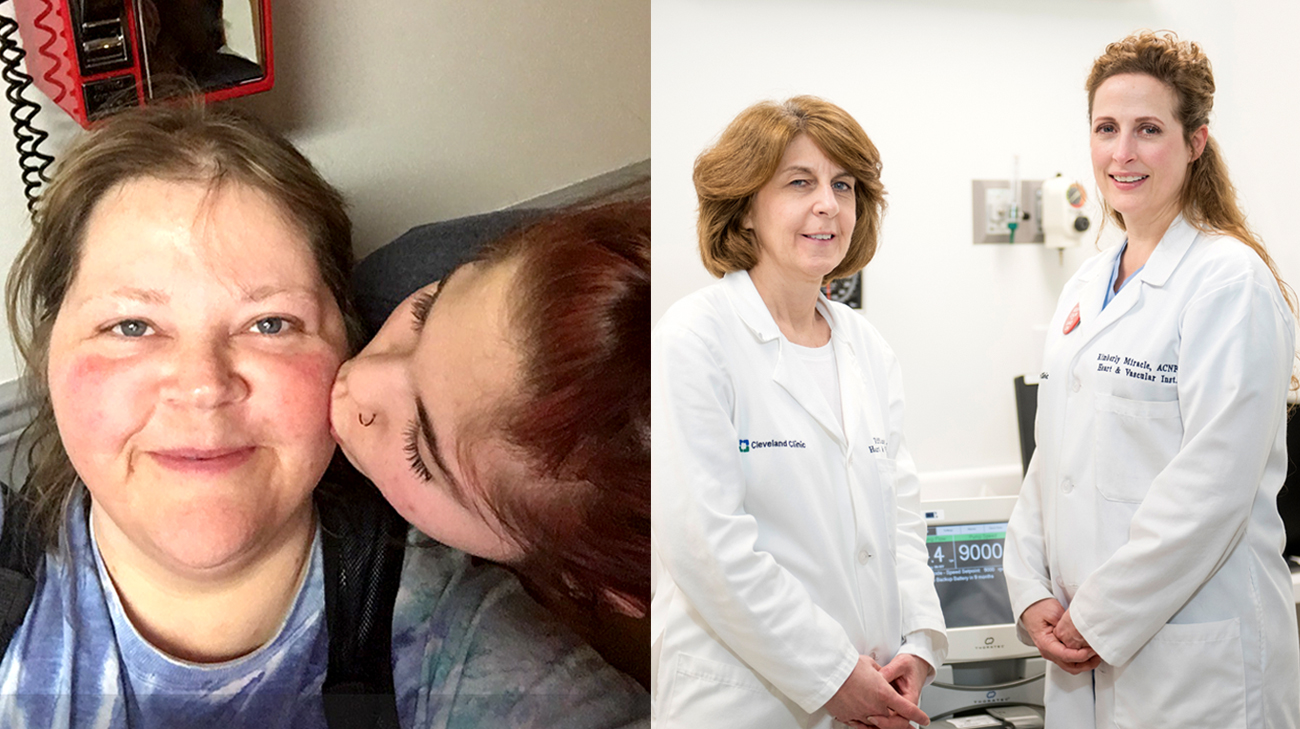 Pictured, left to right: Robin Dunbar, Robin's daughter, Tiffany Buda, RN, and Kim Miracle, CNP.
Robin Dunbar took shelter on the roof of a McDonald's restaurant with her teenage daughter by her side. It was a state of emergency. They were trapped during devastating flooding that hit West Virginia at the end of June, 2016, waiting for the water to go down so they could drive across a bridge to get home. But there was no sign of the rain stopping.
Robin, a Cleveland Clinic patient who was being treated for heart disease, was worried sick because she knew the batteries in her Left Ventricular Assist Device (LVAD) were going to die.
With time running out, Robin's father, who was home safe, called the emergency LVAD pager to explain Robin's dire situation with the LVAD nurses from Cleveland Clinic's Heart, Vascular & Thoracic Institute. The LVAD team began working immediately to try to solve the problem.
A team of nurses and nurse practitioners from Cleveland Clinic's Center for Heart Failure including Melissa Williams, CNP, Marjorie Urban, CNP, Susie Raspovic Hopper, RN, Kim Miracle, CNP, and Tiffany Buda, RN, all worked together to give Robin as much support as possible from 370 miles away.
While Marjorie Urban had already assisted another LVAD patient earlier in the day to obtain his LVAD supplies by boat from his home in this same area, no simple solution had presented itself yet for Robin.
Efforts from the Cleveland Clinic team persisted into the evening and night by Kim Miracle and nurse manager Tiffany Buda. They continued making calls, seeking advice from the Cleveland Clinic Police Department. They spoke with Robin's family in West Virginia. They reached the West Virginia's local sheriff department, the U.S. Coast Guard, and the National Guard.
"I'm thankful I've met some really good people up in Cleveland. With no hesitation, they did everything they could to get me to safety."
Everyone wanted to help, but resources were limited and the area was dangerous. No one was able to cross the bridge. The water was moving too fast, was too high and things were getting worse.
"We were starting to think they wouldn't be able to get to her in time," says Kim. "Robin kept saying she didn't want her teenage daughter to see her die because her batteries ran out."
At last, the National Guard was able to reach Robin, her daughter and the others trapped with them and get them to safety.
After Kim received news about the rescue, she immediately phoned the Carilion Roanoke Memorial Hospital, who headed toward the disaster zone by ambulance, in order to deliver a charger and batteries for Robin's LVAD.
Without the selfless collaboration among individuals and institutions separated by hundreds of miles, Robin wouldn't have received the help she desperately needed in time.
"Our patients aren't just patients," says Kim. "Patients are like our family. We know them by their first name. We recognize their voice on the phone. And when one of them calls you, scared to death in a life-threatening situation, you're worried sick and you'll do everything in your power to get them to safety."
Incredibly, Robin said she only had 20 minutes of battery left on her LVAD when she was rescued.
"I'm thankful I've met some really good people up in Cleveland," says Robin. "With no hesitation, they did everything they could to get me to safety."
Related Institutes: Heart, Vascular & Thoracic Institute (Miller Family)
Patient Stories
Patient Stories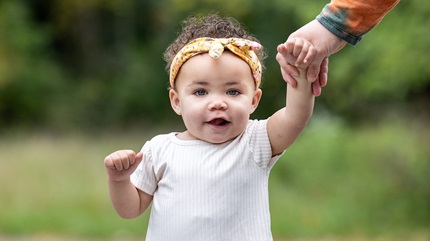 Sep 29, 2023
"Following her procedures, Adaya has defied the odds. She's hit all of her milestones so far. She's crawling and getting around wherever she wants to go."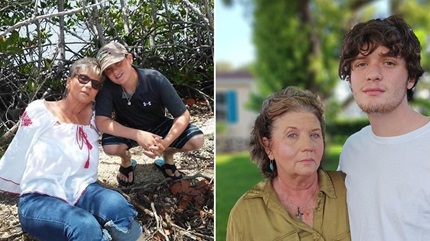 Sep 28, 2023
"It was worth every moment of it to know I was going to be there to see my son grow up."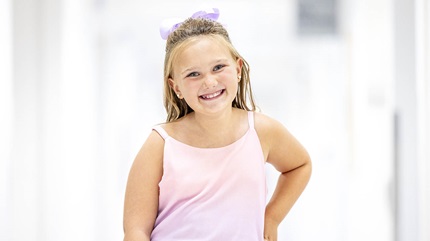 Sep 22, 2023
"This wraps up a chapter in her life we hope we never have to reopen. Audrey handled everything like a champ, and we are so grateful and proud."