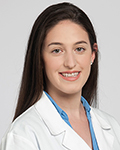 Contact
Phone: 440.31.28420
Fax: 440.312.8224
Email: mayzelb2@ccf.org
Education
Ambulatory Care Specialty Residency 2020, Beaumont Royal Oak, Royal Oak, MI
Resident Teaching and Learning Curriculum 2019, Wayne Stated University College or Pharmacy, Detroit, MI
Pharmacy Practice Residency, 2019, Cleveland Clinic Hillcrest Hospital, Mayfield Heights, OH
Doctor of Pharmacy 2018, University of Toledo College of Pharmacy, Toledo, OH
Areas of Interest
Diabetes
Asthma and COPD
Anticoagulation
Chronic heart failure
Current Projects and Committees
Ambulatory Care Services with Family Medicine and Internal Medicine
Member of the Cleveland Clinic Research Enterprise Committee
Member of Hillcrest Hospital Pharmacy and Therapeutic Committee
Member of the American Society of Health-System Pharmacists
Member of American College of Clinical Pharmacy

American College of Clinical Pharmacy Ambulatory Care PRN
Networking Committee Member
Publications
Chonko K, Axtell S,Mayzel B. Pharmacist Hypertension Management Quality Review at an Ambulatory Care Clinic. J Pharm Technol. 2022 Feb;38(1):31-38. doi: 10.1177/87551225211064240. Epub 2021
Mayzel B, Muench S, Lauster C. Impact of Pharmacist Education on Inhaler Technique and Adherence in an Outpatient Clinic. Hospital Pharmacy 2022;57(3):402-407.
Mayzel B, Axtell S, Richardson C, Link N. Impact of Pharmacist Face-to-Face Pharmacist Transitional Care Management Visits on Medication Related Problems. Journal of Pharmacy Technology February 2020; doi:10.1177/8755122520905582.
Mayzel B, Axtell S.Spironolactone's role in resistant hypertension OCCP Newsletter 2019; 10:9.
Mayzel B, Axtell S.Cannabidiol for Lennox-Gastaut and Dravet Syndrome: A new treatment option. OCCP Newsletter 2018; 9:9.
Poster Presentations
Tasseff N, Nixon B, Axtell S. Impact of Glucagon-like Peptide 1 Agonist Therapy on Weight Loss in Type 2 Diabetes Patients. ACCP Global Conference, San Francisco, CA. October 2022
Mayzel B, Muench S, Lauster C. Impact of Pharmacist Education on Inhaler Technique and Adherence in an Outpatient Clinic. ASHP MCM National Conference, Las Vegas, NV. December 2019
Mayzel B, Axtell S, Richardson C, Link N. Impact of Pharmacist Face-to-Face Pharmacist Transitional Care Management Visits of Medication Related Problems. Ohio Pharmacy Resident Conference. Ada, OH. May 2019
Mayzel B, Axtell S, Richardson C, Link N. Impact of Pharmacist Face-to-Face Pharmacist Transitional Care Management Visits of Medication Related Problems. OCCP Fall 2018 Meeting. Rootstown, OH. October 2018
Mayzel B, Axtell S, Richardson C. Renal dosing appropriateness and adverse drug reaction incidence of empagliflozin and canagliflozin. Poster presentation. ASHP MCM National Conference, Anaheim, CA. December 2018
Mayzel B, Axtell S, Richardson C. Renal dosing appropriateness and adverse drug reaction incidence of empagliflozin and canagliflozin. Poster presentation. Vizient National Conference, Anaheim, CA. December 2018
Mayzel B, Axtell S, Richardson C. Renal dosing appropriateness and adverse drug reaction incidence of empagliflozin and canagliflozin. Poster presentation. ACCP Global Conference, Seattle, WA. October 2018