Robotic Cystectomy
Cystectomy is bladder removal surgery. With robotic instruments, a cystectomy can be performed less invasively than traditional surgery, with smaller cuts and shorter hospital and recovery time.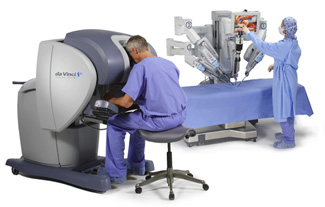 What is cystectomy?
A cystectomy is a major surgery to remove the entire bladder (radical cystectomy) or part of the bladder (partial cystectomy). It is usually done to treat bladder cancer.
In an open radical cystectomy, surgeons remove the entire bladder through a long incision (cut) in the abdomen (belly area). The bladder is removed along with surrounding lymph nodes. The surgeon then reconstructs the urinary tract so urine can move out of the body.
Depending on how the cancer has advanced, it is necessary to remove parts of the reproductive system (including the prostate, seminal vesicles in men; cervix, ovaries, fallopian tubes, uterus, part of the vaginal wall in women).
What is robotic cystectomy?
A robotic radical cystectomy does the same thing, but is less invasive, using smaller incisions in the abdomen. A robotic console (pictured ) helps the surgeon guide instruments more precisely in the body.
A robotic partial cystectomy is done where the cancer has invaded only part of the bladder. Most times, however, a radical cystectomy is needed to treat bladder cancer. Your doctor will explain to you what type of surgery will be necessary.
Recent studies suggest cancer control results of robotic cystectomy compare well with traditional open surgery.