Laparoscopic Surgery for Digestive Diseases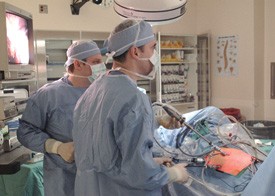 The Cleveland Clinic provides state-of-the-art laparoscopic surgery for a variety of colon and rectal conditions, including Crohn's disease, ulcerative colitis, diverticular disease, familial polyposis, chronic constipation, colon cancer and rectal prolapse.
A minimally invasive approach to surgery, laparoscopic procedures afford patients the benefit of smaller incisions, less pain, fewer heart, lung and wound complications and shortened hospital stay. "The best thing about laparoscopic colon surgery is that we can offer patients the results of a traditional, open surgery but with incisions that are only two inches long".
Traditional surgical treatment for many intestinal disorders has required a long midline abdominal incision and a lengthy recovery period of between four and eight weeks.
"Laparoscopic surgery patients are usually only required to undergo a two-night hospital visit, as opposed to a stay of a week or more, and complete recovery is achieved in only two to three weeks.  The benefits of laparoscopic surgery encompass so much more than wound size, and there is no known downside associated with the technique."
A minimally invasive approach is perhaps THE leading advance in colon surgery in the last decade. The excellent outcomes and particularly an early return to work and the need for minimal pain medication ensure a prominent role for this approach in the future.
Experience with more than 1,700 laparoscopic intestinal resections, and an average of five additional cases each week, has shown that the approach can be at least as safe as traditional surgical methods, when performed by a surgical team with special training and extensive experience. Laparoscopy offers patients an identical operation, performed through an incision that is approximately 5 cm long.
The Cleveland Clinic's colorectal surgeons have one of the largest experiences in the country performing minimally invasive intestinal surgery. The team has performed more than 1,000 laparoscopic intestinal resections in the last four years alone, and is currently averaging five to six cases each week.
Evidence shows that patients who have their procedure done by a surgeon who has performed a high number of similar surgeries experience better outcomes than do patients who undergo surgery with a surgeon who has not completed a high number of such cases.