Give Local to Cleveland Clinic Children's
At Cleveland Clinic Children's, 100% of your donation stays local in Northeast Ohio. This means you're supporting the children in our community who are seeking care for the most serious or complicated medical conditions and procedures.
To continue best serving our littlest patients, we are in need of funding to discover groundbreaking research and sustain vital programs in Northeast Ohio. At Cleveland Clinic Children's, we believe that each of us has the power to make a difference — and we hope you'll join us in rising to the challenge.
When you Give Local, you make Cleveland a stronger, better community. You help support children who receive care right here in our own backyard —from our world-class scientists, physicians, nurses and support staff who have devoted their lives to providing hope and healing.
Every gift, no matter the amount, helps us advance our mission. Discover how you can Give Local and help transform healthcare for our littlest heroes.
How to Get Involved
Getting involved has never been so easy! Just choose from one or more of these ways to give back...
Why Support Cleveland Clinic Children's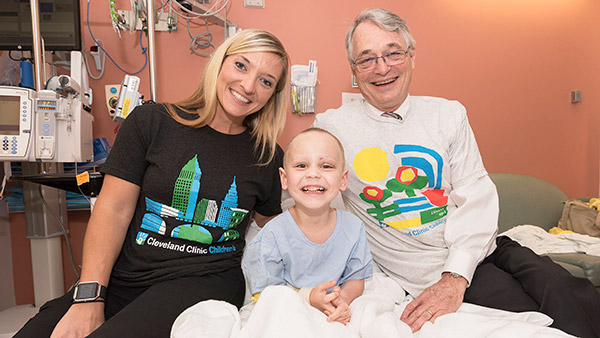 At Cleveland Clinic Children's, we put kids and families first. We understand that children and their parents deserve — and in fact, require — an extra dose of compassion.
Since 1921, Cleveland Clinic has provided compassionate, family centered, world-class pediatric care, working to restore children and adolescents to health so that they can return to their everyday activities as soon as possible. And that level of skill, caring and service makes us shine.
Know the Facts
Cleveland Clinic Children's was ranked as a national leader in pediatric clinical care by U.S. News & World Report's 2021–22 edition of "Best Children's Hospitals."
With 40 plus community locations across Northeast Ohio, our team of world-class physicians saw more than 800,000 patient visits last year. That's more than any other children's hospital in Northeast Ohio.
Children's is an integral part of the world renowned Cleveland Clinic. This gives young patients and families the unique advantage of being able to draw upon the expertise of the internationally known specialists and technology that make Cleveland Clinic great.
Help Cleveland Clinic Children's
Your gift will support the vital programs and innovative pediatric research taking place at Cleveland Clinic Children's. Help us and give back to Children in your local community.
Make a Difference