Caregiver Giving Program
We're stronger, together
Help Fund Critical Research and Caregiver Support Programs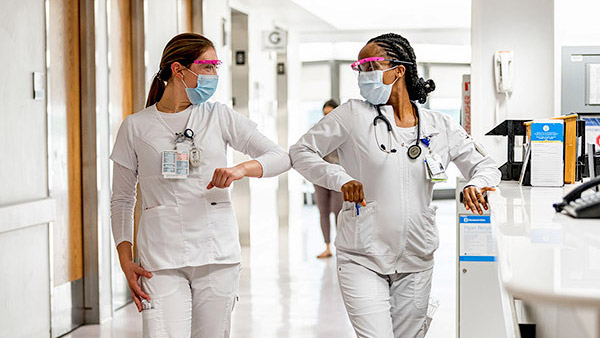 Help Fund Critical Research and Caregiver Support Programs
Cleveland Clinic caregivers never fail to do what they do best - ensure our world-class enterprise delivers extraordinary patient care.
No matter what challenges may arise, all caregivers, regardless of their role, rise up to meet them with passion, dedication, and an innovative spirit.
And, yet, so many ask, "How else can I help?"
Caregivers can support each other by donating to Caregiver Catalyst Grants or the Caregiver Hardship Fund to provide seed funding for innovative ideas and aid to those facing unexpected financial hardship.
Every gift, no matter the size, matters greatly to caregivers. Gifts can be made through credit card, payroll deduct or PTO donation.
Thank you for all you do to make a difference in the lives of our patients and fellow caregivers.
Caregiver Catalyst Grants
Help more caregivers implement their innovative ideas through philanthropic grants.
Caregiver Hardship Fund
This is an evergreen fund to aid caregivers facing unexpected financial hardships.
Make a Difference!
Make a Difference!
Interested in supporting another area of Cleveland Clinic? Caregivers can make a one-time gift to other enterprise priorities.
Donate Now
Coming Together to Support Our Fellow Caregivers
Coming Together to Support Our Fellow Caregivers
"My thanks to all of the caregivers who have helped care for COVID-19 patients. Thank you for all that you have done!"
– Angela Yuan, Resident Fellow, Education Institute
"Because you asked and because we are family."
"Being part of a team means doing what you can to ensure every member of the team has the opportunity to be their very best self, whatever the circumstance or challenge."
"Cleveland Clinic is an inspiring organization. I am proud to work here with exceptional colleagues. We must all help to take care of each other during this pandemic."
"The selflessness of our caregivers is humbling. Thank you!"
– Crystal Young, Corporate Compliance Program Manager, Cleveland Clinic Akron General
"Just reading and watching their heroism day in day out is so inspiring. I work at a regional facility that is not on the front line so I commend them all!"
– Patricia Stief, Financial Navigator, Taussig Cancer Institute, Mansfield Cancer Center
"I am not only an employee, but have received lifesaving care at Cleveland Clinic since the age of 9. I am blessed every day to see the way our enterprise leads the world in not only patient care, but also caregiver/employee experience."
– Kristin Knipp, Digestive Disease and Surgery Institute, LPN Ambulatory
"Generosity lifts everyone up, and hopefully eases the burden on someone who is suffering."
– Michele Jarvis, Anesthesia, Indian River