Overview
Overview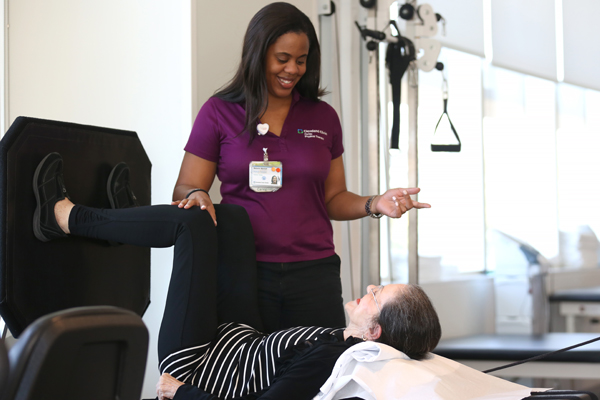 Our rehabilitation and sports therapy team provides the highest level of clinical care in South Florida and the Treasure Coast. We use a compassionate, patient-centered care approach delivered in a comfortable, friendly environment. We assess your unique needs to create a personalized treatment plan that maximizes your function and well-being.
Why choose Cleveland Clinic Florida?
When you choose Cleveland Clinic Florida rehabilitation, you benefit from:
Full-spectrum, individualized care: We offer the full scope of therapy services, including outpatient rehab and inpatient rehab. We also offer specialized physical therapy treatments, such as hand therapy and vestibular therapy, which addresses balance and inner ear disorders. When you choose us, you'll receive one-on-one therapy sessions. In contrast, most other locations in the region only offer rehab services in group settings with several patients at once.
Care for pediatric patients: We offer pediatric physical therapy, occupational therapy and speech therapy at select locations throughout the Treasure Coast. Our specialists address the full range of pediatric conditions, such as cleft palate, feeding issues, genetic disorders or stuttering.
Optimized outcomes: Our therapists offer prehabilitation to optimize your health and strength before surgery. We also provide the post-rehabilitation exercise programming (PREP) Program, a transitional service to help you move from rehab to self-led exercise.
Pediatric Rehabilitation
Pediatric Rehabilitation
Pediatric Physical Therapy, Occupational Therapy, Speech Therapy and Audiology
Cleveland Clinic in Florida has a specialized team of therapists who treat infants, babies and children with developmental delays and various neurological, orthopedic and speech conditions. Our team consists of pediatric occupational, physical and speech therapists, and an audiologist. Families are encouraged to be involved in their child's therapy by participating in treatment sessions and working with the child at home.
We provide therapy services for children who have the following conditions:
Attention deficit disorder.
Autism.
Cerebral palsy.
Cleft palate.
Down syndrome.
Feeding problems.
Genetic disorders.
Head injury.
Newborn screening.
Orthopaedic and neurological conditions.
Prematurity.
Spina bifida.
Sensory integration disorders.
Speech, articulation and stuttering disorders.
Tic disorder and tourette syndrome.
To schedule an appointment, please call 772.223.5677. We accept payment from major medical insurance carriers, Medicaid and Part C Funding (Early Intervention Program).
Locations
Martin Pediatric Rehabilitation Center at St. Lucie West Blvd. – 772.223.5677
Martin Pediatric Rehabilitation Center at Jensen Beach – 772.223.5677
Medical Fitness Centers
Medical Fitness Centers
We offer medical fitness programs at two locations in Palm City and Hobe Sound. We are the only medically directed fitness center in the Treasure Coast with specialty-trained personnel. Our centers were the first medical fitness facilities in Florida to be certified with the Medical Fitness Association. This certification means we offer the highest-quality staff and programming under medical oversight.
We offer a full range of fitness center services including exercise classes and SilverSneakers® memberships. Physical therapists, occupational therapists and speech therapists provide medical fitness programs that bridge the gap between health care and fitness. We support you from post-rehab through continued recovery, offering carefully developed, customized personal training. Our trainers can help with:
Integrating an exercise program into your treatment plan.
Managing chronic disease.
Preventing and treating disease with mental health, social interaction and spirituality.
We offer programming for patients of all ages and in all stages of life. Our trainers have special certifications to work with:
Cancer patients and cancer survivors.
Bariatric surgery patients.
People with diabetes, Parkinson's disease or cardiovascular conditions.
Rehab patients, including those in cardiac programs or who have completed rehabilitation.
Rehabilitation Services
Rehabilitation Services
Our specialists provide comprehensive treatment for sports injuries and orthopaedic conditions. We commit to helping you improve strength and function while reducing pain. Therapy options may include:
Physical therapy
Physical therapists evaluate your strength, range of motion and function. Then we customize treatment to meet your needs and goals. Treatment may include:
Electrical stimulation, which uses mild electrical impulses to relieve pain and inflammation.
Exercises, including observed and at-home exercises to increase strength and range of motion.
Low-level laser therapy, which uses infrared light to relieve pain and inflammation.
Pain management, such as massage or hot and cold therapy.
Ultrasound therapy, which sends deep heating to your soft tissues to reduce pain and promote healing.
Occupational therapy
Occupational therapists help improve your fine motor skills and day-to-day function. Treatment may include:
Adaptive equipment to assist with everyday needs, such as tools that assist with dressing.
Exercise plans to increase your strength and reduce pain.
Home adjustments to create an environment where you can move about more easily.
Personalized goal-setting to help you return to daily activities.
Our occupational therapists may offer mobility assessments for walking or driving. We may go through a simulation where we run through real-time driving scenarios to test braking or turning. We provide recommendations for driving fitness, as well as offer adaptive equipment if needed.
Hand therapy
Our certified hand therapists (CHTs) are experts in helping you regain functionality and motor skills after surgery or injury. Treatment may include:
Fluidotherapy, a type of dry heat therapy.
Grip-strengthening exercises.
Nighttime braces or splints.
Stretches to increase range of motion and reduce pain.
Manual therapy
Therapists may use hands-on techniques to reduce inflammation and promote tissue repair. Common manual therapy treatments include:
Myofascial release, applying sustained pressure to certain body parts to relieve inflammation and increase blood circulation.
Soft tissue mobilization, using stretching and deep pressure to help relax your muscles and break up tense muscle tissue.
Spinal and joint mobilization, manually moving your joints in specific directions to increase mobility and decrease tension.
Spine injury and back pain therapy
We offer therapy services to people with chronic back pain, neck pain or spinal disorders. We tailor your treatment plan, using effective approaches such as:
Body mechanic or postural corrections, including adjustments to how you sit, stand, walk or bend.
Cervical and lumbar mechanical traction, using weights or pulleys to stretch the spine, relieving neck pain and muscle spasms.
Core stabilization exercises, including in-office and at-home exercise plans to increase core strength and reduce back or neck pain.
Home exercise programs, a prescribed set of movements to increase your strength, flexibility and range of motion.
Joint or soft tissue mobilization, manually applying pressure to your muscles or moving your joints in specific directions to relieve pain and increase mobility.
Stretching and flexibility exercises, including a set of prescribed movements to practice regularly at home.
Patient Resources
Patient Resources
Supporting departments
Additional information