Overview
Overview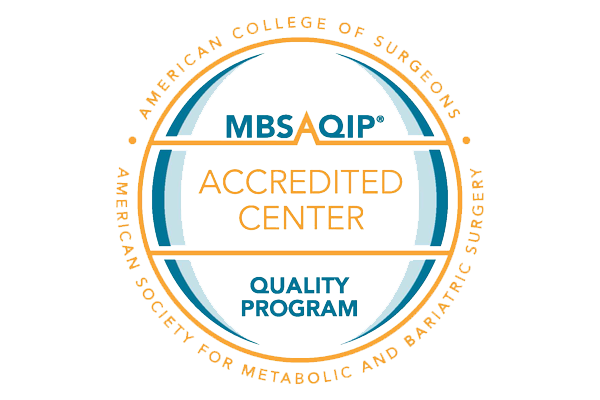 Weight Loss through the Bariatric & Metabolic Surgery Department
The Bariatric & Metabolic Surgery Department at Cleveland Clinic Florida provides medical and surgical care for patients who want to achieve weight loss and patients who have complex diseases of the upper gastrointestinal tract. Cleveland Clinic in Florida's Bariatric & Metabolic Surgery Department offers a number of surgical and nonsurgical weight loss options. Because every weight loss journey is different, our team of specialists across southeast Florida, from Weston to Vero Beach, work closely with patients to determine the right weight management program for you.
There's never been a better time to start working towards a healthier lifestyle. Weight loss surgery options are more accessible than ever, with wider coverage by Medicare and commercial insurance providers.
Why Choose Cleveland Clinic Florida's Bariatric & Metabolic Surgery Department?
We are committed to providing patients with a path to a healthier future. There are many reasons to choose Cleveland Clinic as a partner on your weight loss journey, including:
Comprehensive team approach to your care, which includes a bariatric nurse and bariatric dietitian
Financing available
National Bariatric Surgery Accreditation
Accreditation of our bariatric surgery programs at Cleveland Clinic Weston Hospital and Cleveland Clinic Martin North Hospital by the Metabolic and Bariatric Surgery Accreditation and Quality Improvement Program (MBSAQIP®) acknowledges our commitment to quality improvement and safety efforts for patients undergoing metabolic and bariatric surgery. Our leadership and care teams continually work to improve outcomes and achieve additional accreditations across the region.
Industry Leadership in Research & Innovation
The bariatric surgeons at Cleveland Clinic Florida have performed over 6,000 weight loss surgeries making it one of the largest bariatric programs in Florida. They are internationally renowned for advancing surgical weight loss approaches through research -- from gastric sleeve surgery and lap band procedures to all forms of gastric bypass surgery. They are also innovators in the use of obesity surgery to treat type 2 diabetes and as a bridge to organ transplantation candidacy.
Our team includes current and past presidents of the American Society of Bariatric and Metabolic Surgeons (ASMBS) and the Florida Chapter of the ASMBS as well as editors of leading industry publications, such as Surgery for Obesity and Related Diseases (SOARD), the official journal of the ASMBS, Bariatric Times, and the peer-reviewed journal Obesity Surgery.
How Do I Get Started?
How Do I Get Started?
Creating a personalized weight loss plan for you.
At Cleveland Clinic Florida's Bariatric & Metabolic Surgery Department, our multidisciplinary team works with our patients and their families to develop a personalized weight loss plan that works for them. Our dedicated team of physicians, dieticians, mental health specialists, nurses and patient navigators evaluate our patients with a thorough physical exam, diagnostic tools like blood work and imaging, and medical history to develop a complete, comprehensive profile. Your evaluation will determine which weight loss plan is best for you. We offer both surgical and medical weight management programs.
With non-surgical weight loss plans, our registered dieticians offer patients personalized medical weight loss programs that include diet, exercise, lifestyle and behavior support. Our weight-loss specialists may also recommend medications to manage obesity and obesity-related conditions.
If you are a candidate for bariatric surgery, your weight loss plan also will be personalized and include one-on-one education, support groups, regular physician consultations, and pre- and post-surgery follow-up care.
Cleveland Clinic Florida's weight loss programs are comprehensive and revolve around your well-being and healthy lifestyle goals. Get information about the programs we offer throughout South Florida and the Treasure Coast and frequently asked questions.
Virtual Patient Orientations
Registration for virtual patient orientations are now available during the following dates and times:

Virtual Patient Orientation Schedule

Patient Orientations in English

Patient orientations in English are held every week on Tuesdays and Thursdays

Time: 8 a.m. to 9 a.m.
Tuesday Virtual Patient Orientation in English: Register Now
Thursday Virtual Patient Orientation in English: Register Now
Patient Orientations in Spanish

Patient orientations in Spanish are held the first Tuesday of the month

Time: 4 p.m. to 5 p.m.
Tuesday Virtual Orientation in Spanish: Register Now
How to Attend a Virtual Patient Orientation

Click here for a short video tutorial on how to join a Webex meeting.
Schedule a Bariatric Program Consultation
To schedule a consultation:
Weston & Indian River - 877.463.2010 or make an appointment online
Martin Health – 844.630.4968 or make an appointment online
About Obesity
About Obesity
What is Obesity?
Morbid obesity is a chronic disease, with symptoms that build slowly over an extended period of time. An estimated 5-10 million Americans are considered morbidly obese. Obesity becomes "morbid" when it reaches the point of significantly increasing the risk of one or more obesity-related health conditions or serious diseases (also known as co-morbidities) that can result either in significant physical disability or even death.
Related Links
Causes Of Morbid Obesity
The underlying causes of severe obesity are not known. There are many factors that contribute to the development of obesity including genetic, environmental, metabolic and psychological. There are also certain medical conditions that may result in obesity such as steroid use and hypothyroidism. That's why it's important that you work with your doctor to make sure you do not have a condition that should be treated with medication and counseling.
Treatments for Obesity
Non-Surgical
For anyone who has considered a weight loss program, there are a number of choices. In fact, to qualify for insurance coverage for bariatric surgery, many insurers require patients to have a history of medically-supervised weight loss efforts.
Most medical weight loss programs are based on some combination of diet/behavior modification, medications and regular exercise. Cleveland Clinic Florida's Bariatric & Metabolic Surgery Department offers nutritional counseling and classes, and individualized exercise programs.
Cleveland Clinic Florida's Bariatric & Metabolic Surgery Department offers the Intragastric Balloon, a non-surgical method to help fight obesity. The Intragastric Balloon is a weight loss solution for patients who have a body mass index (BMI) of 30-40 and is designed for earlier treatment before the disease progresses and requires a more invasive alternative.
Surgical Weight-loss Options
Am I a Candidate for Bariatric Surgery?
If you're significantly overweight and want to make a lifestyle change, you may be a candidate for bariatric surgery. At Cleveland Clinic in Florida, we carefully evaluate all patients being considered for bariatric surgery. Nutritional and behavioral counseling are conducted, and patients are required to attend at least one weekly support group session prior to weight loss surgery. A consultation with a bariatric surgeon is a mandatory step prior to surgery, and will help you screen for eligibility.
Appropriate candidates for bariatric surgery must:
Weigh more than 100 lbs. over your ideal body weight.
Have a BMI of 40 or greater or BMI of 35-39.9 with pre-existing co-morbidities such as diabetes, heart disease, sleep apnea, hypertension and others. BMI Calculator.
Have been unable to achieve a healthy body weight for a sustained period of time, even through medically-supervised weight loss programs for at least one to two years prior to surgery.
Be psychologically stable and willing to commit to lifelong nutrition and behavior changes.
If you are a woman of childbearing age and planning a pregnancy, it's vital to know that you must not get pregnant within the first 18 months to two years following surgery. The rapid weight loss and nutritional deficiencies associated with bariatric surgery make pregnancy very dangerous for you and for a developing fetus.
Why should someone consider having bariatric surgery?
Obesity is harmful to a person's health. Someone who is 40 percent overweight is twice more likely to die prematurely than an average-weight person. (This effect is seen after 10 to 30 years of being obese.) In this country alone, about 300,000 deaths per year can be blamed on obesity. Obesity is a risk factor for many conditions and life-threatening diseases, including:
Cancer
Chronic kidney disease
Depression
Diabetes
Fatty liver disease
GERD (Gastro Esophageal Reflux Disease)
Heart disease
High blood pressure (hypertension)
High cholesterol
Infertility
Menstrual irregularities
Obstructive sleep apnea
Osteoarthritis of weight-bearing joints
Osteoporosis
Stroke
Urinary stress incontinence
What are the Benefits of Weight Loss Surgery?
Studies show that the risk of death from obesity-related diseases and conditions returns to normal after weight loss. Within the first six months of having weight loss surgery, patients often no longer need to take medications for these conditions. In addition, women who struggle with infertility before surgery find that conception is possible after surgery. Other benefits include:
Average of 50-75 percent of excess weight loss*
Improved quality of life
Increased energy
Improved self-esteem and confidence
Lower blood pressure
Increased mobility, with less joint pain
Improved blood glucose and cholesterol levels
Improved overall health and life expectancy
* Estimated weight loss is based on national averages. Success after bariatric surgery is dependent on your ability to make positive lifestyle changes including following the behavioral and nutritional guidelines and exercising for at least 30 minutes daily.
What bariatric surgical procedures are performed by surgeons at Cleveland Clinic?
Cleveland Clinic Florida's Bariatric & Metabolic Surgery Department offers many options for patients who are interested in bariatric surgery. For more information on the weight loss surgery options available, visit our Surgery Options page.
What makes the Cleveland Clinic Florida's bariatric surgery program unique?
We have a team of physicians, registered nurses, registered dietitians and support staff to ensure that you are guided throughout the program to achieve your weight loss goal. Prior to surgery you will attend both group and one-on-one education classes and learn how to live a healthier life as a bariatric patient. Our program also offers monthly support groups and individualized care. You will have someone by your side every step of the way. Our program doesn't end after your surgery -- we are here for you for the rest of your life to keep you successful.
What is the recovery time following weight loss surgery?
Cleveland Clinic Florida's medical team has an immense wealth of experience in bariatric surgery. Combined with advances in the field of bariatric care, this means that most patients recover from surgery quickly and without complications. The average hospital stay for patients who undergo the Roux-en-Y gastric bypass is usually two to four days.
What is my ideal body weight?
Cleveland Clinic Florida's Bariatric and Metabolic Surgery Department follows the guidelines set out by the body mass index scale. This scale recommends a BMI of between 18.5 and 24.9. You can use the calculator to find your current BMI and ideal BMI.
Is there support from surgeons and staff following weight loss surgery?
Cleveland Clinic Florida's bariatric surgery health care team is there to guide patients after each procedure. Regular follow-up visits are scheduled during the first year after weight loss surgery to check overall physical and mental health, metabolism and nutritional status. Support groups are also available to help you through your weight loss journey.
How much weight loss can be expected?
Most patients will lose between 66 and 80 percent of their excess body weight, most of which is lost 18 to 24 months following bariatric surgery. Weight loss is dependent on several factors including the type of bariatric surgical procedure you choose and your metabolism. However, the greatest factor is your ability to make and maintain the lifestyle changes necessary for success.
In addition to surgery, what other lifestyle changes must be made?
Successful treatment for morbid obesity also includes permanent lifestyle changes such as healthy food choices, reduced caloric intake, increased exercise and other behavior modifications. Counseling and support groups can help with these changes.
What are the dietary restrictions following weight loss surgery?
Following surgery, you will need to follow specific eating guidelines. Registered dietitians work directly with patients to help plan healthful, appropriate meals. Additionally, you will need to stop smoking and discontinue use of NSAIDS.
What can I eat after having bariatric surgery?
The first month following surgery your meals will consist of protein shakes and soft or pureed foods. Your caloric intake gradually increases over time to about 1,200 calories a day. Your diet must be carefully balanced to include high-protein, low-fat, low-sugar foods. Protein is especially important to ensure healing after surgery and to preserve muscle tissue. You will be able to eat regular food about four weeks after surgery, without concentrated sweets, in six small portions a day. You will have to eat only small amounts, chew your food well and eat very slowly. Our registered dietitian will review this information with you before and after surgery.
How will I make sure my body gets all the nutrients it needs after surgery?
You will need to take vitamin and mineral supplements for the rest of your life after surgery. The Roux-en-Y Gastric Bypass surgery bypasses most of your stomach and duodenum, where vitamins are absorbed so that your caloric intake of 1,200 calories a day cannot provide all the nutrients your body needs. The Sleeve Gastrectomy, also called a stomach sleeve, and Lap Band procedures do not have this malabsorptive factor, but we suggest a good quality vitamin for optimal health.
What will keep me from losing too much weight?
Your body will slow down weight loss over time and until it stabilizes. We also will closely follow your weight loss to ensure you are maintaining adequate nutrition.
Is it possible to gain the weight back after surgery?
Bariatric surgery has an excellent long-term track record for helping individuals with morbid obesity lose weight. However, there are no guarantees with any method of weight loss, even surgery. Success is possible only if you are committed to making lifestyle and dietary changes for the rest of your life.
What are the risks for bariatric surgery?
All surgical procedures have risks, particularly when the patient is morbidly obese. Different procedures involve different risks, and depending upon your individual circumstances, your risks may be higher or lower than average. It's also important to know that bariatric surgeons with more experience performing weight loss surgery report fewer complications. Potential risks of surgery should be discussed with your surgeon so you can make an informed choice.
What are the most serious risks of bariatric surgery?
Any major surgery can be life-threatening. Obesity increases the risk of complications from blood clots and breathing problems. Surgery may be complicated by leaking from the suture lines, but the incidence of this occurring is small. As with any surgery, complications such as bleeding and anesthetic problems may also occur.
Can bariatric surgery be reversed?
Laparoscopic gastric banding surgery is reversible in a minimally invasive manner. Gastric bypass surgery is potentially reversible. Reversal requires another operation of the same, or greater, magnitude with the same, or greater, risks.
I have a Lap Band from a different bariatric program. Can I see one of your physicians for my follow-up care?
Yes, our physicians can make adjustments to your existing Lap Band. Also, if you are having issues or concerns with your Lap Band, our physicians are trained in revision surgeries to remove the band and convert you to a gastric sleeve or gastric bypass.
I've already had surgery elsewhere and have some concerns. Can I follow up with your program?
Yes, if you are a bariatric patient and have concerns you can see one of our physicians. Also, if you are struggling with weight regain you can make an appointment with our bariatric registered dietitian to help get you back on track.
What if I need revision surgery?
Bariatric surgery is not a magic bullet and, while most patients are successful after weight loss surgery, there are instances where revision weight loss surgery is required. Regardless of the reason for seeking revision weight loss surgery -- inadequate weight loss, weight regain, unresolved co-morbidities, or medical complications -- a revision solution may be possible.
Revisional Procedures Overview
Revisional bariatric surgery, regardless of the previous surgery, is always challenging. It requires adequate expertise to achieve desired results. Bariatric Centers of Excellence certified by the American Society for Bariatric Surgery provide a multidisciplinary team and facilities for managing patients requiring revision surgery. It is highly recommended that patients requiring gastric bypass revision or any other kind of revisional surgery find a surgeon at a bariatric center that has much experience with revisional bariatric surgery.
Will insurance cover bariatric surgery?
Many insurance companies now recognize obesity as a substantial health risk and are paying for bariatric surgery. You can check our list of accepted insurers or contact your insurance provider to find out if bariatric surgery is a covered benefit under your insurance contract.
What do I need to know about pregnancy after gastric bypass surgery?
During the first 18 months after your gastric bypass surgery, your body is undergoing many changes. Weight loss is a major one. Your body also is experiencing hormonal changes, increasing your fertility. Please be cautious during this time and use a method of birth control to ensure that you do not become pregnant. If applicable, a pregnancy test will be conducted prior to your surgery.
However, after your surgery, pregnancy is possible if you manage it well with your Cleveland Clinic physician.
Much of the current research suggests that pregnancy in individuals with lower BMI is often safer than pregnancy with complications from obesity. If you have had weight loss surgery and are considering pregnancy, consult your physician for safe family planning. It would also be beneficial to mention this to your doctors during the consult for your weight loss surgery so they can provide guidance and resources.
During the first 18 months after your gastric bypass surgery, your body is undergoing many changes. Until your weight begins to stabilize, it's not advisable to become pregnant until at least 18 months after surgery. Rapid weight loss immediately following surgery creates hormonal changes and might deprive a growing baby of important nutrients.
What We Treat
What We Treat
Obesity, metabolic syndrome (Gastric Bypass, Gastric Sleeve, Gastric Banding)*
Non-surgical intragastric balloon
Revisional surgery*
Gallstones /laparoscopic cholecystectomy
Paraesophageal and Diaphragmatic Hernias
Gastric and esophageal cancer
Achalasia
Gastroesophageal reflux disease
Benign and malignant tumors of the stomach, duodenum and small bowel
Simple, complex, and re-operative inguinal, incisional and ventral hernias
Solid organ laparoscopic and open surgery of the spleen and adrenal glands
Gastroparesis
Flexible endoscopy of the upper gastrointestinal tract
Note: Not all conditions listed are treated at every Cleveland Clinic Florida facility. Please speak with your provider to determine appropriate treatment plan and location.
Surgery Options
Surgery Options
Choosing Surgery
Although most patients enjoy an improvement in obesity-related health conditions (such as mobility, self-image and self-esteem) after the successful results of weight loss surgery, these results should not be the overriding motivation for having the procedure. The goal is to live better, healthier and longer.
That is why you should make the decision to have weight loss surgery only after careful consideration and consultation with an experienced bariatric surgeon. A qualified surgeon should answer your questions clearly and explain the exact details of the procedure, the extent of the recovery period and the reality of the follow-up care that will be required.
They may, as part of routine evaluation for weight loss surgery, require that you consult with a dietician/nutritionist and a psychiatrist/therapist. This is to help establish a clear understanding of the post-operative changes in behavior that are essential for long-term success.
Weight Loss Surgery Options
The types of weight loss surgeries available fit into two categories:
Restrictive procedures that decrease food intake
Malabsorptive procedures that alter digestion, thus causing food to be poorly digested, incompletely absorbed and eliminated in the stool
Laparoscopic Adjustable Gastric Banding (Lap Band)
Laparoscopic adjustable gastric banding, commonly referred to as Lap Band, is a procedure that requires a surgeon to use laparoscopic techniques and instruments to place an adjustable silicon band around the upper part of the individual's stomach. This in turn creates a smaller restricted pouch, which becomes the new stomach and gives the feeling of being full after eating a small amount of food.
Laparoscopic Sleeve Gastrectomy (Gastric Sleeve)
Gastric sleeve surgery involves removing a significant portion of an individual's stomach and leaving approximately 25 percent to create a gastric "tube" or "sleeve" as the remainder for a new stomach. Surgical staples are used on the new stomach to keep it enclosed. The procedure results in a reduction of the stomach, thus limiting the amount of ingested food. Similar to the gastric bypass, it also results in a positive alteration of the gastrointestinal hormones.
Gastric Bypass
Gastric bypass surgery is a procedure in which a small pouch is connected to the lower segment of the small intestine, making the patient's stomach smaller. The purpose of gastric bypass surgery is to restrict the intake of food and give the individual a feeling of being full with less food. Also, bypassing part of the intestine results in decreased absorption of nutrients and alteration of the gastrointestinal hormones. The latter changes determine weight loss and have a positive influence on several of the co-morbid conditions, such as diabetes and high blood pressure.
Roux-en-Y Gastric Bypass
Roux-en-Y procedure reroutes a variable length of the small intestine to connect to a newly created smaller stomach pouch, bypassing a portion of the digestive system. The procedure promotes weight loss not only by limiting food intake, but also by decreasing the absorption ability of the digestive system.
Duodenal Switch
Duodenal Switch is a combination of the gastric sleeve and gastric bypass procedure. The procedure creates a smaller stomach that is connected to the farthest part of the small intestine. The duodenum, jejunum and part of the proximal ileum are bypassed and then connected to a point near the ileocecal valve. The surgery is effective, but also riskier than other procedures. It is generally only for people who have a BMI higher than 50.
Reoperative Bariatric Surgery
We perform highly complex re-interventions in patients that have failed or complicated bariatric procedures done by outside institutions or within the Cleveland Clinic health system.
Life After Surgery
The following identifies areas that will be important for patients to follow after weight loss surgery.
Nutrition
The modifications made to your gastrointestinal tract will require permanent changes in your eating habits that must be adhered to for successful weight loss. Post-surgery dietary guidelines will vary by surgeon. You may hear of other patients who are given different guidelines following their weight loss surgery. It is important to remember that surgeons perform different types of weight loss surgery and the dietary guidelines will vary by surgeon and procedure. What is most important is that you adhere strictly to your surgeon's recommended guidelines.
The following are some of the generally accepted dietary guidelines associated with weight loss surgery:


When you start eating solid food it is essential that you chew thoroughly. You will not be able to eat steak or other chunks of meat if they are not ground or chewed thoroughly.
Don't drink fluids while eating. They will make you feel full before you have consumed enough food.
Omit desserts and other items with sugar listed as one of the first three ingredients.
Omit carbonated drinks, high-calorie nutritional supplements, milkshakes, high-fat foods and foods with high fiber content.
Avoid alcohol.
Limit snacking between meals.



Going Back to Work
Your ability to resume pre-surgery levels of activity will vary according to your physical condition, the nature of the activity, and the type of weight loss surgery you have. Many patients return to full pre-surgery levels of activity within six weeks of their procedure. Patients who have a minimally invasive laparoscopic procedure may be able to return to these activities sooner.


Birth Control & Pregnancy
It is strongly advised that women of childbearing age use the most effective forms of birth control during the first 12 to 18 months after weight loss surgery. The added demands pregnancy places on your body and the potential for fetal damage make this a most important requirement


Long-Term Follow-Up
Although the short-term effects of weight loss surgery are well understood, there are still questions to be answered about the long-term effects on nutrition and body systems. Nutritional deficiencies that occur over the course of many years will need to be studied. Over time, you will need periodic checks for anemia (low red blood cell count) and Vitamin B12, folate and iron levels. Follow-up tests will initially be conducted every three to six months or as needed, and then every one to two years.
Our Doctors
Testimonials
Testimonials
Jose Rodriquez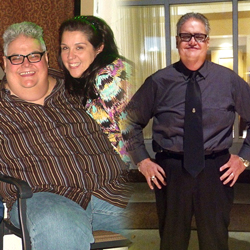 Procedure: Gastric Bypass
Before Weight: 375 lbs.
After Weight: 215 lbs.
"From the first seminar I went to at Cleveland Clinic Florida's Bariatric Institute, I fell in love with everyone in the program. The surgeons and staff, the support, the entire program — everything about Cleveland Clinic Florida put me at ease."
For over three decades, Jose Rodriquez knew his weight, sometimes topping 375 pounds, put his health at great risk of heart disease, stroke, diabetes, and other serious health conditions. He sought bariatric, or weight loss surgery, more than once. But physicians said his other health issues made surgery too risky. That changed when he moved to Miami.
"From the first seminar I went to at Cleveland Clinic Florida's Bariatric Institute, I fell in love with everyone in the program," he says with a wide grin. "The surgeons and staff, the support, the entire program — everything about Cleveland Clinic Florida put me at ease." They told him they could help, and he now considers the date of his surgery: February 26, 2013, "my new birthday," he calls it. Now three years later, the 50-year-old just completed his first-ever 5K run "without even breaking a sweat," whereas before he couldn't walk across a room without gasping for air.
Results like this require a lifelong commitment from both the patient and the bariatric team, says Samuel Szomstein, MD, a bariatric surgeon at Cleveland Clinic Florida. We offer a comprehensive range of services for our patients' for life.
And the team's experience matters. Research shows that patients have greater success with high volume surgery centers. At Cleveland Clinic Florida, our team has treated over 6,000 patients with bariatric surgery.
"For all of our patients, the rewards of this program are remarkable," says Dr. Szomstein. "But for those who have other serious health conditions, it can be life-saving."
Still a regular member of the bariatric support group, Mr. Rodriquez continues to steadily lose weight and has dropped from a BMI of 44 to 33. "I thank God for placing this group in my path and the team for saving my life," he says.
Michele C. Knowles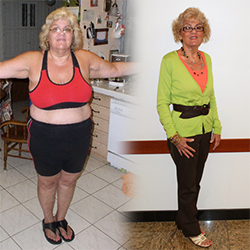 Procedure: Gastric Bypass
Before Weight: 245 lbs.
After Weight: 129 lbs.
"They provide a fabulous network of support for all patients - outstanding nutritionists, a psychologist and support group meetings - which is essential and vital for a gastric bypass patient..."
As I compose these words, many will read it and say, "this is me!" I have battled weight gain my entire life. I have tried this diet and that diet. I have lost and gained the same weight over and over again through the years. Then the weight loss stopped and I was only gaining. A red light went off in my head.
I did extensive research and talked to a lot of people before considering gastric bypass surgery. The decision to undergo gastric bypass wasn't made hastily. I visited several doctors for consultations and advice before choosing a doctor. Finally, I chose Dr. Raul Rosenthal at the Cleveland Clinic Florida in Weston. Not only is he a fantastic surgeon who made me feel comfortable and secure, but his entire staff is outstanding. They provide a fabulous network of support for all patients, such as outstanding nutritionists, psychologist, and support group meetings. This support is vital for a gastric bypass patient before and after the surgery.
I am very happy to say that I have lost 116 lbs. so far, and I must thank the entire staff at the Bariatric and Metabolic Institute. If you are struggling with weight and it has reached a point where you can no longer control it, do not hesitate to contact Cleveland Clinic Florida. You will not regret it.
Ralph Moccia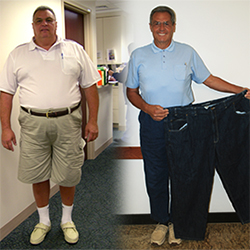 Procedure: Gastric Bypass
Before Weight: 340 lbs.
After Weight: 210 lbs.
"Cleveland Clinic Florida has a world class bariatric team, from the docs to the nurses and nutritionists. They have the tools to make it work…"
My weight loss success is credited to going to support and nutrition meetings. The dedication of the Cleveland Clinic staff is what has kept my weight off for over 10 years. I would do the surgery again in a heartbeat and I am a one million percent supporter of Cleveland Clinic Florida and Dr. Rosenthal.
I was always a big boy. However, I really put on some weight within two years of being diagnosed with Fibromyalgia. Due to high blood pressure, diabetes, sleep apnea and the lack of mobility, I gained 125 pounds. At that point, I needed to find a solution and sought help at the Bariatric and Metabolic Institute at Cleveland Clinic Florida. After consulting with Dr. Rosenthal, I decided to undergo the Roux-en-Y Gastric Bypass. In February, I celebrated my four year anniversary of the surgery. I have lost 130 lbs. and maintained a weight within five pounds of my lowest weight.
Cleveland Clinic Florida has a world class bariatric team, from the docs to the nurses and nutritionists. They have the tools to make it work, such as physiological and nutrition counseling, as well as a mentor group of former bariatric patients. This support is the key success factor - the rest is up to the patient to make changes in their behavior.
Appointments & Locations