Overview
Overview
Speech-Language Pathologists (SLPs) at Cleveland Clinic Florida specialize in diagnosing and managing of a variety of acquired communication and swallowing disorders in adults due to disease, deformity, or disability from injury or surgery.
Our SLPs work collaboratively with other departments such as Otolaryngology, Neurology, Gastroenterology, Pulmonary, and Oncology to provide a comprehensive team-based approach to treating patients with a variety of disorders. Our SLPs are licensed by the state of Florida and are certified by the American Speech Language Hearing Association (ASHA).
For more information on Speech Pathologists at Cleveland Clinic Florida, visit our department of Physical Medicine & Rehabilitation.
What We Treat
What We Treat
Common Conditions Treated
Swallowing disorders (dysphagia)
Voice disorders (dysphonia)
Motor speech disorders (dysarthria and apraxia of speech)
Fluency and resonance disorders (stuttering, VPI)
Language disorders (aphasia)
Cognitive-communicative disorders (thinking, memory, and learning)
Alaryngeal speech/swallowing disorders
Trismus
We Treat Patients With
Brain Injury (CVA, trauma)
Head, neck and esophageal cancer (pre-radiation/surgical counseling with management)
Total Laryngectomy
Progressive neurological disorders (Parkinsonism, Motor Neuron disease, MS, dementia)
Laryngeal abnormalities (vocal fold paralysis, vocal fold lesions)
Professional voice users (signers)
Spinal cord injury and dysfunction
Pulmonary disorders (COPD, trach dependent, chronic cough)
Treatment Programs and Services Offered
Lee Silverman Voice Treatment (LSVT)
McNeill Dysphagia Therapy Program (MDTP)
Neuromuscular electrostimulation
Tracheoesophageal Voice Prosthesis (TEP) and Electrolarynx training
Passy-Muir Valve for tracheostomy tube
Augmentative/Alternative Communication (AAC) devices
Specialty Instrumental Evaluations offered
Videofluoroscopic swallowing study (aka Modified Barium Swallow study)
Fiberoptic Endoscopic Evaluation of Swallowing (FEES)
Videoendoscopy with stroboscopy (flexible and rigid)
Nasoendoscopic evaluation
EMG biofeedback modality
Staff
Staff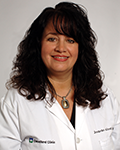 Jeanene Alessi-Graziano, M.S. CCC-SLP
Speech Language Pathologist
Jeanene completed her Bachelor of Arts at the City University of New York- College of Staten Island and her Master of Science in Speech-Language Pathology at Nova Southeastern University. Jeanene joined Cleveland Clinic in 2011. Her clinical interests include evaluation and rehabilitation of speech, language, cognition and swallowing for adults with neurological disorders.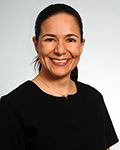 Jimena Ojeda MA CCC-SLP, CBIS
Speech Language Pathologist
Jimena completed her Bachelor of Science in Audiology and Speech Pathology at Florida State University and her Master of Arts in Communicative Disorders with a bilingual certification at San Diego State University. She joined Cleveland Clinic Florida in 2019.
Her clinical interests include speech, language, cognition, and swallowing impairments in adults with neurological disorders.
Appointments & Locations
Appointments & Locations
Make an Appointment
To request an appointment, please call toll-free 877.463.2010.
For additional information, please call toll-free 866.293.7866.
Location
Cleveland Clinic Florida
2950 Cleveland Clinic Blvd
Weston, FL 33331
Desk 14/15