Overview
Overview
Nuclear Cardiology at Cleveland Clinic Florida
Cleveland Clinic Florida's Nuclear Cardiology section is an integral part of the imaging division. Nuclear cardiology technique involves the safe administration of small doses of radioisotope which are taken up by then heart. These isotopes measure blood flow to the heart, measure the metabolic function of the heart, and measure the contractile reserve of the heart muscle. Together these tests can diagnose coronary artery disease, determine indications for coronary angiography, predict who will benefit from coronary revascularization with stents or coronary bypass, and determine who should be manage with optimal medical therapy alone.
Other nuclear cardiology techniques measure cardiac ejection fraction and other parameters of heart muscle function. Cardiac amyloidosis is being recognized with increasing frequency as a cause of heart failure and the definitive diagnosis is made with a simple nuclear cardiology procedure. Additionally, diagnosis of infected implanted devices such as pacemakers and defibrillators can be made with simple nuclear cardiology testing.
Types of Testing
Types of Testing
SPECT (single-photon emission computerized tomography) Imaging
This is a fundamental test for evaluation at the presence and severity of coronary artery disease. It can be done on all patients regardless of heart rate, heart rhythm, kidney function, ort the presence of pacemaker/ defibrillator. Evaluation of blood flow patterns after exercise or chemical stress are compared to resting patterns. This test can diagnose the presence of coronary artery disease based on exercise induced symptoms and perfusion scan findings. The extent and severity of the stress defects help guide who should undergo coronary angiography and who needs treatment with stenting or coronary bypass. Radiation exposure is small and side effects are trivial.
GATED SPECT:
This is carried out in combination with SPECT imaging top determine cardiac function by measure ejection fraction and looking at regional wall motion. Management decisions are based on the degree of cardiac dysfunction.
AMYLOID IMAGING (Technetium pyrophosphate or "PYP SCAN")
Cardiac amyloid is being recognized with increasing frequency as a cause of congestive heart failure.
Previously cardiac biopsy which required to make the diagnosis. With the advent of PYP imaging combined with blood testing and genetic markers, the diagnosis can be made with greater than 95% certainty. There's a very simple exam which requires an injection of a small amount of radiotracer that is very safe followed by a set of images three hours later. Cleveland Clinic is the pioneer in South Florida for this type of test. Results of this test are coordinated with our advanced Cardiac Amyloid center
FDG -PET
Cleveland clinic Florida has a state-of-the art PET-CT camera. At present we use STJ as an imaging agent to assess for myocardial viability. This test is helpful for determining the benefits and risk of heart surgery and people who have severely impaired cardiac function. Additionally, FDG can be used to imaging for mansion. We have plans to cardiac PET stress testing in the near future.
Our Doctors
Our Doctors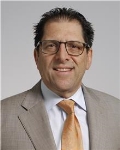 David J Wolinsky MD FACC MASNC
Section Head Nuclear Cardiology
Medical Director, Cardiac Amyloidosis Center
Past president, American Society Nuclear Cardiology
Research
Research
Evaluation of stress-only imaging in pre-renal transplant patients.
Changing our protocol to stress-only would dramatically decrease study time by as long as four hours to as little as 90 minutes. This would yield a dramatic reduction of patient– staff exposure during in the COVID era and allow for increasing safety measures with time saved.
The role of Tc-pyrophosphate in identifying coexistent amyloid in patients with aortic stenosis. The role of early imaging and late post-operative imaging.
Appointments & Locations
Appointments & Locations
To schedule a consultation, call toll-free 877.463.2010. You can also make an appointment online.
Virtual Visits
You can now stay connected to your healthcare team through virtual visits, using your smartphone, tablet or computer.
Why go virtual? It's an easy, convenient and secure way to see your provider face-to-face without having to leave home. This saves you travel time, parking fees and time spent in the waiting room — and you can also have a loved one or caregiver join you. If appropriate, you can also get a prescription sent to the pharmacy of your choice.
Many insurance companies cover the cost of virtual visits, so check with your insurance company ahead of time. Interested in getting started? Call your provider to find out what virtual visit options are available.
Locations