Overview
Overview
Why Choose Cleveland Clinic Florida?
Cleveland Clinic Florida's Cardio-Oncology Section is a leader in South Florida and evaluates patients with cancer and cardiovascular disease. The Cardio-Oncology Section evaluates potential cardiovascular adverse effects of cancer treatment before, during and after treatment, and works with the Survivorship Clinic for prevention of long-term sequelae.
The Cardio-Oncology Section aims for early detection of potential cardiovascular effects of cancer treatment using advance imaging modalities, clinical evaluation and implementation of cardio protective strategies when indicated. It also monitors cardiovascular risk factors throughout cancer treatment.
The IC-OS International Cardio-Oncology Society has designated Cleveland Clinic Florida's Cardio-Oncology program a Center of Excellence, GOLD status, the highest designation given to cardio-oncology programs. The International Cardio Oncology Society (ICOS) makes a thorough review based in many clinical and academic metrics and based on a points system and additional local, state, national and international impact considerations issue this designation.
Our section is actively involved in research and engagement with medical professional societies and collaborations at the local, state and national level.
We recently reported a practical model to start and maintain a successful cardio-oncology program that can be reproduced in a variety of different practice settings to improve access to care.
We developed a collaborative program between the Florida Chapter of the American College of Cardiology and the Florida American Society of Clinical Oncology to assess the educational needs of both cardiologists and oncologists and subsequently developed educational materials to help bridge the identified knowledge gaps.
To further expand our access to care platform we started a large, multistate network that includes members from 19 states and 10 countries. This network is a platform for multiple current and future collaborations.
We conducted an international survey to assess the impact of the COVID-19 pandemic during its initial phase in March and April 2020 on the practices of cardiologists and oncologists.
What We Treat
What We Treat
The Cardio-Oncology Section at Cleveland Clinic Florida provides the highest quality of care to patients in varying stages of cancer treatment who have or are at risk of heart disease. Our capabilities include evolution and personalized treatment of patients who:
Have existing cardiovascular disease before their cancer diagnosis (including coronary artery disease, heart failure, arrhythmias and valvular heart disease)
Will begin cancer treatment and have cardiovascular risk factors
Develop heart disease during cancer treatment as a result of chemotherapy or radiation
Experience cardiac problems after surviving cancer, including childhood cancer survivors
Have developed advanced heart failure resulting from previous cancer treatment
Have a cardiac tumor
Our Advanced Capabilities
In addition to our clinical expertise, our advanced diagnostic and treatment capabilities sets Cleveland Clinic Florida's Cardio-Oncology Section apart as a center of world-class cardiac care for cancer patients. We use a full range of imaging modalities and diagnostic studies to detect and treat heart and blood vessel damage (cardiotoxicity) and arrhythmias early.
Our team has specific protocols for the diagnosis and treatment of cardiotoxicity and heart arrhythmias and expertise in managing specific cardiac effects of various chemotherapy agents. We offer our patients the most advanced diagnostic and treatment options including:
Quantitative strain imaging and 3D echocardiography
High-quality 2-Tesla and 3-Tesla MRI (MRI) and electrocardiography
Early pharmacological treatment for cardiotoxicity
Surgical interventions for valve and pericardial disease resulting from radiation therapy
Surgical interventions for CAD due to radiation therapy
Specialized medical therapy for end-stage heart failure
Artificial heart pumps and assist devices
Heart transplantation
Long-term follow-up care for cancer survivors
Our Doctors
Our Doctors
Cleveland Clinic Florida's Cardio-Oncology Section includes a team of experts in clinical cardiology, cardiac imaging, electrophysiology, heart failure, interventional cardiology and cardiac surgery. The team works closely with Cleveland Clinic Florida cancer specialists and referring oncologists in the community to coordinate cardiac care for patients undergoing cancer treatment.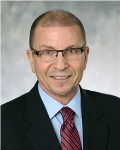 Section Head Cardio Oncology
Chair Cardio Oncology Committee Florida Chapter American College of Cardiology
Co-Chair of Cardio-Oncology Advocacy Work Group American College of Cardiology
Cardio Oncology Leadership Council American College of Cardiology
Education Committee International Cardio Oncology Society
Assistant Professor of Medicine Lerner College of Medicine Cleveland Clinic Florida
Appointments & Locations
Appointments & Locations
To schedule a consultation, call direct 954.659.5230 or toll-free 877.463.2010. You can also make an appointment online.
Virtual Visits
You can now stay connected to your healthcare team through virtual visits, using your smartphone, tablet or computer.
Why go virtual? It's an easy, convenient and secure way to see your provider face-to-face without having to leave home. This saves you travel time, parking fees and time spent in the waiting room — and you can also have a loved one or caregiver join you. If appropriate, you can also get a prescription sent to the pharmacy of your choice.
Many insurance companies cover the cost of virtual visits, so check with your insurance company ahead of time. Interested in getting started? Call your provider to find out what virtual visit options are available.
Locations