Schedule a Vasectomy
We offer both in-person and virtual vasectomy consultations. To schedule your appointment by phone at one of our Northeast Ohio locations, please call 216.445.6246. To schedule your vasectomy in Akron, please call 330.535.4428.
Request an Appointment Online
Request an Appointment Online
Request an Appointment Online
Cleveland Clinic is ranked as one of the nation's top hospitals by U.S. News & World Report. The Department of Urology within the Glickman Urological & Kidney Institute is recognized worldwide for excellence in patient care, surgical expertise and research.
Experts in Cleveland Clinic's Glickman Urological & Kidney Institute will help counsel you on if a vasectomy is indeed your best birth control option and, if so, offer the most advanced techniques available.
Now Offering Virtual Visits
You can now schedule your vasectomy consultation as a virtual visit, using your smartphone, tablet or computer.
Why go virtual? It's an easy, convenient and secure way to have your consultation face-to-face without having to leave home. This saves you travel time, parking fees and time spent in the waiting room — and you can also have a loved one join you.
Many insurance companies cover the cost of virtual visits, so check with your insurance company ahead of time. Interested in getting started? Call your provider to find out what virtual visit options are available.
Request a call back to schedule your vasectomy today!
Is a vasectomy right for me?
Is a vasectomy right for me?
Vasectomy is a one-time procedure that eventually (although not immediately) eliminates the need for contraception. Other than abstinence, no birth control method is 100 percent effective in preventing pregnancy. In rare cases, sperm manage to cross the gap between the two blocked ends of the vas deferens, making impregnation possible. This condition is called recanalization, and if it happens, it's usually within the first few months after a vasectomy. In that event, a repeat vasectomy is needed, but that only happens about once in every 1,000 cases — a failure rate far less than any other form of birth control.
You should think of vasectomy as a permanent end to your ability to father a child. Reversing a vasectomy, though possible, is difficult, expensive and not always successful. You should weigh the benefits and risks of vasectomy against other forms of birth control, and discuss them with your urologist.
Vasectomy Reversal
Vasectomy Reversal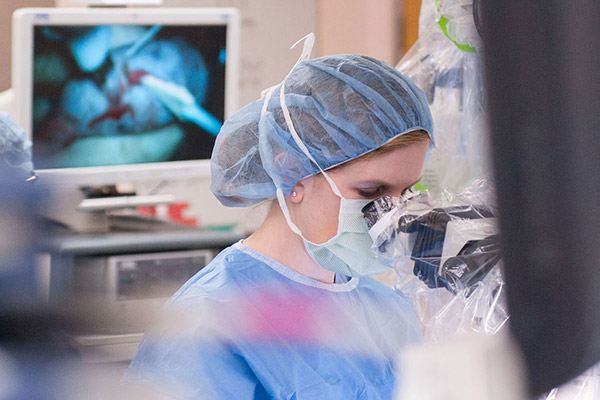 A vasectomy reversal, also called a vasovasostomy, is an operation to undo a vasectomy and restore a man's ability to father a child. About 5 to 10 percent of the 500,000 men who have vasectomies each year change their minds later in life — either they want more children with their existing partner, or are in a new relationship.
The procedure involves opening and reconnecting the previously cut and sealed halves of the vas deferens, the twin tubes through which sperm pass on their way to mix with semen in preparation for ejaculation. Sometimes, because of sperm blockage elsewhere, the surgeon may have to do another kind of vasectomy reversal procedure, called a vasoepididymostomy, either alone or in combination with a vasovasostomy.
After a successful vasovasostomy, sperm usually appear in the semen after a month. Following a vasoepididymostomy, sperm usually reappear after three to 15 months. Vasectomy reversal leads to pregnancy in more than 55 percent of couples within two years. While some pregnancies occur within a few months of the surgery, the average is about one year. Your doctor will examine your semen for the presence of sperm to determine if the operation was successful. Unless your partner becomes pregnant, the sperm count is the only way to tell if your vasectomy reversal worked. Even if the surgery restores sperm to your semen, it's possible your partner still may not become pregnant, since there are multiple factors — involving both men and women — that can affect fertility.
Meet Our Team
Locations
Patient Education
Patient Education
Information From Our Health Library on Surgical Options and What to Expect During & After Your Procedure