Overview
Overview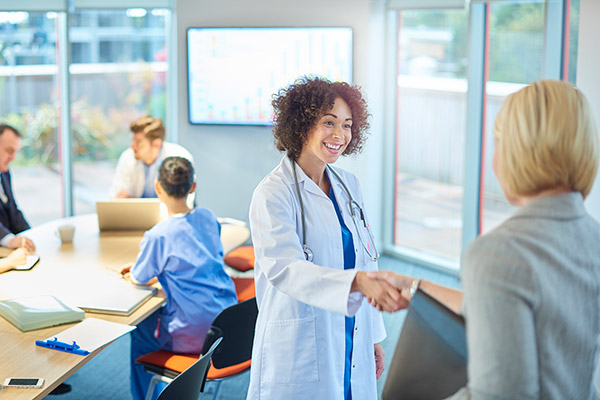 From sourcing and contract negotiations to purchasing and materials management, everything that we do is centered around patient care, a critical link in the patient-physician care continuum.
Our unique blend of clinical and business experience allows us to partner with physicians, administrators, managers, nurses and other key leaders across the health system to implement strategies that promote quality, access and value.
How do I get started?
Changing Supplier Experience
Changing Supplier Experience
In April 2020, Cleveland Clinic will be deploying an enterprise-wide technology platform to transform the enterprise's ecosystem and deliver a world-class patient and supplier experience through informed decisions and smarter work.
Below are specifics on the transition:
What is changing?
Cleveland Clinic is implementing best-in-class cloud-based programs for marketplace ordering, requisitioning and payment processing, sourcing events, contract management and supplier relations. This enterprise resource planning (ERP) system will be the integrated management platform for governing Cleveland Clinic's main business processes.
Who is impacted by this change?
Product and service suppliers who do business with Cleveland Clinic will be expected to transact electronically through supplier portals, and adhere to governance policies and procedures.
When is it changing?
April 2020 is when the new link will be active on the Supplier Information Tab.
What do you need to do?
Current suppliers will be asked to provide company information, validate existing company information and/or register in the system portals.
Supplier Information
Supplier Information
Purchase orders (PO's) are the only approved method Cleveland Clinic uses for procuring goods and services. PO numbers must appear on all shipments, packing lists and invoices. Any shipment that does not bear an authorized purchase order number may be returned at the shipper's expense.
How to Become a Supplier with the Cleveland Clinic
Step 1: Information Gathering
Companies who want to do business or are already doing business with Cleveland Clinic are invited to participate in our hospital of the future enhancement by transacting electronically through a supplier portal.
Step 2: Registration
To register, please visit the supplier data management system.
Our online supplier registration tool will identify and register potential suppliers. This tool enables Cleveland Clinic to establish new supplier relationships and identifies potential suppliers for specific procurement requirements.
The link above will take you to the Supplier Portal, a web-based, vendor self-service solution that allows you to collaborate with Cleveland Clinic in a secure, online environment available 24×7.
Whether you provide products or services, this is the place for you to start to be a part of Cleveland Clinic's transformation.
You will be automatically notified via e-mail upon successful completion of the registration process.
Since Cleveland Clinic buyers will have the ability to review and evaluate your company for potential business opportunities, it is important to include all of your company's capabilities and certifications. An incomplete profile may hinder capability searches. Once you have registered, you can access the portal at any time to update your profile. Note that a company will be contacted only if its capability profile matches a current procurement need.
Step 3: Bidding
Registering as a supplier does not automatically place your company on a "bidder's list", constitute approval of your firm as a Cleveland Clinic supplier, or obligate Cleveland Clinic to solicit a request for quotation. It does, however, allow us to better understand your firm's capabilities, experience, and abilities to meet Cleveland Clinic goals and objectives.
Cleveland Clinic's collaborative bidding process brings cross functional teams together to execute contracts. Prior to a contract expiration, the Supply Chain team will:
Form an evaluation team made up of Supply Chain, Finance and Clinical/Non-Clinical end users.
Compile all relevant data surrounding the expiring contract.
Develop a strategy which may extend/re-negotiate the current contract or warrant a new bid. If the rebid strategy is selected, potential vendors are identified through an RFI process.
Develop a request for proposal and distribute it to select potential vendors.
Evaluate, value and select vendor.
Execute the new contract.
Supplier Diversity
Supplier Diversity
Cleveland Clinic is proud of our work to champion diversity and inclusion in the marketplace through our work with diverse suppliers. Our Supplier Diversity strategy supports our commitment to care for the communities we serve. We welcome all qualified diverse suppliers to register for potential sourcing opportunities. We strive to increase participation in Cleveland Clinic's procurement opportunities for businesses that are 51% owned and operated by:
Minorities
Women
Veterans/Service-disabled veterans
LGBT
HUB Zone
Contact the Office of Diversity & Inclusion Through Our Diverse Supplier Registration
Additional Resources
Contact Us
Contact Us
Please direct all business correspondence regarding the sale of materials or services including informing Supply Chain Management of financial, economic, supply changes, recalls or other material conditions that affect or might affect Cleveland Clinic patient safety, ongoing operations, or operating decisions to Cleveland Clinic through Supply Chain Management (unless instructed by Supply Chain Management to do otherwise) at:
Cleveland Clinic
Supply Chain Management
1950 Richmond Rd. TR301
Lyndhurst, OH 44124
Phone: 216.448.8000
Email: scmtransactionalsupp@ccf.org