Why Choose Us for Uterine Polyps Care?
Uterine polyps, sometimes called endometrial polyps, are growths on the lining of the uterus (endometrium). Polyps can be small or large, and can cause irregular or excessive bleeding.
When you experience symptoms of uterine polyps, the experts at Cleveland Clinic can help. We offer personalized, minimally invasive treatment options to control bleeding and discomfort in women of all ages.
You can trust the expertise of the specialists in our Center for Menstrual Disorders, Fibroids and Hysteroscopic Services. Program highlights include:
Skilled, collaborative providers: Board-certified and fellowship trained experts at Cleveland Clinic work together on your treatment plan. Your specialty care team may include gynecologic surgeons and fertility specialists.
Industry leaders: Our specialists write textbooks, present at conferences and train other doctors in gynecologic care. We've done thousands of gynecologic procedures, meaning we have extensive experience in caring for women.
Recognized expertise: S. News & World Report has repeatedly named our program one of the nation's best in gynecologic care.
Patient-centered care: Our doctors take time to listen and learn about what you want before making treatment recommendations. We want you to get the right care for you. Meet our team.
Find Doctors and Specialists
Find your gynecologic surgeon by browsing our provider profiles to ensure the best fit for you.
Make an Appointment
Learn more about how we care for women with uterine polyps at Cleveland Clinic. Call 216.444.6601 to request an appointment or to schedule a virtual visit.
Uterine Polyps Diagnosis at Cleveland Clinic
We diagnose uterine polyps with imaging techniques that help us see inside your uterus. Your doctor may choose:
3D transvaginal ultrasound
Our specialist places a transducer covered with a plastic sleeve and lubricating gel in the vagina. The transducer makes a 3D image of your uterus, giving your doctor an enhanced view of the endometrium. These images help us find endometrial polyps and learn more about their size.
Saline infusion sonography
We use saline (sterile salt water) to gently increase the size of your uterine cavity. This expansion gives your doctor a better view of the uterine lining during the procedure.
After expanding the uterus, we insert a transducer (thin probe) into your vagina. The probe sends sound waves to a machine that creates a 3D image of your uterus. With this detailed image, your doctor can diagnose endometrial polyps.
Hysteroscopy
Our award-winning hysteroscopy experts are nationally recognized for their excellence and experience with this procedure. However, hysteroscopy isn't for everyone. We talk with you and examine you to determine if it is right for you.
We insert a hysteroscope (thin flexible tube with a lighted camera) into the vagina. The hysteroscope lets our specialists see inside your uterus and identify any polyps.
Our specialists do this quick procedure right in the office. Often, we are able to remove uterine polyps during your hysteroscopy.
Endometrial biopsy
Most uterine polyps are benign (not cancer). Our doctors are experts at identifying precancerous changes to uterine tissue. When they see something suspicious, specialists may recommend an endometrial biopsy and biopsy of any polyps. This helps ensure the polyps aren't cancerous.
We use a hysteroscope to view your uterus and then we remove a small sample of tissue from the endometrium. We send this sample to a lab where experts can examine it under a microscope.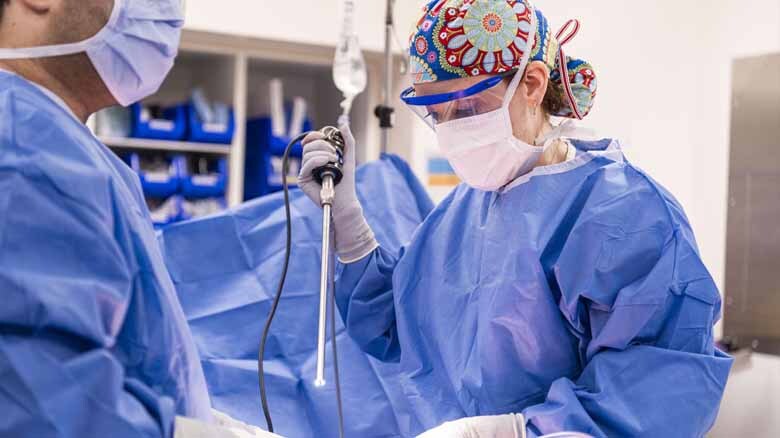 Uterine Polyps Treatment at Cleveland Clinic
Before creating a treatment plan, our doctors talk with you about your symptoms, potential cancer risk and your future plans for pregnancy. We review treatment options with you to make sure you get the care that's right for you.
We may recommend:
Observation
Some uterine polyps are small and may disappear on their own. If polyps are small and don't cause symptoms, we may observe them to make sure they're not getting bigger (watchful waiting).
Medication
Our specialists may prescribe a hormone-based medication to help shrink polyps. We use an intrauterine device (IUD) called Mirena®. It contains progesterone (a female hormone that thins the uterine lining) to reduce the risk of recurrence.
Surgery
Our specialists use leading-edge surgical techniques to remove endometrial polyps. When we find polyps during hysteroscopy, our specialists remove them during an outpatient procedure.
Most uterine polyps are benign (not cancer). If we confirm there is uterine cancer, we may recommend hysterectomy (surgery to remove the uterus). We perform minimally invasive hysterectomies, including:
Laparoscopic hysterectomy: Surgeons make a small abdominal incision and insert a laparoscope (instrument with a lighted camera) to see the uterus. Using small surgical instruments through a few more small incisions, we remove the uterus.
Vaginal hysterectomy: Using surgical instruments inserted into the vagina, surgeons remove the uterus. There's no need for abdominal incisions.
Preserving Your Fertility
If pregnancy is among your future goals, we consider your wishes before creating a treatment plan for uterine polyps. Our experts work closely with Cleveland Clinic fertility center specialists, including reproductive endocrinology and infertility (REI) doctors.
Request an Appointment
Learn more about how we care for women with uterine polyps at Cleveland Clinic. Call 216.444.6601 to request an appointment in Ohio or 877.463.2010 in Florida. We also offer virtual visits, allowing you to see your provider online for follow-up care.
Outcomes
While Cleveland Clinic provides several medical treatment options for patients suffering from uterine polyps, our gynecologic specialists use leading-edge surgical techniques to remove uterine polyps in an outpatient procedure. While most uterine polyps are benign (not cancer), if we confirm there is uterine cancer, we may recommend a hysterectomy (surgery to remove the uterus).