Heart Valve Disease
Cleveland Clinic surgeons performed 3,039 valve procedures in 2016. The types of surgery included in the graph below are those that are recognized by the Society of Thoracic Surgery (STS). Cleveland Clinic performs many procedures that are more complex than the surgeries recognized by STS, which is why the number of surgeries detailed in the graph is 2011.
As with all surgery, there is a risk of dying (mortality). The orange lines in the graph represent the predicted percentages of patients to die related to each type of surgery at hospitals similar to Cleveland Clinic. In each case, the mortality rate was lower at Cleveland Clinic. This is especially impressive because many of our patients are extremely sick and come to Cleveland Clinic after other hospitals turn them away, saying there's nothing they can do for them.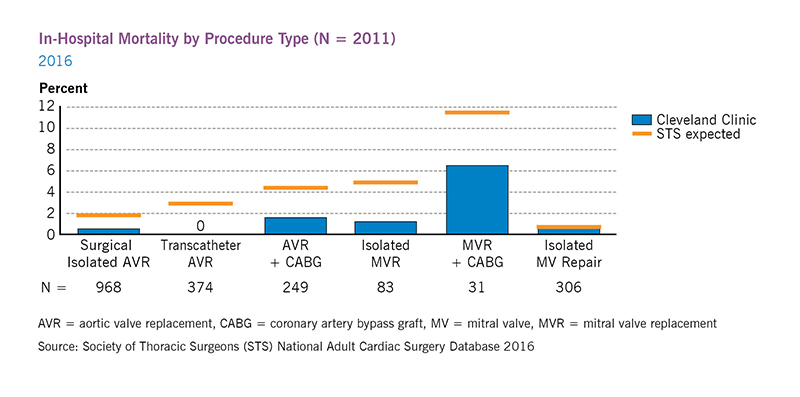 Mitral Valve Surgery
In 2016, Cleveland Clinic surgeons performed 1,239 mitral valve procedures. Of those, 389 were isolated (mitral valve surgery only). Whenever possible, Cleveland Clinic surgeons perform mitral valve repair procedures rather than replacements. The 2016 in-hospital mortality rates for Cleveland Clinic patients who had isolated mitral valve surgery were lower than expected for both repair and replacement procedures.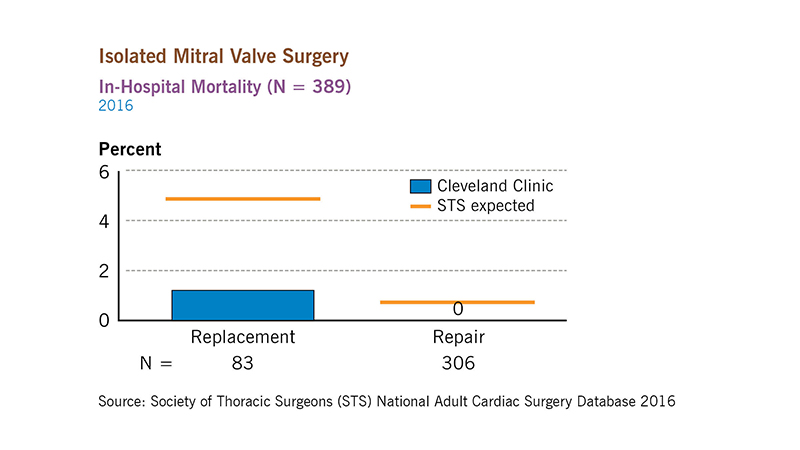 Aortic Valve Surgery
Cleveland Clinic ranked among the top 8% of US hospitals for aortic valve replacement (AVR) surgery, earning the Society of Thoracic Surgeons' (STS) 3-star rating for this category. This is the highest category of quality a hospital can achieve.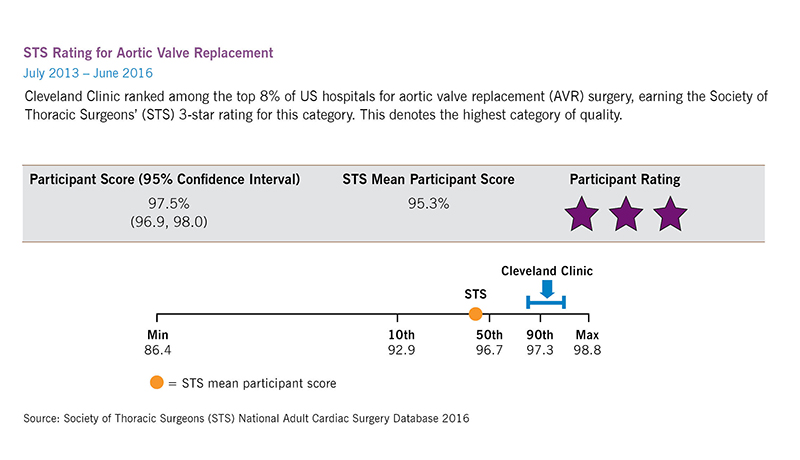 Learn more about:
Outcomes by Specialty Areas
Learn about the outcomes for each section of the Heart & Vascular Institute individually.