COVID-19: Creating a Safe Workplace
Helping your employees return to work, safely and confidently, during the coronavirus (COVID-19) pandemic is no easy task. Cleveland Clinic has gathered resources from our health experts and the CDC to help you develop and implement a plan.
How do I get started?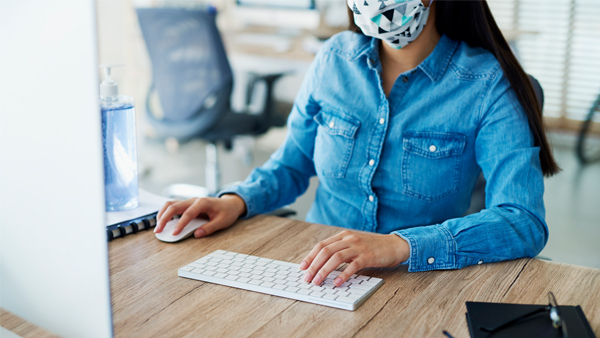 How do I get started?
The COVID-19 pandemic has created a number of new challenges, especially for businesses looking to reopen. While managers and employees may feel a sense of urgency to get their business back to normal as soon as possible, there are new guidelines and revised practices that should be followed to allow for a safe, stable return.
These resources will help you through the key steps of reopening your business in the wake of the COVID-19 pandemic, including:
Making sure your facility is fully clean, disinfected and equipped with a blueprint for maintaining safe conditions.
Setting up a support system in place for employees as they return to work and adjust to new realities and emotional challenges presented by the COVID-19 pandemic.
Creating a plan for a safe work environment that protects employees and customers alike from risks connected to COVID-19, including exposure and transmission.
The response to the COVID-19 pandemic is continuously evolving as we learn more about the virus and the best techniques to address the associated risks. The Cleveland Clinic's materials are based on currently available data and guidelines from the CDC and other resources. This guidance may change from time to time.
COVID-19 Update: Staying Safe at Home and in the Community
COVID-19 Update: Staying Safe at Home and in the Community
Join us for the fourteenth installment of our webinar series, featuring Kristine Adams, MSN, CNP, Associate Chief Nursing Officer, Care Management and Ambulatory Services at Cleveland Clinic, Sarah Bell-West, PhD, Associate Director, Clinical and Science Affairs at Clorox Professional Products Company, and Thomas Fraser, MD, Vice Chairman, Department of Infectious Disease and Medical Director, Hospital Epidemiology and Antimicrobial Stewardship at Cleveland Clinic, for a virtual discussion regarding safety during COVID-19. This webinar will discuss how to best keep your family safe and well through COVID-19 in your home, community and at work, the latest COVID-19 news and trends and appropriate cleaning and disinfection practices. The panel will be moderated by Prakash Chandrasekaran, PhD, Senior Director of International Operations and COVID-19 Business Assistance Lead, Clinical Transformation at Cleveland Clinic.
Learn More and RSVP
Cleveland Clinic Leaders Discuss the Latest COVID-19 Research and Treatment
Tom Mihaljevic, MD, Cleveland Clinic CEO and President, and Serpil Erzurum, MD, Chair of Lerner Research Institute, discuss key research in the COVID-19 pandemic, including vaccine development, anti-viral medications, testing and more.
Watch More From Our COVID-19 Health Experts