COVID-19: Creating a Safe Workplace
Helping your employees return to work, safely and confidently, during the coronavirus (COVID-19) pandemic is no easy task. Cleveland Clinic has gathered resources from our health experts and the CDC to help you develop and implement a plan.
How do I get started?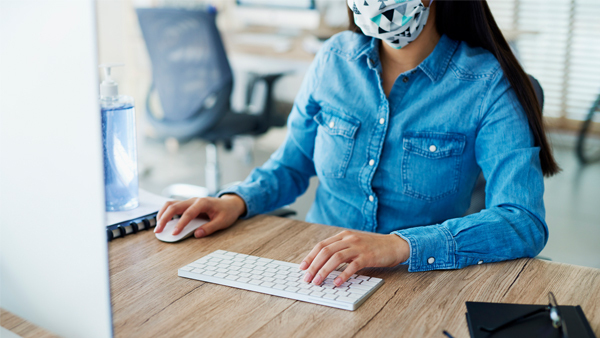 How do I get started?
The COVID-19 pandemic has created a number of new challenges, especially for businesses looking to reopen. While managers and employees may feel a sense of urgency to get their business back to normal as soon as possible, there are new guidelines and revised practices that should be followed to allow for a safe, stable return.
These resources will help you through the key steps of reopening your business in the wake of the COVID-19 pandemic, including:
Making sure your facility is fully clean, disinfected and equipped with a blueprint for maintaining safe conditions.
Setting up a support system in place for employees as they return to work and adjust to new realities and emotional challenges presented by the COVID-19 pandemic.
Creating a plan for a safe work environment that protects employees and customers alike from risks connected to COVID-19, including exposure and transmission.
The response to the COVID-19 pandemic is continuously evolving as we learn more about the virus and the best techniques to address the associated risks. The Cleveland Clinic's materials are based on currently available data and guidelines from the CDC and other resources. This guidance may change from time to time.
COVID-19 Update: The Virus, Vaccines and Variants
COVID-19 Update: The Virus, Vaccines and Variants
Wednesday, March 31 | Noon – 1 p.m. (EST)
Join us for another installment of our webinar series to discuss the latest on vaccine distribution and what should you expect after you've been vaccinated. This webinar features Kristin Englund, MD, Vice Chairman of Cleveland Clinic's Infectious Disease Department, Michaela Gack, PhD, Scientific Director of the Florida Research and Innovation Center at Cleveland Clinic and Melissa Li-Ng, MD, Medical Director of Cleveland Clinic's International Operations. Other questions that will be answered include, What prevention and safety strategies are still essential in combatting the spread of COVID-19? What effect will new variants have on the pandemic? What are the long-term health impacts for COVID patients? The panel will be moderated by Lara Kalafatis, Chair of Cleveland Clinic's Philanthropy Institute.
Learn More and RSVP
Cleveland Clinic Leaders Discuss the Latest on the COVID-19 Vaccination Process
Adrienne Boissy, MD, Chief Experience Officer, Steven Gordon, MD, Chair of Infectious Disease, Michelle Medina, MD, Associate Chief of Clinical Operations and Richard Rothman, MD, Chair of Hospital Medicine answer your questions about the COVID-19 vaccine including, their safety and efficacy, what to expect when you are able to receive the vaccine and how to stay safe before and after vaccination.
More From Our COVID-19 Experts