Overview & Guidelines
Overview & Guidelines
Researchers, staff or clinicians employed at Cleveland Clinic are eligible to apply for a project page. Applications are not accepted from the general public.
Crowdfunding involves financing a project with relatively modest contributions from many individuals, typically via the Internet. The funding campaign and transactions are conducted online through a dedicated website. Crowdfunding sites are called platforms because they provide a venue for all aspects of a campaign, including the public interface, campaign and project tracking, payment collection, and disbursement of funds. Success relies upon the project's ability to canvass a sufficiently large group of potential contributors, often via marketing to a network of contacts and strategic use of social media.
Cleveland Clinic's Philanthropy Institute (PI) coordinates the enterprises's crowdfunding activities and ensures that they adhere to fundraising policies, crowdfunding guidelines, and gift-processing procedures.
Cleveland Clinic's Crowdfunding Platform
Cleveland Clinic has a licensed crowdfunding platform from Ruffalo Noel Levitz, the recognized leader in strategic fundraising management software and services in the US, Canada, Australia, and UK. The Power of Every One is the only crowdfunding site approved by Cleveland Clinic leadership to raise money for Cleveland Clinic projects. The platform is branded to match Cleveland Clinic's online look and feel and helps foster the organization's relationship with the donor. The dynamic platform features multimedia opportunities, optional giving levels and perks, social sharing and project update capabilities, and a donor wall. Upon departmental approval, the Cleveland Clinic platform is available at no cost to caregivers. One hundred percent of the money raised directly benefits the project, regardless of whether the campaign's revenue goal is achieved. The platform also is integrated with PI's gift processing and donor stewardship procedures.
Guidelines
Successful crowdfunding is not simple. Posting your project on a crowdfunding platform is relatively straightforward, but effectively reaching donors and communicating through networks – and raising a reasonable amount of money – takes substantial time and effort, such as producing compelling narratives and engaging videos. The PI office has experts available who can help you develop a fundraising strategy, campaign materials, and a communications plan.
We require that all crowdfunding activities be coordinated through the Philanthropy Institute. PI helps ensure adherence to the Cleveland Clinic's policies on fundraising campaigns and gift-processing procedures.
Platform Basics
Platform Basics
The Power of Every One is Cleveland Clinic's internal crowdfunding platform, licensed from Ruffalo Noel Levitz.
The platform's template supports traditional crowdfunding campaigns for internal Cleveland Clinic projects ONLY, and not team-based challenges. Gifts are dispersed regardless of whether the campaign goal is reached, and the campaign timeline can be adjusted.
Prospective users must submit an application to PI with manager signature(s).
There is no fee for the service.
Gifts are integrated into development operations; i.e., donors receive receipts from PI and are included in PI stewardship programs.
Offline donations can be added to the campaign webpage.
Only major credit cards are accepted.
Campaign Planning
Campaign Planning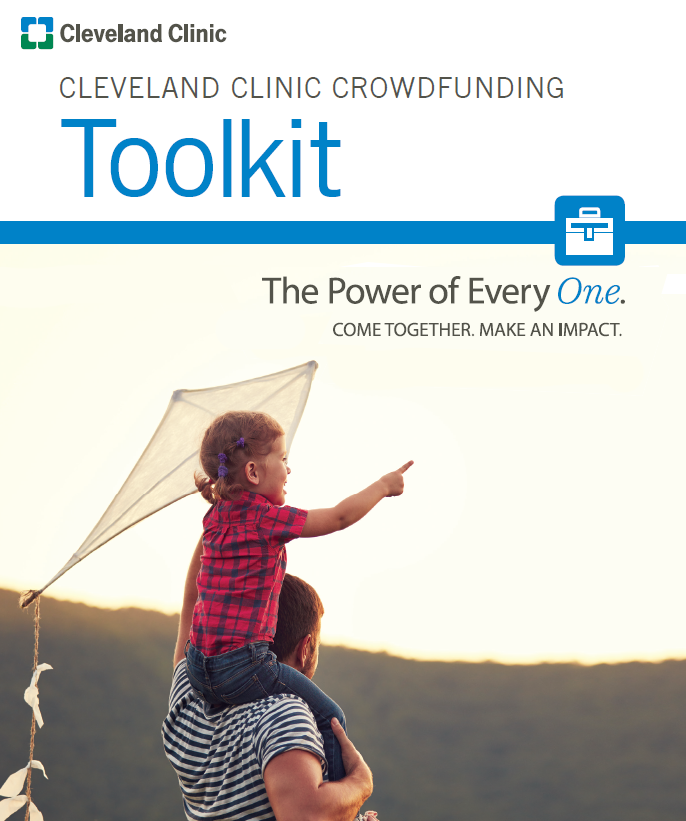 Download the comprehensive Crowfunding Toolkit to use as a guide as you plan and execute your projects.
Application
Application
Thank you for your interest in Cleveland Clinic's crowdfunding platform, The Power of Every One.
This application will be used to evaluate your project's suitability for a crowdfunding campaign. Applications are reviewed on an ongoing basis. If you are selected, you will be guided through a 3-4 month process.