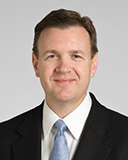 Daniel F. Martin is the Chair of the Cole Eye Institute at Cleveland Clinic. In this role, he is responsible for the Institute's strategic growth in all areas, including clinical and surgical care of patients, safety and quality, research, education and philanthropy. Dr. Martin is also the Barbara and A. Malachi Mixon III Institute Chair in Ophthalmology. He is a Professor of Ophthalmology at the Cleveland Clinic Lerner College of Medicine.
Previously, Dr. Martin served as the Thomas M. Aaberg Professor of Ophthalmology. He's also had roles as the Director of the Retina Service and Interim Chair of Ophthalmology at Emory University School of Medicine.
Dr. Martin graduated from the Johns Hopkins University School of Medicine and completed a residency and chief residency in ophthalmology at Emory University School of Medicine. He completed a fellowship in vitreoretinal surgery and diseases at Duke University Eye Center followed by a fellowship in uveitis and ocular immunology at the National Eye Institute of the National Institutes of Health. Dr. Martin also completed a 10-month program in Managing Healthcare Delivery at Harvard Business School.
Dr. Martin is the recipient of many awards, including the Sam and Maria Miller Award for Scientific Achievement in Clinical Research and the J. Donald M. Glass Lectureship Award from the Retina Society.