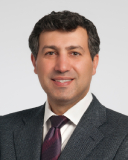 Georges-Pascal Haber is the Interim Institute Chair for the Glickman Urological and Kidney Institute and the Department Chair for Urology at Cleveland Clinic. In these roles, he oversees over 100 staff physicians and scientists across urology and kidney medicine. Dr. Haber is dedicated to creating an environment that will further the Institute's tradition of pioneering new technologies and techniques that make it a leader in transforming the fields of urology and kidney medicine. He continues the Institute's dedication to clinical excellence, innovation, education and research and to being a place for patients to get the best care anywhere.
Previously, Dr. Haber was a staff physician and a fellow in the Department of Urology at Cleveland Clinic, where he developed an international reputation for surgical innovation.
Dr. Haber earned his medical degree from Joseph Fourier University in Grenoble, France. He received his doctorate in biotechnology from the University of Paris XI and the University of Amsterdam. He also completed internships and specialty training programs in advanced robotic urology and minimally invasive urology at Cleveland Clinic.
Dr. Haber has served as an invited visiting professor worldwide and has received numerous research and teaching awards on the international stage. He has also published more than 200 peer-reviewed scientific articles and authored and co-authored over 400 abstracts.