At Cleveland Clinic, caring for the communities we call home has always been among the most important things we do. The arrival of COVID-19 in 2020 further heightened our obligation — and our resolve — to help our neighbors. The pandemic posed unprecedented challenges, both for our healthcare system and for those who count on us. As caregivers, we made a commitment that we would get through the crisis together. Like a family, we faced the tough times by making mutual sacrifices and managing our resources so that we could continue to meet others' needs.
During this most difficult year in our century-long history, the Cleveland Clinic health system provided $1.31 billion in community benefit — the highest level we have ever reported.
Our traditional contributions to our communities' wellbeing include providing free or discounted medically necessary care and clinical services, working to improve public health, educating medical professional and conducting research to fight disease. In addition, we undertook numerous special initiatives in 2020 to lessen COVID-19's impact. Those efforts carried a significant cost to the organization — more than $100 million in in uncompensated COVID-related expenses — but they were the right thing to do for the communities we serve. They are an investment in our shared future. As Cleveland Clinic begins its second century, we rededicate ourselves to the betterment of the people and places that are our lifetime partners in good health.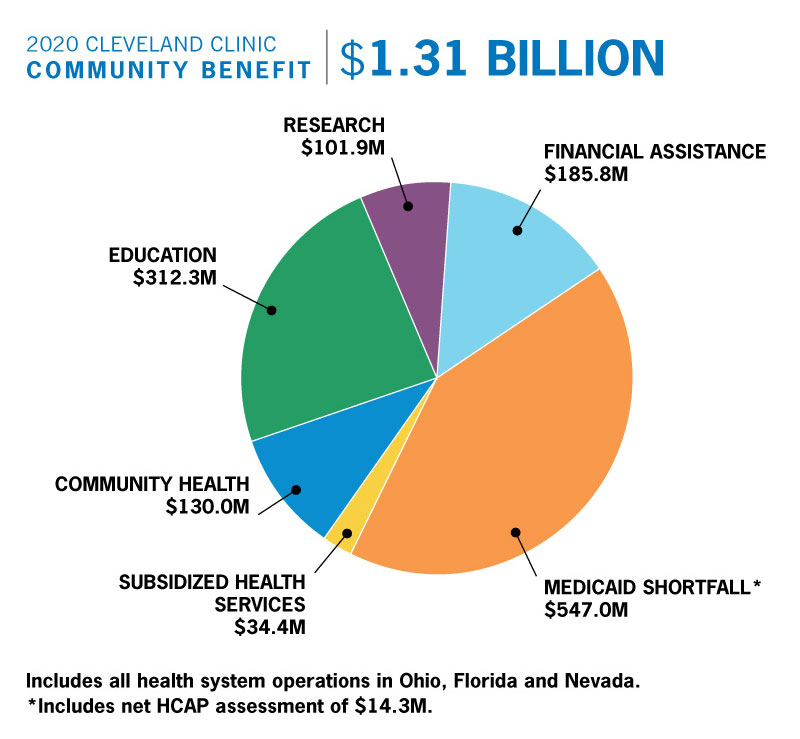 The Community Benefit provided by Cleveland Clinic is far-reaching, from providing accessible healthcare, to educating the next generation of healthcare professionals, funding medical research that leads to advanced treatments and cures, and supporting community health initiatives.
Community Health Needs Assessment Reports
The Cleveland Clinic health system completed comprehensive community health needs assessments (CHNAs), which included all communities surrounding the system's hospitals and family health centers. The goals of these assessments were to identify and evaluate health-related needs in the communities Cleveland Clinic serves and to use this information to fulfill our mission.