And the winner of the 2021 United Way car raffle is…
Congratulations to Lisa Fletcher, COA, winner of the 2021 United Way car raffle!
During the 2020-2021 United Way campaign, Cleveland Clinic caregivers made personal donations and supported numerous fundraisers to help provide families with services they need most, including help to our neighbors who are experiencing additional challenges as a result of the pandemic.
This includes everything from nutritious meals and clothing, to financial and educational assistance.
Together, we are helping our communities heal.
Thank you to everyone who participated. We are grateful for your generosity and compassion for our neighbors who need our support.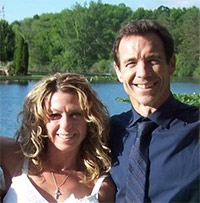 Lisa and her husband.
Get to know this year's winner: Lisa Fletcher, COA
Tell us a little about what you do.
As a Certified Ophthalmic Assistant, I prepare patients who are receiving ophthalmic care before they see their physician. I help perform exams and standard tests, as well as take measurements. I truly enjoy coming to work at the Cole Eye Institute location in Streetsboro, Ohio — our work is all about helping our patients.
How are you feeling as the winner?
I am so excited. I am speechless!
What will you do to celebrate tonight?
Well, today, Feb. 19, is my birthday. My sister and her husband are coming over to celebrate; I'm going to make dinner. We may also go tubing this weekend.
Happy birthday! What a birthday gift! Who will be the first person you share this news with?
My husband.
What do you like to do outside of work?
I enjoy spending time with my husband. I love my two yorkiepoo puppies — Marcy and Minnie. They have a full wardrobe for each season.
You will probably be asked this question a lot in the coming days… do you know which prize you will pick — one of the six vehicles or the $25,000 cash?
I have no idea. I'm still shocked. I will have to think this through in the next couple of days.
Sounds like a tough decision. Have you participated in the United Way car raffle before?
No. I just joined Cleveland Clinic last spring so this is the first time I've heard about it.
How many tickets did you buy?
Three.
Why did you buy tickets?
I try to give and help others whenever I can. Participating in the United Way car raffle was one way we care for our communities, and I know this year many people can use the extra support with everything going on with the pandemic.