The winner of the 2023 United Way Car raffle is…
Christopher Laska, Admin Program Coordinator II in our Sleep Disorders Center at main campus.
Congratulations, Christopher!
Thank you to everyone who participated. Your support of the United Way campaign helped raise more than $1.5 million to help families in our neighborhoods meet basic needs.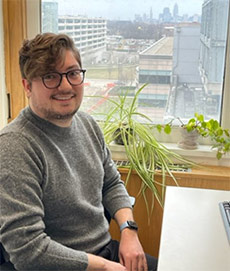 Christopher Laska
Admin Program Coordinator II in our Sleep Disorders Center
Get to know this year's winner: Christopher Laska
How are you feeling as the winner?
It doesn't feel real. It feels like it may be a joke. I'm speechless!
Have you participated in the United Way car raffle before?
No, this was my first time since joining Cleveland Clinic in 2021.
That's awesome. Why did you choose to give back to United Way?
The funds go to people who really need our help to have a better life. I saw the promotion that you could win a car or cash but never thought it would be me.
How many tickets did you buy?
A pack of three tickets.
Who is the first person you told the good news?
The first person I called was my dad. He was super excited for me — at first he thought I was joking.
We're all wondering, will you pick $25,000 cash or a new vehicle?
Definitely the cash.
What will you do to celebrate?
I'll probably start planning a mini vacation somewhere warm to escape this unpredictable Ohio weather. And definitely go out to eat this weekend.
Tell us a little about what you do in your role at the Sleep Disorders Center.
I support the sleep center team with whatever they need, anything from improving patient access to continuous improvement projects.
I love coming to work every day. I'm thankful for the fantastic team we have — or as we like to say in the sleep center, the dream team!