Featured Speaker
Featured Speaker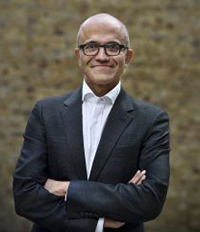 Satya Nadella
Tuesday, June 20, 2017 (Postponed from June 19)
5 p.m. - 6 p.m.
InterContinental Hotel, Bank of America Conference Center
9801 Carnegie Avenue
Cleveland, OH 44106
Ideas for Tomorrow - Satya Nadella
Ideas for Tomorrow is an ongoing speaker series that provides a forum for the world's most distinguished thinkers, speakers and personalities to engage in a dialogue with members of our community.
Register Now
Chief Executive Officer of Microsoft
Satya Nadella is Chief Executive Officer of Microsoft. Before being named CEO in February 2014, Nadella held leadership roles in both enterprise and consumer businesses across the company.
Joining Microsoft in 1992, he quickly became known as a leader who could span a breadth of technologies and businesses to transform some of Microsoft's biggest product offerings.
Most recently, Nadella was executive vice president of Microsoft's Cloud and Enterprise group. In this role he led the transformation to the cloud infrastructure and services business, which outperformed the market and took share from competition. Previously, Nadella led R&D for the Online Services Division and was vice president of the Microsoft Business Division. Before joining Microsoft, Nadella was a member of the technology staff at Sun Microsystems.
Originally from Hyderabad, India, Nadella lives in Bellevue, Washington. He earned a bachelor's degree in electrical engineering from Mangalore University, a master's degree in computer science from the University of Wisconsin – Milwaukee and a master's degree in business administration from the University of Chicago. Nadella serves on the board of trustees to Fred Hutchinson Cancer Research Center. He is married and has three children.

#CCIdeas
With support from: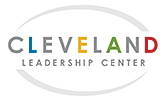 Note: Seating is first-come, first-serve in the amphitheater. No seat-saving.
Overflow seating will be available when the amphitheater reaches capacity.
Upcoming Speaker
Upcoming Speaker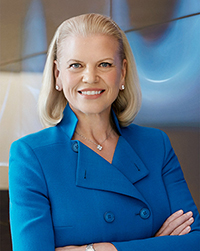 Ginni Rometty
Thursday, November 16, 2017
5 p.m. - 6 p.m.
InterContinental Hotel, Bank of America Conference Center
9801 Carnegie Avenue
Cleveland, OH 44106
Chairman, President and CEO of IBM
Ginni Rometty began her career with IBM in 1981 in Detroit. Since then she has held a series of leadership positions, most recently as senior vice president and group executive, IBM sales, marketing, and strategy.
Earlier she served as senior vice president, IBM Global Business Services, where she led the successful integration of PricewaterhouseCoopers Consulting. This acquisition was the largest in professional services history, creating a global team of more than 100,000 business consultants and services experts.
Mrs. Rometty serves on the Council on Foreign Relations, the board of trustees of Northwestern University, and the board of overseers and board of managers of Memorial Sloan-Kettering Cancer Center.
She holds a Bachelor of Science degree, with high honors, in computer science and electrical engineering from Northwestern University.
IBM is a cognitive solutions and cloud platform company that leverages the power of innovation, data and expertise to improve business and society.

#CCIdeas
Note: Seating is first-come, first-serve in the amphitheater. No seat-saving.
Overflow seating will be available when the amphitheater reaches capacity.
Speaker Archives
Speaker Archives
Many thought leaders have participated in the Ideas for Tomorrow speaker series. Previous speakers are listed below along with links to their presentation videos where available.
Sheryl Sandberg
Chief Operating Officer at Facebook
Angela Duckworth
Founder and Scientific Director of the Character Lab
Frederick W. Smith
Founder and CEO of FedEx Corporation
Adam Silver
National Basketball Association Commissioner
Dan Gilbert
Majority Owner of the Cleveland Cavaliers
Fred McLeod
Play by Play Announcer for the Cleveland Cavaliers
David Gergen
CNN Senior Political Analyst; Harvard Kennedy School Professor and Director
David Agus
New York Times Bestselling Author; Physician and Professor of Medicine and Engineering, University of Southern California
Jim Free
Director of the National Aeronautics and Space Administration's John H. Glenn Research Center
Jim Colins
Author and Lecturer
David Gregory
Author and Former Moderator of Meet the Press
Admiral Michael Rogers
Commander, U.S. Cyber Command; Director, National Security Agency/Chief, Cenpal Security Service
Marissa Mayer
President & CEO, Yahoo
Candice Bergen
Actress and Author
Jack and Suzy Welch
Executive Chairman of the Jack Welch Management Institute and Author
Lord Norman Foster
Founder of Foster + Partners, Architect
Thomas Friedman
Author & Journalist, The New York Times
Gentry Lee
Chief Engineer for the Solar System Exploration Directorate at the Jet Propulsion Laboratory (JPL) in Pasadena, California
Eric Schmidt and Jonathan Rosenberg
Former CEO of Google, Current Google's Executive Chairman; Google Advisor
Michael Govan
CEO and Walps Annenberg Director
Sebastian Thrun
Co-Founder and CEO, Udacity
Dr. Donald Berwick
Former Administrator, Centers for Medicare and Medicaid Services; Founding CEO, Institute for Healthcare Improvement
Mark Tercek
President and CEO, The Nature Conservancy
Arianna Huffington
Chair, President and Editor-in-Chief, Huffington Post Media Group
Karim Sadjadpour
Author and Middle East Expert
Daniel Yergin
Author and Authority on Energy, International Politics and Economics
Jack Dorsey
Creator, Co-Founder, and Executive Chairman of Twitter, Inc.; Co-Founder and CEO of Square, Inc.
Warren Buffet
Business Leader, Philanthropist
Vladimir Pozner
Russian Journalist and Author
John T. Chambers
Chairman and Chief Executive Officer, Cisco
Kevin Johnson and Michelle Rhee
Mayor, City of Sacramento and CEO/Founder, StudentsFirst
Diane von Furstenberg
Fashion Designer
General Stanley A. McChrystal
Former commander of U.S. and International Security Assistance Forces (ISAF) Afghanistan; Former commander of the Premier Military Counter-Terrorism Force, Joint Special Operations Command (JSOC)
Dr. Ben S. Bernanke
Former Chairman of the Federal Reserve System
General James L. Jones, USMC (Ret.)
National Security Advisor
Dr. Atul Gawande
Practicing Surgeon, Accomplished Writer, Teacher and Speaker
Victor L.L. Chu
Chairman of the First Eastern Investment Group
Dean Kamen
Inventor and Physicist
Craig Mundie
Chief Research and Strategy Officer at Microsoft Corp.
Michael Dell
Chairman of the Board of Directors and Chief Executive Officer of Dell
H. Lee Scott, Jr.
Chairman of the Executive Committee of the Board of Directors of Wal-Mart Stores, Inc. (Walmart)
Tom Kelley
General Manager of IDEO
Michael E. Porter
Glen Bishop William Lawrence University Professor at Harvard Business School
His Excellency Yousef Al Otaiba
Ambassador of the United Arab Emirates to the United States of America and Mexico
Mike Milken
Philanthropist, Chairman of Milken Institute
Doris Kearns Goodwin
World-Renowned Historian
Stephen Kappes
Deputy Director, Central Intelligence Agency
Tom Brokaw
NBC News Special Correspondent
Glenn D. Lowry
Director of The Museum of Modern Art
Steven A. Burd
CEO of Safeway Inc.
Oprah Winfrey
Worldwide Media Leader, Philanthropist and Television Host
J. Craig Venter, PhD
Founder, Chairman and President of the J. Craig Venter Institute
John Glenn
Astronaut and Senator
William McDonough
World-Renowned Architect and Designer
Peter Lewis and Frank Gehry
Architects
Anne Mulcahy
Chairman and Chief Executive Officer of Xerox Corp.
Antonin Scalia
Associate Justice of the United States Supreme Court