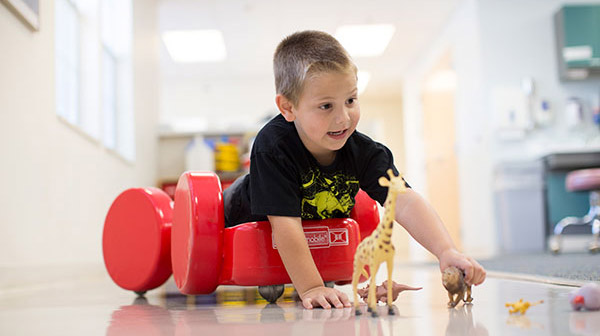 For more than 100 years, the nurses, therapists and physicians at Cleveland Clinic Children's Hospital for Rehabilitation have had one goal: to teach children the skills they need to fully participate in the world when they leave.
Our Children's Hospital for Rehabilitation offers inpatient care, day hospital care and a comprehensive range of inpatient and outpatient services.
24-Hour Inpatient Care
Our hospital serves infants, children and adolescents through age 21 who require ongoing care and acute rehabilitation because of complex treatment or medical needs. Staffed by a pediatrician 24 hours a day with nurses and therapists specially trained to care for children with chronic illnesses.
Day Treatment Program
Children who have less intensive needs but require specialized, focused medical and developmental care have the same access to services as our inpatients.
Autism Services
Cleveland Clinic Children's Center for Autism, an innovative and unique education resource for children with autism spectrum disorders, offers community-based intervention and outreach services, trains medical and educational professionals and conducts ongoing autism research.
The Lerner School for Autism, a state-of-the-art complex within the center, is one of the few schools of its kind in Ohio. The state-licensed school uses applied behavior analysis (ABA) in both the treatment and educational settings for students from diagnosis through age 22. The school operates year-round and offers a small staff-to-student ratio.