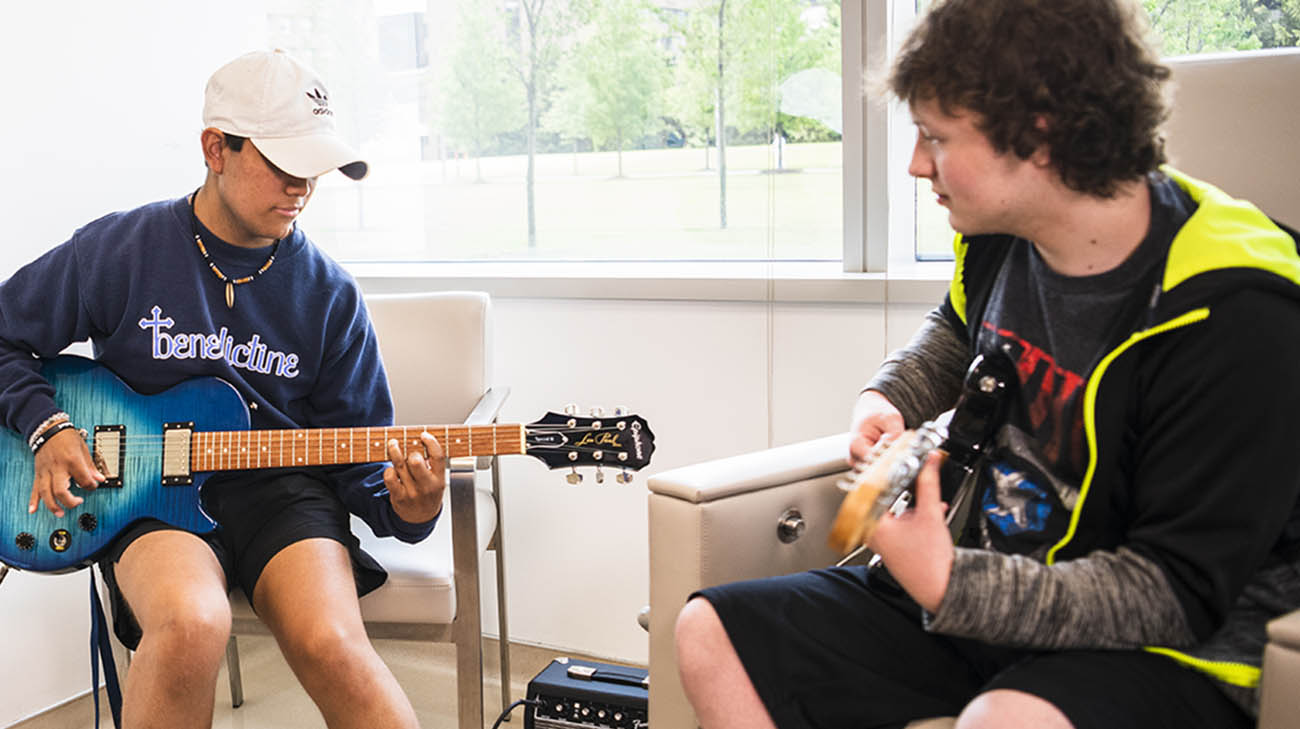 He wasn't scheduled to receive a chemotherapy infusion that day, but Marco Kaiser made the drive to Cleveland Clinic Children's anyway. His mission? To meet another teenage cancer patient and music buff, Aidan Comer, and teach him a few chords on Marco's guitar. That first meeting – an impromptu jam session – has spurred a friendship between the two recent high school graduates, who now try to schedule their chemotherapy sessions at the same time.
"We'd play guitar together, and it was just a good time," says Marco, 19, who is about to begin his freshman year at Lakeland Community College. "After that first meeting, I thought, 'This guy is really chill.' So we became friends and started hanging out."­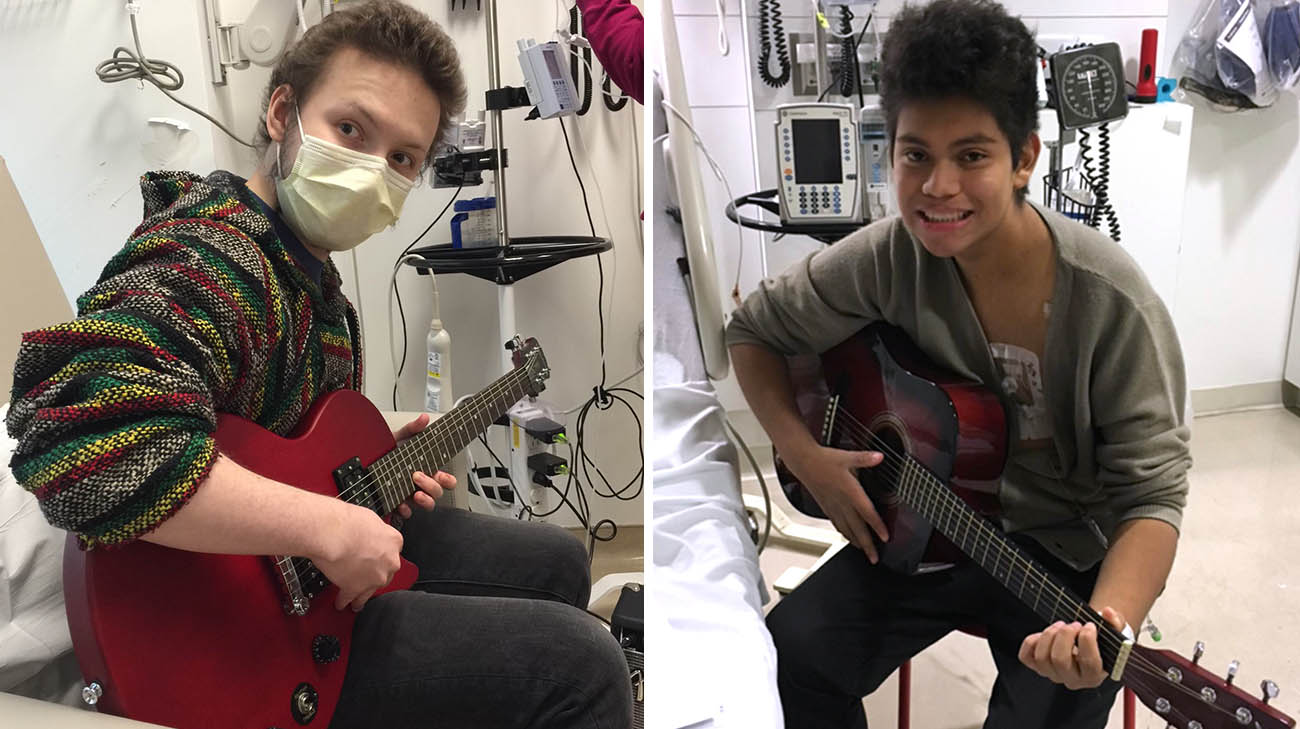 Aidan (left) and Marco (right) enjoyed music therapy separately while being treated at Cleveland Clinic Children's. Music therapist, Emily Ervin, connected them. (Courtesy: Aidan Comer and Marco Kaiser)
Aidan, 18, appreciates having a teenage friend with the same interests and who also understands what it's like dealing with cancer. "(Cancer) is not something a lot of kids can relate to," says the Fairview Park High School graduate. "We just have this understanding with each other that no one else necessarily has because they haven't been through it."
Cleveland Clinic Children's music therapist Emily Ervin had the idea that Marco and Aidan should meet. She was working with each of the teens separately, during their lengthy outpatient treatment sessions ­at the hospital, when she realized they had much in common.
"Aidan was newly diagnosed, and he and his mom said it would be so nice to connect with someone here at Cleveland Clinic that's going through the same thing," she recalls. "So, I thought it would be wonderful to try and connect these two."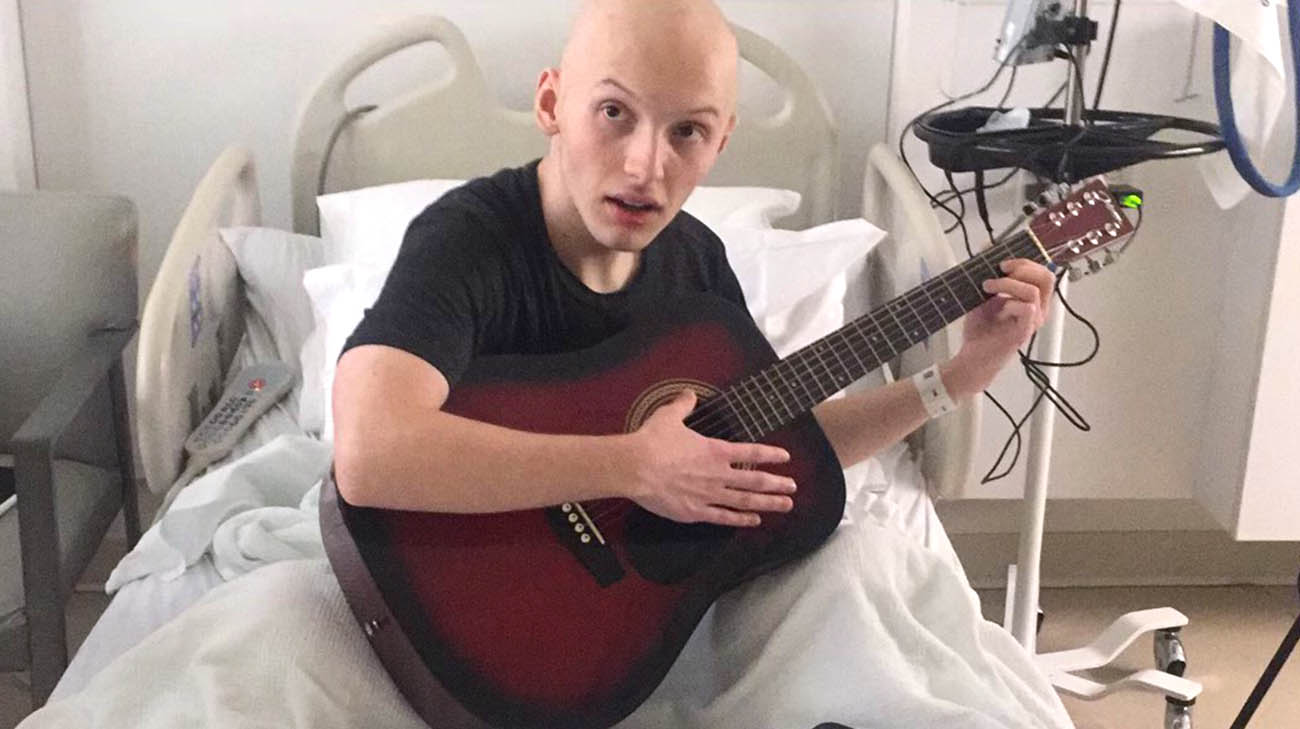 In March 2020, doctors discovered a tumor in Aidan's epididymitis. He was ultimately diagnosed with rhabdomyosarcoma. (Courtesy: Aidan Comer)
According to Emily, patients are often drawn to music to help deal with their medical journey. "They might be in pain and use music for relaxation, or they might be here for a really long visit and need a distraction to make the time go by. Music can help patients with whatever they need it to help with, and it's my job to tailor music for their needs."
Aidan, a lifelong musician, who underwent treatment for a form of muscle and tissue cancer called rhabdomyosarcoma, asked for a music therapist to teach him how to play guitar.
"She (Emily) taught me two chords, and I wrote a song with those two chords. I called it, "Be Positive." It was because my blood was B positive," says Aidan. ­
Marco, meanwhile, has been dealing with cancer for nearly five years. Initially diagnosed with an inflammatory disease that caused severe rashes, fevers and chills, Marco ultimately was found to have leukemia. After months of chemotherapy, he went into remission. The cancer returned in 2019, and Marco returned to Cleveland Clinic Children's for additional chemotherapy. Currently, both teens are in remission.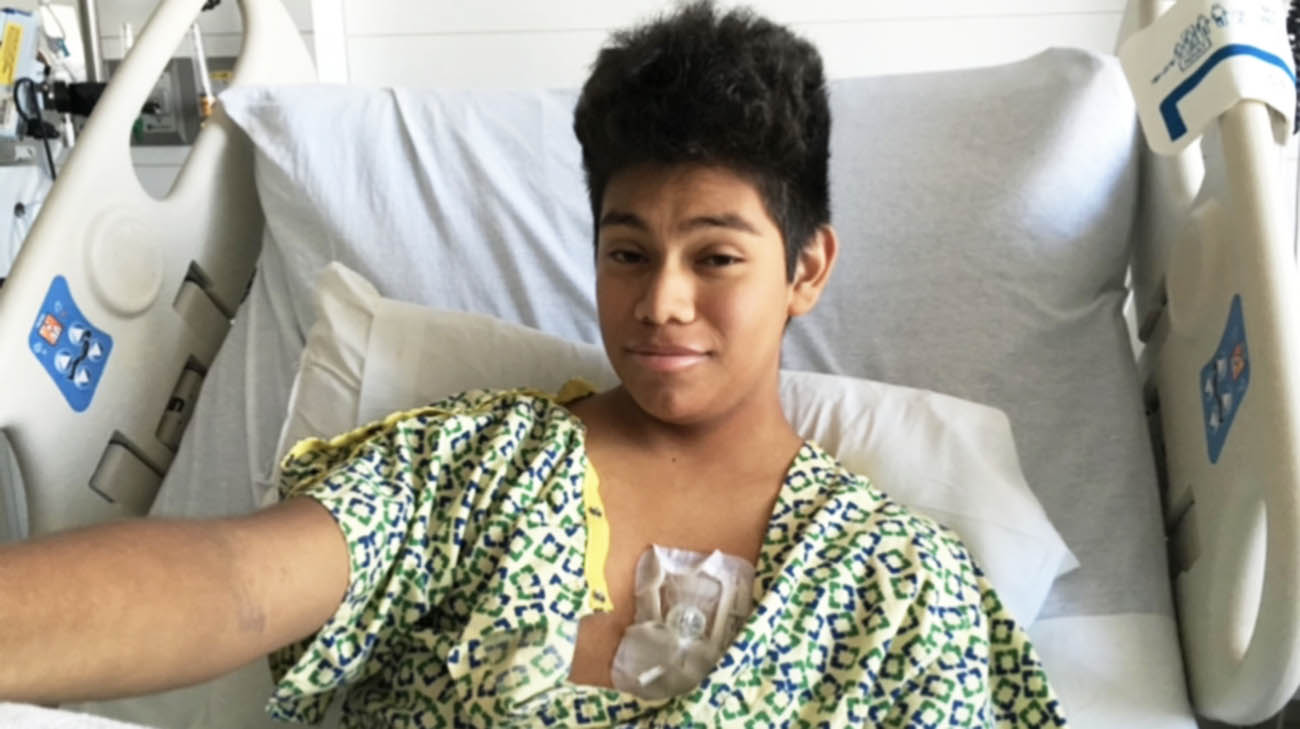 Doctors diagnosed Marco with leukemia in 2016. He went into remission but relapsed in 2019. He underwent a 12-month chemotherapy regimen and is currently back in maintenance. (Courtesy: Marco Kaiser)
In addition to becoming friends with Aidan, Marco has also enjoyed being somewhat of a mentor to him, since he has undergone cancer treatment for a much longer time. "I liked making him feel good, and not sad, because he was going through a tough time. I wanted to be there for him, help him, cheer him on. It's helped me become a better person."
The two friends have even embarked on a musical journey together, forming a rock band – Nü Gen – with three other friends of Marco's. They practice regularly in Marco's family's basement, typically with Marco on drums and Aidan on his new instrument, the electric guitar. One of the band's first songs, co-written by Marco and Aidan, is "You Couldn't Ask for More," a testament to the power of friendship.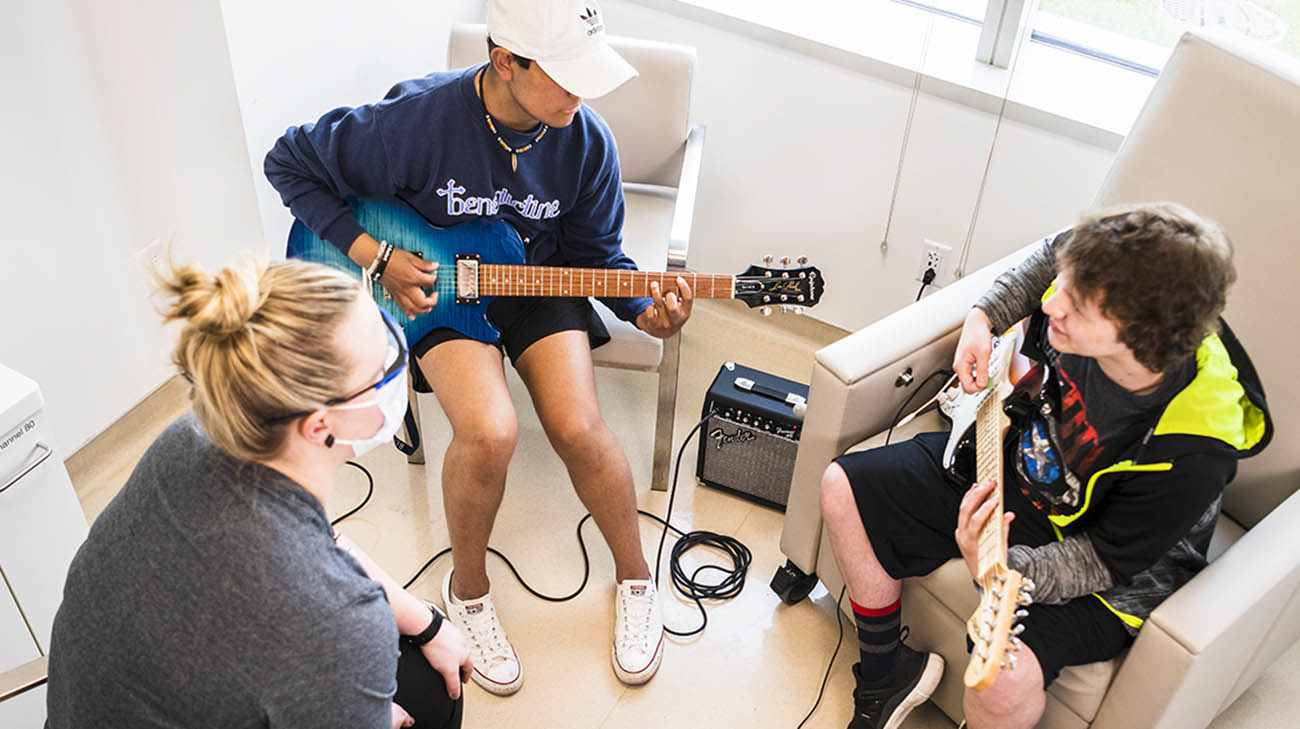 Emily has enjoyed watching Marco (top left) and Aidan (far right) grow as musicians and friends. (Courtesy: Cleveland Clinic)
Whether or not Nü Gen achieves stardom, they have at least one enduring fan: Emily. "It's really been fun to just step back and watch them grow, as musicians and friends. I will be there for any show. I'm super proud of them."
Beyond them being bandmates, Aidan values his unique connection with Marco, too. "People walk on egg shells (because of cancer). But Marco and I can talk about that stuff with each other," he explains. "We don't even have to speak to each other. Marco and I really click mentally. We just play music."
Related Institutes: Cleveland Clinic Children's
Patient Stories
Patient Stories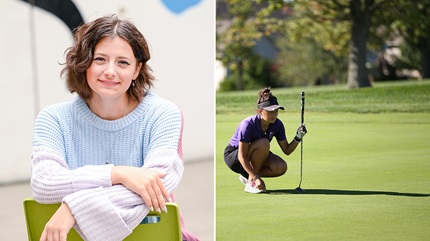 Jun 1, 2023
"I don't remember everything that happened before surgery, but right before fully going out, I remember things being very fun"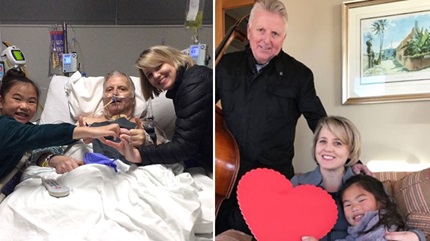 May 31, 2023
"Donors and caregivers. They're the real heroes. They sacrifice so much, and we wouldn't be here without them."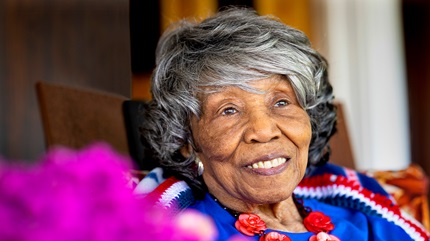 May 30, 2023
"I woke up coughing, and I couldn't move anything on my right side. I knew I had a stroke."