Superman is Charles Gore III's favorite superhero. The Man of Steel and the 28-year-old West Virginia resident, who has battled hepatosplenic T-cell lymphoma for four years, have a lot in common: toughness, determination and a never-say-die attitude.
Those attributes, along with the loving support of his family and friends and a dedicated team of healthcare professionals at Cleveland Clinic Children's and Cleveland Clinic Cancer Center enabled Charles – who has autism -- to proudly ring a celebratory bell in mid-October 2020, indicating he has no evidence of cancer.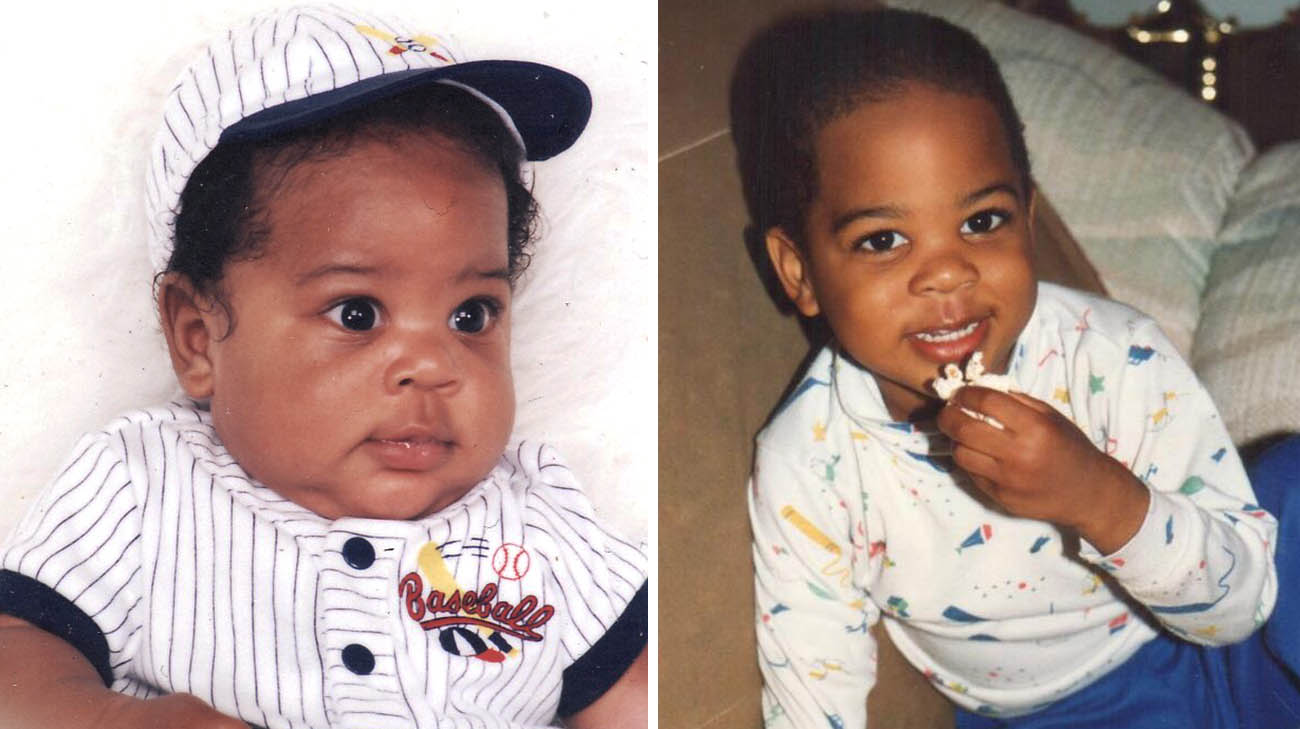 Charles was always a happy, healthy baby. When he was 3-years-old, shortly after his parents noticed he was having difficulty communicating, doctors diagnosed Charles with autism. (Courtesy: Lee Ann Gore)
As physicians and nurses snapped their fingers to honor him, Charles reached 100 days without cancer, a significant milestone for any patient who has undergone a bone marrow transplant. It's even more significant for Charles, because his first bone marrow transplant, in 2017, didn't stop the rare and potentially deadly form of cancer from returning.
"He is absolutely amazing," says mom, Lee Ann Gore, who along with dad, Charles Jr., and twin 26-year-old brothers, Brian and Jonathan, calls her son, Chase. "He doesn't whine. He's never thrown a pity party. When I think of all that he's been through, with the side effects of chemotherapy, never once did he complain. We couldn't be prouder."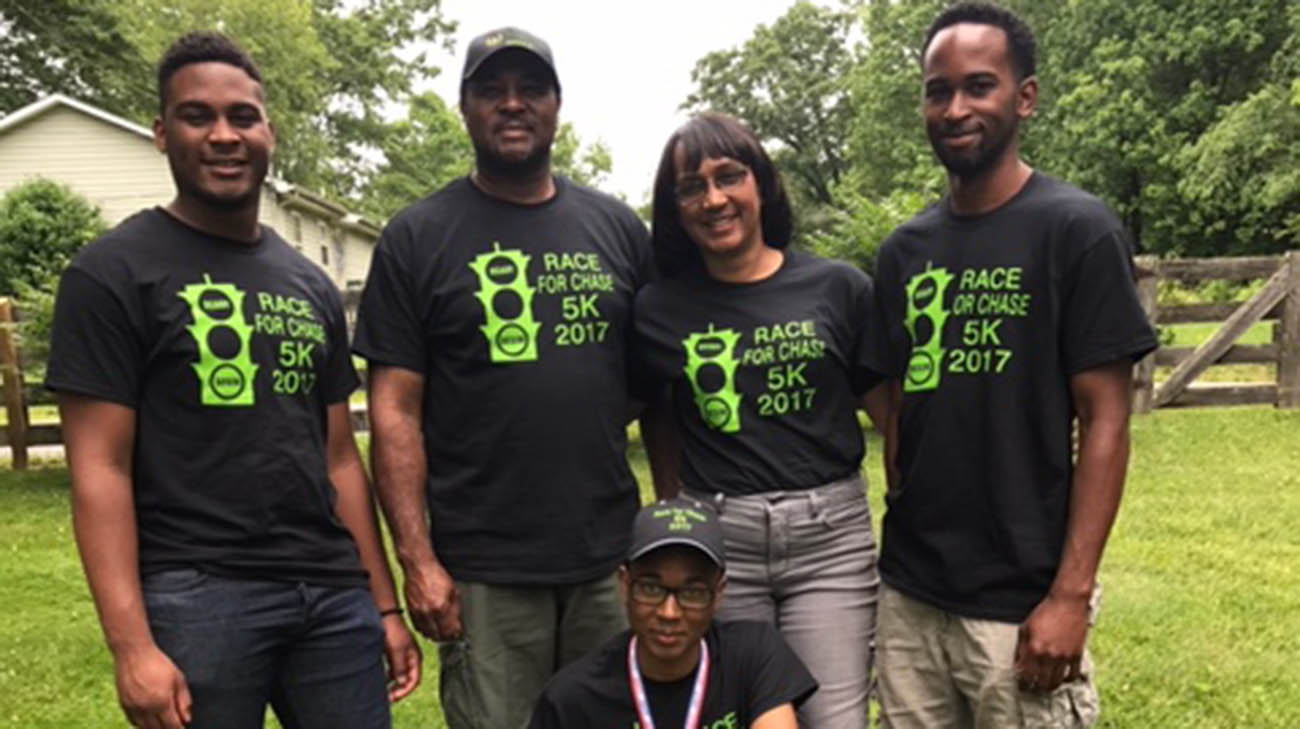 Charles (bottom), with his family, at a fundraising race -- (left to right) Charles' brother, Brian, dad, Charles Jr., mom, Lee Ann and brother, Jonathan. (Courtesy: Lee Ann Gore)
It would have been understandable if he had complained. Charles' journey has been difficult since being diagnosed with cancer by doctors back home in southern West Virginia. Normally very active, with a high pain threshold, Charles began to mention pain in his ribs and was uncharacteristically tired.
"When he texted his mother at work, and said his ribs hurt and he needed to see a doctor, we knew it was serious," said Charles Jr., who is a minister. "He was diagnosed with stage four cancer and that was really devastating. But we didn't give up hope and we thank God that he has allowed us to come this far."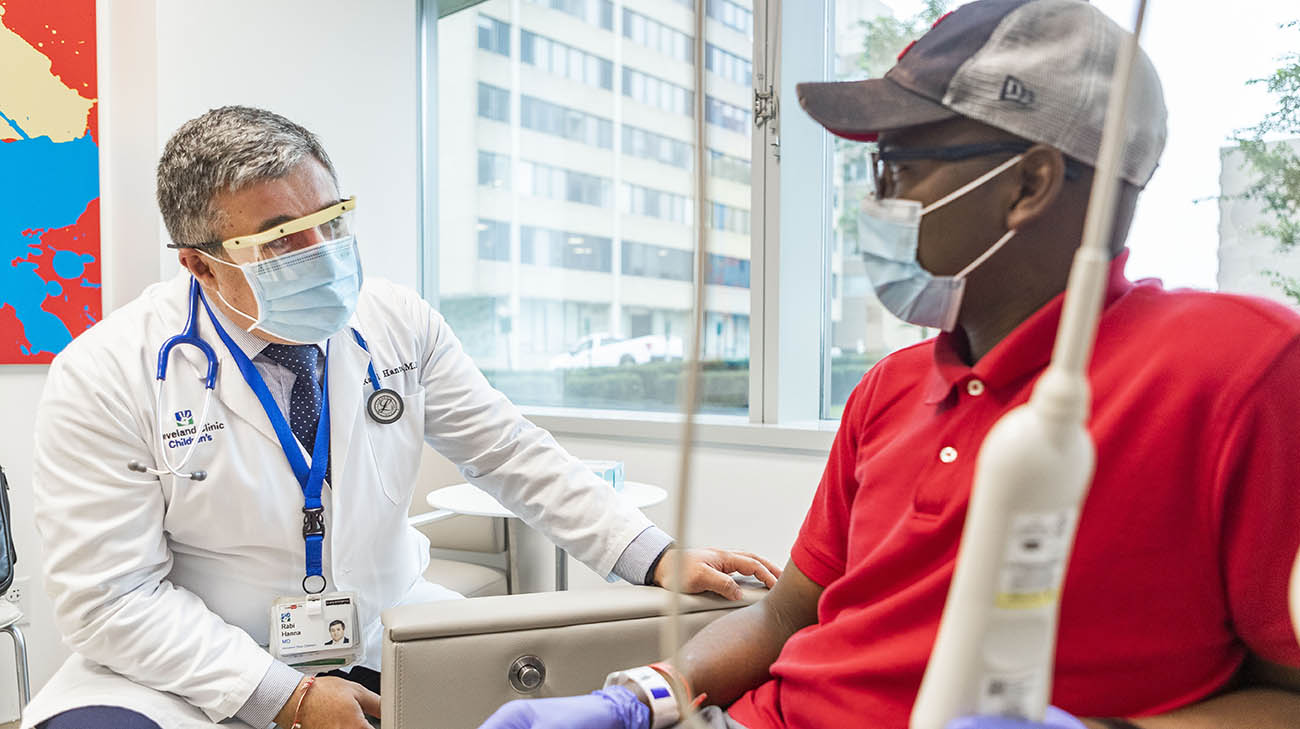 Charles, with Dr. Hanna, during an infusion appointment at Cleveland Clinic Children's. (Courtesy: Cleveland Clinic)
Given the advanced nature of the aggressive and rare disease, a local oncologist referred Charles to Cleveland Clinic, which is about a five-hour drive from the family's home. Initially, he received rounds of chemotherapy in West Virginia. Afterwards, he received aggressive levels of cytotoxic chemotherapy and radiation at Cleveland Clinic Cancer Center. That prepared his immune system to receive a bone marrow transplant from his brother, Jonathan, in November 2017.
Early in the treatment process, however, doctors made the decision to move Charles from Cleveland Clinic Cancer Center to Cleveland Clinic Children's, which has more resources to treat and support cancer patients with autism. According to one of Charles' doctors, pediatric hematologist oncologist Rabi Hanna, MD, doing so enabled Charles to get the necessary cancer care while addressing the realities of his autism spectrum disorder.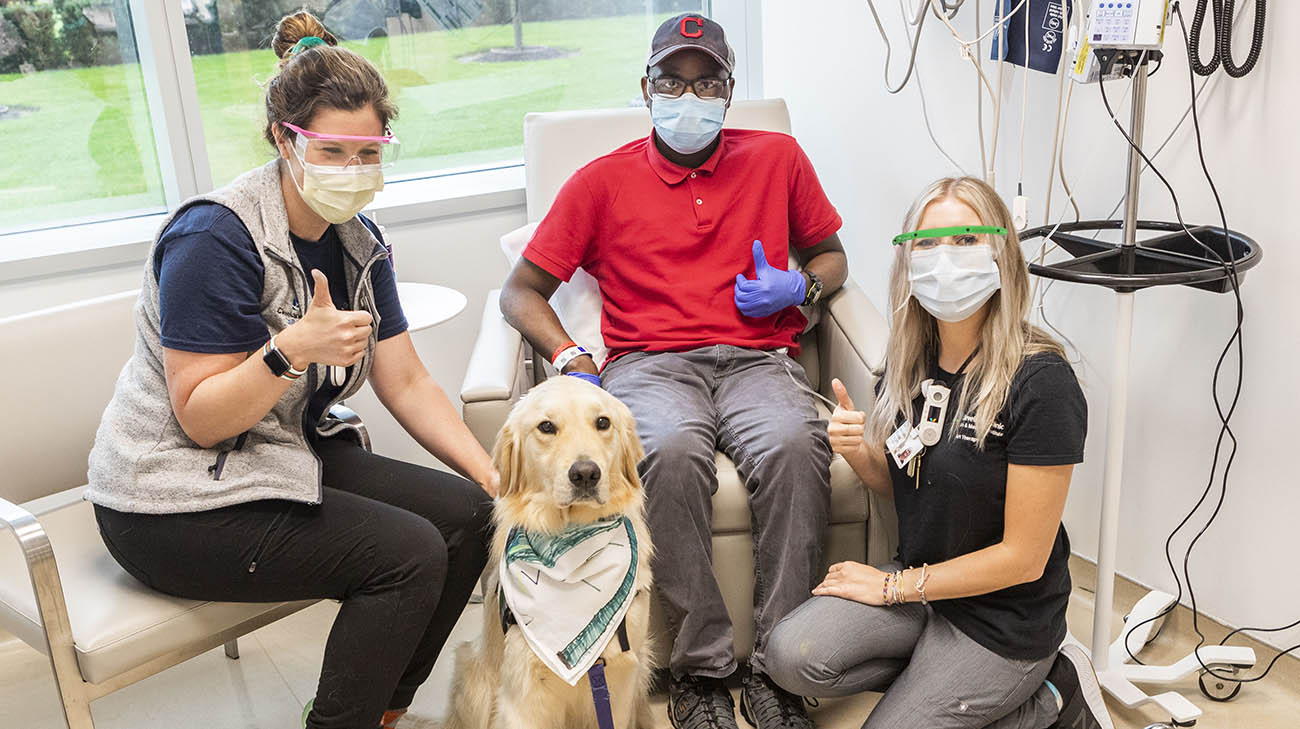 Charles, with Cleveland Clinic Children's child life specialist, art therapist, and facility dog, Kid. Charles created Kid's bandana during an art therapy session. (Courtesy: Cleveland Clinic)
"We don't just treat the disease. We treat the individual patient, and that includes the emotional ramifications of the disease," says Dr. Hanna.
That focus on holistic treatment has extended to the entire family. Lee Ann recalls that just two weeks after Charles' first bone marrow transplant, the donor – son Jonathan – was scheduled to graduate from college. Lee Ann wanted to attend, but refused to leave Charles' side, until one of his doctors intervened.
"He said, 'You have other children and they need their mom right now. You go take care of them. We'll take care of this one.' So I went and surprised Jonathan at his graduation, because I had the assurance that Chase would be okay."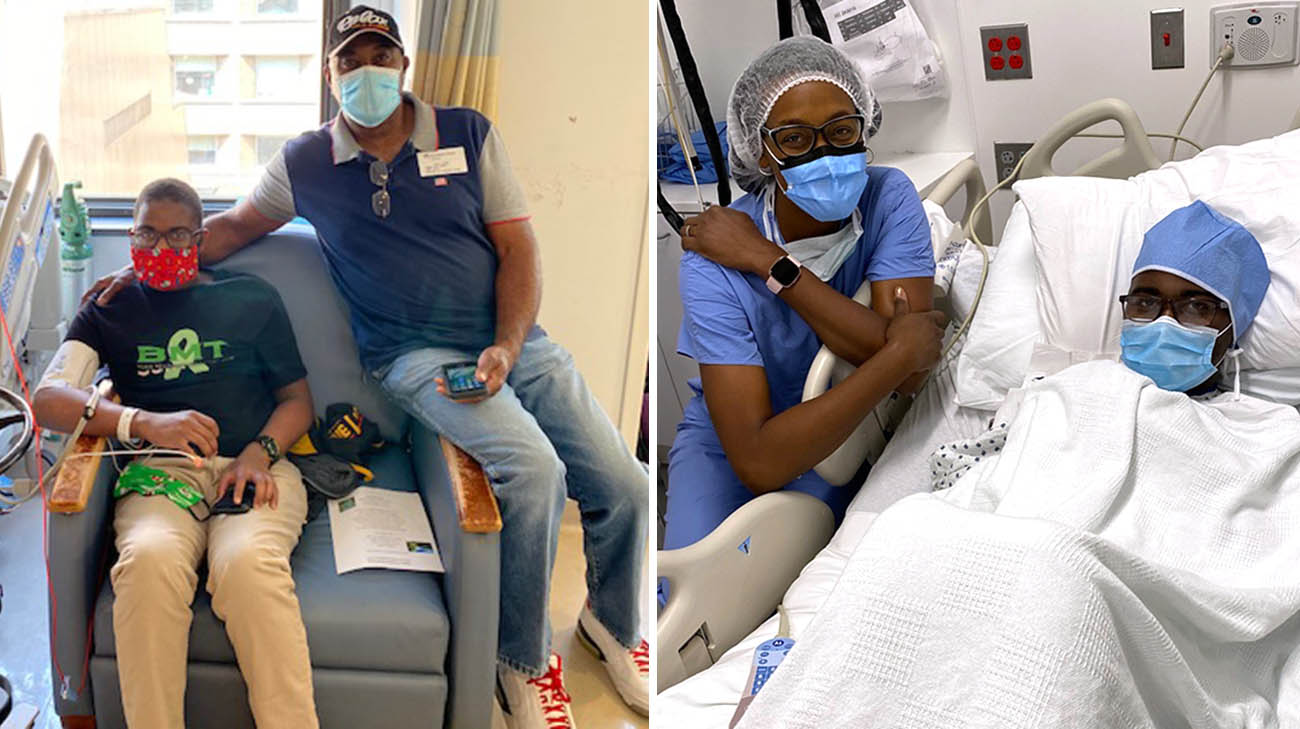 Charles with his dad (left) and mom (right), before undergoing a bone marrow transplant. (Courtesy: Lee Ann Gore)
Throughout Charles' medical journey, which led him to receive a second bone marrow transplant (this time from Charles Jr.) in June 2020, he's met with caregivers in a variety of support services that have helped him better deal with the often-difficult procedures. For instance, child life specialists checked on Charles regularly. He also participated in art and music therapy during his stays in the hospital, which have buoyed his spirits.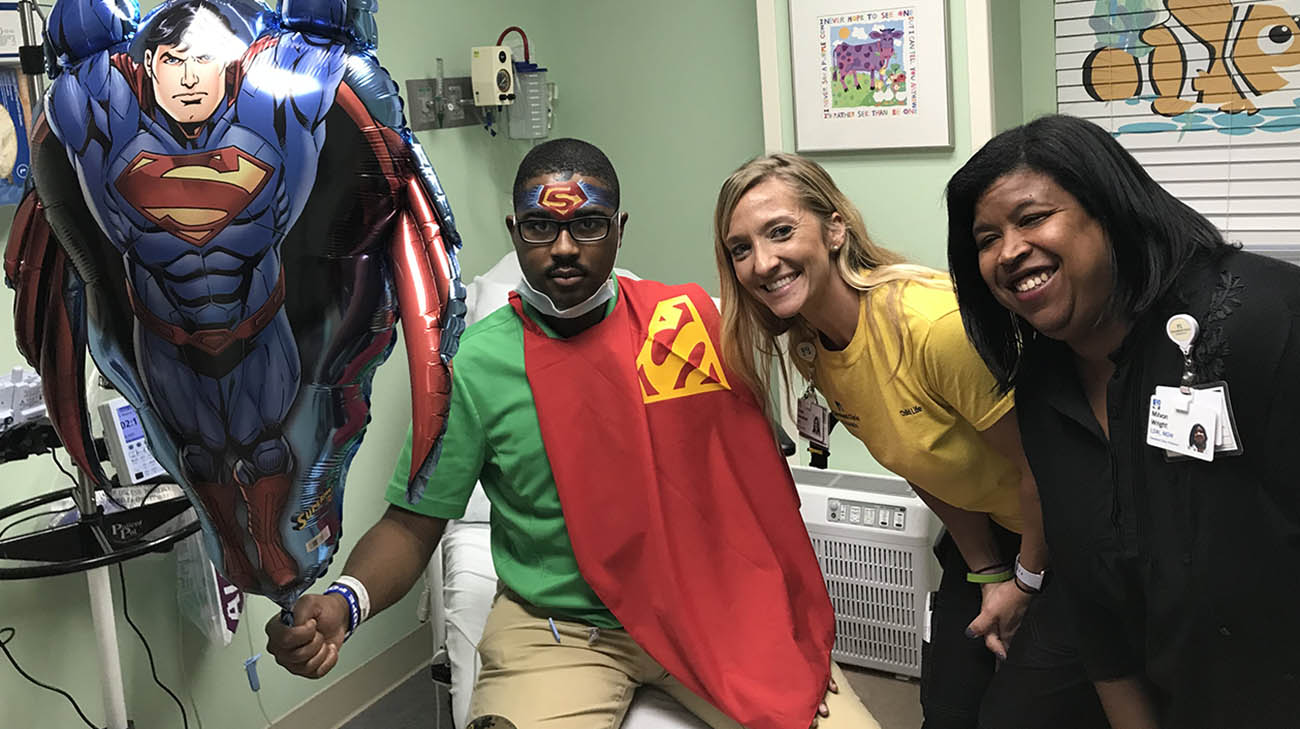 Charles with Cleveland Clinic Children's caregivers in September 2018. Charles favorite superhero is Superman. (Courtesy: Cleveland Clinic)
Charles Jr. said these programs, along with the compassionate care of the entire Cleveland Clinic staff, have helped his son navigate through difficult days. When the cancer returned, Charles had to again endure chemotherapy and radiation, including an experimental drug administered as part of a clinical trial and cellular therapy. More than a year-and-a-half later, the second bone marrow transplant became an option.
"When the cancer came back, the doctors knew they had to do something really aggressive and quickly. And they did," recalls Charles Jr. "We never gave up praying for Charles, and he never gave up either. I don't know what God's greater purpose is for my son, but I know that he has touched the hearts of many people."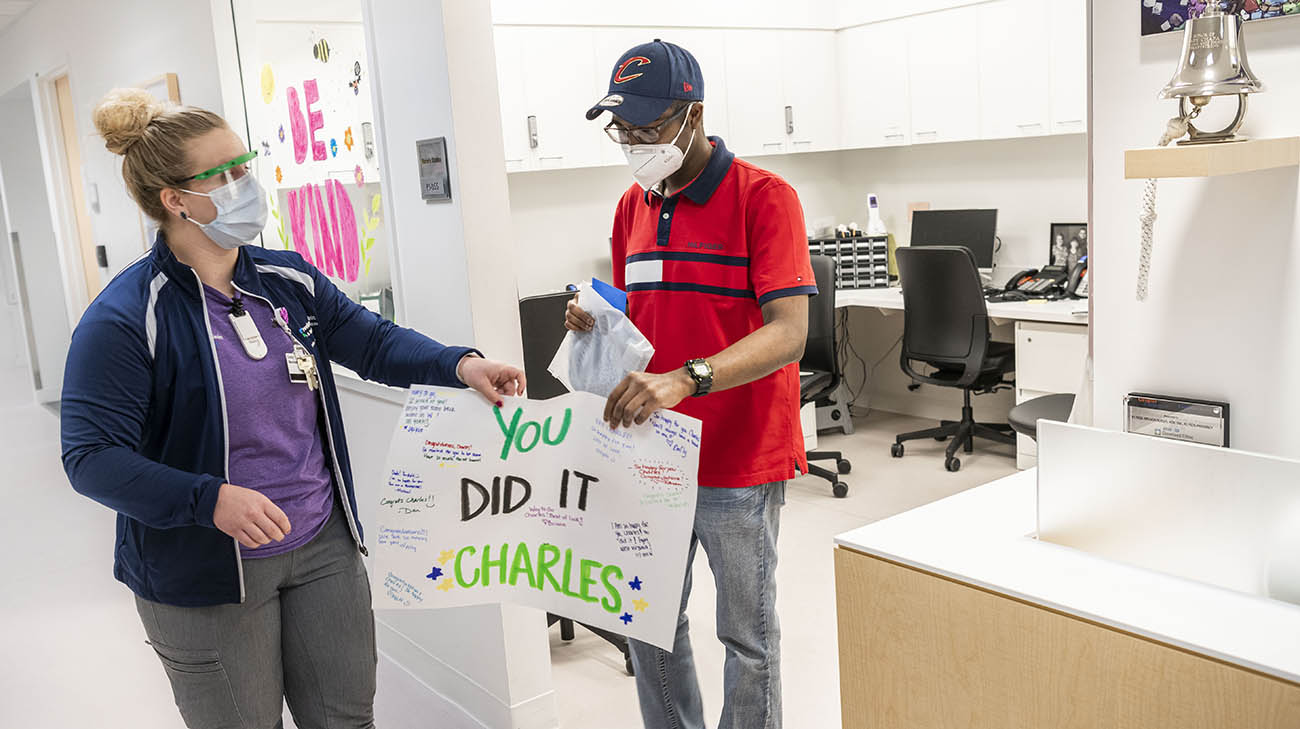 Charles, shortly after ringing the bell at Cleveland Clinic Children's, to signify he currently shows no evidence of cancer. (Courtesy: Cleveland Clinic)
Dr. Hanna says Charles has had a dramatic impact on him and his fellow caregivers, too. "I would describe Charles as a joy. He has a drive for life that it is impressive. He went through so many difficult therapies, but when you talk to him, his eyes are always smiling. We're helping him, but he is helping us. Charles inspires us and gives us the strength to do even better." Just like Superman.
Related Institutes: Cleveland Clinic Cancer Center, Cleveland Clinic Children's
Patient Stories
Patient Stories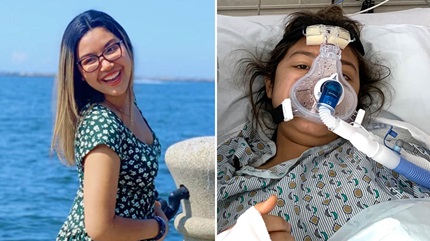 Oct 22, 2021
"I was so close to death. It made me realize that tomorrow is never promised."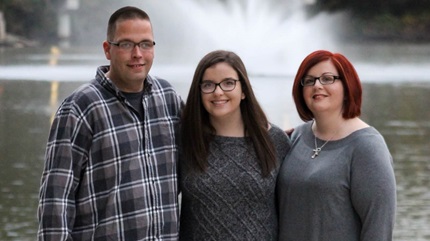 Oct 18, 2021
"I want people to know how important it is to get vaccinated. Protect yourself and protect others."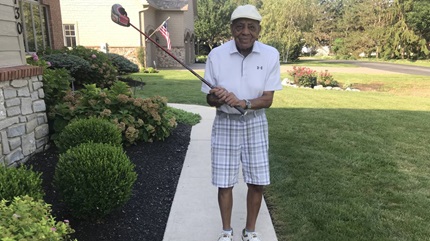 Oct 6, 2021
"To him, it was just a surgery. To me, it was much more. I'd be operating on a man who had overcome so much, including being shot down over Austria and captured. A true hero."