Lucy Spada is a tough 10-year-old girl from the suburbs of Milwaukee. On the soccer field, she played sweeper and was determined to stop anyone from scoring on her team. She's stubborn too. "She's going to be our attorney because she'll make a point, stick with it, and argue it very well," says mom, Maggie.
Lucy is also a sweetheart. She cares for everything and everyone, especially her family, and wants all to feel loved and welcomed. "She sometimes attaches feeling to her stuffed animals and the last donut in the box," says Maggie. "She feels bad if no one eats it!"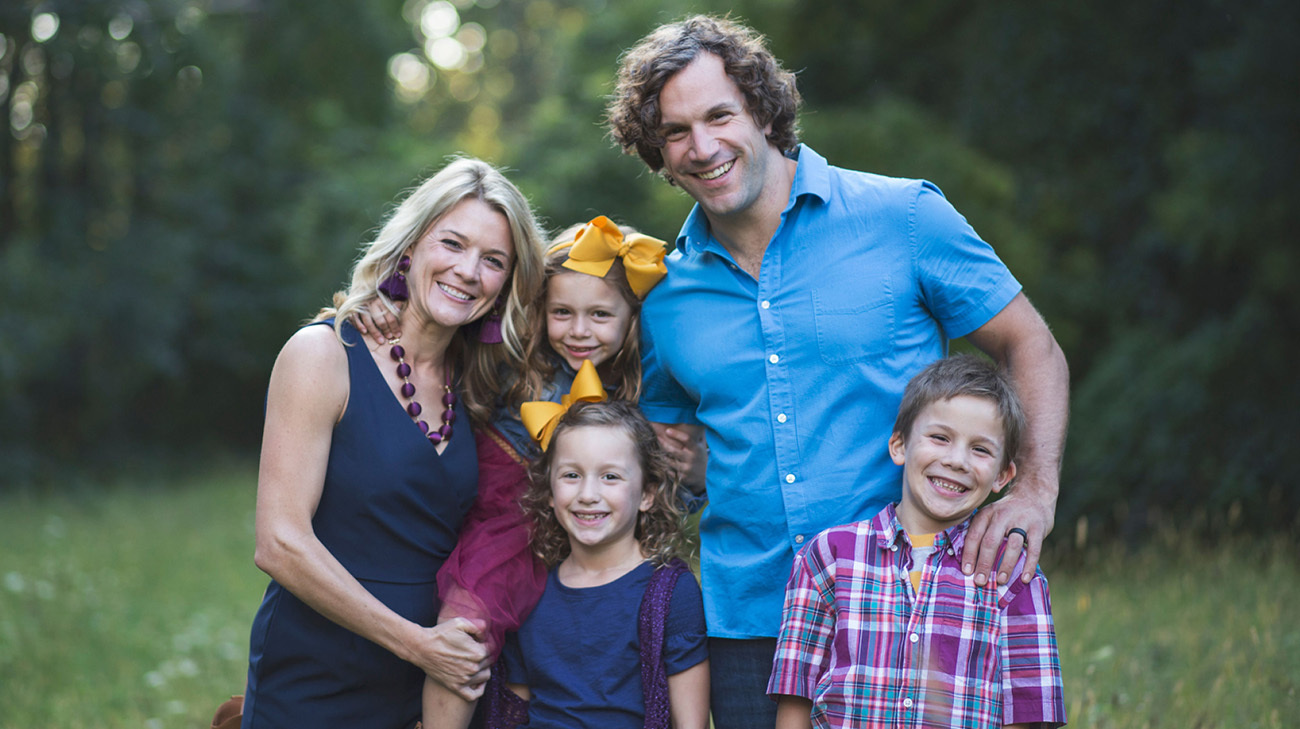 The Spada family loves spending quality time together. (Courtesy: Spada family)
Last fall started normal for Lucy and her family, but in September 2019, Lucy's parents noticed her limping while playing for her soccer team. Assuming she may have suffered a stress fracture in her leg, Maggie and Lucy's father, Piero, had her checked out by their pediatrician. X-rays, an MRI and other tests revealed the shocking diagnosis - Ewing's sarcoma, a malignant bone tumor doctors found in her leg. The cancer also spread to her lungs.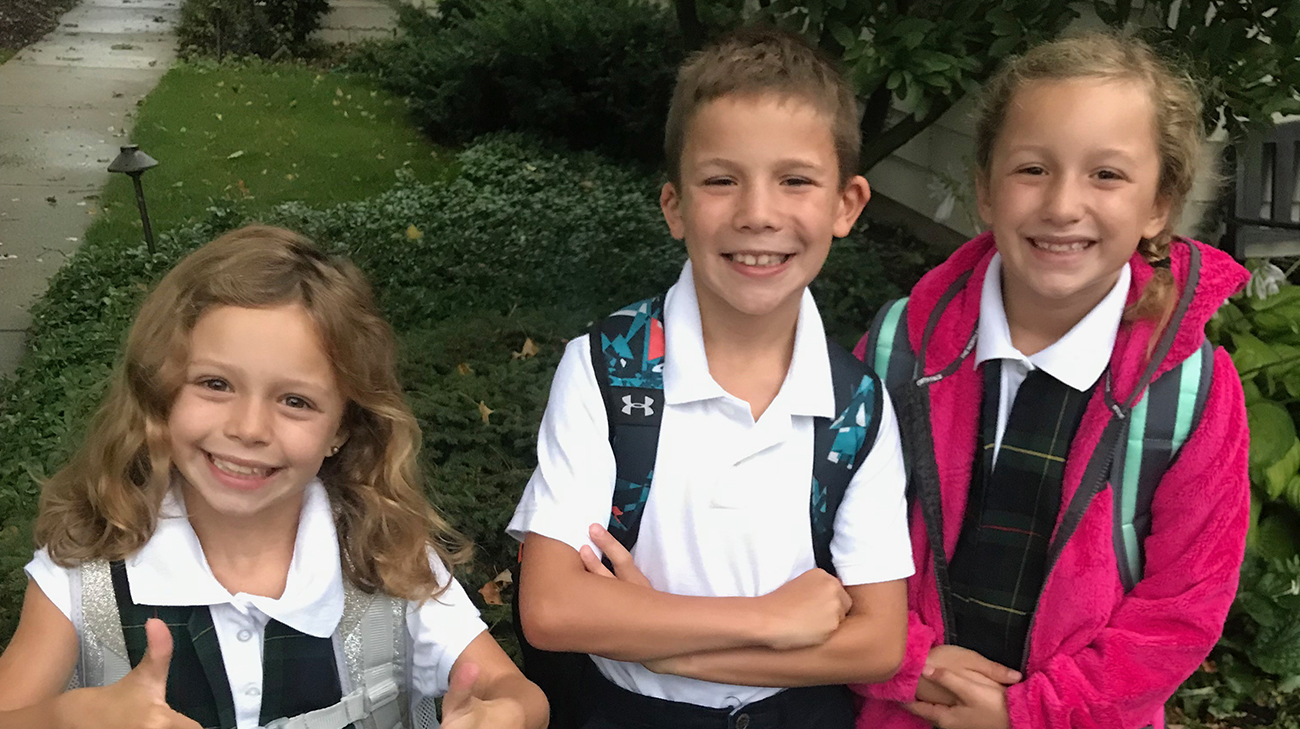 Cecilia, Leo and Lucy were ready to start another school year in Fall 2019. (Courtesy: Spada family)
"A lot happened in a very short amount of time, from the point that she presented a symptom to the initial diagnosis," says Piero. "In only a week, our world got flipped upside down."
Maggie and Piero took an educational approach during a talk in their bedroom with daughter Lucy, explaining that sometimes cells divide too fast and form cancer. "We explained there's all different types of cancer," says Maggie. "There were going to be a lot of medications and time in the hospital. And we were going to be with her." "As soon as she heard that," Maggie continues, "She was like, 'Okay. As long as you're with me, I can do this.'"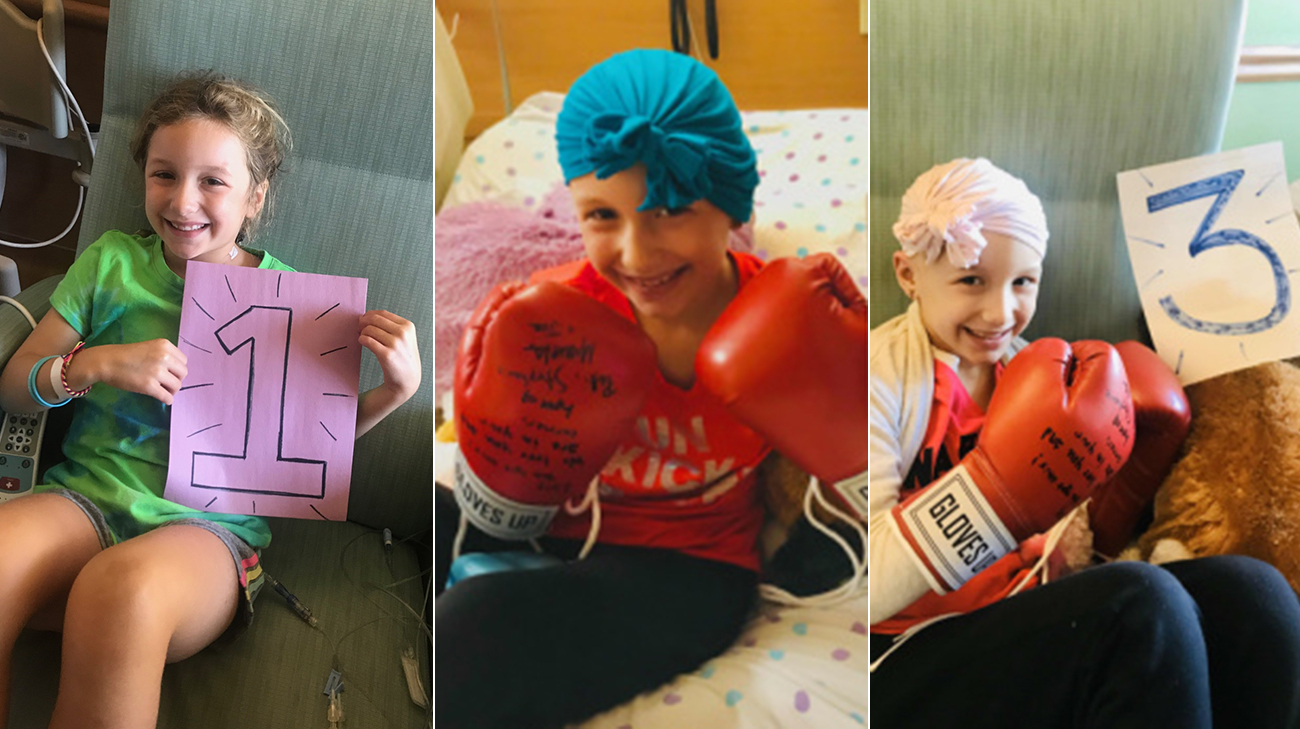 Lucy completed her first six rounds of chemotherapy at a hospital near her home in Milwaukee. (Courtesy: Spada family)
Their shock and fear didn't slow the Spadas in taking proactive steps to ensure they got the best treatment for Lucy. The couple embarked on a cross-country journey, interviewing several Ewing's sarcoma experts – virtually and in person. They ultimately ended up at Cleveland Clinic Children's under the care of radiation oncologist Erin Murphy, MD, who collaborated with pediatric hematology oncologist Peter Anderson, MD, PhD, in steering Lucy's treatment.
Drs. Anderson and Murphy are frequent collaborators in treating sarcoma patients, with the former handling chemotherapy and the latter focusing on radiation. They developed a consolidated treatment management plan for Lucy, which included not only treatment of her tumor in the leg, but highly-pinpointed intensity modulated radiation therapy for the lung tumors that limits exposure to healthy organs and tissue.
"Oftentimes, the radiation and chemotherapy go hand-in-hand and you can get a synergistic effect from them. But this can be a very complex process," explains Dr. Murphy. "As long as things are sequenced appropriately, you can give (the patient) appropriate, aggressive care in a really thoughtful manner."
Dr. Anderson adds, "Erin's great to work with. We'll view the (diagnostic) scans together, decide when and how we're going to do things. And then we get started."
All of her radiation and chemotherapy treatments at Cleveland Clinic Children's were conducted as an outpatient. So, the family, including Lucy's twin brother, Leo, and sister Cecilia, 8, temporarily moved to Cleveland.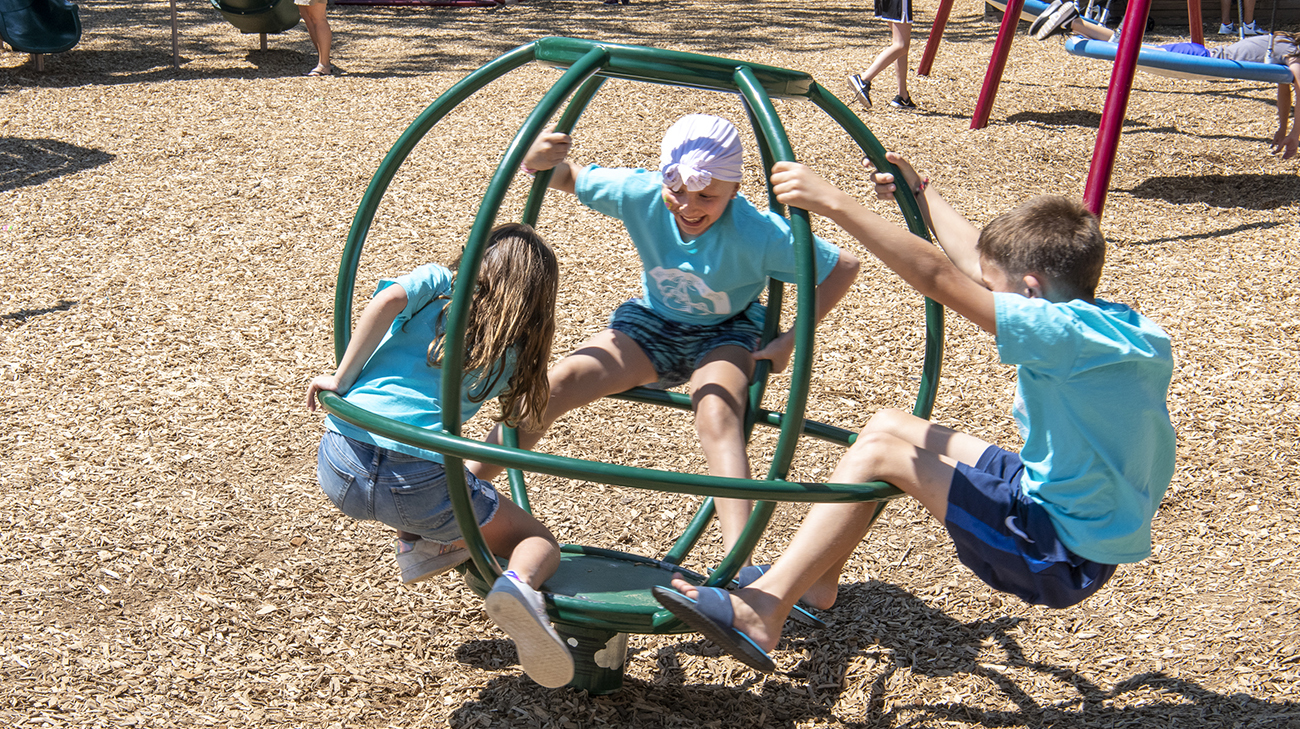 Lucy's treatments were usually short, giving her time to be a kid with her brother and sister. (Courtesy: Cleveland Clinic)
While often intense and frequent, Lucy's treatments were short in duration, enabling the family to spend plenty of time doing fun and distracting activities, like bike riding and playing four square in local parks. The care team even tried adding fun elements to Lucy's treatments.
For instance, during her radiation treatments, Lucy – with help from a Cleveland Clinic music therapist – would make use of an iPad, listening to some of her favorite pop tunes in a karaoke-like setting, often while snuggling with a therapy dog named Kid.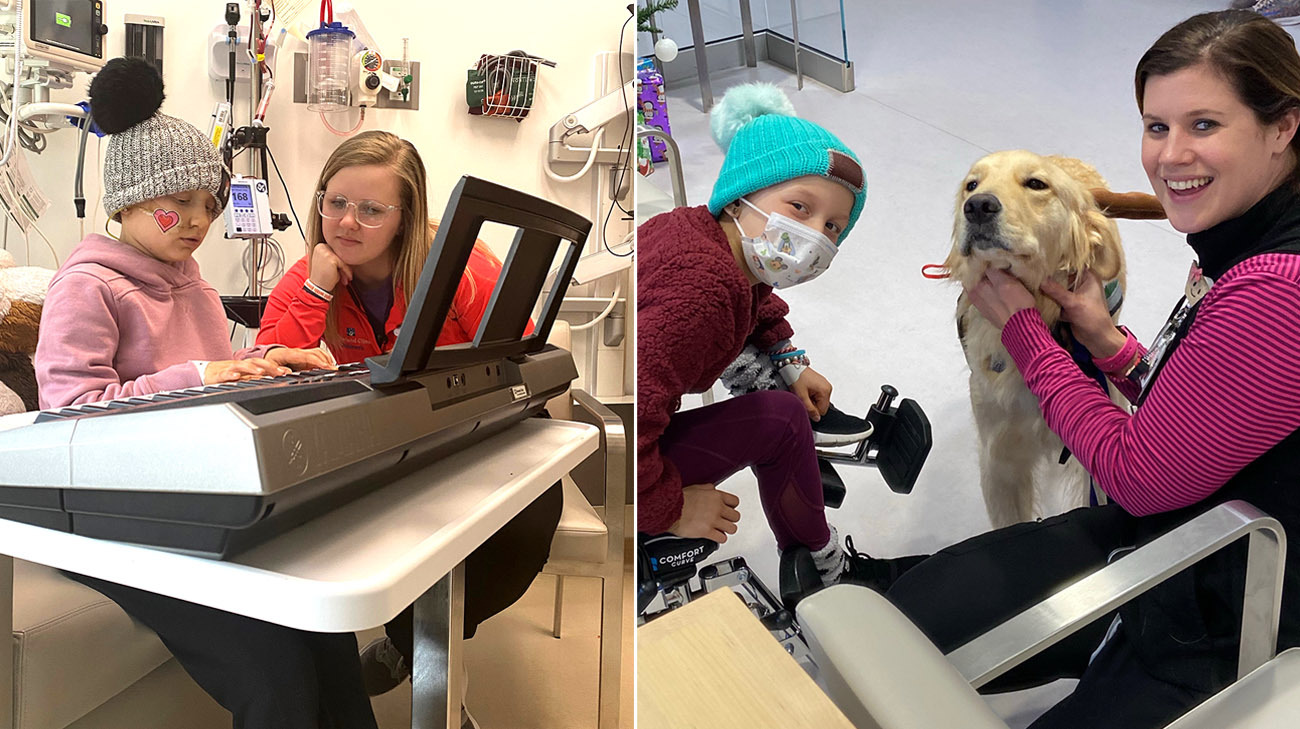 In photos taken before the COVID-19 pandemic, Lucy enjoys music therapy and visits with Kid. (Courtesy: Spada family)
Maggie says, "The music therapist caught on really quickly that Lucy was into music, and brought in a mixing deck where she can kind of be a deejay while she's sitting there getting an infusion of platelets or blood. Lucy would actually sing through her treatment. It's very special."
Thanks to her parents' diligence in searching the U.S. for a pediatric Ewing's sarcoma treatment program they felt confident in, the skill and empathy of Cleveland Clinic Children's caregivers, and the loving support of family and friends back in their hometown, today, Lucy has no evidence of cancer remaining in her body.
Adds Dr. Anderson, "It's not one person that helped Lucy become well, it was many. Orthopaedic surgeons, pediatric oncologists, nurses, but above all, a caring and loving family who made an adventure out of this experience. And Lucy was incredibly resilient."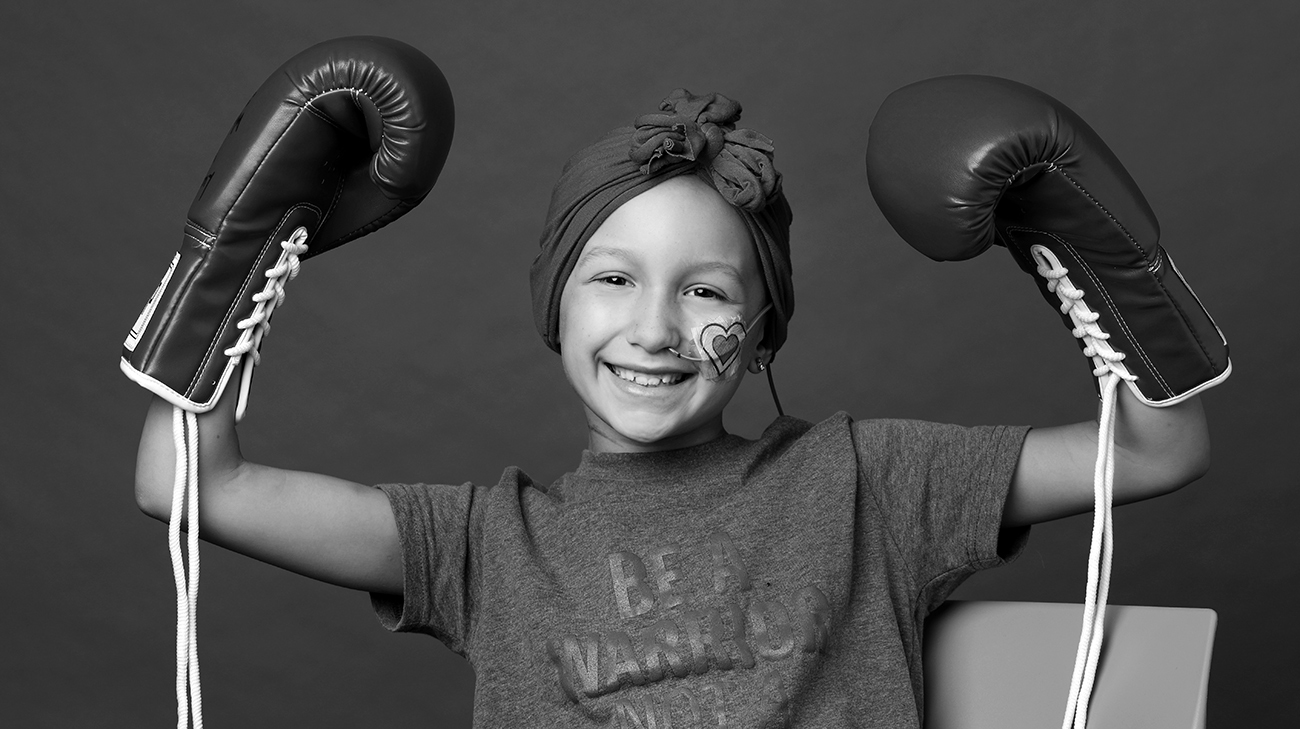 Lucy looks forward to going back to school and getting into hip-hop dance. (Courtesy: Big Dreamers United)
Although the Spadas have been laser-focused on Lucy's treatment since the moment she was diagnosed, they've also established the Spada Pediatric Sarcoma Foundation - with the help of Maggie's sister, Emily, to raise much-needed funding for Ewing's sarcoma research.
Lucy appreciates all that's been done for her, and has words of encouragement for other sarcoma patients undergoing treatment. "To other kids who have it, it's really hard. But you guys can do it!"
Related Institutes: Cleveland Clinic Children's , Cleveland Clinic Cancer Center
Patient Stories
Patient Stories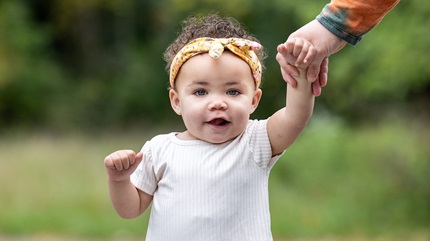 Sep 29, 2023
"Following her procedures, Adaya has defied the odds. She's hit all of her milestones so far. She's crawling and getting around wherever she wants to go."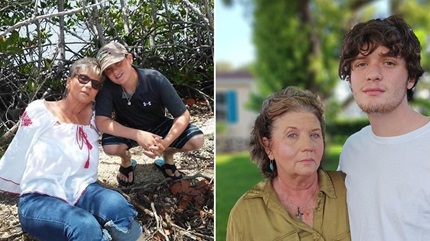 Sep 28, 2023
"It was worth every moment of it to know I was going to be there to see my son grow up."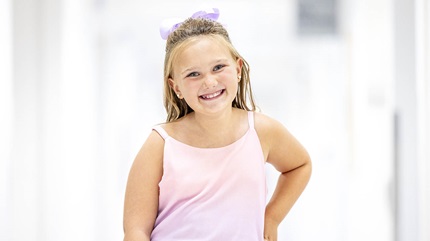 Sep 22, 2023
"This wraps up a chapter in her life we hope we never have to reopen. Audrey handled everything like a champ, and we are so grateful and proud."