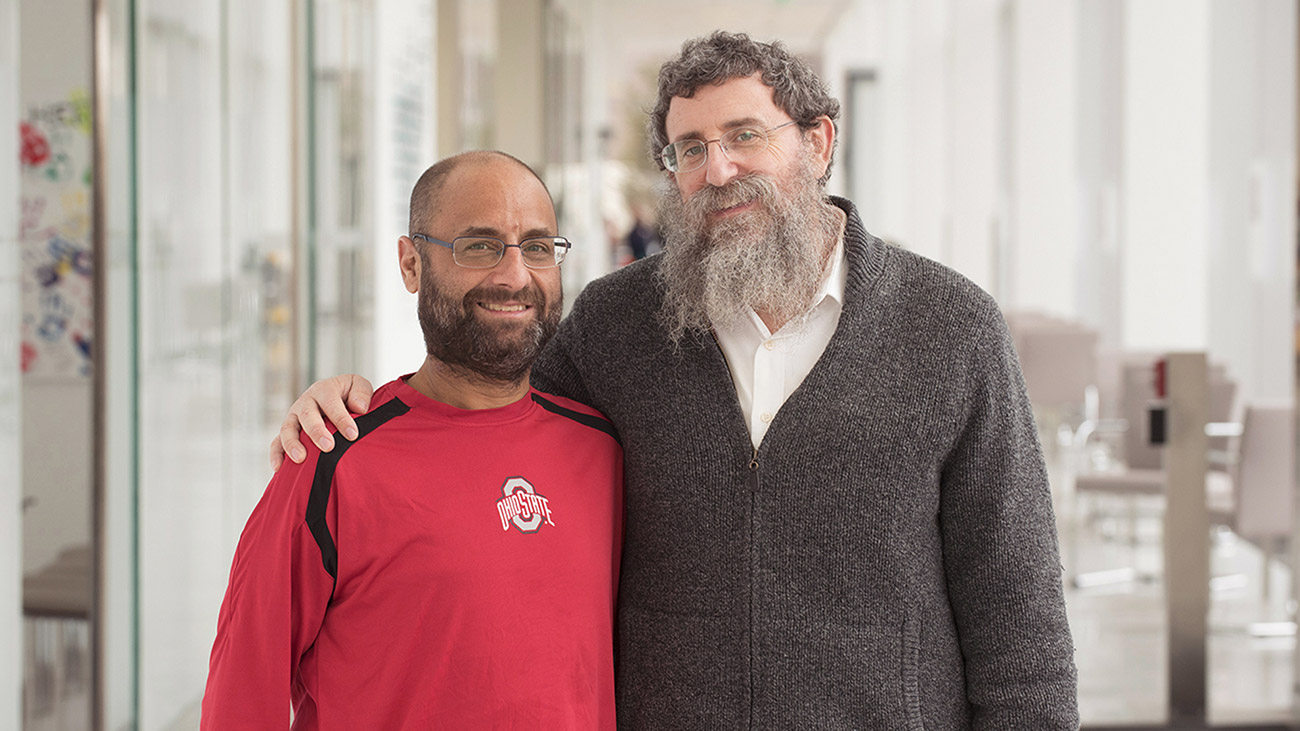 What do you say to the person who has chosen to save your life? For their initial phone call, Adam Levitz wracked his brain for the right words to offer Chabad Rabbi Ephraim Simon, a man he had never met but was willing to donate him a portion of his liver.
Levitz, who turned 45 in January, was battling death due to a rare autoimmune disease, primary sclerosing cholangitis (PSC) that was slowly destroying his own liver.
"I wanted to call him, but how do you start that conversation? Saying thank you doesn't seem enough," states Levitz, who lives in Long Island, New York with his wife and three children. "Especially since he had given so much already."
A New Jersey resident, Simon – age 50, married and the father of nine – donated a kidney in 2009 to another stranger in need. If he were to donate a lobe of his liver, he would be one of a handful of people in the United States who are dual living-organ donors – and the fourth to do so at Cleveland Clinic.
Getting to that point was a six-year ordeal for Simon. Just three years after his kidney donation, he felt a calling to give a portion of his liver, too.
"I was so grateful to be able to bring somebody back their health, to save a human life," he explains. "I wanted that opportunity again. My biggest challenge was finding a hospital that would accept me."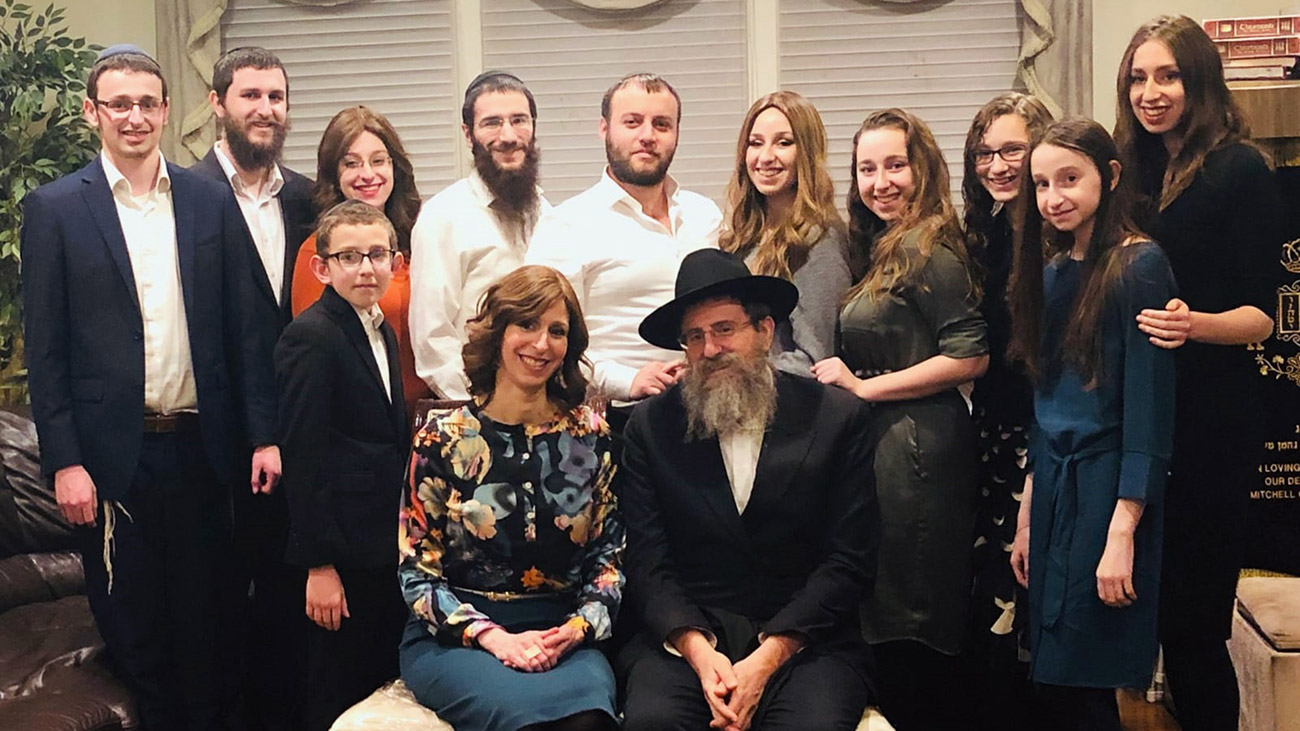 Rabbi Ephraim Simon pictured with his wife, kids and their family. (Courtesy: Rabbi Ephraim Simon)
According to Federico Aucejo, MD, liver surgeon and surgical director of the Liver Cancer Program, most centers refuse to accept previous kidney donors as liver donors because they consider it risky and too much for one person to undergo.
"These are very special situations that must be considered on a case-by-case basis," says Dr. Aucejo. "At Cleveland Clinic, we carefully evaluate the donor's physical and psychological condition. Based on his results, we found Simon to be both physically and psychologically fit. As a result, we thought he could safely undergo the operation. Additionally, it was decided for him to donate the left lobe of his liver which is traditionally a safer operation as opposed to donating the right lobe."
Every day Levitz passed without a new liver, he grew weaker. Diagnosed at 15 with Crohn's disease, a chronic intestinal disorder, Levitz experienced occasional flare-ups until his late thirties. "From time to time, I would get severe stomach pain, fatigue, joint swelling," he recalls. "But it would clear up with medication."
However, in 2017, as he was preparing for an operation, he became so ill the surgery was cancelled due to PSC, an autoimmune disease that attacks the bile ducts. Doctors advised he would need a liver transplant one day – a day that came sooner than expected.
As Levitz's liver quickly deteriorated, he got sicker and weaker. Unable to make the hour-long commute to his job as a credit manager, he stopped working and focused solely on finding a liver. It can be a daunting task, as statistics from the United Network for Organ Sharing show approximately 3,000 people die annually or become too sick while waiting to receive a liver transplant.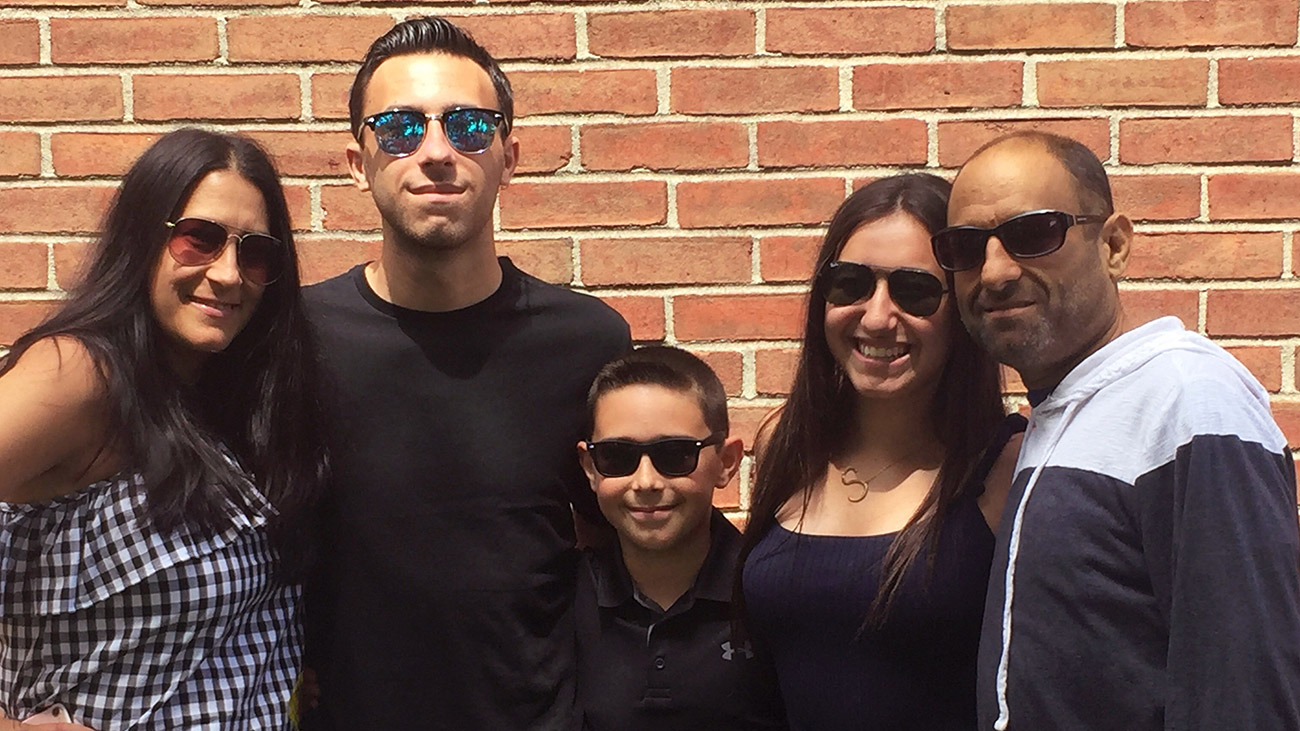 Adam Levitz (far right), his wife (far left) and three kids prior to undergoing a living donor liver transplant. (Courtesy: Adam Levitz)
Twice Levitz got the call from a Philadelphia transplant center that a liver from a deceased donor was available, once in August and again in October 2018. Each time, it was called off because the donor liver was not suitable for transplant. "We were devastated," recalls Levitz. "I didn't know how much time I would have if we didn't find one soon."
Desperate, he reached out to Chaya Lipschutz, a kidney donor and self-described "kidney matchmaker" who pairs donors and recipients through her nonprofit Kidney Mitzvah. "I figured it was a long shot, but maybe she knew of someone who wanted to give a liver," Levitz explains. "And she did."
That someone was Simon, who too had contacted Chaya in hopes of finding a recipient for his liver and a transplant center willing to accept a previous organ donor. Within weeks, the Cleveland Clinic Transplant Center determined Simon and Levitz could safely endure a transplant, scheduled for December 20, 2018. Donna Ferchill, RN, a living donor coordinator who Simon says "was like an angel to us," played an essential role in arranging the logistics.
Donna also arranged their first face-to-face meeting, just weeks after their initial phone call, on December 18, 2018. Having learned Simon, despite his New Jersey roots, is a Cleveland Browns fan, Levitz presented him with a Browns jersey, inscribed with his name and the number 18 – which holds special significance in Judaism, as it corresponds to a Hebrew word meaning "life."
Levitz says Simon was overjoyed with the token of his appreciation. "He said, 'This is the greatest gift I ever got.' I said, it's a shirt! I think you're giving me the greatest gift."
The night before their surgeries, Simon texted Levitz a picture of him wearing the jersey, and the message he would share each time they met: Adam, I'm 100% in. You're going to get this liver.
Rabbi Ephraim Simon (left) and Adam Levitz (right) after undergoing a living donor liver transplant at Cleveland Clinic. (Courtesy: Adam Levitz)
Dr. Aucejo harvested the left lobe of Simon's liver in an operation that typically lasts four to five hours; and his colleague, Koji Hashimoto, MD, PhD, director of the Living Donor Liver Transplantation at Cleveland Clinic, transplanted 32% of Simon's liver into Levitz, in an 8-hour operation.
"Adam got the transplant in a very timely fashion," notes Dr. Hashimoto. "Unless he had a chance to receive a new liver in another two or three months, he might not have been in condition to undergo surgery. Living donor liver transplantation can save sick patients before they reach the point where they are no longer a candidate for a liver transplant."
A month after the transplant, Simon is back at work in his New Jersey office. Levitz returned home to New York, with a new lease on life.
"He's unbelievable," says Levitz, of his donor. "All he wants to do is help people. It's amazing."
As for Simon, he is thankful to be blessed with good health: "Being a donor is my way of thanking God that I can help bring a husband back to his wife, a father back to his children."
"I'd do it again, tomorrow, if they would let me."
Related Institutes: Digestive Disease & Surgery Institute
Patient Stories
Patient Stories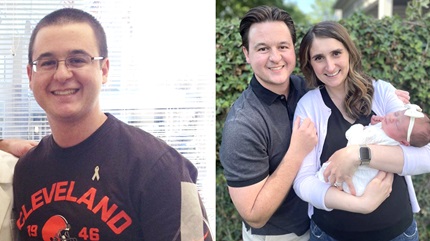 Nov 30, 2023
"At the time of my diagnosis, I was thinking, 'I'm 24. I'm a lifelong nonsmoker. I'm not supposed to get cancer.'"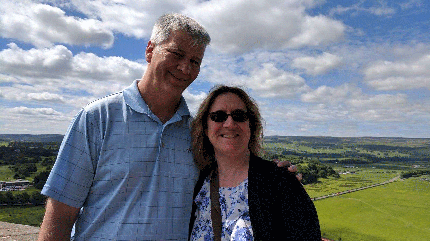 Nov 30, 2023
"I was under enormous stress and having difficulty sleeping, so I reached out to Dr. Saper to see if he had any suggestions as to how I could better cope."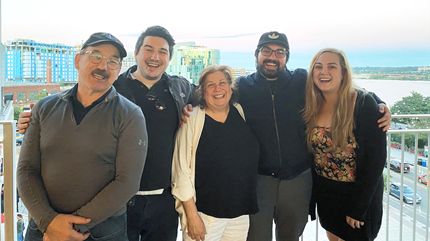 Nov 22, 2023
"I was truly blessed to be with the doctors and the entire cardiac surgery team. They saved my life."