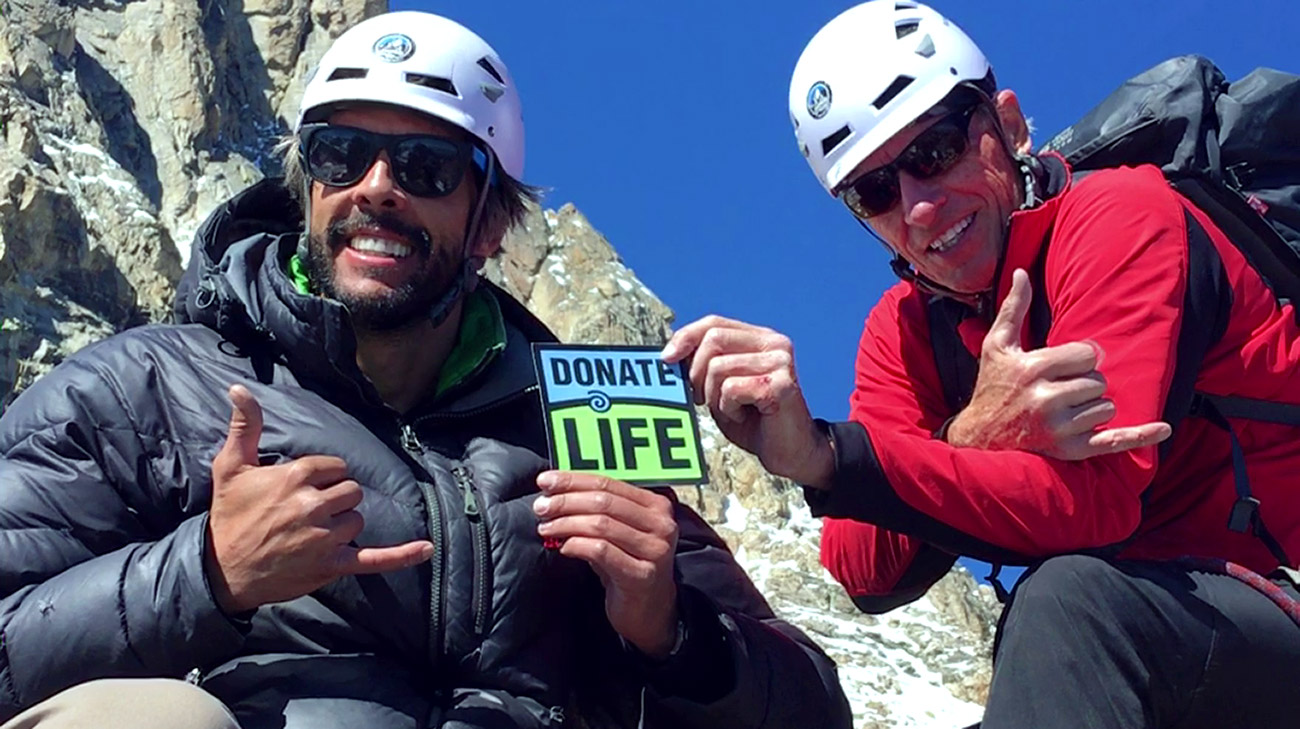 The earliest snowstorm in years dumped 18 inches of white powder on Grand Teton in late August. That forced many disappointed mountaineers striving to ascend the 13,775-foot Wyoming peak to abandon their trip to the iconic summit. However, Mark Henderson and his friend, David Landes, had a much more symbolic reason for making the trek. So, they decided to take an alternate, snowless path up a different mountain in the Teton range.
Mark, age 41, and David, 71, who both live in nearby Jackson, Wyoming, and had previously made the ascent separately, took the change of plans in stride. "To me, making the climb together was more meaningful than whether we reached the summit," explained David. "It symbolized the journey we had already taken."
In October 2016, Mark donated a portion of his liver to David, who was in deteriorating health due to an irreversible liver disease called cryptogenic cirrhosis. Until the disease began to worsen after the sudden death of his wife, Karen, who died from a brain aneurysm in 2015, David had been a highly-active skier, swimmer, cyclist and mountain climber.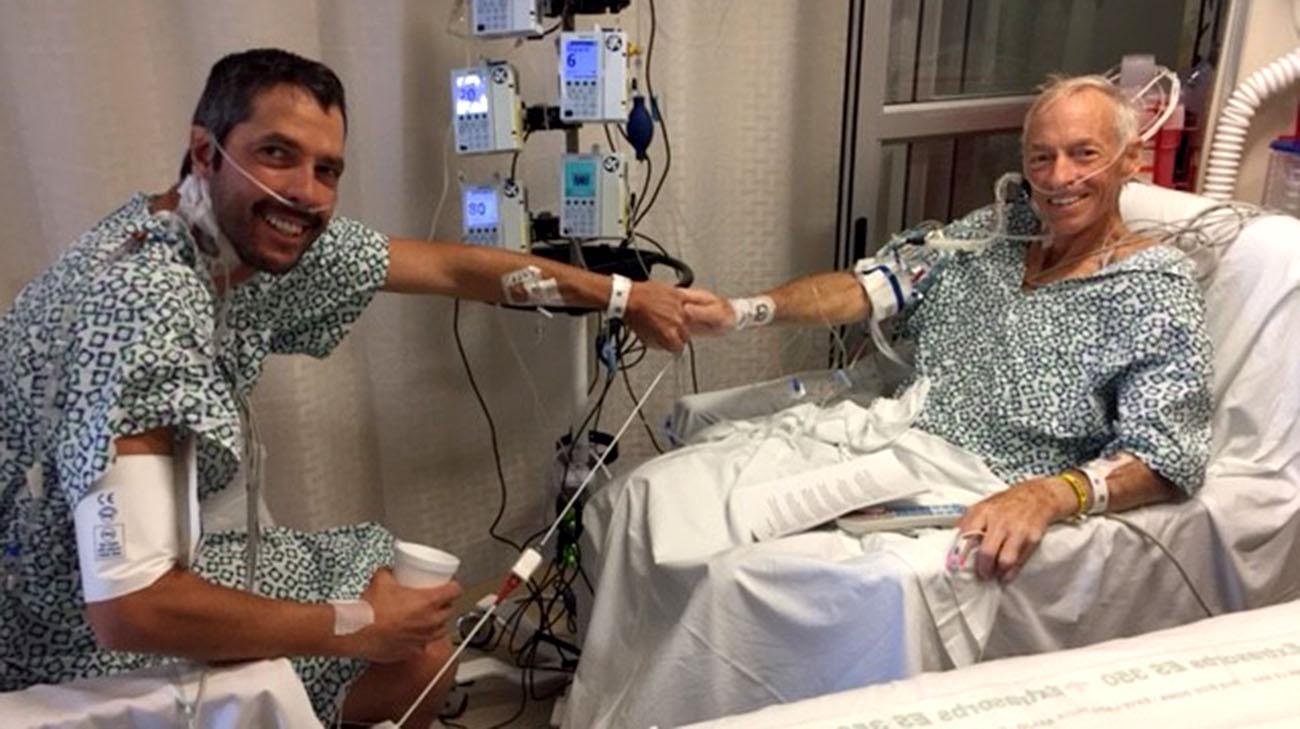 Mark and David, at Cleveland Clinic, after their transplant surgery. (Courtesy: David Landes)
According to his Cleveland Clinic surgeon, Koji Hashimoto, MD, PhD, as the disease advanced, it rapidly sapped David of his strength, causing severe loss of muscle mass as well as fluid buildup in his abdomen.
"He was the perfect candidate for a living donor transplant, because the number of people awaiting livers from deceased donors is quite large," said Dr. Hashimoto, who is director of the living donor liver transplantation program at Cleveland Clinic. Statistics from the United Network for Organ Sharing show approximately 3,000 people die annually or become too sick while waiting, to receive a liver transplant.
"With living donor liver transplantation, we can save sick patients before they reach the point when transplant is no longer an option because they've become too ill. The longer you wait for a liver transplant, the more you suffer," explained Dr. Hashimoto.
As David recalled, after their initial meeting in Cleveland, Dr. Hashimoto encouraged him to find a donor. "I said, 'How do I do that'? How do you go about asking someone to save your life?"
After contemplating long and hard about it, David painstakingly penned a letter about his condition, and need for a living donor liver transplant, to about 400 of his friends, acquaintances and family members. One of those friends, local Jackson radiologist Thomas Wilson, MD, forwarded the email to one of his friends, Mark Henderson.
David (left) and Mark (right) live in Jackson, Wyoming. They didn't know each other prior to Mark hearing about David needing a living donor liver transplant. (Courtesy: David Landes and Mark Henderson)
Mark was one of about 15 people who responded, saying he was interested in helping a man he had never met.
A nursing student at the time, Mark knew a lot about the liver, which typically regenerates to its original size when a portion of a healthy liver is removed for transplantation. He also understood that harvesting a portion of a liver is a complex operation, which can possibly require a somewhat lengthier recovery period than other forms of transplant surgery.
But those factors didn't deter him: "The liver is extremely resilient. So, why not take the opportunity to do something for somebody else and still live a full, healthy life?"
David was thankful, and amazed, that a stranger would be so willing to make such a magnanimous gesture. "Mark's gift is just incredible. Saying thank you seems hardly enough."
The two met about six weeks before the surgery, at a Jackson restaurant. Both were nervous, likening the meeting to a blind date. Mark and David had a lot in common, including their love of the outdoors. However, Mark was troubled by David's weakened condition, alleviating any doubts he had about donating.
"I could see how very ill and weak he was," noted Mark. "Agreeing to donate wasn't an easy decision, but I could see it was the right decision."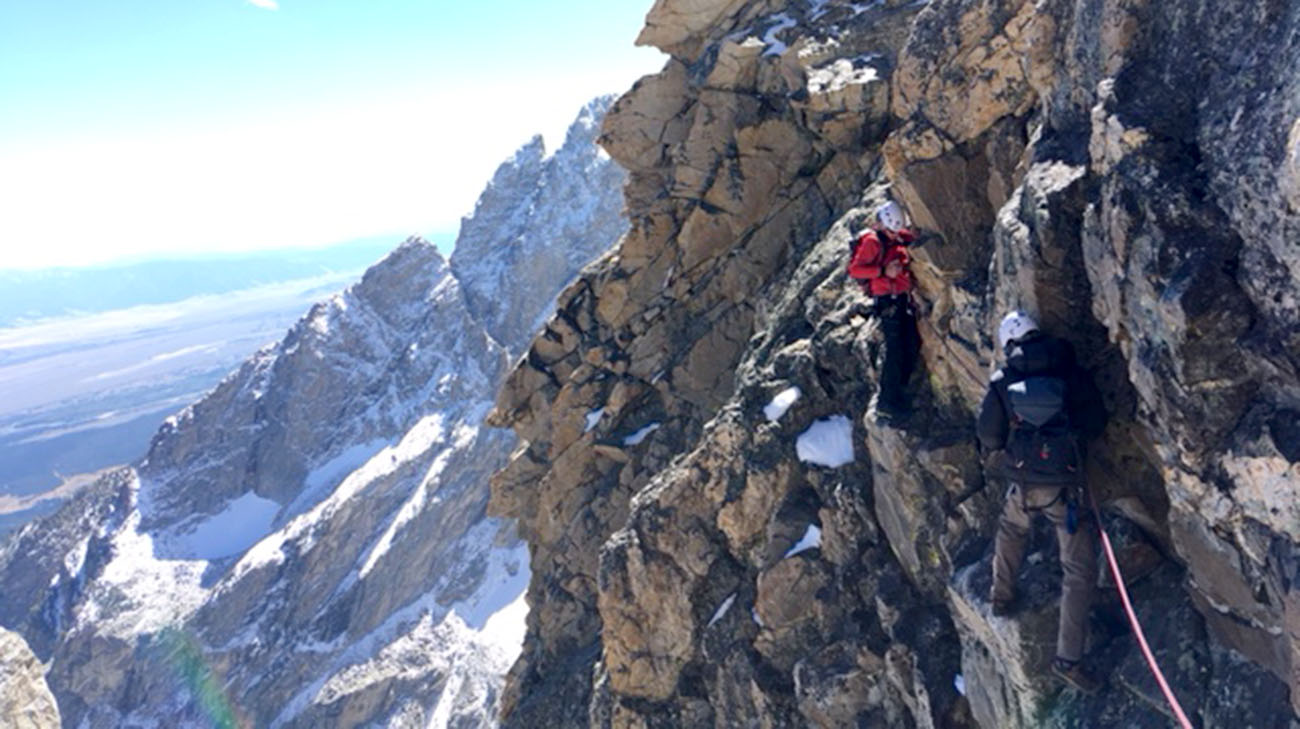 David and Mark climbing a mountain in the Teton Range - a mountain range of the Rocky Mountains in Wyoming. (Courtesy: David Landes)
On October 23, 2016, they met again – while checking into Cleveland Clinic. Both surgeries went as planned, with two separate teams devoted exclusively to each patient.
A 35 percent portion of Mark's liver, the left lobe, was harvested by transplant surgeon Federico Aucejo, MD. He explained that focusing on the left lobe, when possible, is preferable as it is safer for the donor while still offering adequate liver volume for the recipient. (Cleveland Clinic is one of the few U.S. centers doing left lobe transplants; most focus on the larger right lobe.)
"Mark kept a substantial amount of liver, which typically takes a few months to grow back to original size," explained Dr. Aucejo. "He did very well, and so did the recipient."
David's surgery was even more complex. During the 12-hour procedure, doctors removed his diseased liver and replaced it with Mark's left lobe. Dr. Hashimoto meticulously connected all veins, arteries and bile ducts.
The next day, Mark's father wheeled him into the ICU, where donor and recipient met once again – and shared a few tears. Soon after, Mark suggested to David they hike Grand Teton, together, once they both recovered from their surgeries.
And nearly two years later, and just weeks after David earned six gold medals in swimming and cycling at the Transplant Games of America, they made the arduous trek up the mountain. It was the most time they had ever spent together, giving them the opportunity to reflect on the life-affirming journey that culminated on that peak.
"I feel like I'm back to where I was four years ago, thanks to Mark," David stated. "He is one of those rare people who will unselfishly do what he can for someone in need."
Register with Lifebanc to become an organ donor.
Related Institutes: Digestive Disease & Surgery Institute
Patient Stories
Patient Stories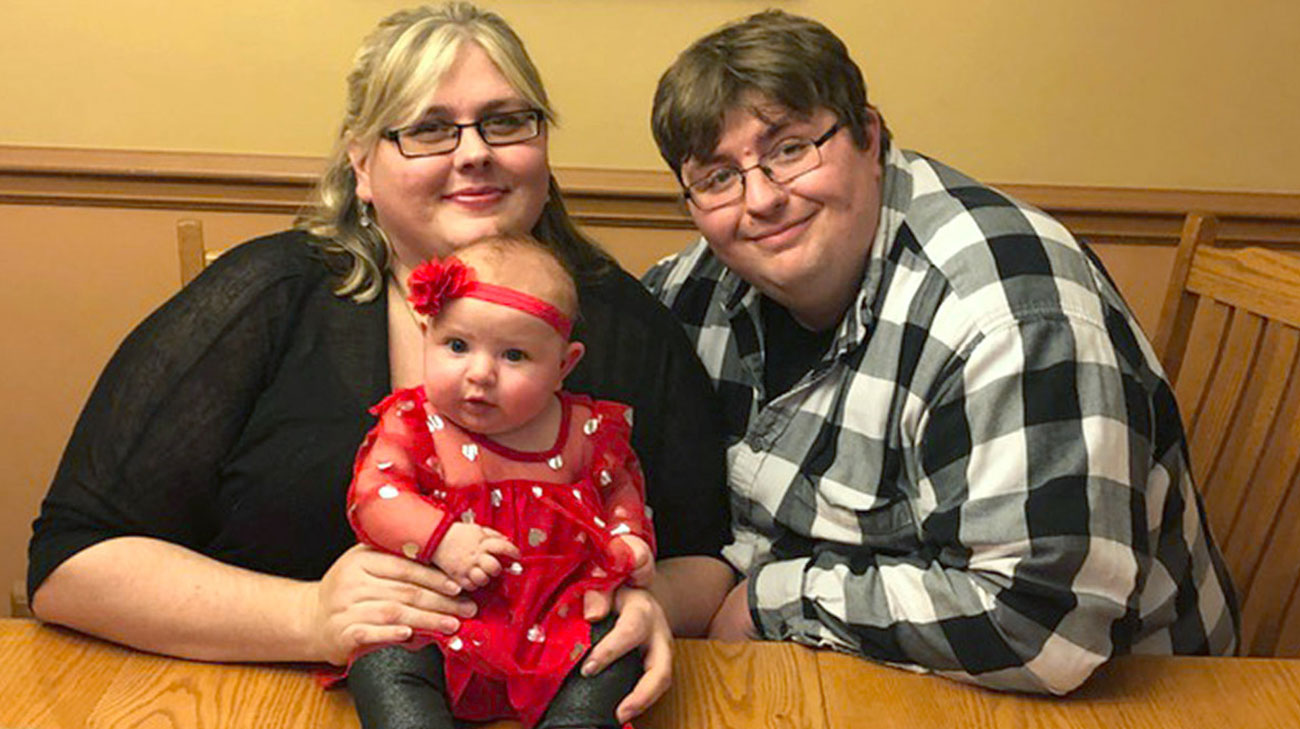 May 20, 2020
"My faith, my belief in my doctors and science, encouragement from other women in the group sessions and expert care and support from Dr. Abed and Diana Issacs played a big part in my successful pregnancy."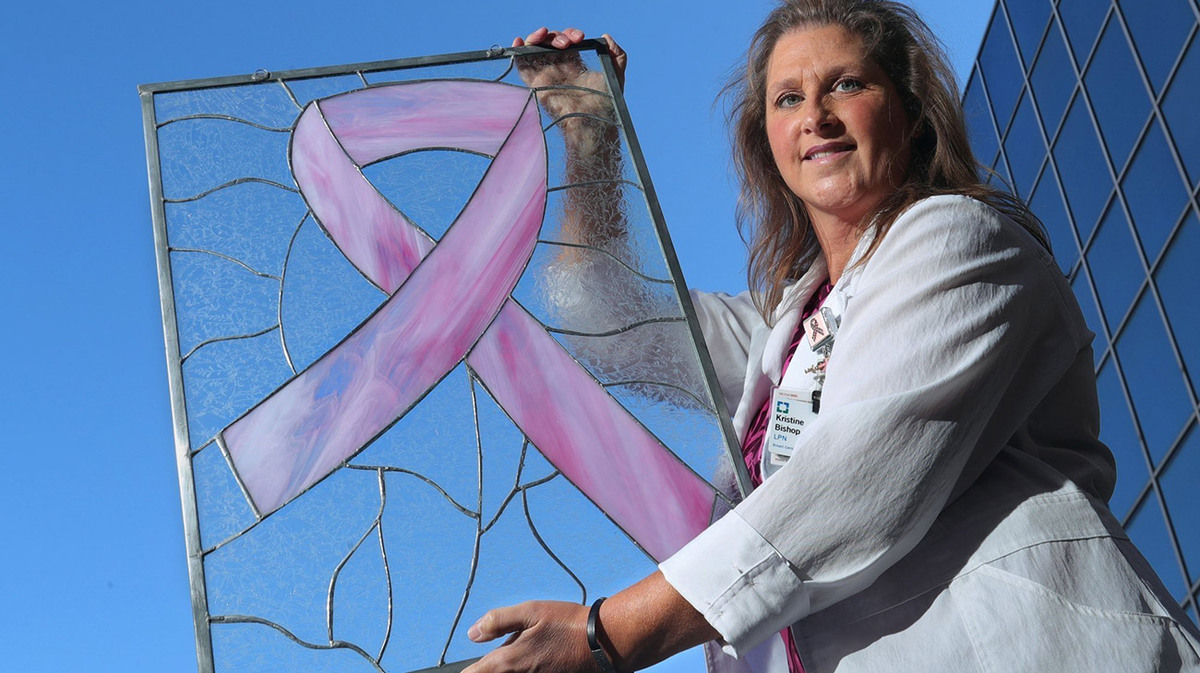 May 20, 2020
"It's crucial to do self-exams and to have mammograms. I hope sharing my story will encourage people to keep up with their breast health and know they are not alone and can live a normal life."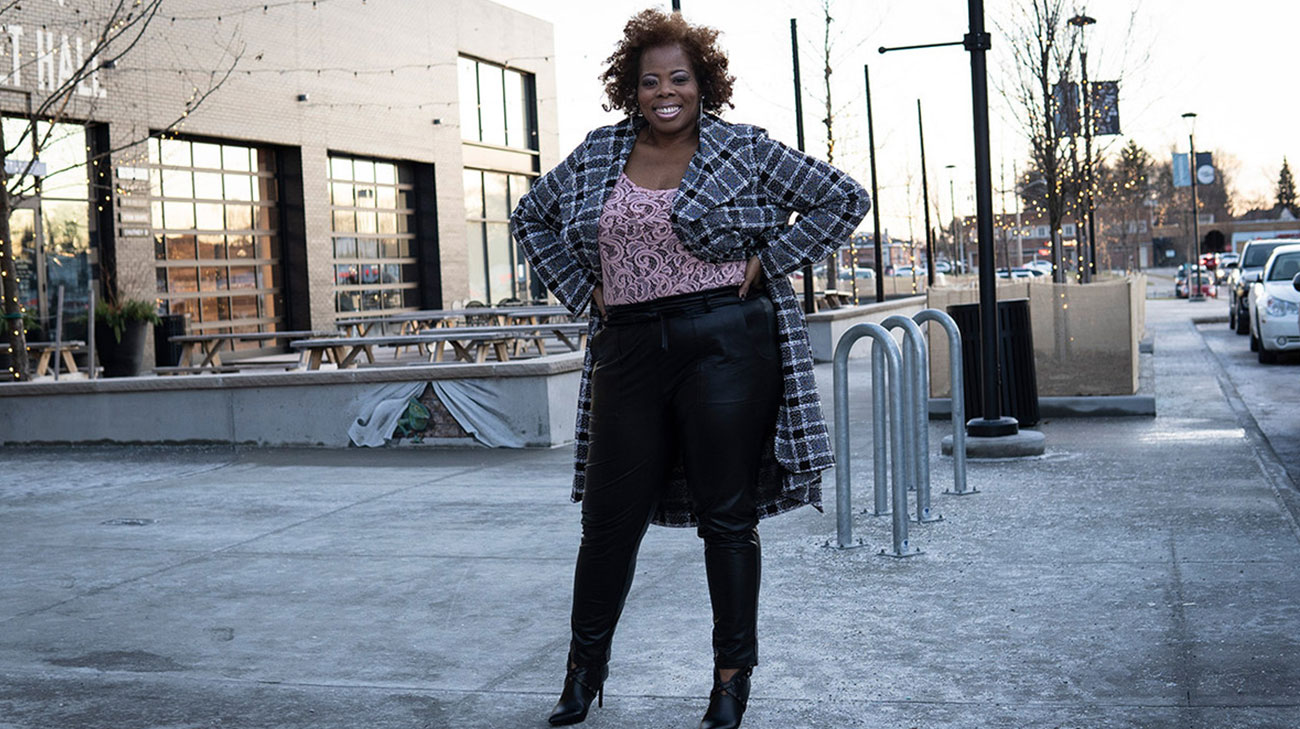 May 18, 2020
"I had become frustrated and depressed, and that wasn't me. I was intimidated to go to the gym at 300 pounds. I had to detoxify my thoughts, and this program was instrumental in helping me to work through that."