Overview
Overview
Lutheran Hospital earns the Vizient 2019 Bernard A. Birnbaum, MD, Quality Leadership Award
Lutheran Hospital earned the Vizient 2019 Bernard A. Birnbaum, MD, Quality Leadership Award for demonstrating excellence in delivering high-quality care. Vizient selects award recipients based on publicly reported metrics for quality, safety and patient experience.
Lutheran Hospital earns an "A" in the fall 2019 Leapfrog Hospital Safety Grade
Patient safety is a priority at Cleveland Clinic. The Leapfrog Group is a national nonprofit organization that releases semi-annual safety grades associated with patient safety performance and practices. For the fall of 2019, Lutheran Hospital received an "A" grade.
Meet The Mako: Cleveland Clinic Toys With New Surgical Tool
Digital models of a bone are illuminated on a medium-sized screen in the surgery suite at Lutheran Hospital. Dr. Robert Molloy points to a marking and says, "That's actually bone jutting up there." He says that the robot behind us, a new technology being used in knee replacement surgery, helped him map out the interior of this knee and would help him operate on it.
Lutheran Hospital Uses Robotic Technology in Joint Replacement Surgery
Orthopedic surgeons at Cleveland Clinic's Lutheran Hospital recently began using robotic-assisted technology in joint replacement surgery, according to a news release. The technology is an option for patients with osteoarthritis — degenerative joint disease and the most common cause of walking-related disability in people over the age of 65 — or other conditions that have led to bone-on-bone arthritis or loss of cartilage in a hip or knee joint, according to the release. Specifically, it is for patients who haven't had success with non-operative intervention, such as anti-inflammatory medications, physical therapy, braces, activity modification, weight loss or injections.
Lutheran Hospital Celebrates Third Consecutive Year of Recognition for Quality & Leadership
Lutheran Hospital is a 2018 Recipient of the Bernard A. Birnbaum, MD, Quality Leadership Award. This award is given annually to academic medical centers, complex teaching medical centers, and community hospital members that demonstrate superior performance, as measured by the Vizient Quality and Accountability Study, which has been conducted annually since 2005.
"Being the nation's top-rated community hospital in quality, safety, and patient experience is quite an honor, but what impresses me the most is that this is the third year in a row Lutheran Hospital has been in the top five for this award. That is truly a testament to teamwork and your relentless pursuit of making Lutheran Hospital – and Cleveland Clinic – the best place to receive care – anywhere in the world," said Edmund Sabanegh, Jr., MD, MBA, President, Main Campus and Regional Hospitals, Cleveland Clinic.
Congratulations to all caregivers at Lutheran Hospital!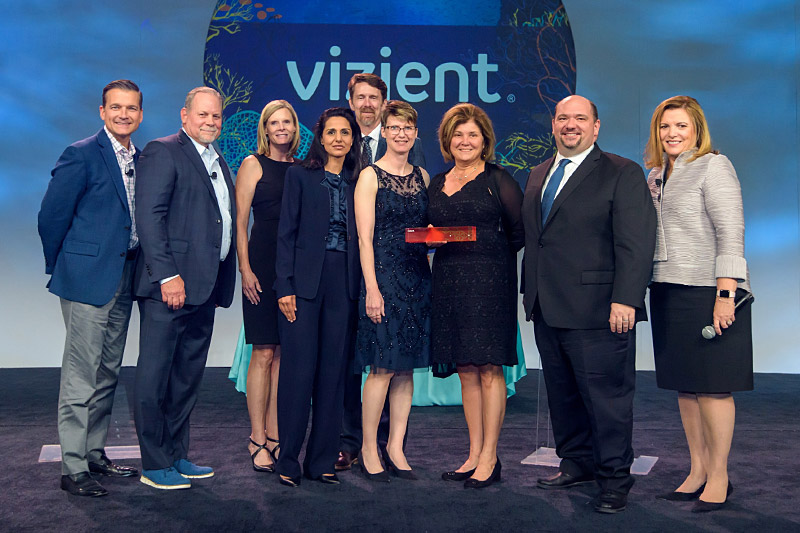 Lutheran Hospital Earns Top Performer Recognition from Joint Commission
The Joint Commission, the leading accreditor of health care organizations in the United States, has recognized Lutheran Hospital as a Top Performer on Key Quality Measures® for 2014. Lutheran Hospital was recognized for achieving excellence in performance for pneumonia and surgical care measure sets.
The Top Performer program recognizes hospitals for performing on evidence-based interventions that increase the chances of healthy outcomes for patients with certain conditions. Lutheran Hospital is one of only 1,043 hospitals out of more than 3,300 eligible hospitals in the United States to achieve the 2014 Top Performer distinction.
In order to be named a Top Performer, a hospital must:
Achieve cumulative performance of 95 percent or above across all reported accountability measures;
Achieve performance of 95 percent or above on each and every reported accountability measure where there are at least 30 denominator cases; and
Have at least one core measure set that has a composite rate of 95 percent or above, and within that measure set, achieve a performance rate of 95 percent or above on all applicable individual accountability measures
This achievement demonstrates our commitment to assuring that our patients receive high quality, evidence-based care.
NICHE Nursing at Lutheran Hospital
NICHE, Nurses Improving Care for Healthsystem Elders, is the nation's leading nurse-driven program designed to help hospitals improve the care of older adults. The program's overarching goal is to achieve systematic change that will benefit care for all patients over the age of 65.
To aid hospitals and healthcare facilities in creating an environment of sensitive and exemplary geriatric care, NICHE provides the guiding principles and resources necessary to stimulate cultural change. The program increases awareness of geriatric issues, improves staff competence in nursing care of the elderly and supports the implementation of hospital geriatric protocols.
Hospitals that have been NICHE-designated are among those that demonstrate superior organizational commitment and continued progress in improving quality, enhancing the patient and family experience and supporting community service efforts.
Lutheran Hospital is proud to have become a NICHE designated facility in November 2015.
Events
Events
Events Calendar
View upcoming events and activities held by your local Cleveland Clinic hospitals and family health centers.
Upcoming Special Events at Lutheran Hospital
Check back soon for upcoming special events at Lutheran Hospital.
Programs & Classes
Programs & Classes
Community Programs
For information about our Community Outreach services, call the Community Outreach Department at 216.363.2019.