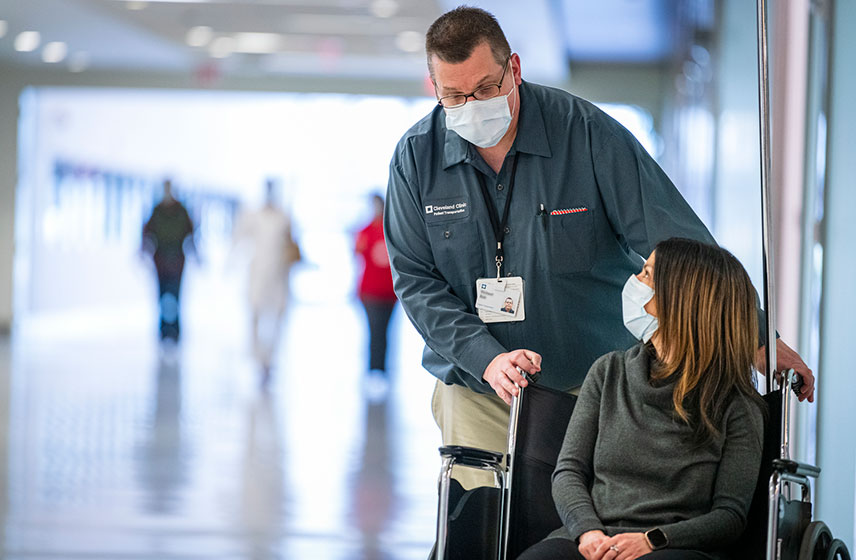 COVID-19: Learning to Live with It
Thankfully, the pandemic is easing. Soon, it won't be a pandemic anymore. But COVID-19 will still be with us.
---
As the threat decreases and Centers for Disease Control (CDC) guidelines evolve, we're learning how to live with it. And this means things are changing here at Cleveland Clinic.
What You Need to Know Before You Come In
Your health and safety will always be our No. 1 priority. But you'll find we're doing things a little differently now. From visiting loved ones to wearing masks to getting COVID testing, we have the information you need.
Visitation
While we tightened visitation at first, all of our U.S. locations have returned to open visitation. This is in line with the latest CDC guidance. Plus, studies show visitors to healthcare locations haven't contributed much to the spread.
What does this mean? We will no longer screen you for COVID symptoms when you come to a Cleveland Clinic location. And we'll no longer have set visiting hours or limit the number of visitors a patient can have — except in some ICU settings.
What do I need to know? You will still need to wear a mask when you're at any Cleveland Clinic facility. If you're sick, we ask that you don't come to visit patients. And if you've tested positive for COVID-19 or have been exposed to someone who tested positive, you'll need to wait at least 10 days before visiting anyone.
Mask Guidelines
For the spring and summer months, masking is now optional for patients, visitors and caregivers at our U.S. locations.
We're confident we can safely lift mandatory masking since COVID cases and hospitalizations remain low. This is a temporary change for the spring and summer months, with a few exceptions:
Masks still required:
In hospital units caring for severely immunocompromised patients.
For caregivers who perform procedures in which there's an increased risk of airborne COVID-19 spread. We'll use a fitted N95 or other respirator.
We understand you might not feel comfortable with us not wearing a mask. We've all been through a lot over the past three years. Want us to mask? We'll gladly accommodate. Just ask!
Safety is still top of mind. Been in close contact with someone who has COVID? Have symptoms of a respiratory infection of any kind? We highly encourage you to wear a mask. We'll still make masks available to you at the door.
In the fall, we'll once again require everyone to wear masks again to prevent any surge of colds, the flu or COVID-19.*
*These guidelines do not apply at our Florida locations. View our Florida location masking policies.
COVID-19 Testing
COVID-19 is still here – and you can still get it. Thankfully, it's usually more mild if you've been vaccinated. Whether you have non-urgent symptoms or were exposed to someone with COVID, it's important to take a test.
Schedule a testing appointment. If you have a MyChart account and a Cleveland Clinic primary care provider, you can schedule to get a PCR COVID-19 test online. If you need a provider and have non-urgent symptoms, you can schedule an online virtual visit to see a provider who can order the test. We test for COVID at multiple Cleveland Clinic locations.
Find other testing near you. Wondering where to go for a test? The Ohio Department of Health website and the Florida Department of Health's COVID-19 website feature maps of testing locations across both states.
Take a self-test. If you have private health insurance, Medicaid or Medicare, your insurer must pay for eight at-home tests each month for each person enrolled in your health plan. You can also get free self-tests at libraries, health clinics or order them through the USPS website. They're also now easy to find at many stores.
Getting an oral antiviral medication
If you've tested positive for COVID-19, your symptoms started less than 5 days ago and you'd like to receive an oral antiviral medication, please schedule a virtual visit with your primary care team or one of our providers through the MyClevelandClinic® app on your smartphone or computer. The general Nurse On Call line cannot prescribe oral antivirals. You may also call 866.320.4573 to schedule.
Pre-surgical testing
When you're scheduled for surgery or another procedure, you already have a lot on your mind. One thing you might need to do is test before surgery. Our requirements for pre-surgical COVID-19 testing have changed — for both adults and kids. If you're age 14+ and don't have symptoms, you'll no longer need a COVID-19 test before surgery that requires you to stay in the hospital overnight. But if you're scheduled for surgery and have symptoms, you still need to get a test.
Kids ages 12 to 14 without symptoms don't need to have a COVID test if they're not staying overnight in the hospital after their surgery or procedure.
We're still requiring testing before some surgeries and procedures for:
Children ages 12 to 14 who have COVID symptoms.
Children under age 12 who are having a surgery or procedure but are not staying overnight in the hospital.
Children ages 14 and younger who will be staying overnight or admitted to the hospital.