COVID-19: What You Need to Know About the Vaccine
The arrival of the first COVID-19 vaccines sparked excitement, hope and anticipation for better days ahead. But for the COVID-19 vaccine to put an end to this deadly pandemic, enough of us need to get it. That's why we strongly encourage you to get the vaccine when you're eligible. Right now, the number of vaccines available is very limited. We will keep you informed about when you'll have the opportunity to get vaccinated. Until then, we appreciate your patience as we work through the complex process of getting these new vaccines into our communities.
When and Where Can I Expect to Get the Vaccine?
We are glad that so many of you are eager to get these safe and effective vaccines. We're confident that everyone in our communities who wants to get vaccinated against COVID-19 and is eligible (no vaccines have yet been authorized for children under age 16) will be able to.

A Cleveland Clinic team, in collaboration with public health officials and area hospitals in Northeast Ohio and Florida, has been working to get more doses as soon as possible. We're also making sure they're stored and distributed according to guidance from the CDC and state authorities.
Although the process might seem to be moving slowly, every person who gets vaccinated is a step in the right direction.
In the meantime, we must all continue taking important precautions to help slow the spread of the virus. This includes wearing a mask, washing and sanitizing your hands frequently, social distancing and limiting gatherings.
Ohio
Cleveland Clinic is receiving shipments of COVID-19 vaccines and vaccinating patients who meet Ohio Department of Health criteria.
Due to limited supply and the overwhelming interest in the vaccine, we will contact our oldest, most vulnerable patients age 80 and older. They will be contacted by phone or on MyChart to schedule their vaccine appointment. For directions on how to schedule your appointment through MyChart, please visit this page.
For patients who are not contacted, we ask for patience. As we receive additional vaccine supply, we will be offering appointments to more patients. We appreciate your patience as we work through the process of getting vaccines into our communities.
Florida
The Cleveland Clinic Florida region is working tirelessly to meet community demand for the COVID-19 vaccine.
Our appointment call centers have experienced an extremely high volume of calls since opening on Wednesday, December 30, 2020 for patients who meet criteria for vaccination under an executive order from Gov. Ron DeSantis.
All Cleveland Clinic Florida locations have distributed their available vaccine supply and are no longer scheduling eligible patients. We are working closely with the state of Florida to receive additional supplies of the vaccines as soon as possible. We will immediately schedule patients again when we receive additional vaccine supply.
We will continue to provide information on this page when scheduling begins again.
The COVID-19 vaccine is available by appointment only at our designated vaccination sites. The vaccine is not available in our provider offices or walk-in clinics. Currently, the supply of vaccines available is very limited. Appointments may not be immediately available. We appreciate your patience as we work through the process of getting vaccines into our communities.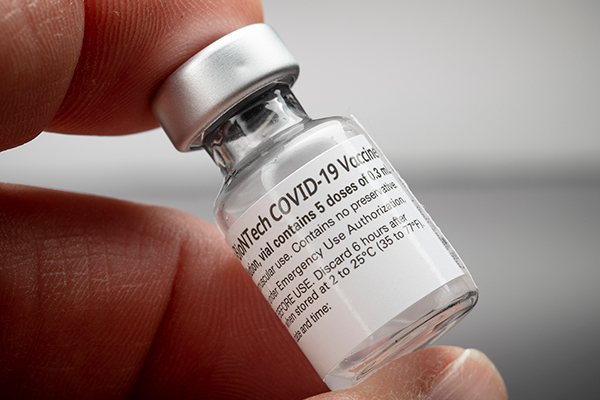 What Should I Know About the COVID-19 Vaccine?
The FDA has authorized Pfizer's and Moderna's COVID-19 vaccines for emergency use in the United States.
Both vaccines are given in two doses. It's important for you to get both doses of the COVID-19 vaccine to get the maximum benefit. For Cleveland Clinic patients, your second dose can be scheduled in MyChart after you receive your first dose. Learn more about how to schedule your second dose in MyChart.
Pfizer's vaccine doses are given 21 days apart. Moderna's vaccine doses are 28 days apart. But if you can't schedule your second dose during this timeframe, you do not need to get the first dose again if the second dose is given later. This is because the CDC says there is no maximum time between doses.
The Pfizer vaccine is authorized for emergency use in those 16 and older. Moderna's vaccine is authorized for emergency use in those 18 and older. Researchers have not yet started clinical trials in children under 12. Trials in teens have just recently started. Since a child's immune system is different from an adult's, COVID-19 vaccines for younger children, especially, may require different dosage levels or formulations than the adult versions. At this time, we don't have a clear answer as to when a vaccine will be available for children.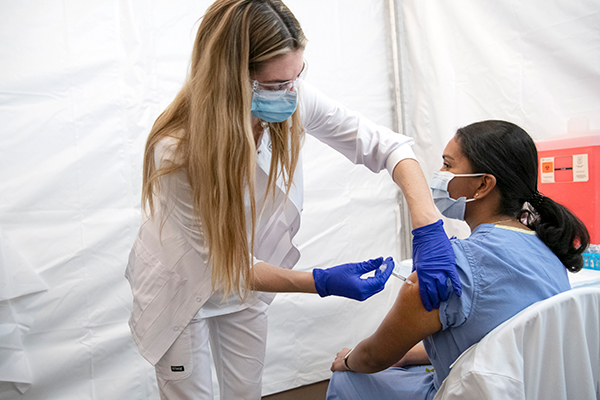 Is the COVID-19 Vaccine Safe?
Yes. When the vaccine becomes available to you, we strongly encourage you to get it.
Given the speed of development of these vaccines, it's understandable that there have been questions about whether or not there's been enough research and testing to ensure the vaccines are safe. But all vaccines must go through rigorous clinical trials to determine safety and efficacy, with at least two months of patient follow-up, and report their findings to the FDA.
As with many vaccines, you may be sore where it's injected. You may also develop fatigue, fever and muscle aches afterward. This seems to be more common with the second dose of vaccine. If this happens, it means your immune system is taking notice of the vaccine and reacting.
Should I be concerned about a severe allergic reaction to the COVID-19 vaccine?
No. Allergic reactions, including shortness of breath and hives, were uncommon during COVID-19 vaccine trials. All recipients receiving the vaccine will be monitored for at least 15 minutes after vaccination for possible immediate hypersensitive reactions. If you have a history of allergic reactions to vaccines, talk to your healthcare provider before receiving a COVID-19 vaccine.
What side effects can I expect from the vaccines?
In the Pfizer and Moderna clinical trials, the vaccines were very effective with only mild side effects that are common in all vaccines. These include fever, fatigue, muscle aches and headache. There were no serious safety concerns.
If I'm pregnant, breastfeeding or trying to conceive, can I get immunized?
While pregnant and breastfeeding women weren't included in the first COVID-19 vaccine trials, safety data is reassuring. Since the vaccines don't contain the live virus, they aren't thought to increase risk of infertility, miscarriage during the first or second trimester, stillbirth or birth defects. There's also no evidence to suggest the vaccine is a risk to a breastfeeding baby. That said, getting the vaccine while trying to conceive, during pregnancy or when you are breastfeeding is a personal choice. We encourage you to talk to your Ob/Gyn to help you make a decision together.
If I've had COVID-19 should I get vaccinated anyway?
We still recommend that you get the vaccine even if you've had COVID-19. However, you may consider waiting 90 days after getting infected as it's not common to get COVID-19 again within three months of first being infected.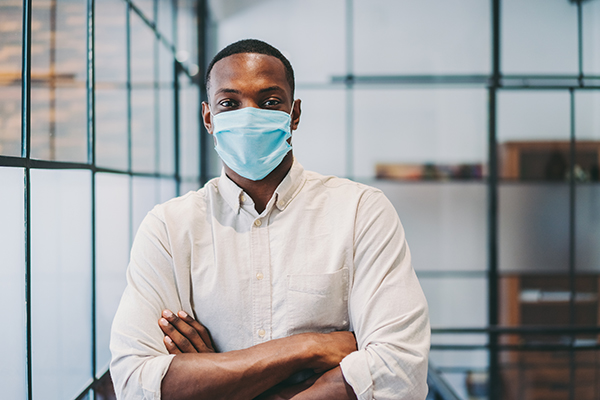 Why Should I Get the COVID-19 Vaccine (If I'm Still on the Fence)?
It's the best way to slow this deadly pandemic
We understand that you might be uneasy about getting your COVID-19 vaccine. Maybe you're not sure what to expect. Or you aren't sure if it's right for you.
Here's why you should consider getting your vaccine:
To protect yourself: Getting the vaccine means there's up to a 95% chance that you'll personally be protected from getting COVID-19.
To protect those around you: If you get sick, you could spread the virus to others. Getting the vaccine, while continuing to wear a mask and practice social distancing, will help keep your friends and family safe, especially those who may be at risk for a severe case of COVID-19.
To protect your community: For the vaccine to be effective against COVID-19, we need enough people — 50% to 80% — to get vaccinated. So, even though you may have to wear a mask for a little longer until more people have received it, we know that every person that gets vaccinated is a small step in the right direction.
At the end of the day, we're confident that this vaccine is the most important public health strategy for slowing the spread of COVID-19, and we strongly encourage you to consider getting it.