Sterilization by Laparoscopy
A laparoscopic tubal ligation provides virtually permanent birth control by obstructing the fallopian tubes.
What is sterilization by laparoscopy?
Sterilization by laparoscopy is a common procedure used to perform tubal ligation in women. Tubal ligation is a method of sterilization that involves obstruction of the fallopian tubes.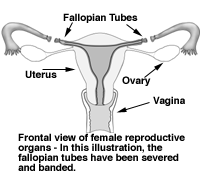 The fallopian tubes are on either side of the uterus and extend toward the ovaries. They receive eggs from the ovaries and transport them to the uterus. Once the fallopian tubes are closed, the man's sperm can no longer reach the egg.
Laparoscopy enables the physician to complete tubal ligation by making a small incision near the navel. This smaller incision reduces recovery time after surgery and the risk of complications. In most cases, the woman can leave the surgery facility within 4 hours after laparoscopy.
Am I ready for sterilization?
A woman should carefully weigh her decision to undergo sterilization by laparoscopy. Though this procedure has been successfully reversed in some women, in almost all cases it causes a permanent loss of fertility.
Women who are unsure if they still want children should choose a less permanent form of contraception, such as birth control pills, an intrauterine device (IUD), or a barrier method (such as a diaphragm). Discuss these alternatives with your physician.
Your partner may also consider having a vasectomy, a method of male sterilization that involves severing and tying the vas deferens, a tube that transports sperm.
Why do women choose sterilization by laparoscopy?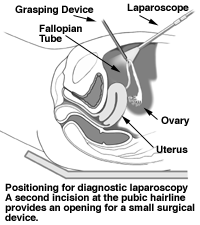 For women who no longer want children, sterilization by laparoscopy provides a safe and convenient form of contraception. Once completed, no further steps are needed to prevent pregnancy. Tubal ligation also does not change a woman's menstrual cycle or cause menopause.
However, laparoscopy may not be suitable for some women. In these cases, tubal ligation may be performed by laparotomy, a more extensive surgery that requires a larger abdominal incision and a day or two of recovery in the hospital.