What is ADHD medication?
For many people, putting on eyeglasses helps them focus their eyes. In the same way, ADHD medication helps people with ADHD focus their thoughts. The medications help them ignore distractions, pay attention and control their behavior. Medication doesn't cure ADHD. But it can help ease the symptoms of ADHD while you or your child is taking it so you can function more effectively.
The U.S. Food and Drug Administration (FDA) has approved several different kinds of medications to treat ADHD. Many of the medications can treat ADHD in children as young as 6.
What is ADHD?
Attention-deficit/hyperactivity disorder (ADHD) is a very common neurodevelopment disorder. Children with the disorder may be overly active and have trouble with impulsive behaviors. They may also find it difficult to pay attention, follow instructions and complete tasks.
When symptoms of ADHD occur during childhood, they frequently continue into adulthood. One study suggested ADHD symptoms carried into adulthood in 90% of cases. In addition, some adults with ADHD haven't ever been diagnosed.
Adults with ADHD may have trouble following directions, remembering information, concentrating or organizing tasks. Symptoms may look different for adults than they do for children. For instance, hyperactivity in children may appear as extreme restlessness in adults.
What does ADHD medication do?
ADHD medications work in different ways depending on the type. But all ADHD medications work by increasing the levels of important chemicals (neurotransmitters) in your brain. These neurotransmitters include dopamine and norepinephrine. Increasing the amount of these neurotransmitters helps improve the symptoms of ADHD, including:
Increasing attention span.
Reducing hyperactivity.
Controlling impulsive behavior.
Managing executive dysfunction.
ADHD medications affect each person differently. What works for one person may not be effective for you or your child. And the first ADHD medication you or your child tries may not be the right one. It may not be effective, or it may cause bothersome side effects. Or you may have the correct medication but need a higher dose.
Make sure to tell your provider about all of the medications you or your child takes, whether prescribed or over-the-counter. Also, tell your provider if you consume any caffeinated drinks or take any supplements (and the amount per day). Combining certain medications can have a harmful effect on the body.
Your healthcare provider may need to try different medications and doses to find what works for you or your child. Your provider will observe you or your child and adjust the dose of the medication to find the right balance between the benefits and side effects.
Once you find the right medication and dose, most people find ADHD medication helps their symptoms. The symptoms involved with hyperactivity, attention span and impulsive behaviors improve.
What are the different types of ADHD medications?
ADHD medications include stimulants and non-stimulants. Healthcare providers often prescribe antidepressants, as well.
Stimulants
Stimulants are the most common type of prescription medication healthcare providers use to treat ADHD. Despite their name, stimulants don't work by increasing your stimulation. Rather, they work by increasing levels of certain chemicals (neurotransmitters) in your brain called dopamine and norepinephrine. These neurotransmitters play important roles in your ability to pay attention, think and stay motivated. Studies have shown that approximately 80% of children with ADHD have fewer symptoms after finding the correct stimulant medication and dosage.
Stimulants are considered controlled substances, which means they have the potential to be improperly used or cause substance use disorders. However, under the care and supervision of your provider, stimulant medication use is safe. Before they prescribe you a stimulant, your provider may order an electrocardiogram (EKG) screening to avoid complications from a previously undetected heart rhythm issue.
In the United States, some states have laws that tightly restrict the quantity of stimulant medications that you can receive at one time. For example, you may not be able to get more than a 30-day supply before requesting a refill.
There are two forms of stimulants:
Immediate-release (short-acting): You normally take these stimulants as needed. They can last for up to four hours. When people with ADHD are coming down off a short-acting stimulant dose, they can experience what's often referred to as "the crash" or "the rebound effect." It typically involves a sharp decrease in energy level, and it commonly causes severe hunger. Some people experience an intense drop in mood or depression.
Extended-release (intermediate-acting or long-acting): You typically take these stimulants once in the morning each day. Some last from six to eight hours, while others last for up to 16 hours. Longer-acting ADHD medications may result in fewer "ups and downs" during the day and may reduce the need for extra doses at school or during work.
Many people supplement an extended-release medication taken in the morning with an immediate-release dose taken in the mid to late afternoon. This extra dose may help cover the late afternoon to evening hours after the earlier dose starts to wear off.
Most stimulants fall into one of two drug classes: methylphenidates or amphetamines. Drug classifications group medications together by their similarities, such as active ingredients or approved use.
Non-stimulants
Non-stimulants are prescription medications, but they're not controlled substances like stimulants. That means you're less likely to improperly use or become dependent on them. They work by increasing the levels of norepinephrine in your brain.
Non-stimulant medications for ADHD take longer to start working than stimulants. You may not feel the full effects of these medications until you've been taking them regularly for three to four weeks. However, these medications can also help you improve your attention, focus and impulsivity. They can work for up to 24 hours.
Your healthcare provider may prescribe a non-stimulant for various reasons, including:
Stimulants aren't effective.
You have intolerable side effects from stimulants.
They want to try pairing it with a stimulant to increase effectiveness.
There aren't as many non-stimulants currently available for treating ADHD. These drugs are primarily norepinephrine reuptake inhibitors or alpha-2 adrenergic agonists.
Antidepressants
The FDA hasn't specifically approved antidepressants for the treatment of ADHD. However, healthcare providers sometimes prescribe them alone or in combination with a stimulant for the treatment of ADHD. The antidepressants providers typically prescribe for ADHD work on the dopamine and norepinephrine levels in your brain. The most common drug classes are norepinephrine-dopamine reuptake inhibitors and tricyclics.
Antidepressants that only work on the serotonin levels in your brain, called selective serotonin reuptake inhibitors (SSRIs), haven't been shown to be effective for treating the main symptoms of ADHD. But they can be helpful in combination with stimulants if you also have a mental health condition such as depression or an anxiety disorder.
What are some common ADHD medication names?
Stimulants
The following list contains the names of ADHD medications approved by the FDA. The chart shows the type, class, generic name, brand name and duration of each stimulant ADHD medication.

Non-stimulants
The chart below shows the class, generic name, brand name and duration of each FDA-approved non-stimulant ADHD medication.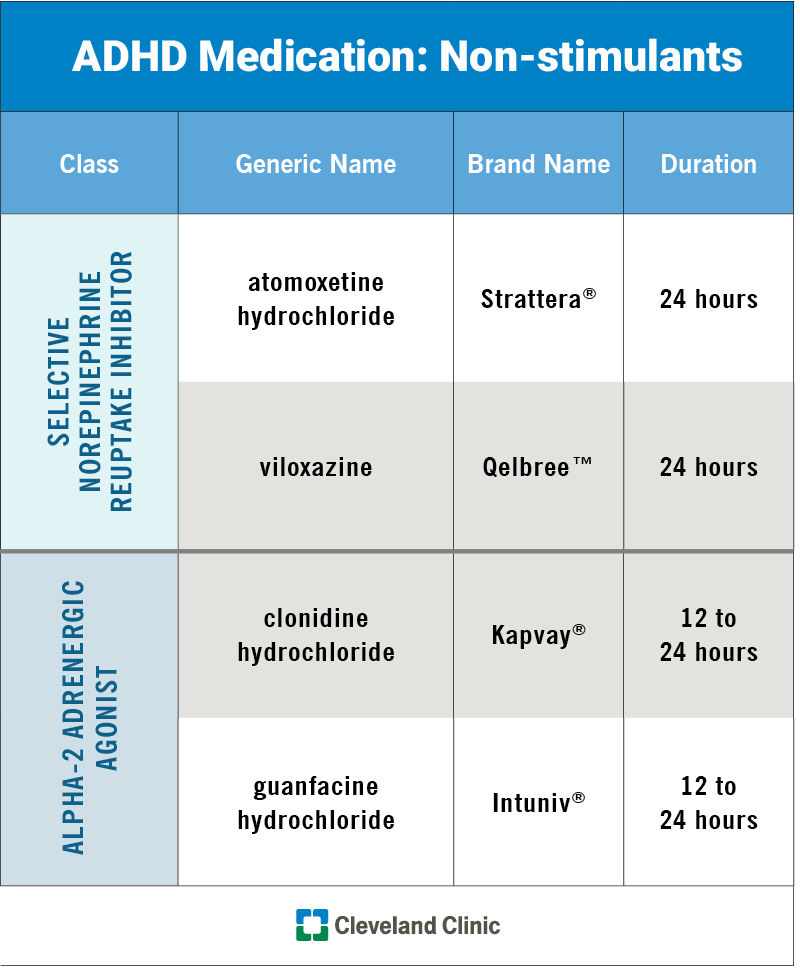 Antidepressants
The chart below shows the class, generic name, brand name and duration of certain antidepressants that may help treat ADHD.