Kids Give Back™
Benefiting Cleveland Clinic Children's
Kids Give Back™
Kids Give Back™ is a year-round community initiative that helps kids and their families who want to support Cleveland Clinic Children's by hosting independent fundraisers.
You can become a Kids Give Back™ Champion for our littlest heroes by hosting an event. Our Community Engagement Team is here to help and provide you with the necessary tools and resources needed to host a successful event
The Kids Give Back™ School Program
Our Kids Give Back™ School Program is a community initiative that supports schools that want to get involved with Cleveland Clinic Children's.
Students will learn important life lessons such as teamwork and leadership skills, which will help them as they go on to higher education and into their professional careers.
And everyone can feel good knowing that 100% of the dollars raised by your school will stay local and will turn into innovations and cures for our littlest patients.
This program allows your school to select a fundraiser that best fits your community. Our team is here to guide you along the way and provide tips and tools for success.
One student from each school fundraiser will be selected as part of our Class of Champions. This student will be honored at our Annual Kids Give Back Luncheon with Cleveland Clinic CEO and President Tom Mihaljevic, MD.
Contact our team to learn more today!
How To Get Started
Choose a cause you're passionate about. We're happy to provide a list of areas that need your support.
Pick the type of fundraising event. Our Kids Give Back™ Toolkit and the templates below are great resources.
Let our team know that you're interested by completing the community fundraising application.
Resources & Templates
Featured Kids Give Back Participant – Dover Elementary School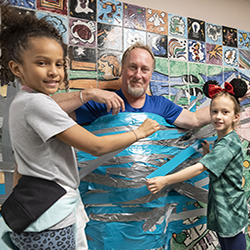 We are so grateful for the principal, teachers, students and parents at Dover Elementary School in Westlake, Ohio!
The Dover Elementary community raised $11,558 over a two week period to support the Taussig Cancer Institute Radiation Oncology Department at Cleveland Clinic as a part of our Kids Give Back™ School Program.
The purpose for their fundraising was to enhance the experience for children who are being treated at Cleveland Clinic by creating a kid-friendly space filled with interactive games, electronics and various items and activities to keep pediatric patients engaged when they come for their visits.
During the two week period, students could support the cause by participating in spirit week, purchasing raffle tickets for the chance to win a prize, money wars and more. During their spirit week, students were also able to pay a dollar and tape their principal to the wall!
If your school would like to participate in our Kids Give Back™ School Program, please contact getinvolved@ccf.org.